The SEC sends multiple offensive linemen to the NFL every April and had two first-round picks just this past spring in former Arkansas center Frank Ragnow and former Georgia tackle and guard Isaiah Wynn just a few months ago. With a rich history of talent, we often look to the conference to see the most talented linemen in the nation. That's no different this year, with College Football Playoff contenders Georgia and Alabama once again producing stout offensive lines to pave the way for their running backs, and give their quarterbacks ample time to throw the ball downfield.
Who has the best offensive line in the conference though?
Diving into the PFF database and looking at grades over the past eight games (for those players who played in at least eight games), and focusing on how players and teams have performed so far this season, we're able to rank every line in the conference, from first to 14th. This has been done using both our PFF grades and also our pass-blocking efficiency signature stat, allowing us to form a clearer overall picture of performance.
One thing to note is that this is our rankings after four weeks of the 2018 season, and while we factored games from later in the 2017 season in as well, the grades do include games against FCS opponents, which can often skew the grades. We'll revisit this later in the season when we'll have an even clearer picture, but for now, here are our rankings for every offensive line in the SEC heading into Week 5 of the college football season.
The SEC OLine Rankings are brought to you by Eckrich, the Official Smoked Sausage of the College Football Playoff.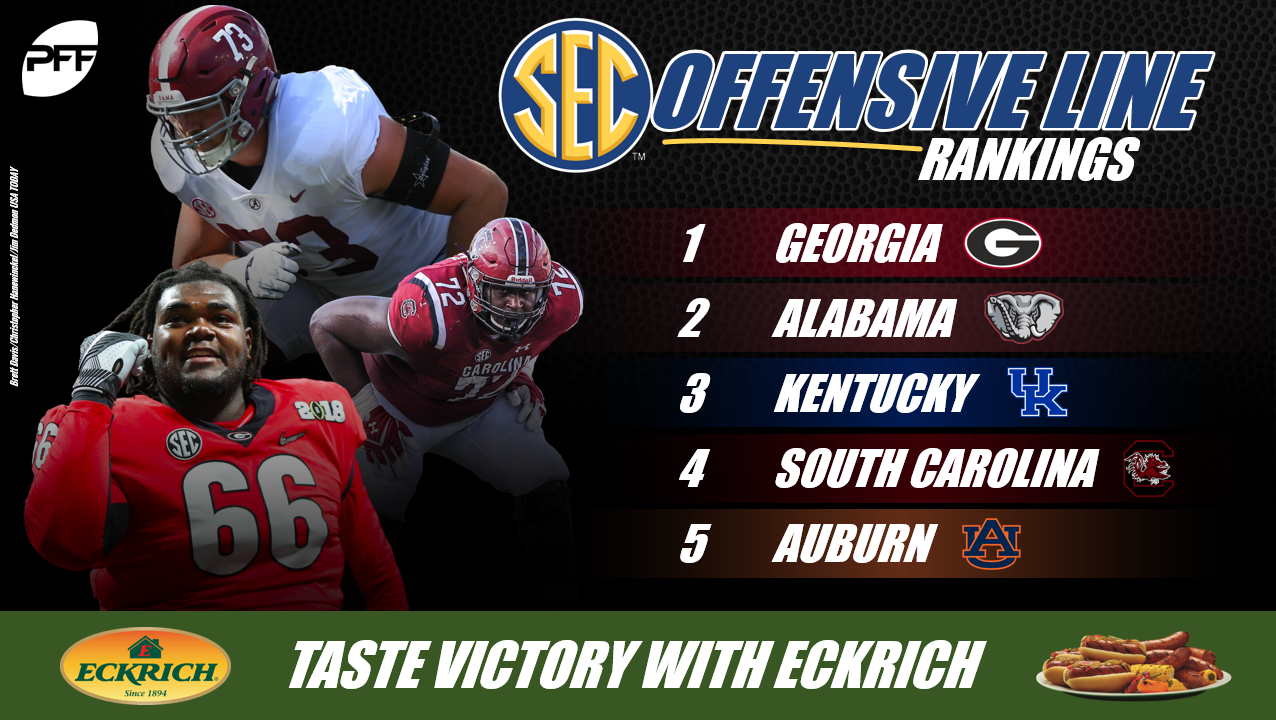 1. Georgia Bulldogs
The Bulldogs will be without right guard Ben Cleveland for at least the next few weeks, likely even longer as he deals with a fractured fibula, but this is still the best offensive line the conference even with him out of the lineup. They are the only team in the SEC with an offensive lineman with a grade above 80.0 over the past eight games, and four of their five starters heading into this weekend's game against Tennessee have graded at 70.0 or higher. So far this season, they have allowed 10 total pressures on passing plays, the best mark in the conference. This is a line that is strong from left to right, and they have enough talent to cover while Cleveland is out.
2. Alabama Crimson Tide
Left tackle Jonah Williams figures to be an early draft pick when he leaves school for the NFL, and after impressing as a freshman and sophomore, he has taken his game to another level in his junior year. Through four weeks in 2018, Williams is the highest-graded offensive tackle in the nation and has allowed just two hurries from 132 pass-blocking snaps. The unit overall lacks a weak link, and while right guard Alex Leatherwood is the lowest-graded player on the line at 64.5, that still sees him in the middle of the pack in the SEC, ranking at the 16th-graded graded guard out of the 25 to play at least 200 snaps. As a group, they have been key to Alabama's running game, and it's no surprise that through every gap where they have run at least three times, they average over five yards per carry.
3. Kentucky Wildcats
While it's running back Benny Snell receiving the hype for the Heisman trophy, the Wildcats offensive line has also been a huge part of their success so far this year. Through four weeks, they are averaging 5.3 and 7.7 yards per carry on runs between the center and left guard, and center and right guard, respectively, while in pass protection, the offensive line has allowed just 19 total pressures in 2018, tied for the fourth fewest in the conference. Four of the five starters on the line have produced PFF grades of 70.0 or higher so far this year, but the star has been right guard Jervontius Stallings, who hasn't allowed a single sack, hit or hurry over the past two games, and has delivered PFF run-blocking grades of 75.0 or highest over the past three.
4. South Carolina Gamecocks
Pass protection has been the strength of the South Carolina offensive line so far in 2018, and with just 13 total pressures allowed on 121 pass-blocking snaps, they rank third in the SEC with a 94.3 pass-blocking efficiency rating. The star up front has been left guard Zack Baily, who has taken his pass protection to another level in his senior year, and has yet to allow a sack, hit or hurry on the year. While Bailey (75.3) is the only player with a PFF grade above 70.0, all but one of the other starters on the line have produced PFF grades of at least 60.0, with tackle Blake Camper (59.5), the lowest graded of the group.
5. Auburn Tigers
Auburn's strength has been at tackle, where Prince Tega Wanogho (80.1) and Jack Driscoll (73.5) have both been impressive. Wanogho has shown flashes in the past but has really started to put it together this year, improving significantly as a pass-blocker and in the running game. Through four games, he has allowed just two total pressures from 128 pass-blocking snaps. Opposite him, Driscoll has been equally impressive in pass protection and has allowed just four total pressures on the year so far. They haven't been quite as strong on the interior, but as a unit, they rank fifth in the conference with a pass-blocking efficiency rating of 90.9 through four weeks.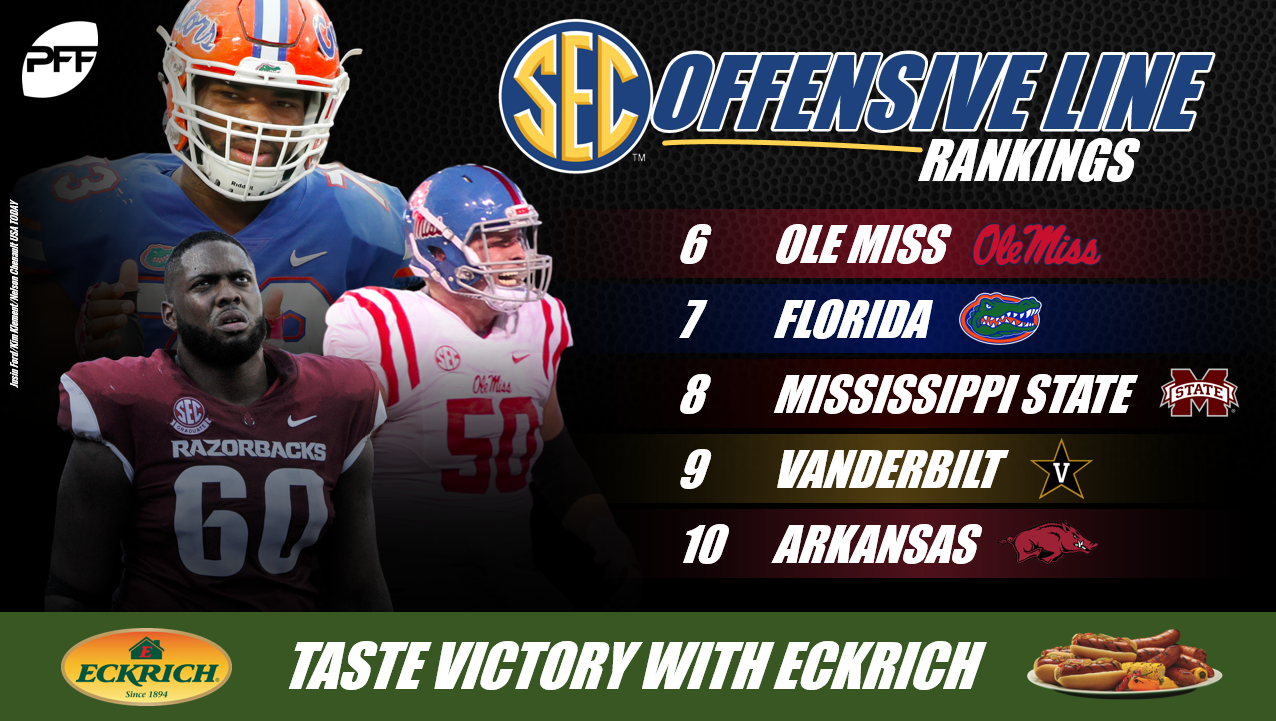 6. Ole Miss Rebels
Ole Miss leads the SEC with a pass-blocking efficiency rating of 95.5, surrendering just 12 pressures allowed from 143 pass-blocking snaps. Context is important here though, and with the Rebels using RPOs on 29.9 percent of passing plays, the numbers are skewed somewhat. Left tackle Greg Little has been as advertised, delivering some highlight-reel blocks in the running game, and allowing just two hurries through four games. Three of the team's four starters in Little, right tackle Alex Givens and left guard Javon Patterson have all produced PFF grades of 70.0 or higher, while center Sean Rawlings (65.7) and guard Ben Brown (64.8) haven't been far behind.
7. Florida Gators
Florida has allowed 20 total pressures through four weeks, the seventh fewest in the conference. Right tackle Jawaan Taylor has been the unit's top player so far, but it's worth noting of his four games played this season, his two lowest-graded have come in the games against SEC opposition, with all three of his hurries allowed in 2018 coming in the Week 2 clash with Kentucky. Right guard Fred Johnson is coming off his best game of the season against Tennessee, where he didn't allow a single pressure for the second time, and made an impression in the run game.
8. Mississippi State Bulldogs
Mississippi State has been strong on the interior, with their three highest-graded starters coming at guard and center. Left guard Darryl Williams hasn't been perfect in pass protection, but has allowed just four total pressures from 127 pass-blocking snaps, and is one of the top run-blockers in the conference, with a PFF run-blocking grade of 81.4. Next to him, center Elgton Jenkins (73.0) has been one of the top players at the position, trailing only Georgia's Lamont Gaillard among centers with at least 200 snaps so far this season in terms of PFF grade.
9. Vanderbilt Commodores
Vanderbilt is currently 2-2 to start the year, losing a close game to Notre Dame before being handled by South Carolina after a 2-0 start. Their offensive line has been impressive though, helping them average 5.5 yards per carry this season, despite having just eight runs of 10 or more yards through four weeks. They have allowed 31 total pressures for far this season, giving them a pass-blocking efficiency rating of 88.1 which ranks just 10th the conference, but their strength in the running game, and the fact that four of their five starters have produced PFF grades of 70.0 or above so far this year, is a sign of how good the unit is.
10. Arkansas Razorbacks
Arkansas may lack a true individual standout on the offensive line this season, but they are good enough across the line, with all five starters grading average to above average and somewhere between 60.0 and 69.0. Their pass protection has been solid with right tackle Brian Wallace the only player to allow 10 or more hurries through four games. While the line has allowed 33 total pressures, the 10 assigned to Wallace mean that the other four starters have averaged just over five each so far in 2018. Really, the biggest issue for Arkansas is that they have lacked any level of dominance on the line, but they certainly aren't a bad group.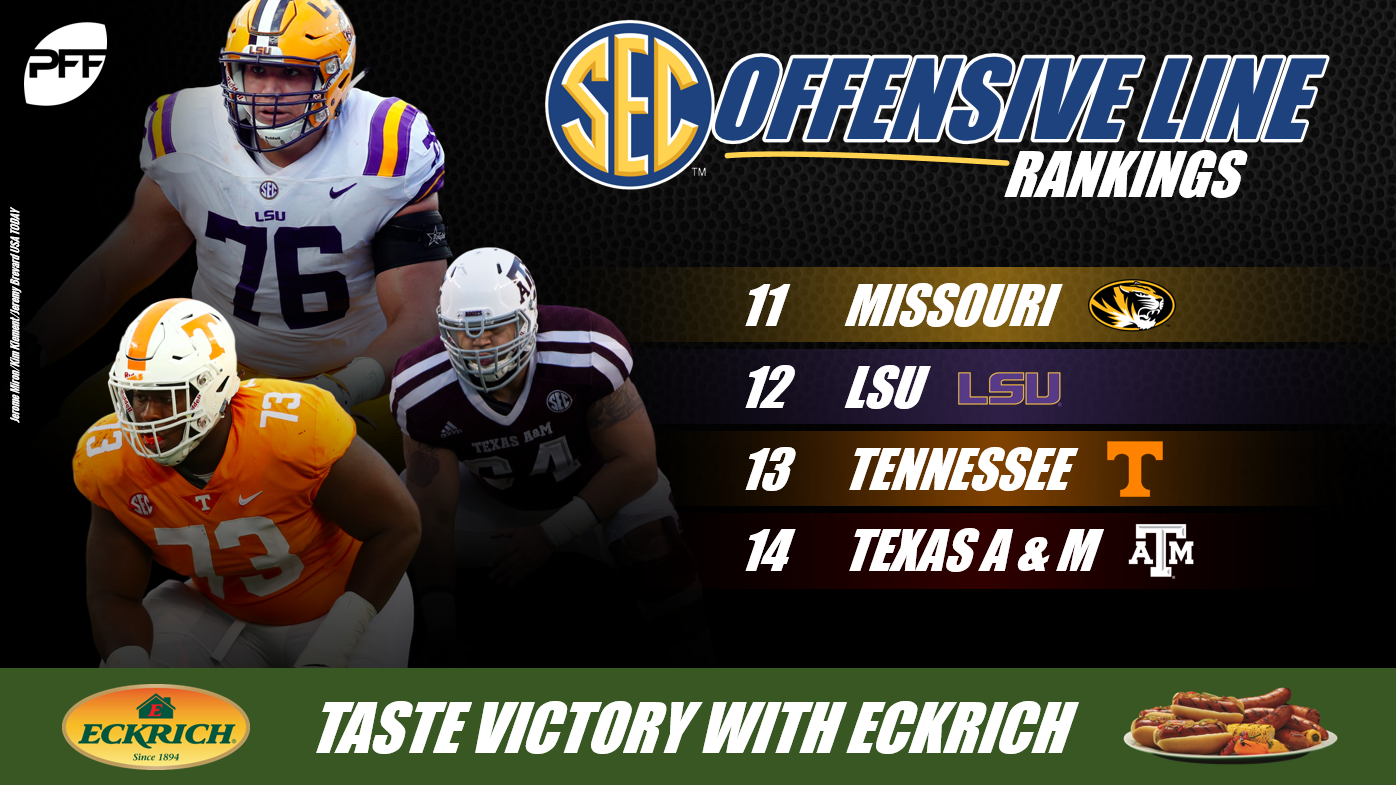 11. Missouri Tigers
Missouri ranks fourth in the conference in terms of pass-blocking efficiency, with a 91.9 rating thanks to allowing 27 total pressures from 179 pass-blocking snaps. Like Ole Miss though, they use RPOs and a quick passing game often, and with that happening on 24.6 percent of their passing plays, it skews this number to flatten them somewhat. Heading into this weekend, they are one of the most experienced lines in the conference, with every starter from left guard to right tackle playing at least 700 snaps at that position a year ago. Left tackle is the biggest concern, where starter Yasir Durant is questionable. Hyrin White has looked solid in relief for him in pass protection, and has yet to allow a pressure on 35 pass-blocking snaps this season, but has failed to make an impact in the running game.
12. LSU Tigers
LSU's starting offensive line right now is vastly different from the one we saw a year ago. From their starting five in the season opener against BYU in 2017, only left guard Garrett Brumfield will start in the same spot this week. Saahdig Charles, who started that game at right guard, before moving to left tackle during the season, has manned the left side with Brumfield in 2018 but is questionable for this week. Elsewhere on the line they are having to deal with replacing three starters who graded at 70.0 or higher in right tackle Toby Weathersby, center Will Clapp and left tackle KJ Malone, who was replaced by Charles during the 2017 season. Allowing 22 total pressures from 121 pass-blocking snaps through four weeks of the season, this line looks like it needs some more time to gel together.
13. Tennessee Volunteers
The Volunteers have dropped back to pass just 99 times in 2018, the lowest mark in the conference, and yet they have allowed 25 total pressures, the sixth-most in the SEC. That has seen them produce a pass-blocking efficiency rating of 85.4, which ranks second to last in the conference. Among their starters, only tackle Drew Richmond and guard Jerome Calvin have been good enough so far this season, allowing three and two total pressures, respectively. While they have combined to allow five pressures between them, the rest of the line have each allowed at least five on their own.
14. Texas A&M Aggies
Tennessee ranks second to last in pass-blocking efficiency but it's Texas A&M who prop up the rankings, having allowed 48 total pressures so far in 2018. That's 14 more than the next closest team in the conference and tied for seventh most in the nation so far this year. They were better last year, ranking ninth in the conference with a pass blocking efficiency rating of 86.4, so the drop off to a conference-low of 82.9 is definitely something Aggies fans should be concerned about early in the season. The issue right now is that they have two players, guard Keaton Sutherland (13) and tackle Dan Moore Jr. (12), who already allowed double-digit pressures, while Jared Hocker and Carson Green have each allowed eight. When your starting offensive line is allowing an average of 12 total pressures per game through four weeks, it makes life incredibly difficult for your offense.