It's here.
Finally.
2018 was the first year of the PFF ELO college system, and through the regular season and the conference championship games, we agree with the College Football Playoff committee on three teams: Alabama, Clemson and Notre Dame.
Where we differ is in the fourth spot, where our model likes a Georgia team coming off of a plus effort against the highest-ranked Alabama squad. While they did not win, bringing their loss total to two on the year and Oklahoma did, and avenged their early-season loss to a Texas team that our model likes (having them 19th in the country), leaving them with only one loss. Ohio State, another one-loss team, technically lost to Penn State earlier in the year when we mashed together the grades in different facets of play.
The University of Central Florida presents an entirely different challenge, producing another undefeated season while playing only the 80th-toughest schedule among contending teams (Alabama is 33rd, Clemson 47th, Notre Dame 35th, Georgia 10th, Oklahoma 21st and Ohio State 37th). Without McKenzie Milton they A) won their conference title game and B) likely would not be as compelling a bunch going into December and January and C) are a great story.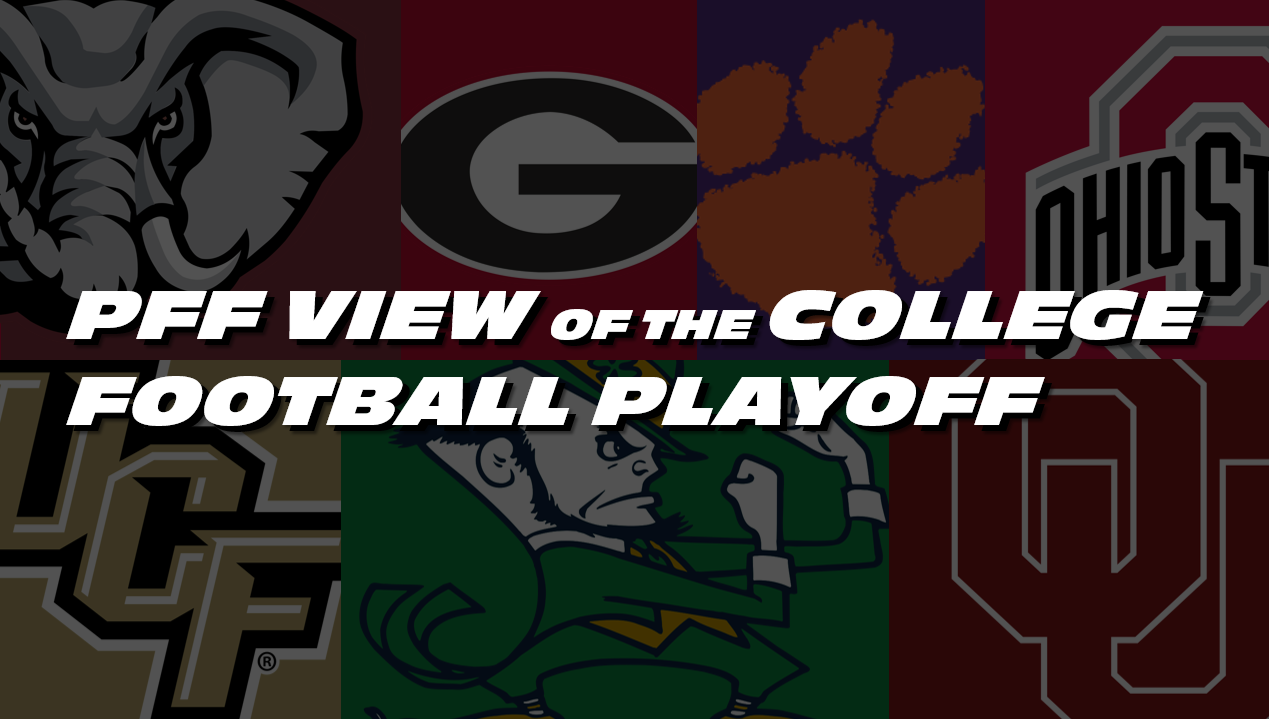 We discuss these top seven teams, using data only the PFF database can offer. Enjoy!
The PFF ELO Rankings are brought to you by Eckrich, the Official Smoked Sausage of the College Football Playoff.
Alabama
While it was a scare Saturday in the SEC title game, the Crimson Tide ultimately pulled it off on the strength of Jaylen Waddle taking eight targets and producing 52 yards after the catch, including a touchdown from Tua Tagovailoa before he exited with an injury. Backup Jalen Hurts, no stranger to championship experience himself, was a perfect 4-of-4 from a clean pocket, while earning a 130.0 passer rating when pressured en route to the come-from-behind victory. Defensive linemen Quinnen Williams continued to be one of, if not the, best defensive players in all of college football, recording five stops and three total pressures (including a sack) against the Bulldogs. We'd give the Crimson Tide over an 80% chance to beat Oklahoma in Round 1, with the Sooners offense/defense combination sure to make the game entertaining.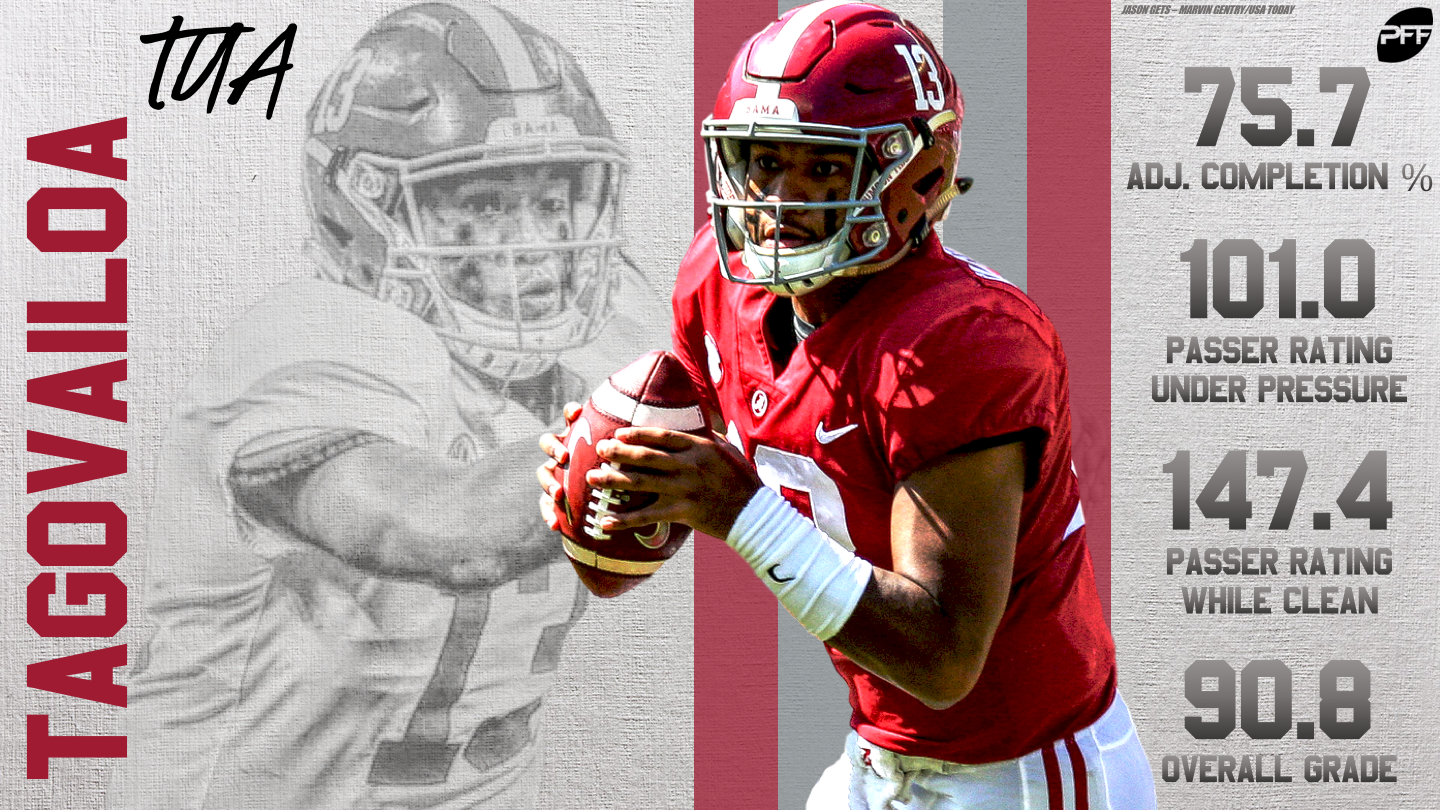 Clemson
Clemson has clearly separated themselves as the No. 2 team in the country, rolling through their lackluster ACC schedule in impressive fashion. Travis Etienne continues to make this offense churn with five forced missed tackles while averaging 6.0 yards after contact in their conference championship win over Pittsburgh. Oddsmakers believe they are clearly the second-best team in the country opening with them as 11.5 favorites over Notre Dame in the semifinal showdown. With a reliance on the run, you are always susceptible to upsets and even more likely to struggle to keep pace with an equivalent opponent, as such Trevor Lawrence has to produce in the passing game for the Tigers to have a chance at securing the national title. He seems up to the challenge, posting a 5.7% big-time throw percentage with a mere 1.1% turnover-worthy throw percentage as a true freshman.
Notre Dame
The Fighting Irish return to the National Championship picture for the first time in five years after finishing off an impressive 12-0 season against USC last week. Defensively, Notre Dame can stop anyone in the country, allowing an EPA per early-down dropback of -0.37, they have one of the best pass defenses in the country. Question marks result when trying to determine if they can keep pace offensively with the class of college football. As a team, they have an early-down EPA generated on pass plays of 0.11 which is very low compared to those ranked around them. Ian Book has been better when including all downs as he has an EPA generated of 0.24. His low percentage of positively-graded throws and big-time throws clusters him into more of a game-manager quarterback cluster than one that can win his team a game against a quality opponent. In the playoff race, that may be needed which is why the Fighting Irish opened as 11.5 underdogs to Clemson.  
Georgia
The Bulldogs did not make the College Football Playoff, even though in our opinion they should have been the fourth team to earn a bid. As stated above, they played the most difficult schedule of the teams considered (per PFF ELO), and still managed to hold opponents to just 43% early-down success in both the running and the passing game, while posting a second-in-the-SEC level success rate on their early-down passes, and the highest early-down EPA in the run game. D'Andre Swift and Elijah Holyfield were great again in the SEC title game, generating 87 yards after contact on 30 carries, while Swift turned seven targets into an additional 63 yards in the air. They would have a better shot at beating Alabama in a rematch than Oklahoma will have (~ 70%), suggesting a missed opportunity for the viewing public come late December/early January.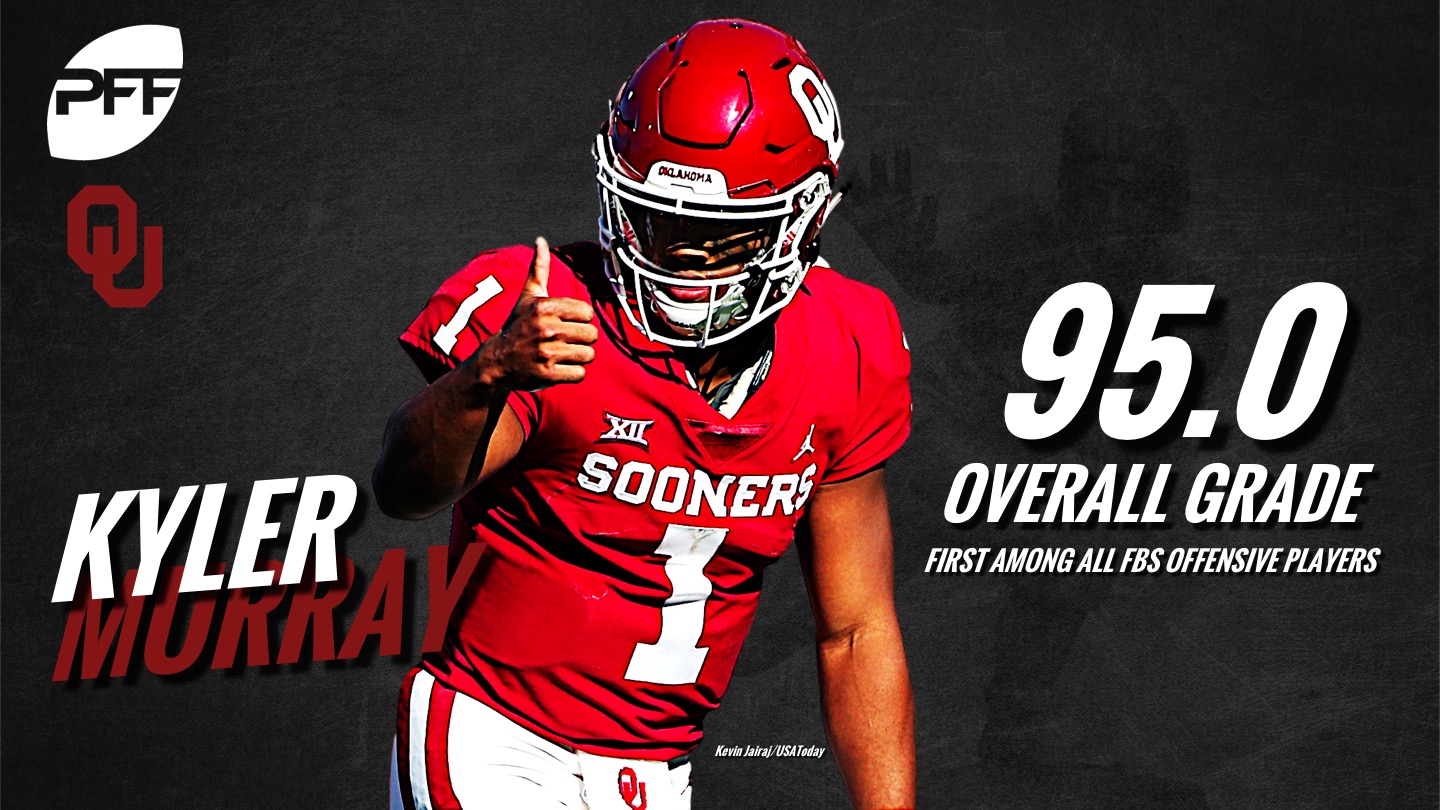 Oklahoma
The Sooners avenged their early-season loss to Texas in the Big-12 title game and did enough in the committee's eyes to secure the fourth seed in the college football playoff. Kyler Murray is simply the best and most exciting player in college football and should eventually win the Heisman. He has the highest EPA generated per dropback of any quarterback in the FBS and the fifth-highest percentage of big-time throws. He is also pretty good with his legs, posting 0.43 EPA per rush attempt with 396 yards after contact. The Sooners will most likely have to score on every possession to keep pace with Alabama as their defense isn't capable of stopping most schools in the Big-12 consistently. It will be an entertaining game but if they wanted the most competitive and tightest game for Alabama, they should have put in Georgia over Oklahoma in the College Football Playoffs.
Ohio State
Ohio State ran away from Northwestern behind the arm of Heisman hopeful Dwayne Haskins. Although Haskins experienced pressure at his second-highest rate in 2018, he was exceptional under duress, despite taking four sacks, completing 8-of-9 attempts with two touchdowns and a passer rating of 149.8. The Buckeyes inevitably didn't do enough over the last five weeks to overcome their Week 8 loss to Purdue on the road. The odd precedence set by the playoff committee is their respective handlings of Ohio State and Oklahoma. Coming in at fifth and sixth and 6th in our rankings, respectively, they are separated by less than five PFF ELO points well being over 20 points lower than our fourth-ranked Georgia Bulldogs. When looking at both Oklahoma and Ohio State, they have very similar makeups so it is perplexing how one team ended up jumping Georgia while the other remained entrenched at six.
UCF
The fourth undefeated team in the FBS rode 35 second-half points to an impressive come-from-behind victory in the AAC championship game. Filling in for the injured McKenzie Milton, Darriel Mack Jr. impressed with a 64.5% completion percentage when kept clean and had a passer rating of 124.1. He found success on deep passes over an incredibly small sample size, throwing for 194 yards on four completions and a passer rating of 141.4. Led by Greg McCrae's 4.42 yards after contact per attempt, UCF ran for 183 yards after contact. This team didn't take as considerable a step back as anticipated with the loss of Milton., still, for the second straight year, the playoff committee left them out of the picture after another 12-0 season alongside a conference championship. At this point, the only hope for the Knights would be playoff reform as clearly, their resume cannot improve enough to be considered a serious contender for one of the four available slots in the committee's eyes.