Week 4 came and went, with us gaining more clarity on how teams at the top of our rankings match up. It is crazy that in a few short weeks we will be passed the midway point of the college football season. Week 5 offers three more games between teams in PFF's Top-25. Notre Dame heads home needing to rebound against 18th-ranked Virginia, and the SEC continues to put up quality matchups with Auburn going home to face 19th-ranked Mississippi State. The Pac-12 offers two compelling matchups, headlined by USC against Washington and the after-dark special showcasing Washington State at Utah. Let's take a closer look at our rankings as things start to take shape in our Top 25 PFFELO rankings.
PFFELO is an iterative system that updates each team's rating after each game based on two things: how well they played against their opponent and how well they were expected to play against their opponent. The PFFELO rating system measures the former using our unique offensive, defensive and special teams grades, while the latter is determined by the PFFELO ratings leading up to the game and where the game is played.
For example, a heavy favorite playing at home is expected to outplay the visitor, so a victory would result in only a small rise in their PFFELO rating and a similarly small decrease in the defeated team's, but if an upset were to happen, the visiting team would see their PFFELO rating rise substantially, and the home team's see a similarly sized drop.
Sometimes in football, the best team does not win, and PFFELO accounts for these oddities by using our grades. Hence there will be teams rated higher or lower in this system than their win-loss record would suggest.  While adjustments are made using preseason market data, along with recruiting rankings, the majority of these numbers are derived using our grades. Since PFF began charting college football in 2014, the difference in PFFELO values alone has been able to explain over three-fourths of the variance in the closing Vegas line. Check back to PFF.com for weekly college spread picks using this model, and check out PFF College Greenline for a full slate of against-the-spread and total lines based on our rating metrics.
[Editor's Note: All ELITE subscribers have access to PFF Greenline, an online dashboard with projections for the spread, total and moneyline for NFL and FBS games every week. Subscribe today to gain access!]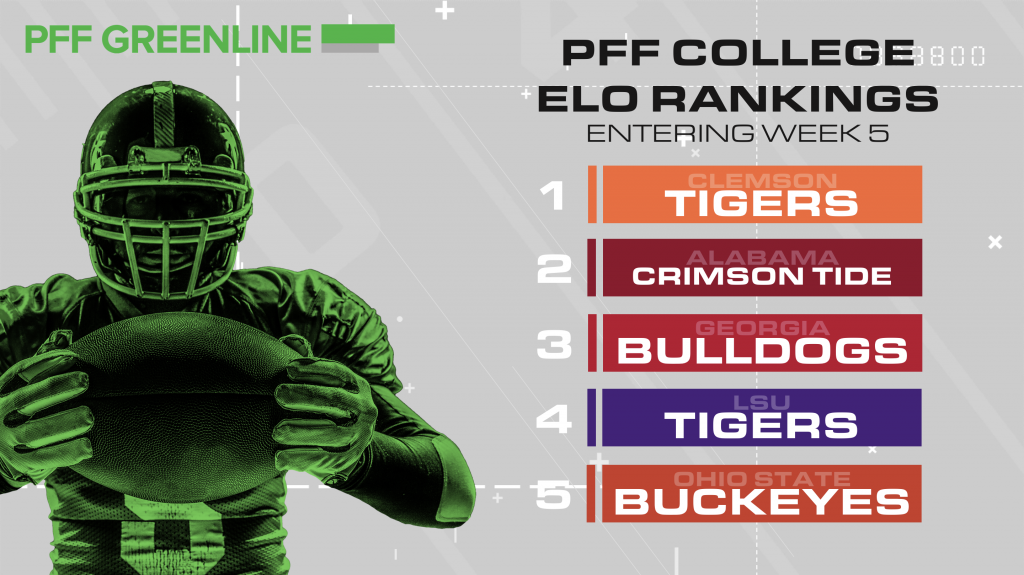 Top-25 Rankings
1. Clemson
Clemson did what a dominant team should do in their 52-10 win over Charlotte by seeing a record number of players receive snaps. Altogether, 49 different offensive players recorded snaps, with 41 defensive players getting on the field. The Tigers are on cruise control to another playoff berth with the second-easiest regular-season strength of schedule remaining among teams in Power-5 conferences. Our simulation gives Clemson almost a 95% chance of returning to the college football playoff and a national championship price of +200 or better provides value if shopping on credit.
2. Alabama
Continuing to be 1B of the 2019 season, 'Bama used yards after the catch once again to roll to a cover victory in Week 4. It is hard to fault a quarterback for allowing his playmakers to play optimally. Yet, this will continue to be the discussion surrounding Tua Tagovailoa for the foreseeable future. As an offensive unit, they rank second in the country in opponent-adjusted grades. With road tests against Texas A&M and Auburn, as well as their home matchup with LSU looming, our simulation gives them a 73% chance of surviving their regular-season schedule and making the SEC title game.
3. Georgia
Georgia secured their first signature win of the 2019 season with the only real blemish being forced to punt up one touchdown with two minutes to go in the fourth quarter. Despite not covering, it never seemed like the win was in doubt with Jake Fromm posting an 88.8 passing grade with 63.6% of his yards coming through the air. Fromm has a nearly identical grade when kept clean vs. under pressure, but he actually has a higher average depth of target (aDOT) with the latter. The Bulldogs get a much-deserved rest before fully diving into their SEC schedule. With a 57% chance of returning to the SEC title game, we give them almost a 30% chance of winning the conference in 2019.
4. LSU
LSU continues to win convincingly, covering the spread and eclipsing the total by themselves in a 66-38 road victory over Vanderbilt. What was once an afterthought has turned into the worst nightmare for some, with the SEC possibly getting three teams into the college football playoffs.  LSU, Clemson, Alabama, Georgia, Ohio State and Oklahoma would form the most compelling six- (or eight-) team playoff bracket we may ever see. This not occurring is a huge disservice to college football fans, and it is also a huge disservice to the two (or three) worthy teams that get left out in 2019. This coincides with LSU's writeup as they have the lowest odds to get in with an 18% chance of stepping into the promised land.
5. Ohio State
The Ohio State Buckeyes head into their Big-10 conference schedule firing on all cylinders. When taking into account that Justin Fields has three remaining years of college football eligibility, Ohio State definitely got the best transfer quarterback for 2019 and beyond. Fields has been nearly perfect from a clean pocket, recording 92.8 passing grade with six big-time throws and zero turnover-worthy plays. Damon Arnette continues to grade like one of the best cornerbacks in the FBS with an 87.6 coverage grade; he has allowed a 47.4 completion percentage on 19 targets with three forced incompletions. The real challenge to the Buckeyes in the Big-10 will come earlier than expected, at home against the Wisconsin Badgers.
6. Notre Dame
Week 4 saw a crushing defeat for the Fighting Irish, who went into halftime with a lead but were simply overpowered by Georgia in the second half. After sitting at a 13% chance to make the playoffs, the loss drops them to 4% which is the lowest probability of any team in the top-10. Critics will question why Notre Dame didn't drop further in our rankings, but they covered on the road against a superior team. Needing a convincing victory in Week 5, Greenline leans the other way, giving Virginia a 54% cover probability at the -12.5 market price. If Notre Dame struggles at home, they will continue to slide in our rankings and drop out of bowl relevance quickly.
7. Auburn
One of the biggest climbers in our rankings is Auburn, who jumped from tenth to seventh following their road victory over the Aggies. The Tigers will continue to be tested as they have the eighth-hardest strength of schedule remaining. Bo Nix still hasn't reassured the Auburn faithful, either. On 39 pass attempts traveling 10 or more yards downfield, Nix has a 33% completion percentage with three big-time throws and four turnover-worthy plays. His 50.9 passing grade on such throws is the fourth-lowest grade among Power-5 quarterbacks. They have a top-10 defense but need to get more from Nix if they want any shot to pull off upsets over the latter half of their schedule.
8. Florida
Kyle Trask has stepped in seamlessly replacing Feleipe Franks, delivering an 83.8 passing grade Saturday, and the Gator offense has now increased their positive EPA play percentage by five percent with Trask under center. They have a light week Saturday at home against Towson. This is followed by Auburn, LSU and Georgia over the next four weeks. Trask will need to be better than just a worthy replacement for Franks if they want to survive any game on that gauntlet.
9. Oklahoma
Dropping solely due to not playing shows how highly contested these top-10 rankings are. The Sooners have the fifth-best chance of making it to the playoffs. This leaves a very real possibility that the Sooners could end up undefeated and still not make it into the top-four come December. The question the committee does not want to have to answer is should both an undefeated Oklahoma and Ohio State team make it in over a one-loss Georgia team, especially when that loss came against Alabama. The Red River showdown could help their case and cause them to leap up in these rankings in two weeks.
10. Penn State
The Nittany Lions slide up to 10th and have the fourth-most difficult rest-of-season schedule among Big-10 teams. Highlighting this Friday night's slate of games, Penn State opened as six-point road favorites to Maryland but continues to be bet out. Greenline likes this side before this number possibly reaches seven.
11. Iowa
The second Big-10 team to move up despite not playing last week, Iowa slots in at the smallest amount possible behind Penn State in our rankings. Iowa has one more cupcake matchup against Middle Tennessee before having to travel to Michigan followed later by a trip to Madison. Our simulation seems high on the Hawkeyes, giving them a 47% chance of making it to the Big-10 title game.
12. Washington
Washington rises considerably in our rankings after a dominating performance on the road against BYU. Jacob Eason continues to look like possibly the second-best quarterback in the Pac-12. Against BYU, he posted an 87.7 passing grade, three big-time throws and an 88.9 adjusted completion percentage. The Huskies' offensive line is the fifth-highest graded pass-blocking unit in the FBS. They are headlined by Jared Hilbers, who has allowed zero pressures to start the season.
13. Wisconsin
No team had a more impressive performance on Saturday than the Wisconsin Badgers. They jump from 18th to 13th in our rankings and increase their odds of getting to the Big-10 title game by over 10%. Coming up, they draw Michigan State and Iowa at home with a looming showdown on the road against Ohio State in late October. With their offense looking unstoppable and their defense allowing the lowest EPA per play in the FBS, the Wisconsin Badgers are the hottest team in college football right now.
14. Michigan
Fittingly, the Wolverines slot in behind the Badgers after failing to remain competitive in their matchup in Madison. They drop six spots with some probably thinking that drop is not significant enough. Their defense was the letdown with 11 missed tackles and an EPA per run play allowed of 0.21. With five matchups remaining against top-25 teams, the Wolverines have the tenth-hardest strength of schedule remaining in the FBS.
15. Texas
Devin Duvernay filled the hole left by Collin Johnson on Saturday, getting peppered with 13 targets for 12 receptions, with 83 yards coming after the catch along with four missed tackles forced. Eight of his receptions went for first downs while earning a receiving grade of 89.3. Texas heads into a bye week with matchups against West Virginia and Oklahoma looming the following two weeks. Sam Ehlinger can continue to cement his legacy in Austin with another win in the Red River showdown.
16. Missouri
The Tigers utilized two defensive touchdowns to pull away from South Carolina in an uninspiring performance from their offense. Kelly Bryant posted a 54.1 passing grade, including a turnover-worthy throw. He wasn't asked to do much downfield and ended the game with an aDOT of 7.8 with only a 66.7 adjusted completion percentage. Missouri takes the week off before heading into a four-game stretch in the SEC of games they must win to stay relevant. Following this lineup, they head to Georgia before hosting Florida, and their offense simply needs to find their rhythm. Currently, they have an EPA per play of -.018 with only 45.5% of offensive plays being successful from an EPA standpoint.
17. Michigan State
The Spartans erupted with 31 points on Saturday, but their offense still graded below average with a 65.6 grade. This will never be an offense capable of winning a high-scoring shootout, but they must continue to improve if they want any shot of going to Ohio State and pulling off an upset in two weeks. The best of Brian Lewerke still needs significantly more help from his receivers out wide. Lewerke has posted an aDOT of 7.3 with 52.6% of his yards coming through the air. He leads the Big-10 in pass attempts but has the third-lowest accuracy plus percentage while falling in the middle of the pack in our accuracy rate.
18. Virginia
It took a half to get rolling, but the Cavaliers finally pulled away from Old Dominion in the second half. They head to Notre Dame this weekend in their most difficult regular-season matchup. After opening as 11-point dogs, the Fighting Irish have found support and pushed this line out to +12.5 for Virginia. Bryce Perkins will have to perform better if Virginia wants a shot at the upset — he has just a 49.3 passing grade on the season with three turnover-worthy throws in last weeks matchup.
19. Mississippi State
Mississippi State is on the move up our rankings after a convincing victory against an overmatched Kentucky team. Garrett Shrader took over completely for Tommy Stevens at quarterback. Shrader posted a 49 passing grade with two turnover-worthy throws. Kylin Hill was the key to the Bulldogs' offense, generating 11 first downs and three touchdowns. Things do not get any easier for Mississippi State, as they head to Auburn where they find themselves as 10.5-point dogs this weekend. Greenline is enticed by this matchup as it offers one of our favorite against-the-spread plays of Week 5.
20. Oregon
The Ducks finally make the leap into our top-25, jumping 10 spots after their win over Stanford. With a bye week before a showdown with Cal, Oregon has found themselves back in the thick of the Pac-12 race. According to our rest-of-season simulations, the Ducks have a 43% chance of making it to the conference title game with Oregon winning it 21% of the time. Justin Herbert continues to grade above average but still hasn't shown that he is worthy of the number one overall pick like so many projected before the season.
21. USC
USC completed a big win on Friday, with third-string quarterback Matt Fink throwing for an 82.5 passing grade against one of the best defenses in the nation. Fink had four big-time throws while completing 54.5% of his pass attempts that were targeted at least 20 yards downfield. The Trojan run defense may have been the biggest story, allowing an EPA per rush of -0.74 and gathering 22 defensive stops with five tackles for loss or no gain. USC now heads to Washington in our Game of the Week that has the Trojans as 9.5-point dogs.
22. Utah
Utah's hopes of playing in the conference title game and a big bowl game came crashing down with their loss to USC. Utah's chances of getting to the Pac-12 title game dropped by 15% from last week, while their 5% playoff chance now sits at only a 1.7% chance. Utah must rebound against Washington State in a Pac-12 after-dark showdown. Opening as six-point favorites, this line has moved down with Utah losing a full point needing now to cover a -5 spread.
23. Texas A&M
The Aggies tumble in our rankings after failing to secure a win or cover against Auburn at home last week. Kellen Mond simply didn't look comfortable in the pocket, experiencing pressure on 42% of dropbacks and earning a 48.8 passing grade when under pressure. They head to Arkansas this weekend before a needed rest. The second half of their schedule is even tougher than the first half, where they begin by hosting Alabama before later having to travel to Georgia and LSU in back-to-back weeks.
24. Wake Forest
Jamie Newman has officially entered the Heisman discussion after posting an 87.5 passing grade with four big-time throws against Elon. They are in an interesting spot Saturday as 6.5-point road favorites against Boston College. If they continue to navigate their schedule well, their matchup in Clemson coming mid-November will be the best test of our No. 1 team.
25. UCF
The Knights failed to win in Pittsburgh after being on the receiving end of a Pittsburgh special with a minute to go. Dillon Gabriel was marvelous in defeat, throwing eight big-time throws which is tied for the second-highest amount in the PFF College era. UCF begins their AAC schedule with a 51% chance of returning to the conference title game, and they have a ridiculous 43.5 points to cover this Saturday against UConn, with Greenline projecting that spread to be a little too one-sided for the Knights.