After grading and analyzing every player on every play of every game during the 2018 college football season, it's time we unveil the 2019 Preseason PFF All-MAC first team, second team and honorable mention for every position on offense and defense as well as for the first time ever, specialists.

The Preseason All-MAC list may differ a bit from any year-end look back at the previous season as we project to the 2019 season ahead of us. Find out which of these athletes made the PFF All-American team as well.
First-Team Offense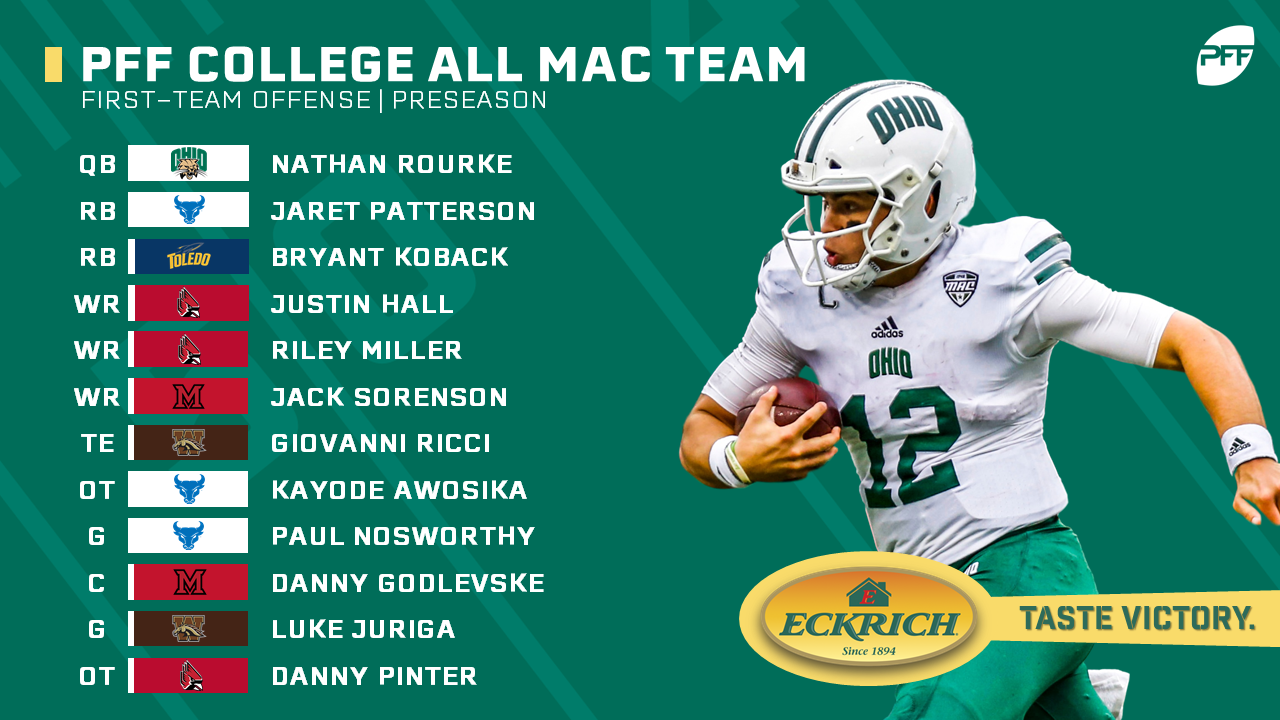 The MAC will be a one-horse race to see if anyone can stop the Ohio Bobcats in 2019 as they're led by senior signal-caller Nathan Rourke. Talented receivers dot the rest of the conference who will undoubtedly bring forth some exciting #MACtion later this season.
QB
Nathan Rourke, Ohio
Second-Team: Jon Wassink, Western Michigan
Honorable Mention: Kato Nelson, Akron
RB
Jaret Patterson, Buffalo
Second-Team: Jo-El Shaw, Kent State
Honorable Mention: LeVante Bellamy, Western Michigan
RB
Bryant Koback, Toledo
Second-Team: Tre Harbison, Northern Illinois
Honorable Mention: Andrew Clair, Bowling Green
WR
Justin Hall, Ball State
D'Wayne Eskridge, Western Michigan*
*Eskridge is transitioning to cornerback but his prowess from year's past still deserve note here.
Second-Team: Keishawn Watson, Western Michigan
Honorable Mention: Andre Williams, Akron
WR
Riley Miller, Ball State
Second-Team: Charlie Jones, Buffalo
Honorable Mention: Justin Hall, Ball State
WR
Jack Sorenson, Miami
Second-Team: Quintin Morris, Bowling Green
Honorable Mention: Luke Mayock, Miami
TE
Giovanni Ricci, Western Michigan
Second-Team: Tyler Mabry, Buffalo
Honorable Mention: Andrew Homer, Miami
OT
Kayode Awosika, Buffalo
Second-Team: Tommy Doyle, Miami
Honorable Mention: Steve Nielsen, Eastern Michigan
OG
Paul Nosworthy, Buffalo
Second-Team: Mike Caliendo, Western Michigan
Honorable Mention: Curtis Blackwell, Ball State
C
Danny Godlevske, Miami
Second-Team: Brett Kitrell, Ohio
Honorable Mention: Steve Eipper, Central Michigan
OG
Luke Juriga, Western Michigan
Second-Team: Thomas Jack-Kurdyla, Buffalo
Honorable Mention: Christopher Perez Jr., Northern Illinois
OT
Danny Pinter, Ball State
Second-Team: Evin Ksiezarczyk, Buffalo
Honorable Mention: Austin Pleasants, Ohio
First-Team Defense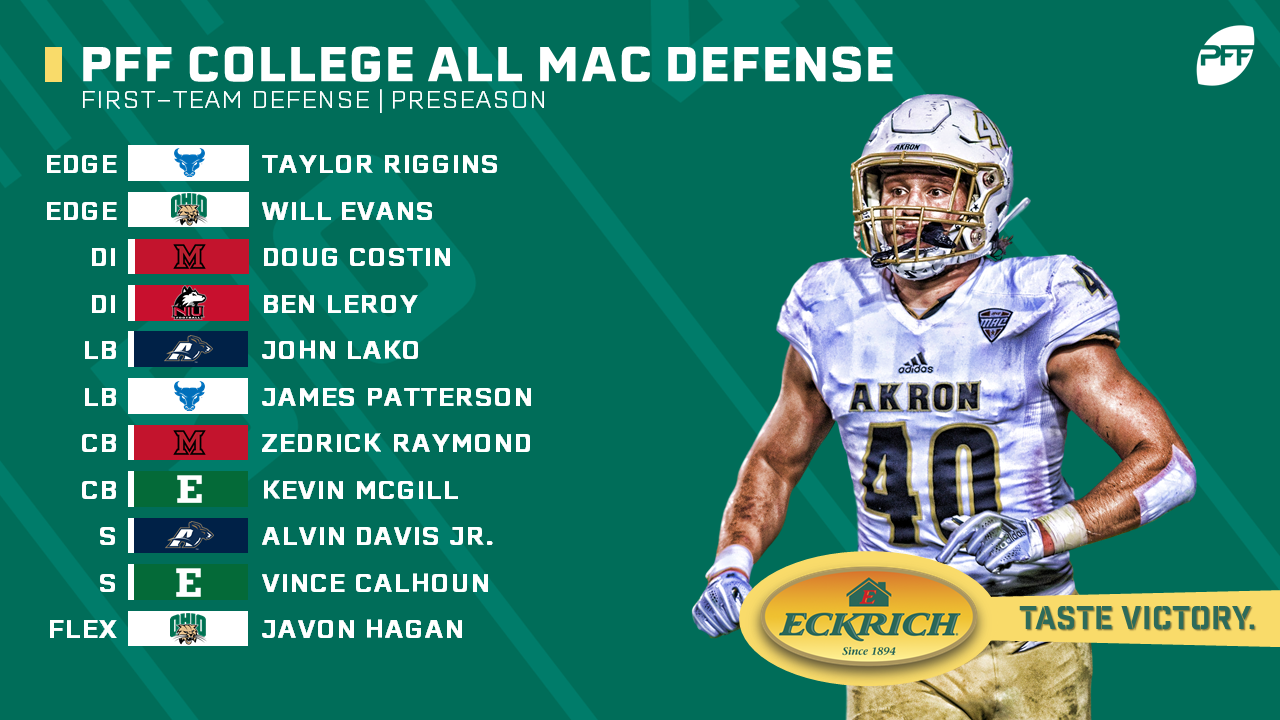 Edge
Taylor Riggins, Buffalo
Second-Team: Ali Fayad, Western Michigan
Honorable Mention: Jamal Hines, Toledo
Edge
Will Evans, Ohio
Second-Team: Malcolm Koonce, Buffalo
Honorable Mention: Josh Ward, Akron
DI
Doug Costin, Miami
Second-Team: Jack Heflin, Northern Illinois
Honorable Mention: Ralph Holley, Western Michigan
DI
Ben LeRoy, Northern Illinois
Second-Team: Theo Majette, Kent State
Honorable Mention: Kyle Junior, Bowling Green
LB
John Lako, Akron
Second-Team: Ray Wilborn, Ball State
Honorable Mention: Antonio Jones-Davis, Northern Illinois
LB
James Patterson, Buffalo
Second-Team: Lance Deveaux Jr., Northern Illinois
Honorable Mention: Christian Albright, Ball State
CB
Zedrick Raymond, Miami
Second-Team: Samuel Womack, Toledo
Honorable Mention: Ilyaas Motley, Ohio
CB
Kevin McGill, Eastern Michigan
Second-Team: Antonio Phillips, Ball State
Honorable Mention: Jamal Hudson, Ohio
S
Alvin Davis Jr., Akron
Second-Team: Jamal Paker, Kent State
Honorable Mention: Bart Baratti, Miami
S
Vince Calhoun, Eastern Michigan
Second-Team: Brody Hoying, Eastern Michigan
Honorable Mention: Jarren Hampton, Ohio
Flex
Javon Hagan, Ohio
Second-Team: Aapri Washington, Buffalo
Honorable Mention: Bryce Cosby, Ball State
First-Team Specialists
K
Louie Zervos, Ohio
P
Matt Ference, Northern Illinois