Welcome to the eighth NCAA Team of the Week for the 2018 season. As always, our team of over 500 analysts has dissected and graded every snap of every game to bring you the most detailed and valid set of picks you can find anywhere.
The Week 8 Team of the Week saw many impressive performances across the country and as always, overall grades, playing time and the quality of opposition has been factored in to make these selections.
The PFF Team of the Week is brought to you by Eckrich, the Official Smoked Sausage of the College Football Playoff.
Offense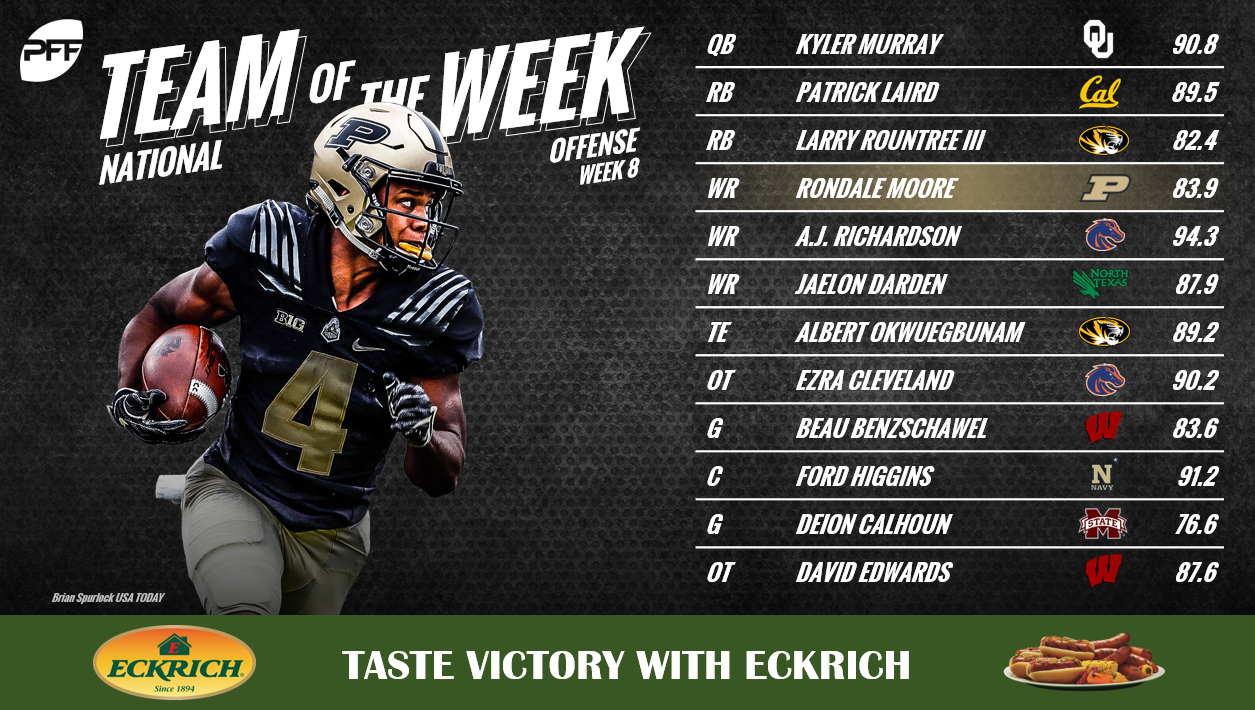 Quarterback
Kyler Murray, Oklahoma
Week 8 Grade: 90.8
Murray was sensational in the Sooners' first game back after the Texas loss. He needed just 19 completions to throw for 213 yards and four touchdowns as he completed passes or scrambled for 10 additional first downs in Oklahoma's victory over TCU.
Running Back
Patrick Laird, Cal
Week 8 Grade: 89.5
Laird was a force for Cal against Oregon State, going over 100 yards for the first time this season and forcing a season-high five missed tackles on his carries. In total, he ran for 193 yards, two touchdowns, seven additional first downs, 74 yards after contact and a long of 53 yards – all good enough for his season-highs.
Running Back
Larry Rountree III, Missouri
Week 8 Grade: 82.4
All Rountree needed to reach a stat line of 118 yards, three touchdowns and 73 yards after contact, was nine carries. He averaged a whopping 13.1 yards per carry and 8.11 yards after contact per attempt while forcing three missed tackles against Memphis.
Wide Receiver
Rondale Moore, Purdue
Week 8 Grade: 83.9
Moore stole the show on Saturday night in Purdue's historic upset of Ohio State. He led the nation's receivers with 107 yards after the catch and seven missed tackles forced on receptions, totaling 170 yards on 12 catches and two touchdowns. Moore is no longer a rising star, he is a star.
Wide Receiver
A.J. Richardson, Boise State
Week 8 Grade: 94.3
Leading all FBS receivers in overall grade this week, Richardson caught 6-of-7 targeted passes thrown his way (the one incompletion deemed uncatchable), for 137 yards including 74 yards after the catch. All six of his receptions went for a first down (4) or a touchdown (2) against Colorado State.
Wide Receiver
Jaelon Darden, North Texas
Week 8 Grade: 87.9
The final result may not have gone his way against UAB but Darden was very impressive in defeat for North Texas. He caught all 10 of his targeted passes for 144 yards and two scores, averaging 8.9 yards after the catch, per reception.
Tight End
Albert Okwuegbunam, Missouri
Week 8 Grade: 89.2
The Drew Lock-Albert Okwuegbunam connection was firing on all cylinders against Memphis as Okwuegbunam hauled in six receptions for three touchdowns. When all was said and done, the duo connected for 159 yards and as 'Albert O' averaged 26.5 yards per catch on Saturday.
Offensive Tackle
Ezra Cleveland, Boise State
Week 8 Grade: 90.2
Like his aforementioned teammate, Cleveland is the highest-graded at his position this week, reaching a 90.2 overall behind solid pass-blocking and his efforts in the run. His 87.7 run-blocking grade is the highest among the position in Week 8 while he didn't allow a single pressure on 31 pass-blocking snaps.
Offensive Guard
Beau Benzschawel, Wisconsin
Week 8 Grade: 93.6
Playing a big-time part of the Wisconsin rushing attack's solid effort against Illinois, Benzschawel saw 16 runs come to either side of him on Saturday, totaling 78 rushing yards on those attempts. He also didn't allow a single QB pressure on 25 snaps in pass protection.
Center
Ford Higgins, Navy
Week 8 Grade: 91.2
Higgins leads all offensive linemen with his impressive 91.2 overall grade from this weekend, doing his best work in the run game (obviously). Despite the result, and 21 passing plays for Navy, Higgins and the Midshipmen rushing attack gained 374 yards on 65 attempts against Houston.
Offensive Guard
Deion Calhoun, Mississippi State
Week 8 Grade: 76.6
Calhoun was sharp in both facets of offensive-line play on Saturday, finishing with the third-highest run-blocking grade among guards. He allowed just one QB hurry on 28 snaps in pass protection as the Bulldogs' woes on offense could not be solely placed on him.
Offensive Tackle
David Edwards, Wisconsin
Week 8 Grade: 87.6
Edwards continued his dominance this season, allowing no pressures on 25 snaps in pass protection while paving the way for a Wisconsin rushing attack that averaged 6.8 yards per carry and ran for 359 yards.
Defense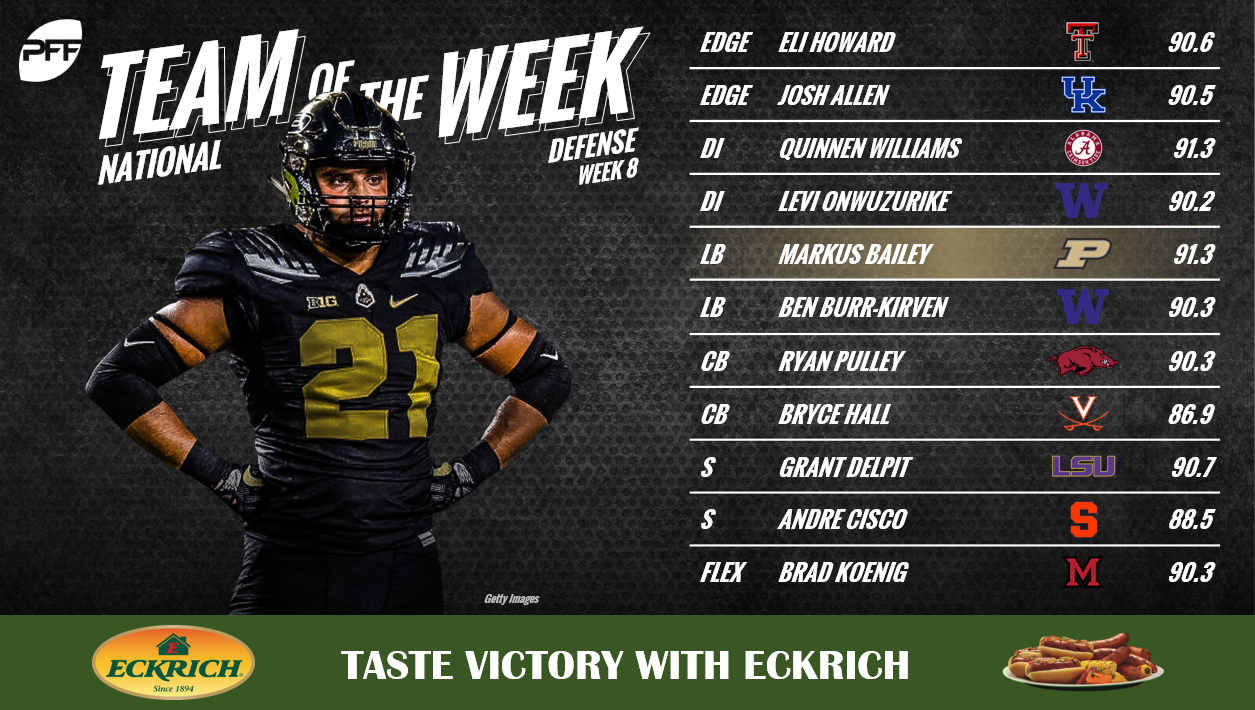 Edge Defender
Eli Howard, Texas Tech
Week 8 Grade: 90.6
Against Kansas, Howard needed just 28 pass-rushes to record 10 QB pressures and two batted passes at the line of scrimmage. While he may have been held off the stat sheet in terms of tackles, his 10 total pressures were more than half of the total pressures he entered the game with.
Edge Defender
Josh Allen, Kentucky
Week 8 Grade: 90.5
Allen continues to push his draft stock into the stratosphere, recording two sacks and an additional hurry against Vanderbilt while he also recorded four defensive stops and showed his coverage ability once again. He dropped back on just six snaps in coverage yet was still targeted once and came away with a pass breakup.
Defensive Interior
Quinnen Williams, Alabama
Week 8 Grade: 91.3
Proving to be basically unblockable this season, Williams continued what has become the highest-graded season from any defender this year. With a 91.3 overall grade against Tennessee (and 4 pressures on 21 pass-rushes), Williams now has an overall grade of 95.7 (2.3 grade points higher than the next closest interior defensive lineman) and 25 pressures.
Defensive Interior
Levi Onwuzurike, Washington
Week 8 Grade: 90.2
The interior defensive line duo of Onwuzurike and Greg Gaines proved too much for Colorado on Saturday as Onwuzurike tops Gaines with his 90.2 overall grade. He recorded four defensive stops but was at his best when rushing the passer. On just 17 pass-rush snaps, he recorded five pressures that included a sack and four hurries.
Linebacker
Markus Bailey, Purdue
Week 8 Grade: 91.3
If Rondale Moore was the star on offense for Purdue then Markus Bailey was undoubtedly their star on defense in their upset win over Ohio State. Bailey logged a whopping 101 snaps (!) on defense, bringing home four pressures on Dwayne Haskins and seven defensive stops. In coverage, however, is where he made his lasting mark. On 11 targets from Ohio State's short-passing attack, Bailey allowed nine receptions to go for just 43 yards (4.8 yards per reception) while also recording a pass breakup and one of the game's biggest moment when he picked off Haskins and returned it for a signature touchdown.
Linebacker
Ben Burr-Kirven, Washington
Week 8 Grade: 90.3
If Bailey made his mark in coverage, Burr-Kirven left his impression on the run game against Colorado. On 31 run-defense snaps, he brought down nine solo tackles for an offensive failure or a 'defensive stop.' His ridiculous 29.0% run-stop percentage also includes no missed tackles in run defense.
Cornerback
Ryan Pulley, Arkansas
Week 8 Grade: 90.3
Spending 27 snaps in coverage, Pulley was targeted seven times against Tulsa. He allowed just two receptions for 12 yards (only one yard after the catch) and came away with more plays on the ball than he allowed receptions. Pulley grabbed an interception and two more pass breakups leading to a 0.0 passer rating when targeted.
Cornerback
Bryce Hall, Virginia
Week 8 Grade: 86.9
Hall and the Cavaliers continue their winning ways after defeating Miami last week and Duke on Saturday. On 50 snaps in coverage, Hall was targeted nine times as the primary coverage defender, allowing just two receptions. He recorded an interception and three pass breakups to also lead to a 0.0 passer rating when targeted.
Safety
Grant Delpit, LSU
Week 8 Grade: 90.7
Although he continued with his missed tackle woes on Saturday night against Mississippi State, Delpit's prowess in coverage was excellent. He was targeted three times as the primary coverage defender and came away with two interceptions and also showed his pass-rush ability, recording a sack on five blitzes. He now has 12 total pressures, five interceptions, three pass breakups and 19 defensive stops this season (despite 13 missed tackles).
Safety
Andre Cisco, Syracuse
Week 8 Grade: 88.5
The true freshman bounced back in a big way from a two-game skid that saw game grades in the 40.0s over the past three weeks. He recorded eight solo tackles while also allowing just seven yards on one target as the primary coverage defender over his 32 coverage snaps.
Flex Defense
Brad Koenig, Miami (Oh.)
Week 8 Grade: 90.3
Koenig was all over the field for the Redhawks on Saturday afternoon in their overtime loss. He recorded 18 stops against the Army option rushing attack and did so with just one missed tackle and 27 total tackles by our measure. His multiple tackles at the goal line in regulation ultimately are what proved deciding factors to push the game into overtime, despite the final result.