Welcome to the first NCAA Team of the Week for the 2018 season. As always, our team of over 500 analysts has dissected and graded every snap of every game to bring you the most detailed and valid set of picks you can find anywhere.
At this time of the year, with the proliferation of games against "lesser" opponents, it's often difficult to compare performances, so both playing time and the quality of opposition have been factored in.
The PFF Team of the Week is brought to you by Eckrich, the Official Smoked Sausage of the College Football Playoff.
Offense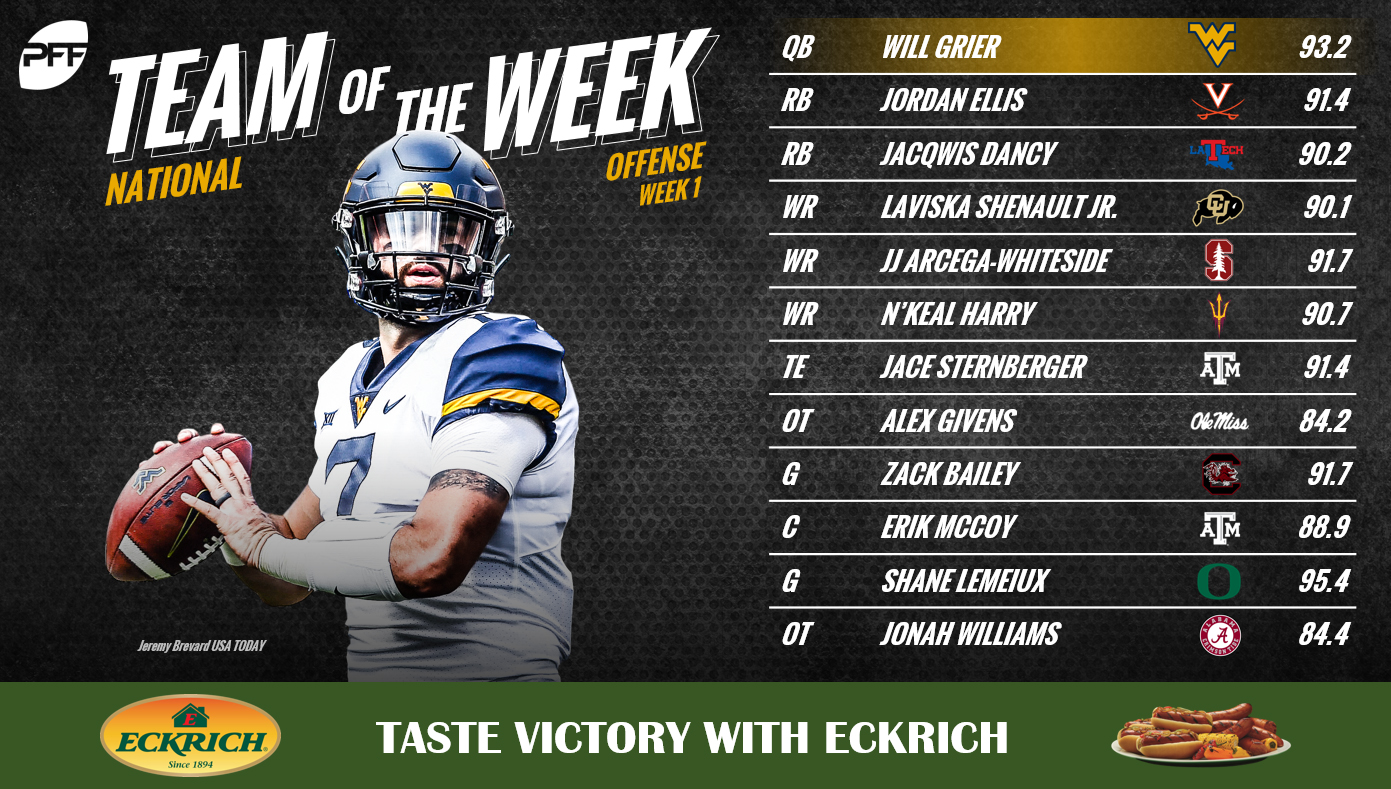 Quarterback
Will Grier, West Virginia
Week 1 grade: 93.2
He made more big-time throws (six) than he did turnover-worthy passes (zero) as anyone. If that doesn't get you on to the PFF Team of the Week, nothing will.
Running Back
Jordan Ellis, Virginia
Week 1 grade: 91.4
It may only have been against the Richmond Spiders but it's hard to overlook just how dominant Ellis was. Six tackles broken generated 5.4 yards per attempt after contact and his 20 attempts brought with them eight first downs. He was also excellent in his 13 snaps in pass protection, a role the Cavaliers use him in a lot as he logged 244 snaps in pass protection last season, compared to 196 snaps in route last year.
Running Back
Jacqwis Dancy, Louisiana Tech
Week 1 grade: 90.2
The pure numbers on Dancy are as good (if not better) than Ellis'. Five tackles avoided, 7.8 yards after contact and eight first downs but on only 13 attempts.
Wide Receiver
Laviska Shenault Jr., Colorado
Week 1 grade: 90.1
Shenault Jr. seemed to be playing at a different speed than everyone else on the field. He ran 25 pass routes, was targeted on 12, caught 11 and very nearly doubled the yards after the catch (213) of the next best guy (114) across every FBS game.
Wide Receiver
JJ Arcega-Whiteside, Stanford
Week 1 grade: 91.7
Teams may start by thinking all they have to do is bottle up Bryce Love, but it will really be a case of "pick your poison." With Love contained by SDSU, QB K.J. Costello simply threw it up to Arcega-Whiteside who generated six first downs including three touchdowns.
Wide Receiver
N'Keal Harry, Arizona State
Week 1 grade: 90.7
That "next best guy" was Harry who broke six tackles in generating that 114 yards after the catch. QB Manny Wilkins didn't exactly set the world on fire but his wide receiver made him look much better, delivering a full 60 percent of his total passing output.
Tight End
Jace Sternberger, Texas A&M
Week 1 grade: 91.4
You know at PFF we consider blocking an important part of a tight end's portfolio and Sternberger delivered an 81.1 run-blocking grade on his way to helping A&M rack up 520 yards on the ground. He also chipped in with five catches for 56 yards and four first downs for good measure.
Offensive Tackle
Jonah Williams, Alabama
Week 1 grade: 84.4
The third-year starter has been a pretty good player all along (he'd played 1,840 snaps with a 78.9 overall grade in previous seasons) but if this game was anything to go by, he seems primed for his best year. He looked solid in all phases, giving up just a single hurry and finishing with an 83.1 as a run blocker.
Offensive Guard
Shane Lemieux, Oregon
Week 1 grade: 95.4
Lemieux only allowed a single hurry on 29 pass-blocking snaps but did his best work as a run-blocker, delivering a run-blocking grade of 90.6, second only behind Zack Bailey.
Center
Erik McCoy, Texas A&M
Week 1 grade: 88.9
With 520 yards on the ground, the center always needs at least a little credit and, in this case, McCoy deserves a lot more than that. The runs into both "A" gaps generated a ridiculous 292 yards alone. Throw in a clean slate in pass protection and even the quality of the opposition needs to be negated.
Offensive Guard
Zack Bailey, South Carolina
Week 1 grade: 91.7
Bailey was another player delivering his best work in the running game with the majority of the 272 yards the Gamecocks gained on the ground coming from him at the source. Runs to either side of him picked up 7.6 yards a carry on average. Oh, and he gave up nothing in pass protection also.
Offensive Tackle
Alex Givens, Ole Miss
Week 1 grade: 84.2
Givens put forth a strong outing against Texas Tech, in both facets including in pass protection where he kept a clean sheet on 28 total pass-blocking snaps. Equally as notable, his run-blocking grade of 83.3 is truly indicative of the holes that were opened up for Scottie Phillips' 204-yard day on the ground.
Defense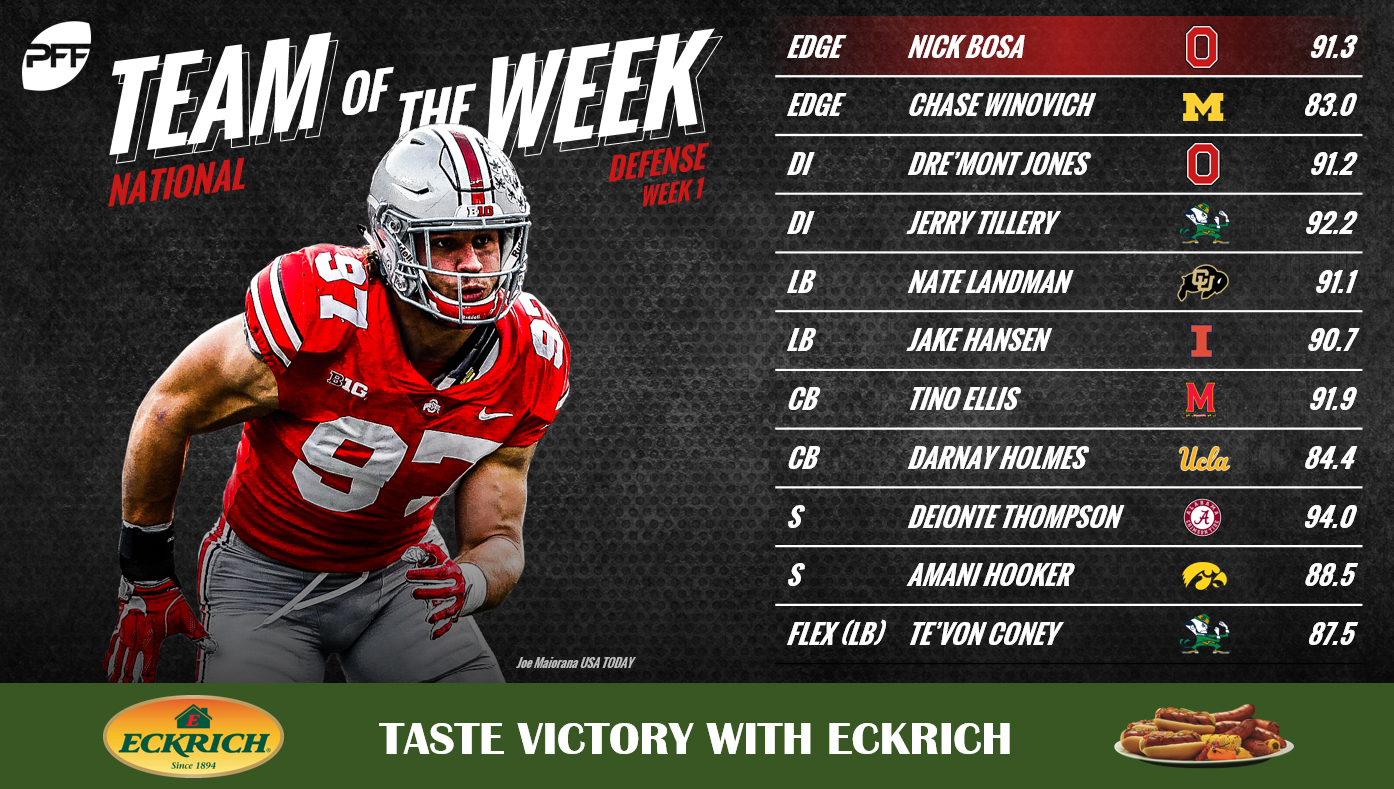 Edge Defender
Nick Bosa, Ohio State
Week 1 grade: 91.3
Well, we told you he was going to be good but I don't think we'll be making many claims about prescience. It only took 35 snaps for Bosa to pick up two sacks, a hit and a hurry and make two stops in the running game as well. Expect this to be the first of many appearances on this team.
Interior Defensive Lineman
Dre'Mont Jones, Ohio State
Week 1 grade: 91.2
We debated if 33 snaps were enough but eventually came down on the side of quality over quantity. Three sacks and a hit are hard to ignore with his 91.7 pass-rush grade tops among all interior defensive linemen.
Interior Defensive Lineman
Jerry Tillery, Notre Dame
Week 1 grade: 92.2
Tillery might have been the best player on the field against Michigan. Moving all across the line, he beat nearly every Wolverine offensive lineman at least once. He was very good in run defense, but it was his sack and two other hurries from an interior position that was particularly telling.
Edge Defender
Chase Winovich, Michigan
Week 1 grade: 83.0
It may have been in a losing cause, but no one is blaming that defeat on Winovich. He was outstanding with eight pressures on Notre Dame's Brandon Wimbush, rotating across edge positions and giving both Fighting Irish tackles fits.
Linebacker
Nate Landman, Colorado
Week 1 grade: 91.1
Landman was the prototypical linebacker this weekend. Lining up inside the tackles, he made 11 tackles and two assists without missing one in run defense and allowed only one reception on three targets in coverage. Of the other two, he broke up one and intercepted the other.
Linebacker
Jake Hansen, Illinois
Week 1 grade: 90.7
The Fighting Illini might not have played their best football, but Hansen certainly did and was a huge part in their comeback win over Kent State. Playing 86 snaps (sixth most among linebackers this week), he was all over the place with 13 tackles, a ridiculous 12 of which ended up as stops (defeats for the offense). In pass coverage, he only allowed four yards on six targets while his 92.6 run-defense grade was the second best of the week in the FBS.
Cornerback
Tino Ellis, Maryland
Week 1 grade: 91.9
While Ellis' basic stats of 39 coverage snaps, seven targets and five receptions for only 13 yards are impressive, the most important part of that is not mentioned. Zero. That's the number of first downs allowed by Ellis in the Terrapins' brilliant win over Texas.
Cornerback
Darnay Holmes, UCLA
Week 1 grade: 84.4
There weren't many bright spots for the Bruins in their loss to the Bearcats, but Holmes was one of them. On 27 coverage snaps, he was targeted three times and, on each occasion, he forced an incompletion.
Safety
Deionte Thompson, Alabama
Week 1 grade: 94.0
The line of excellent Crimson Tide safeties looks destined to continue in the hands of Thompson. Playing outside the box on most of his snaps (46 of 57), in coverage he picked up an interception, two other forced incompletions and three stops on plays not targeting him. In the running game, he also picked up another stop giving him four in total.
Safety
Amani Hooker, Iowa
Week 1 grade: 88.4
In 52 snaps, Hooker produced a balanced performance as he was very solid in run defense (three tackles, two of which were stops for a 74.6 grade) but was highlighted by great work in coverage. His 28 coverage snaps saw only two targets and neither of which were completed with one being intercepted.
Flex Defense
Te'Von Coney, Notre Dame
Week 1 grade: 87.5
The quality of linebacker play was so good, we needed to find a way to get Coney on our team so the "flex" position allowed us that opportunity. Coney was superb in all facets of play, grading well as a run defender, in coverage and as a pass-rusher, where he managed a sack and hurry on just four blitzes.