The 2019 season begins this weekend and with that, the full set of 2018 data officially becomes history. We look ahead towards the top-graded players returning in each conference, keeping things going with the Big 12.

PFF grades every player on every play of every game and has done so since the 2014 season. The play-by-play grading creates a subset of advanced statistics that help depict the college game at a level deeper than ever. The grades below are from 2018 and not a projection towards this coming season.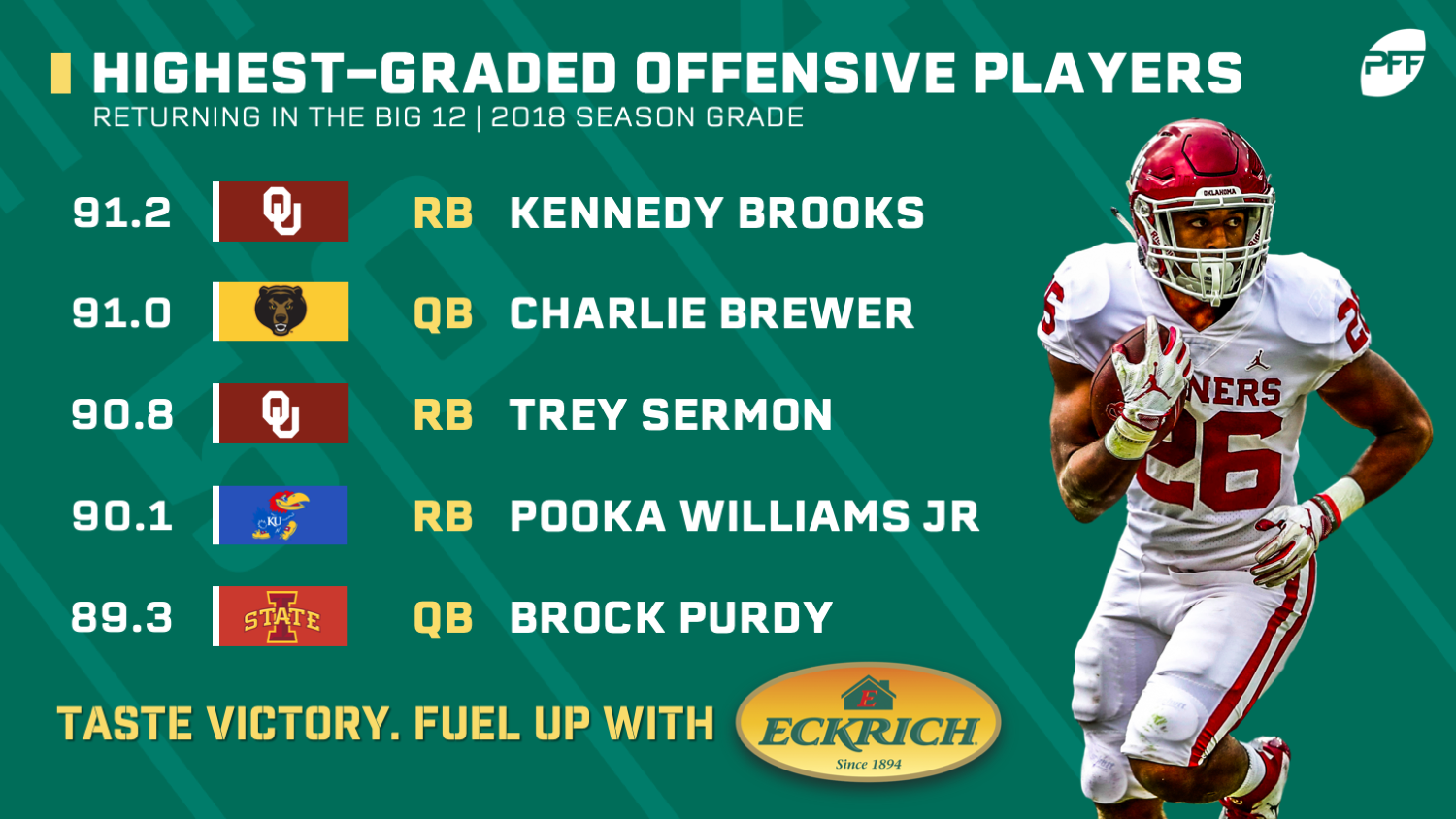 Offense
Quarterback
Charlie Brewer, Baylor – 91.3
Jalen Hurts, Oklahoma –90.1*
Brock Purdy, Iowa State – 89.3
Sam Ehlinger, Texas – 85.7
Brewer had the fewest amount of negatively-graded plays by dropback percentage a year ago while Purdy emerged as the second highest-graded true freshman quarterback in PFF College history and Ehlinger is continually setting the record for highest-graded Texas quarterback in our grading history.
Running Back
Kennedy Brooks, Oklahoma – 91.2
Trey Sermon, Oklahoma – 90.8
Pooka Williams Jr., Kansas – 90.1
Chuba Hubbard, Oklahoma State – 84.1
Leddie Brown, West Virginia – 79.1
Brooks and Sermon are the nation's best 1-2 punch at running back as they combined for 2,000 yards and a ridiculous 1,191 yards after contact. They broke 94 tackles on their carries and have elite overall and rushing grades returning this year.
Wide Receiver
Tylan Wallace, Oklahoma State – 86.2
Ceedee Lamb, Oklahoma – 85.0
Collin Johnson, Texas – 81.6
Jalen Reagor, TCU – 79.4
Tarique Milton, Iowa State – 75.0
Lamb is perhaps the best all-around receiver in the country while Wallace dominated the nation with his contested-catch skills last year. Johnson is a huge target with safe hands while Reagor is arguably the nation's best deep threat. This a front-loaded receiver class returning to the Big 12.
Tight End
Grant Calcaterra, Oklahoma – 73.2
Jovani Haskins, West Virginia – 70.7
Chase Allen, Iowa State – 65.4*
Calcaterra is in consideration for best tight end in the country after hauling in 26 receptions for 396 yards and six scores last season. Of his 26 catches, 19 of them converted a first down or touchdown and he recorded 99 of his yards after the catch.
Offensive Tackle
Lucas Niang, TCU – 83.5
Samuel Cosmi, Texas – 79.7
Teven Jenkins, Oklahoma State – 78.8
Colton McKivitz, West Virginia – 77.1
Terence Steele, Texas Tech – 69.7
The Big 12 tackles are a star-studded group including Niang who should hear his name called early in April with another solid season. Cosmi played more snaps than any returning Power-5 tackle and did so with terrific results.
Offensive Guard
Josh Sills, West Virginia – 71.6
Jack Anderson, Texas Tech – 70.4
Cordel Iwuagwu, TCU – 66.7*
Marcus Keyes, Oklahoma State – 66.3
Josh Rivas, Kansas State – 66.1
Sills holds the conference's top run-blocking grade among returning guards while Anderson's pass-blocking grade is the top mark. He allowed just 11 total pressures on a whopping 617 reps in pass protection.
Center
Creed Humphrey, Oklahoma – 78.9
Matt Jones, West Virginia – 72.3
Adam Holtorf, Kansas State – 70.4
Humphrey is the class of centers in the Big 12 and among the nation's best as he allowed a combined 10 total pressures on 460 snaps and dominating in the run game.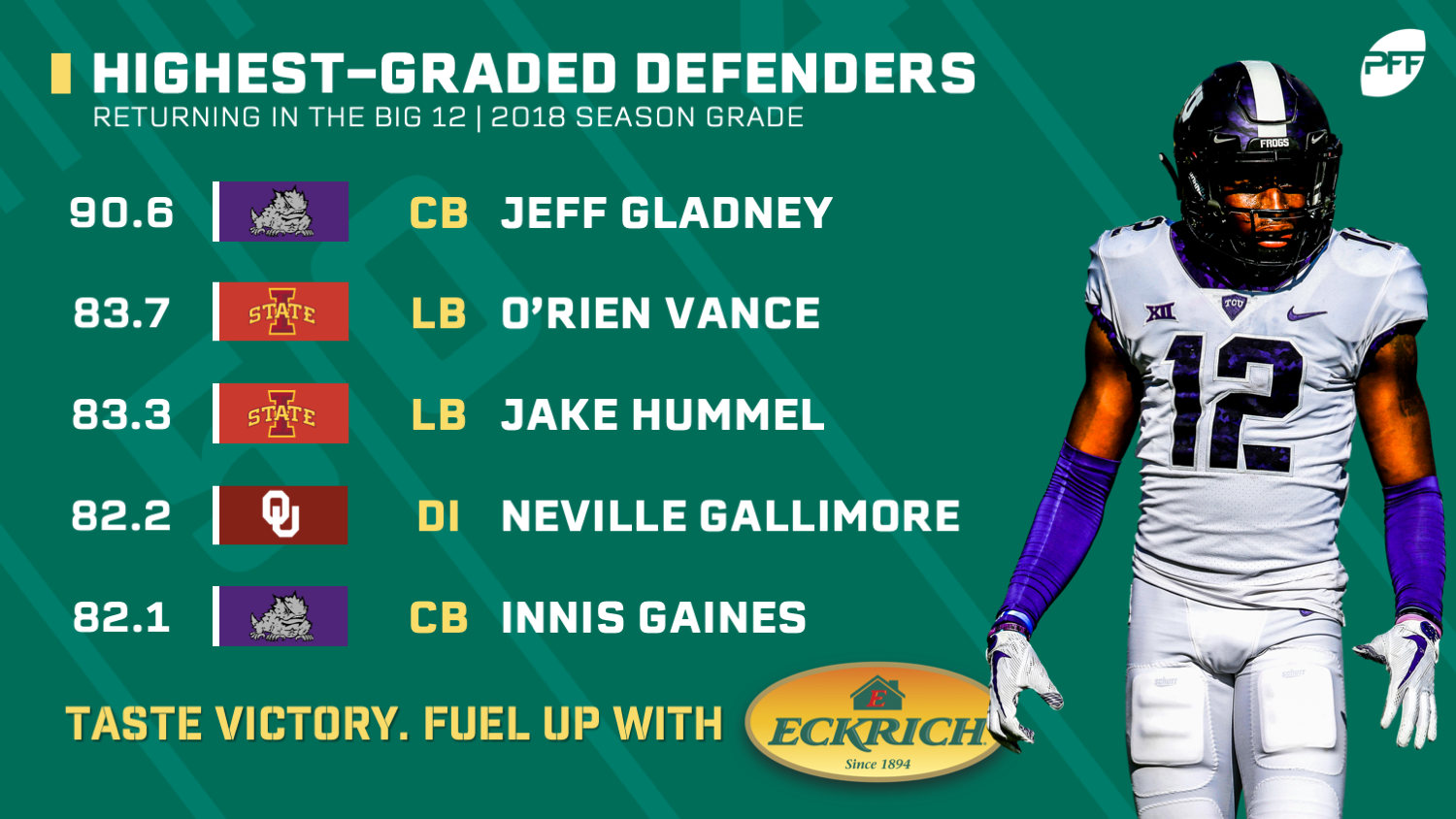 Defense
Edge Defender
Dante Stills, West Virginia – 79.7
Deonte Williams, Baylor – 75.3*
James Lynch, Baylor – 75.2
JaQuan Bailey, Iowa State – 73.8
Kenneth Mann, Oklahoma – 73.0
Stills recorded only 12 pressures and played limited snaps last year but did so with great success. Bailey is the returning leader in total QB pressures at 33 while Lynch's 10 QB hits are the second-most in the conference.
Interior Defender
Neville Gallimore, Oklahoma – 82.2
Ray Lima, Iowa State – 78.8
Bravvion Roy, Baylor – 78.4
Joe Davies, Kansas State – 75.5
Broderick Washington Jr., Texas Tech – 73.8
Gallimore recorded 24 QB pressures and 19 defensive stops a year ago as he returns with the highest pass-rush grade in the conference. Washington's 26 QB pressures are the second most int he Big 12 as he falls second in line to Gallimore in terms of pass-rush grade while holding the conference's best run-defense grade.
Linebacker
O'Rien Vance, Iowa State – 83.7*
Jake Hummel, Iowa State – 83.3*
Henry Black, Baylor – 79.4
Jordyn Brooks, Texas Tech – 78.7
Mike Rose, Iowa State – 77.1
The Cyclones hold incredible depth at linebacker with Rose leading the charge. He leads all Big 12 linebackers with his 22 QB pressures last year while Vance and Hummel each recorded multiple sacks on just a combined 49 blitzes.
Cornerback
Jeff Gladney, TCU – 90.6
Innis Gaines, TCU – 82.1
A.J. Green, Oklahoma State – 77.7
Raleigh Texada, Baylor – 75.9
Derek Pitts, West Virginia – 74.5
Gladney and Gaines are a top-notch combination at cornerback for the Horned Frogs as Gladney recorded 16 combined plays on the ball. Gaines played just 177 snaps in coverage last season but didn't allow a touchdown and didn't allow a reception longer than 13 yards.
Safety
Bryce Torneden, Kansas – 77.5
Chris Brown, Texas – 76.1*
Trevon Moehrig, TCU – 75.9
Mike Lee, Kansas – 74.6
Vernon Scott, TCU – 74.3
Torneden more than held his own last year as a true missile around the ball. He recorded more defensive stops, more quarterback pressures and more solo tackles than anyone on this list of top safeties, including first-place finishes in pressures and solo tackles among all returning conference safeties.