The first week of the 2019 college football season did not disappoint and brought with it some strong performances from a cast of characters across the country. We take our first stab at looking at who is in line for the Heisman Trophy after the first week of action with our weekly Heisman Watch.

1. Jalen Hurts, QB, Oklahoma
The quarterback factory that is Oklahoma and it's production of Heisman-Trophy-winning players at the position is a strong candidate to once again repeat if Hurts' first performance is any indication as to how his season will go. Sure, a lot of his completions came to open receivers but he ran the Oklahoma offense seamlessly in his debut. Hurts ran for 104 yards on his 11 designed carries and added another 71 on scrambles while he forced four missed tackles on the ground. One way or another, if this keeps up Lincoln Riley deserves a spot in New York as long as he's coaching.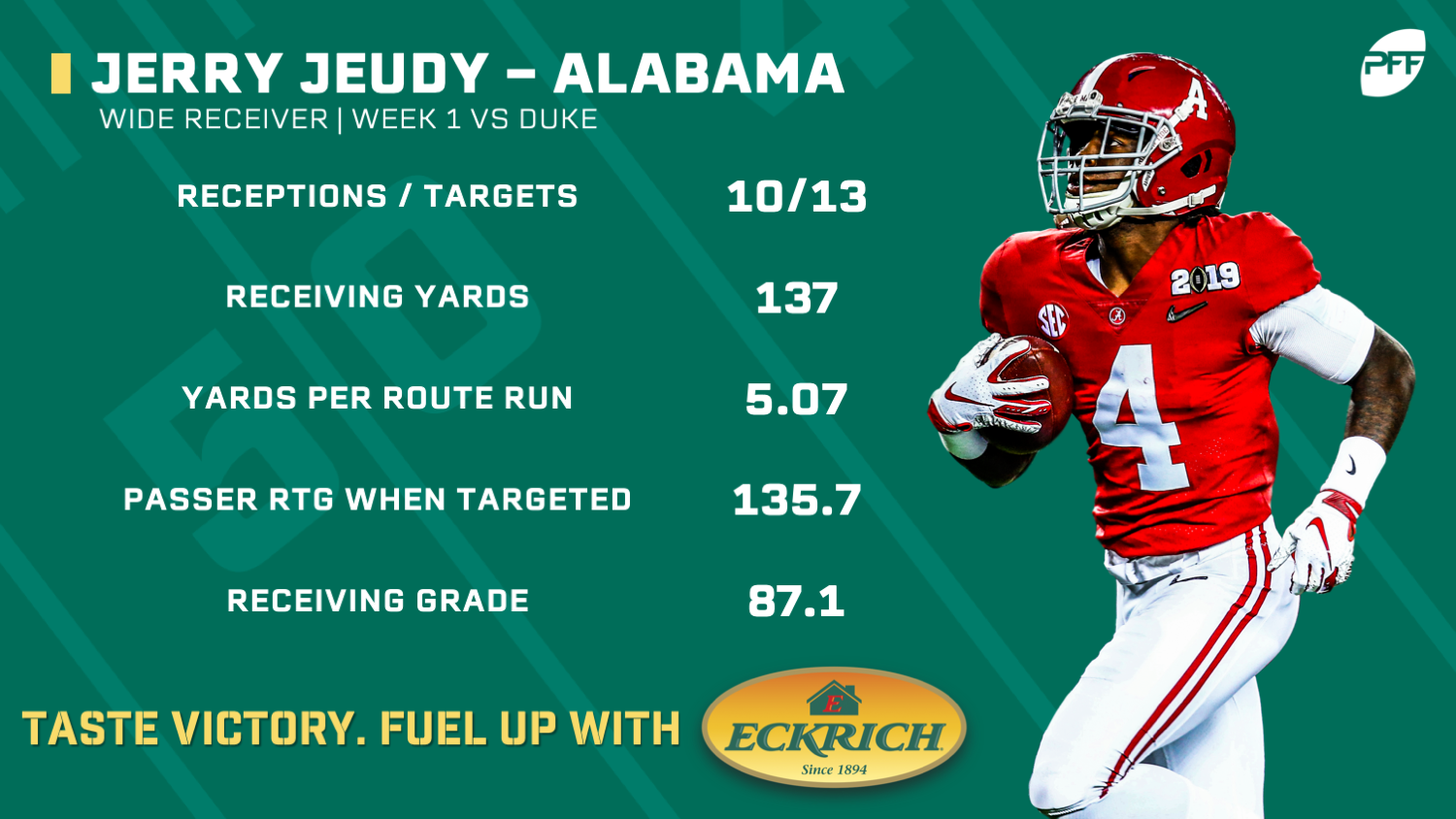 2. Jerry Jeudy, WR, Alabama
One thing that set Jeudy apart from the rest of the receivers in the country last year was his route-running and ability after the catch. One thing that we didn't see last year from the reigning Biletnikoff Award winner was a heavy target share that previous winners had seen. That seems to not be the case this year as Jeudy saw a whopping 13 targets in the Crimson Tide's Week 1 victory over Duke, matching his career-high in targets for a single game. In fact, in 2018, he saw double-digit targets just twice (@ LSU, vs Miss. St.) and never hauled in 10 or more catches as he did against the Blue Devils. If the offensive game plan is to feed Jeudy this year like it seems it is early, Jeudy is certainly in line for more than just the Biletnikoff again.
3. Tua Tagovailoa, QB, Alabama
Tagovailoa threw for 336 yards and four touchdowns in his season opener but considerably cut back on his depth of target from last season in this win. He averaged just 7.4 yards per target and saw 69.0% of his passing yards come after the catch, much higher than any other game from a year ago for him. Still, Tua took care of the ball remarkably, something just like we've seen from him prior and when he did start clicking, he looked unstoppable once again.
4. Trevor Lawrence, QB, Clemson
Struggling in his first action of the 2019 season, Lawrence had his worst game as a college quarterback, throwing two interceptions in the first half against Georgia Tech. He threw three turnover-worthy plays after finishing the 2018 season with just five total, meaning he threw more than half the TWPs in one game than he did all of last year. Fortunately for him, he has the ability to put big-time performances on his resume at ease and has a highlight game against Texas A&M that could vault him back to the top of the list.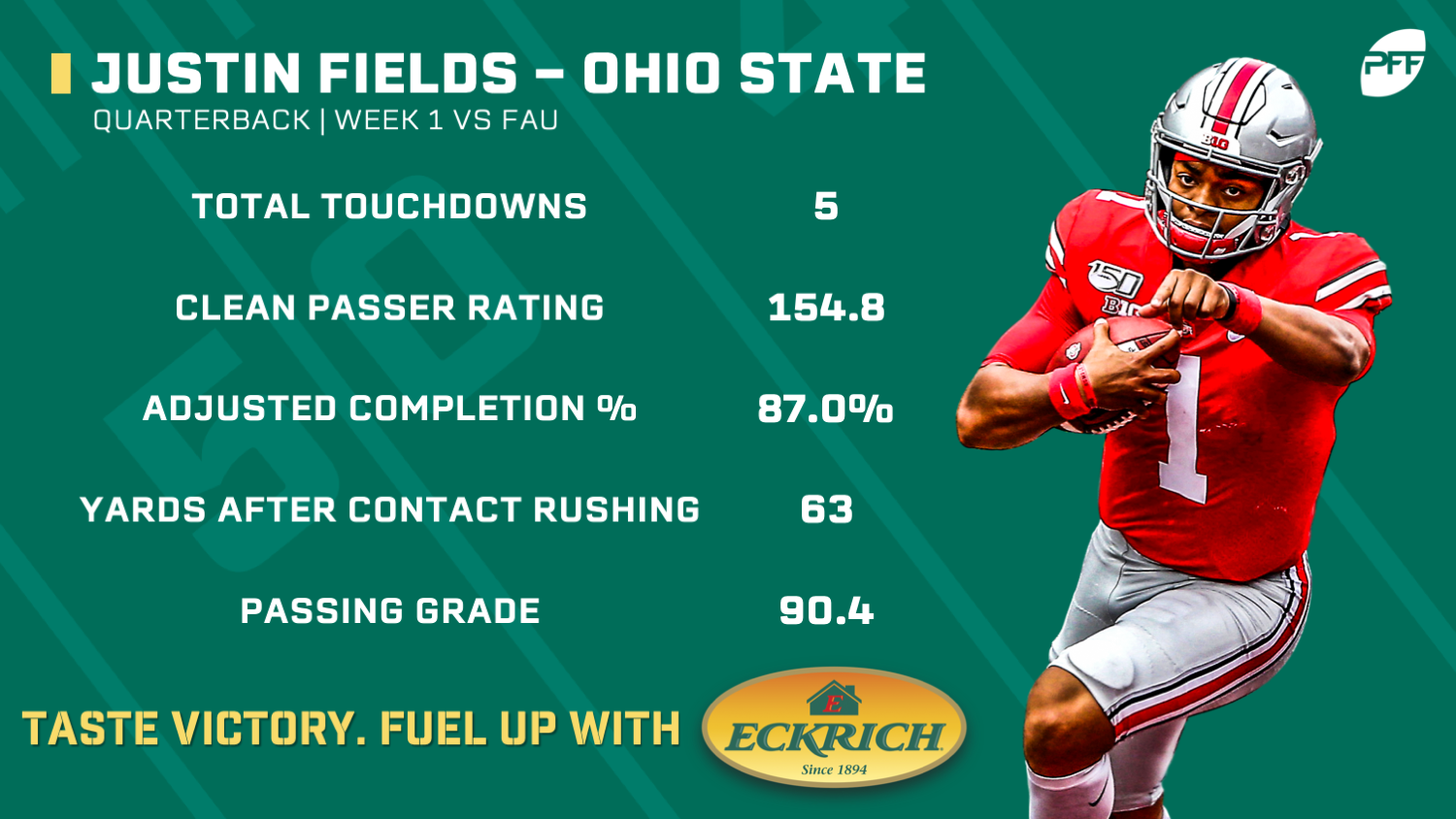 5. Justin Fields, QB, Ohio State
In his debut game, Fields dominated in the first quarter against FAU, even making history with his five total touchdowns, the most in an Ohio State player's debut. He's set up for success in Ryan Day's offense and if he continues to showcase what made him such a highly sought after recruit, he'll keep his name in the Heisman talk all season long.
6. Jonathan Taylor, RB, Wisconsin
What separates Taylor from the rest of the nation's running backs early this season is the fact that he's now added a skillset as a receiving threat out of the backfield for the Badgers offense, something we hadn't seen before. He hauled in his first two receiving touchdowns against USF in Wisconsin's thrashing victory while rushing for 135 yards on just 16 carries and forcing five missed tackles. He's been ridiculously consistent over his career, gaining at least 1,300 yards after contact and forcing at least 66 missed tackles in each of the past two seasons. Both of those trends look like they'll continue in 2019.
7. Rondale Moore, WR, Purdue
The do-it-all receiver for the Boilermakers shined bright against Nevada, despite the result for Purdue. If he wants a legitimate shot at winning the Heisman, his team will have to likely not lose another game but he deserves a shot at the trophy just as much as anyone in the country. He turned 13 targets into 11 receptions and gained 60 of his yards after the catch. He's improved his route running skills from a year ago and is in line for big numbers once again.
8. Chuba Hubbard, RB, Oklahoma State
Hubbard exploded onto the scene against Oregon State in Week 1, leading the nation with his 221 yards on 26 carries, averaging a healthy 8.5 yards per attempt. He gained 119 yards after contact, each of those figures nearly a quarter of his totals from an entire season's worth of work last year. If Hubbard can add a bit to the receiving game, he'll help his case out significantly in terms of the Heisman but should be a frontrunner for the Doak Walker Award along with Taylor and the two guys below.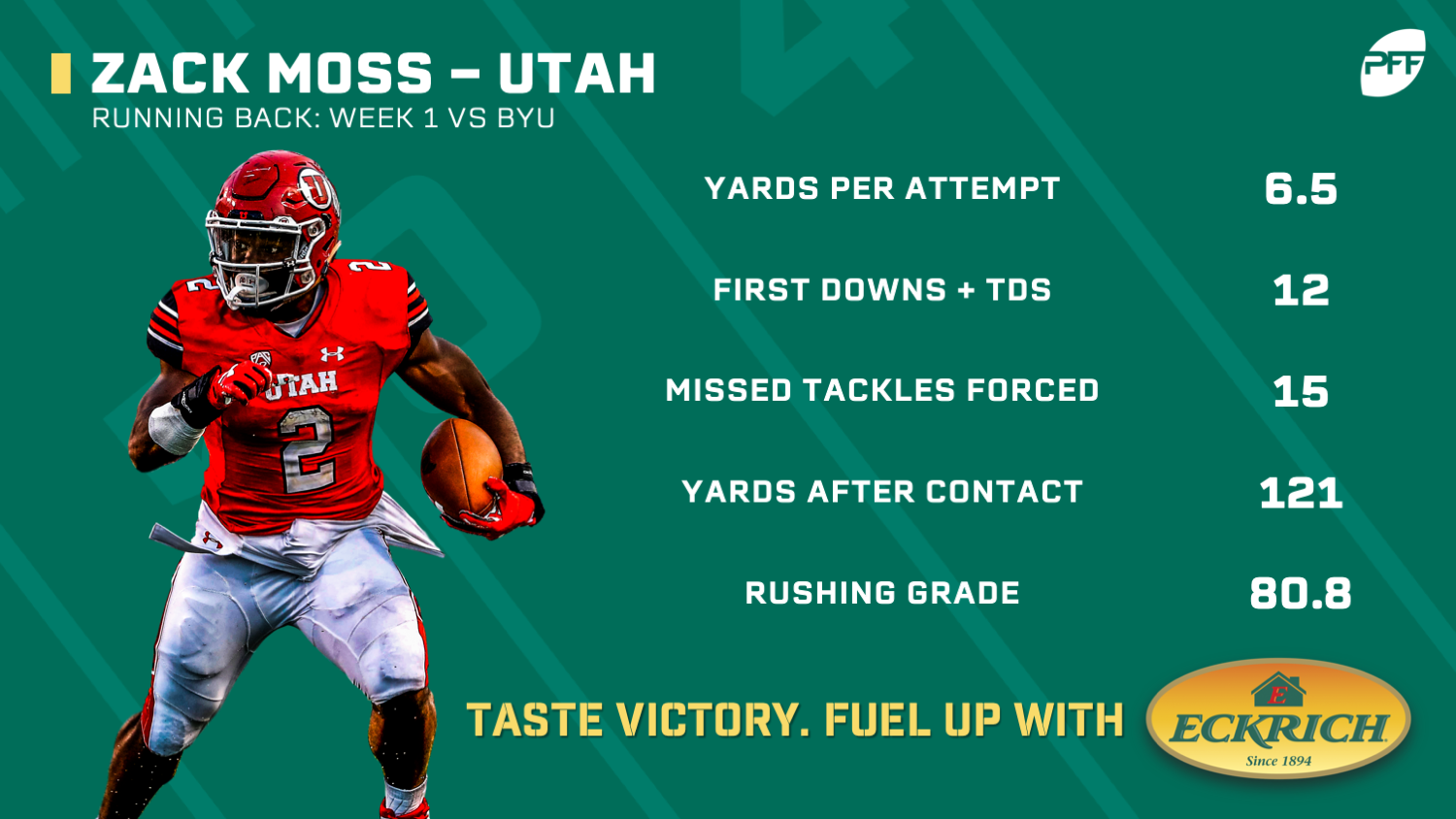 9. Zack Moss, RB, Utah
Moss forced a whopping 15 missed tackles against BYU on Thursday night, leading the nation's running backs by four in that category. In fact, only two running backs forced double-digit missed tackles or more AND converted double-digit first-down and touchdown runs, while Moss led in each of those categories. Staying healthy will be key for him this season but he's got a big leg up on the competition in terms of how strong his defense is and the fact that Utah could very well run the table in 2019.
10. Travis Etienne, RB, Clemson
Etienne has long since been a home-run threat for the Tigers offensively and he showed that once again in the season-opening victory against Georgia Tech. He broke a 90-yard touchdown run and gained 106 of his 205 yards after contact, averaging 17.1 yards per attempt on his 12 carries. He was aided by some strong run blocking but still forced eight missed tackles on his own in space. A welcome sign to his Heisman candidacy as well as to the Clemson fans as he carried a struggling Lawrence in Week 1.