It is officially rivalry week in college football and perhaps the nation's most storied rivalry is one that resides in the Midwest, where Michigan and Ohio State battle in what is colloquially dubbed as "The Game."
Though Ohio State has maintained the upper hand in recent years, a surging Michigan squad heads into Columbus listed as the favorite by Vegas for the first time since 2011. With a spot in the Big Ten Championship and likely the College Football Playoff on the line, it's all or nothing for Michigan and Ohio State.
The Game's key matchup will pit Ohio State's explosive offense (541.8 yards per game, second in FBS) against Michigan's vaunted defense (234.8 yards allowed per game, first). Specifically, can Michigan slow down Ohio State's electric wide receiver corps?
PFF's advanced metrics offer unique insight into this critical storyline.
This preview is brought to you by Eckrich, the Official Smoked Sausage of the College Football Playoff.
Ohio State racks up the YAC
Ohio State's wide receiver group has recorded an 80.8 overall PFF grade as a unit, tops in the Big Ten and 14th in the nation. Collectively, they lead the Big Ten and rank in the nation's top-10 with 3,360 receiving yards (fifth in nation), 1,538 yards after catch (first), 33 touchdowns (second), 154 first downs (fourth), 73 explosive plays of 20-plus yards (fifth) and 6.73 yards per route run (eighth). Despite leading the conference in a multitude of receiving categories, Ohio State's wide receiver unit averages a Big Ten-low 9.5 average depth of target (121st). They are racking up massive production on short throws that they turn into chunk gains.
Parris Campbell (76.6 overall PFF grade, sixth among Big Ten WRs) leads the OSU receiving corps and is averaging a healthy 2.93 yards per route run (third) with a stellar 134.7 passer rating (third) and 81.7% catch rate (first). Yet, Campbell's average depth of target is just 4.0 yards past the line of scrimmage, the third-lowest mark in the nation. He is doing nearly all his damage after the catch where he has piled up a whopping 561 yards after catch (seventh). On throws with a depth of target of five yards or less, Campbell has recorded an 85.9 PFF receiving grade, second among all wide receivers.
K.J. Hill (79.3 overall PFF grade, third among Big Ten WRs) is the other premier receiving weapon for Ohio State and is averaging 3.15 yards per route run (second) with a 124.6 passer rating (sixth) and 75.6% catch rate (third). Like Campbell, Hill operates close to the line of scrimmage and sees an average depth of target of 6.7 yards (fifth lowest) yet has amassed 462 yards after catch (third).
Michigan pass defense locks it down
The Michigan pass defense is playing at an all-time level, allowing a nation-best 57.9 passer rating. The last pass defense to allow such a low passer rating was none other than the 2016 Buckeyes, which featured future first-round picks such as Marshon Lattimore, Malik Hooker, Denzel Ward and Gareon Conley.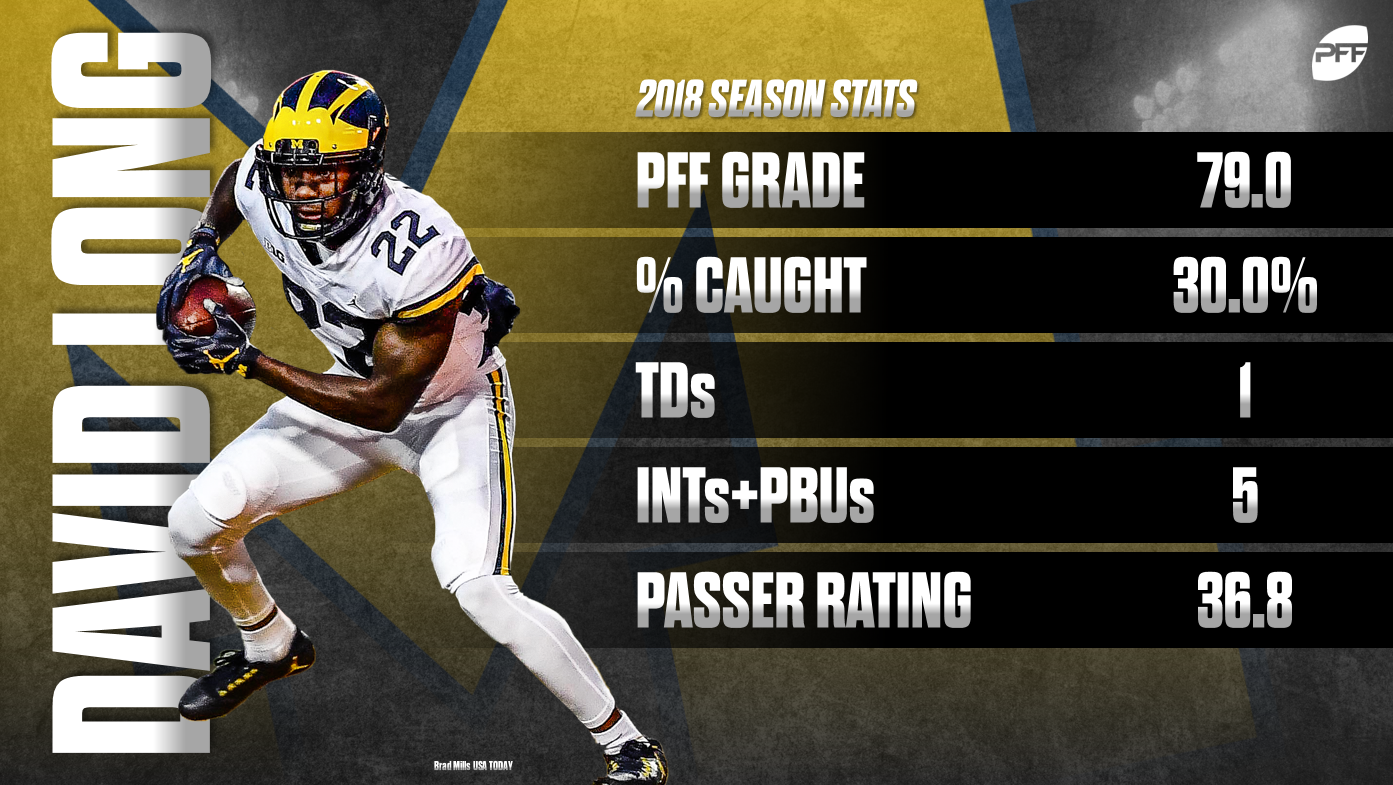 Most relevant to The Game, the Michigan defense has given up just 617 yards after the catch, the fewest in the entire nation, at a rate of only 2.2 YAC per attempt (fourth).
On a per-snap basis, Michigan deploys two of the nation's best cover cornerbacks in David Long and Lavert Hill. Long and Hill rank first and second among all corners who have logged 190 snaps in coverage, allowing a paltry 0.16 and 0.39 yards per cover snap, respectively. The pair allows next to nothing after the catch: Long has given up just 9 yards after the catch (fewest) while Hill has permitted 35 yards (sixth fewest).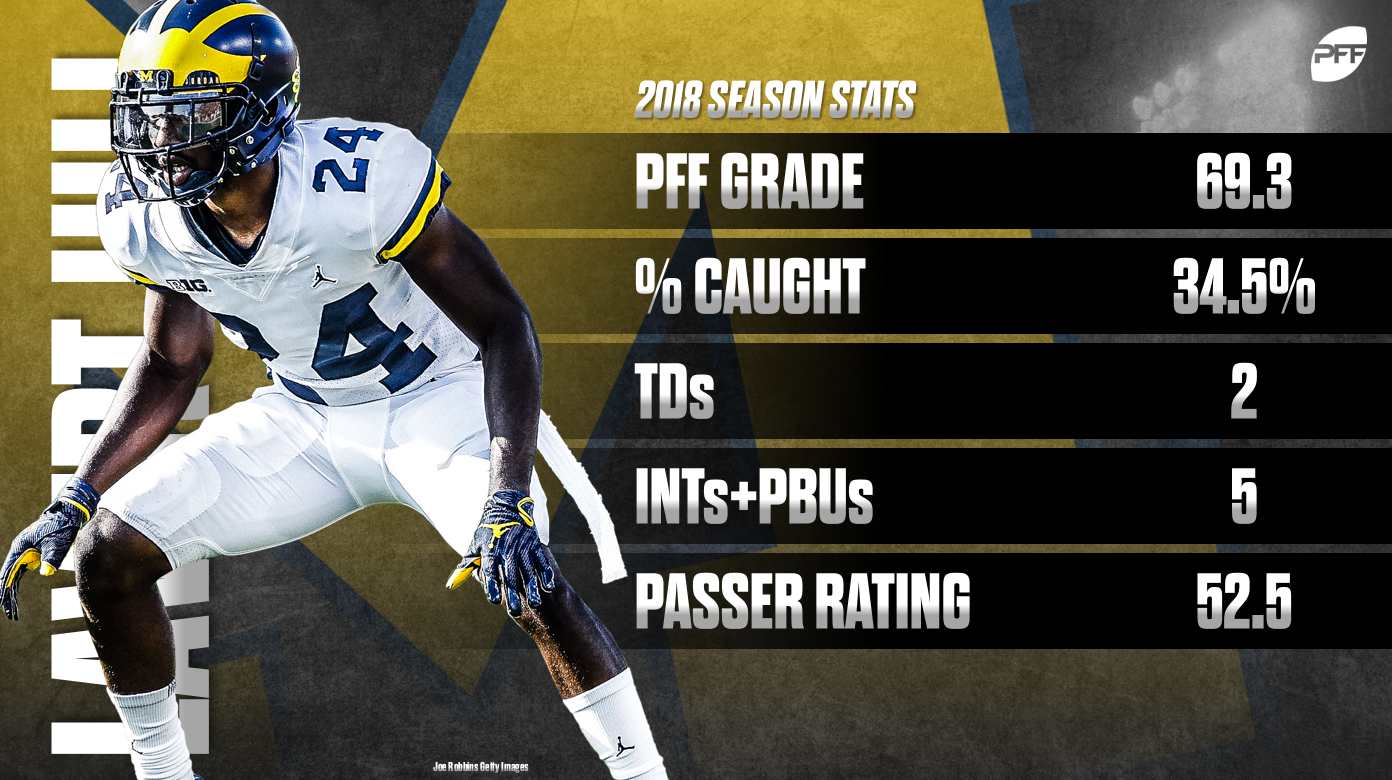 In an embarrassment of riches, Brandon Watson operates as Michigan's third corner and has also been playing at an extremely high level. Throws into Watson's coverage are generating a measly 30.8 passer rating (third in the nation), nearly 9.0 points worse than the 39.6 passer rating received for spiking the ball into the ground.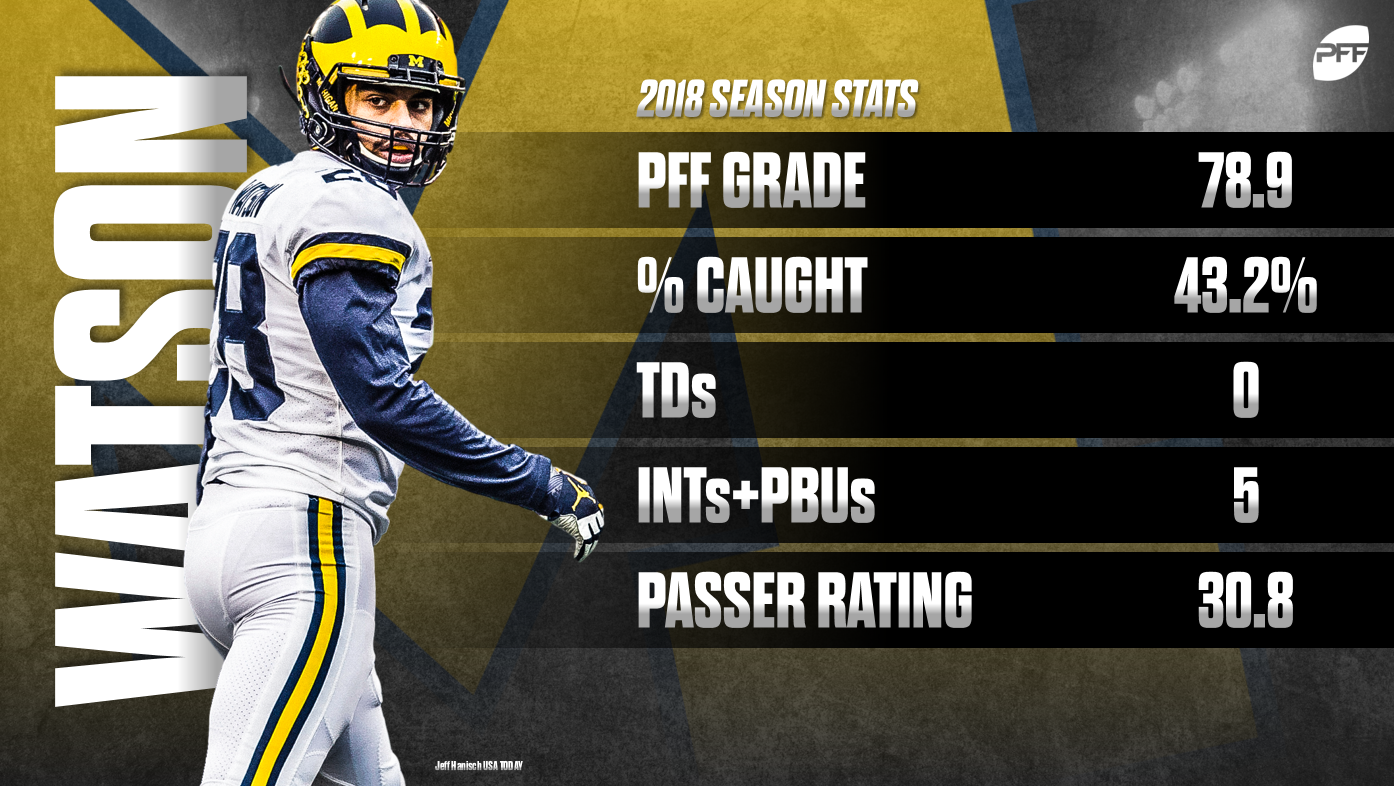 Long, in particular, is grading extremely well on the short-area passes that Campbell, Hill, and company thrive on. On throws with a depth of target of nine yards or less, Long is allowing just a 30.2 passer rating (fourth in the nation) and has forced an incompletion on 25% of throws (sixth). Incredibly, Long has allowed just two first downs (second fewest) and has yet to miss a tackle in coverage this entire season.
Michigan's ability to keep pass catchers in front of the sticks will go a long way towards limiting the Ohio State offense. Don't be surprised if The Game is ultimately decided on the outcome of a short Ohio State pass and whether Michigan can limit their YAC in crunch time.
RIVALRY WEEK AT PFF
Oklahoma vs West Virginia | Washington vs Washington State | Michigan vs Ohio State | Georgia vs Georgia Tech | Alabama vs Auburn | South Carolina vs Clemson | Notre Dame vs USC