The ACC has produced at least one offensive lineman to hear their name called at the NFL draft in every single season that PFF has graded college data and while the ACC currently doesn't hold a 'Wisconsin-level' of NFL draft talent on any one team, there are plenty of players playing in the conference on Saturday that are likely to continue that trend in the years to come. That being said, which ACC offensive lines have been the best through eight weeks of the season?
Diving into the PFF database to look at grades over the first eight weeks while also focusing on how players and teams have performed so far this season, we're able to rank every line in the conference, from first to 14th. This has been done using both our PFF grades and also our pass-blocking efficiency signature stat, allowing us to form a clearer overall picture of performance.

1. NC State
Led by a who's who of stars, the Wolfpack offense runs through the offensive line. Left guard Terronne Prescod has put forth the best season so far, currently graded as the best offensive linemen in all of the conference at 87.2 overall. Center Garrett Bradbury is behind him at No. 2 overall in the conference at 82.9 overall as both have found their way on multiple ACC Team of the Weeks this season. Say what you will about the Clemson performance last weekend, their pass-blocking was hardly to blame as the starting offensive line was only charged with six QB pressures and they did not allow a sack to the vaunted Clemson defensive line.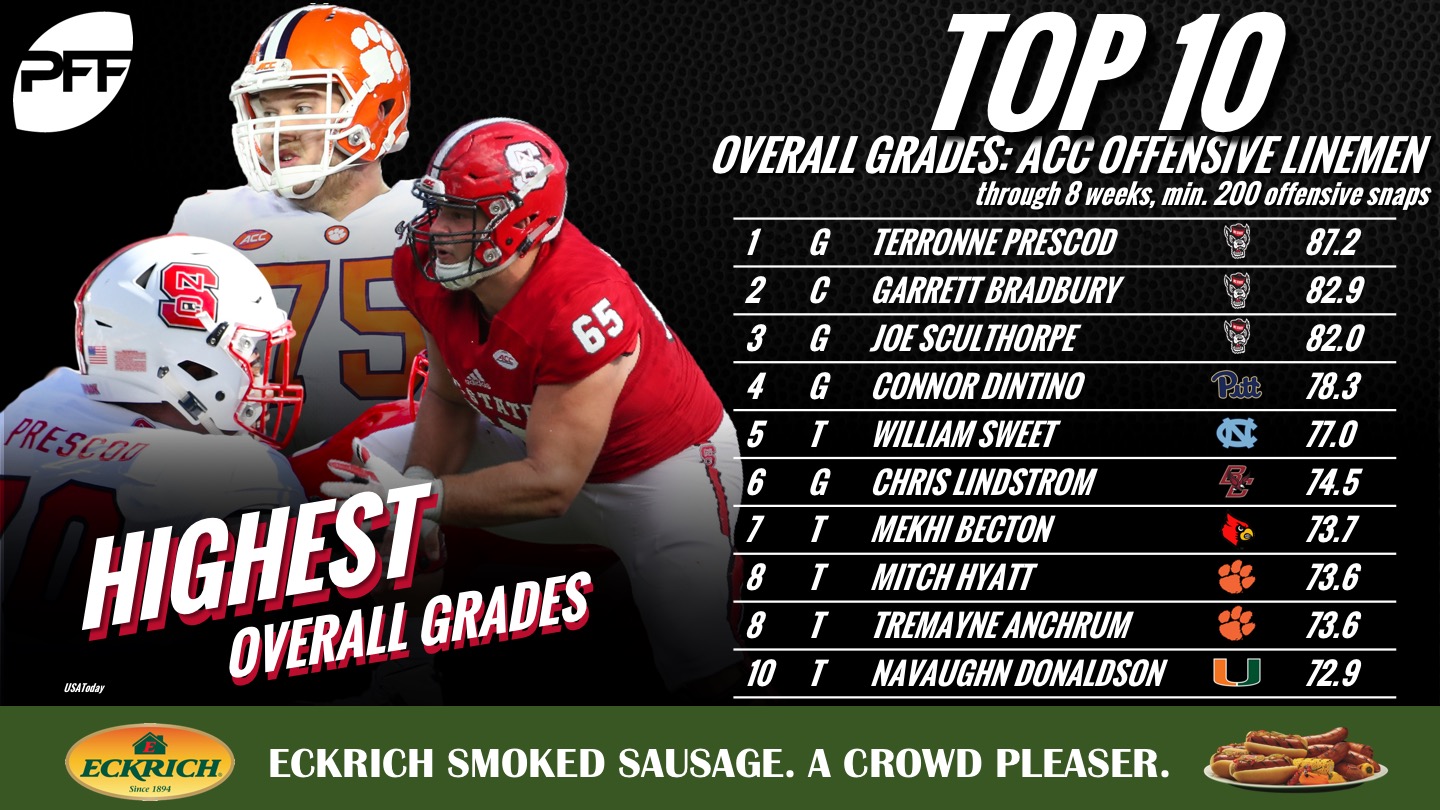 2. Clemson
Speaking of talented offensive lines, Mitch Hyatt and Tremayne Anchrum anchor the Clemson front as they each have mirroring 73.6 overall grades this season. Anchrum, however, has stolen the show with his pass protection, not allowing a single QB pressure this season across his 193 pass-blocking snaps. On the interior, Sean Pollard, John Simpson and Justin Falcinelli more than hold their own and have allowed just 12 combined pressures. Combine that with the fact that quality backup Gage Cervenka made the ACC Team of the Week this past weekend against NC State, and it goes to show just how deep and how talented this line really is.
3. Miami
Navaughn Donaldson is currently the highest-graded Miami offensive lineman at 72.9 but Tyler Gauthier and Hayden Mahoney are just behind him with 71.8 and 71.3 overall grades, respectively. Donaldson has allowed 11 pressures this season but made up for any potential lapses in pass protection with his 70.4 run-blocking grade that is fourth among the conference's tackles. Tyree St. Louis is currently in the middle of a career-worst 62.0 overall graded season and is dragging down the overall rank here for the Hurricanes. One would expect the play of his counterparts to buoy his performance and for him to trend back towards the mean of his career as the season comes to its final month.
4. Pittsburgh
Pitt has two starters currently graded above 70.0 as left guard Connor Dintino leads the pack with his 78.3 overall grade. He's the conference's third-highest graded guard and fourth-highest overall as he's allowed just two pressures on 188 snaps in pass protection. Behind Dintino is fellow guard Mike Herndon who, despite allowing seven pressures, has not allowed a single sack or QB hit this year. The interior of the Panthers offensive line is rounded out by Jimmy Morrissey as his 66.1 run-blocking grade is currently fifth among the ACC's centers.
5. Boston College
Despite the play of Sam Schmal at left guard, the four other starters along the Boston College offensive line have all graded out above 70.0 this season. Chris Lindstrom leads them with his 74.5 overall grade, allowing just three pressures this year. At center, Jon Baker has been a mainstay on our ACC Team of the Week, going back to as far back as 2015 as he has put forth season grades above 71.0 in each of the past three seasons (even if 2017 was shortened) and it looks like this season is no exception.
6. Georgia Tech
Getting it done in different ways than their counterparts, Georgia Tech is currently the conference's sixth-highest graded run-blocking team overall, fitting for their sixth spot here. Parker Braun is the star of the show on the offensive line as he leads all Yellow Jackets with his 71.8 overall grade. His 71.1 run-blocking grade is 10th among all linemen in the conference and fourth among all tackles.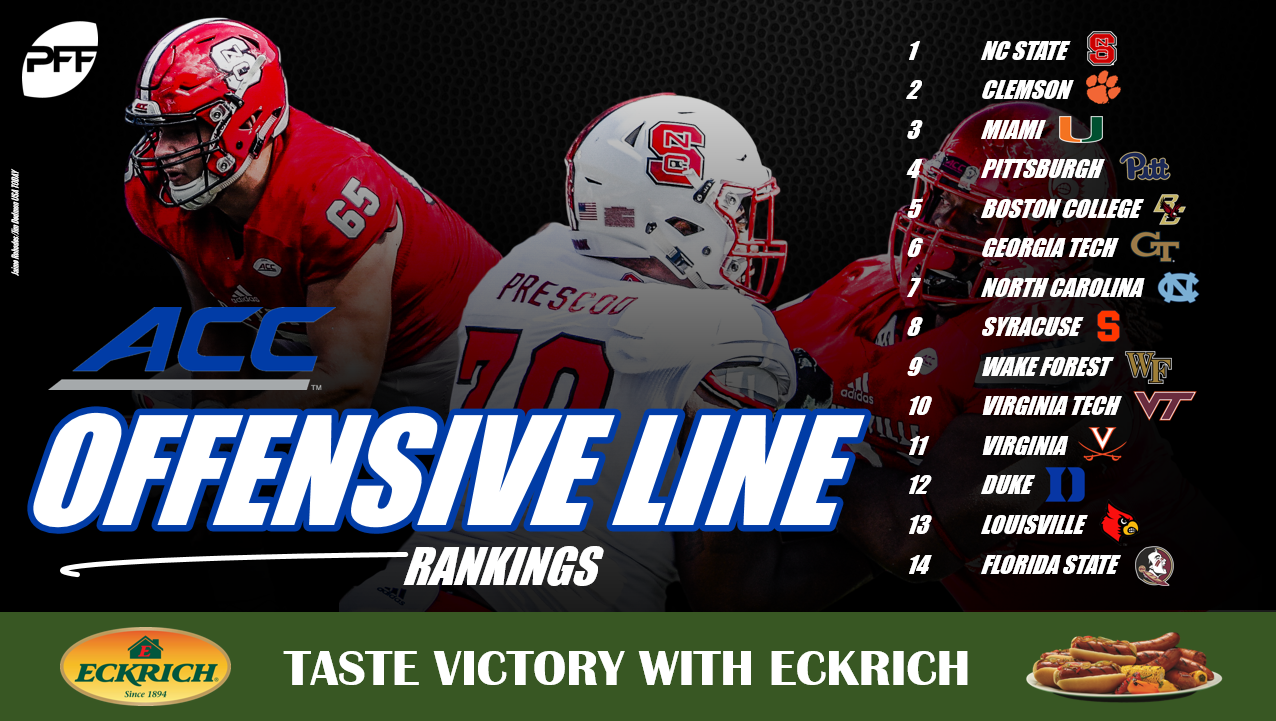 7. North Carolina
Without William Sweet and Charlie Heck, the North Carolina offensive line may look like a train wreck this season, unfortunately. Sweet and Heck seemingly alternate on our ACC Team of the Week and as it stands through eight weeks, Sweet is the conference's highest-graded tackle at 76.9 overall. Sweet has allowed just six QB pressures on 254 pass-blocking snaps while Heck has allowed just eight on 244. The combination of Billy Ross and Jay-Jay McCargo have allowed 16 pressures combined on far less pass-blocking snaps.
8. Syracuse
Cody Conway highlights the Syracuse offensive line who has struggled as of late. In their last three ACC games, the Syracuse offensive linemen not named Cody Conway have allowed at least eight pressures while Conway has allowed just five pressures all season long, on 319 pass-blocking snaps.
9. Wake Forest
The play of center Ryan Anderson has been solid for the Demon Deacons but even he still only ranks seventh at his position in the conference. Anderson has allowed four pressures up the middle on his 287 snaps in pass-protection but his 59.2 run-blocking grade ranks 10th in the ACC.
10. Virginia Tech
The Hokies have seen plus grades from just two offensive linemen to this point of the season, center Kyle Chung and right tackle Yusuah Nijman. Chung's 69.6 overall grade leads the team and just outpaces the aforementioned Anderson for sixth in the conference at center. Nijman is currently 11th among starting tackles in the conference with his 68.5 overall grade as he's been much better in pass protection than run blocking, evidenced by his 80.2 pass-blocking grade vs his 60.8 in run blocking.
11. Virginia
Only Dillon Reinkensmeyer has a grade above 60.1 this season for the Cavaliers as Virginia's center has only allowed five QB pressures on his 265 snaps in pass protection this season. Opposite Reinkensmeyer, however, are 58.4 and 58.8 overall grades for Chris Glaser and Jake Fieler, respectively.
12. Duke
With no grades higher than a 65.8 (that belongs to Zach Harmon), it's no surprise to see the Blue Devils this low on this list. In fact, only two starters across the entire conference have an overall grade lower than Robert Kraeling's 50.0 overall, and both of those players are on teams below Duke here. On 242 snaps in pass protection, Kraeling has allowed 24 QB pressures, by far the most of any ACC offensive lineman.
13. Louisville
The only reason Louisville finds themselves above Florida State here is the play of Mekhi Becton. Coming in with a 73.7 overall grade that is more than 11.0 points higher than the next closest starter on the Cardinals offensive line, Becton is currently the seventh-highest graded lineman in the conference and second-highest graded tackle. He's put forth a solid effort in pass protection, despite the sixth-most pass-blocking snaps (294), but his run-blocking is where he's had his most success this year. His 73.5 run-blocking grade is the highest in the conference among tackles.
14. Florida State
FSU fans probably already knew this already and there isn't much to glean off studying too much of their offensive line through eight weeks this year. Even before Derrick Kelly went down with an injury and Jauan Williams' 35.1 overall grade entered the starting lineup, this team has been disastrous along the offensive line. Perhaps the only bright spot to mention is the fact that center Alec Eberle is currently eighth among the conference's 15 qualified centers with a pass-blocking efficiency of 98.6. That comes of course with the caveat that Eberle has allowed more pressures at the position than any other starter, he just gets the benefit of the fact that he's recorded 277 pass-blocking snaps this season.