Welcome to the 13th NCAA Team of the Week for the 2018 season. As always, our team of over 500 analysts has dissected and graded every snap of every game to bring you the most detailed and valid set of picks you can find anywhere.
The Week 13 Team of the Week saw many impressive performances across the country and as always, overall grades, playing time and the quality of opposition (this week especially) has been factored in to make these selections.
The PFF Team of the Week is brought to you by Eckrich, the Official Smoked Sausage of the College Football Playoff.
Offense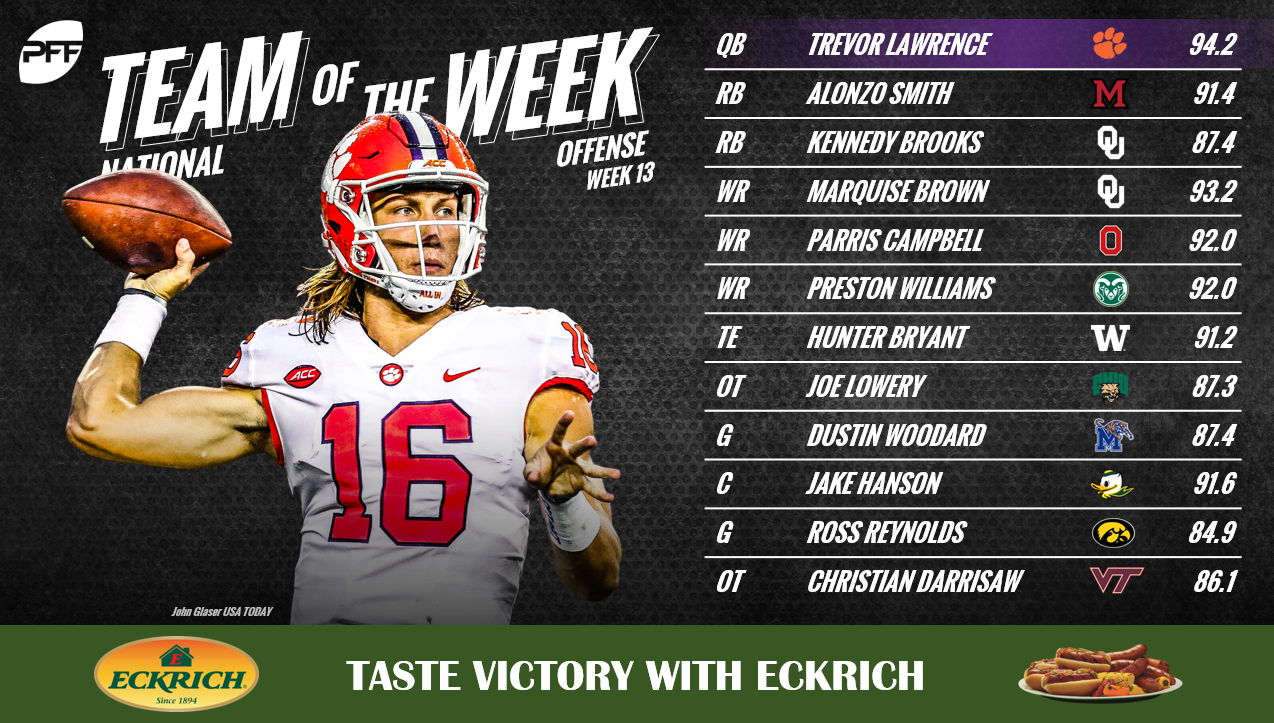 Quarterback
Trevor Lawrence, Clemson
Week 13 Grade: 94.2
Lawrence may not have the touchdown totals as some other quarterbacks this week but his arsenal of throws against South Carolina may be one of the better displays of arm strength and accuracy of the entire 2018 season. He littered the field with big-time throws (PFF's highest-graded throws), throwing a national-best 7 BTTs as he dominated across the middle of the field, completing 18-of-21 passes for 246 of his 393 yards and his lone touchdown of the day. The Clemson offensive line kept him clean on 36 of his 38 dropbacks and he made the Gamecocks pay, completing 26-of-36 passes (with 4 drops) for 377 yards and 18 first-down passes.
Running Back
Alonzo Smith, Miami (Oh.)
Week 13 Grade: 91.4
Way back on Tuesday night, Smith posted the week's highest overall and highest rushing grade among running backs, rushing for 207 yards that included 186 yards after contact. He averaged 11.5 yards per attempt and forced an FBS-best 13 missed tackles on his carries against Northern Illinois as Miami reached the 6-win threshold for bowl eligibility.
Running Back
Kennedy Brooks, Oklahoma
Week 13 Grade: 87.4
Brooks and the Sooner offense dominated in Morgantown on Friday night as Brooks racked up 142 of his 182 yards after contact. He forced 11 missed tackles on his 21 carries and had a touchdown to go along with five additional first-down runs.
Wide Receiver
Marquise Brown, Oklahoma
Week 13 Grade: 93.2
Brown hauled in all 11 of his targeted passes against the Mountaineers, gaining 243 yards and two touchdowns in the process. He averaged 10.4 yards after the catch per reception (114 YAC) and six additional first downs on his catches. In total, Kyler Murray had a perfect 158.3 passer rating when targeting 'Hollywood' Brown.
Wide Receiver
Parris Campbell, Ohio State
Week 13 Grade: 92.0
Campbell accumulated two touchdowns (whether the second one is a receiving touchdown or a rushing touchdown is still up for discussion) in the Buckeyes rout of Michigan. Campbell gained 82 of his 114 yards after the catch (16.4 YAC per reception) and saw a 145.8 passer rating on his targets.
Wide Receiver
Preston Williams, Colorado State
Week 13 Grade: 92.0
Williams was the most targeted receiver this week, seeing 17 passes thrown his way. He showed flashes of what made him such a highly-recruited athlete coming out of high school, gaining 248 yards and three scores. He averaged 20.7 yards per catch and gained 75 yards after the catch, leading the nation with nine combined first-down and touchdown receptions.
Tight End
Hunter Bryant, Washington
Week 13 Grade: 91.2
Bryant had quite the evening against Washington State, coming down with all three of his targeted passes for 108 yards and 56 yards after the catch. He forced two missed tackles and saw a perfect passer rating when targeted from Jake Browning (and Aaron Fuller) of 158.3.
Offensive Tackle
Joe Lowery, Ohio
Week 13 Grade: 87.3
Lowery didn't allow a QB pressure on 19 pass-blocking snaps but it was his run blocking that sees him gain a spot on the Team of the Week. The Ohio rushing attack gained 251 of their 389 rushing yards before contact as the entire Bobcats offensive line paved the way in a dominant win over Akron.
Offensive Guard
Dustin Woodard, Memphis
Week 13 Grade: 87.4
Woodard paved the way for Darrell Henderson to become the AAC's all-time single-season record holder in rushing yards, leading the nation's offensive linemen with an 89.6 grade in run blocking. He also didn't allow a pressure on 38 snaps in pass protection.
Center
Jake Hanson, Oregon
Week 13 Grade: 91.6
Like seemingly every other offensive lineman on the Team of the Week, Hanson dominated in run blocking and kept a clean sheet in pass protection. His run blocking was so dominant, however, that no center came within 9.0 grade points of his 86.0 run-blocking grade.
Offensive Guard
Ross Reynolds, Iowa
Week 13 Grade: 84.9
Reynolds kept Iowa QB Nate Stanley upright on his 27 snaps in pass protection and paved the way for the Hawkeyes to come away with the last-second victory over Nebraska. His 86.3 run-blocking grade was second in the nation among guards.
Offensive Tackle
Christian Darrisaw, Virginia Tech
Week 13 Grade: 86.1
The Hokies came back to win against Virginia and are a win away from finishing the season at 6-6 and bowl eligible as Darrisaw kept a clean sheet in pass protection, not allowing a single pressure on 39 pass-blocking snaps. He tied Lowery for the national lead with an 82.0 run-blocking grade, best among tackles.
Defense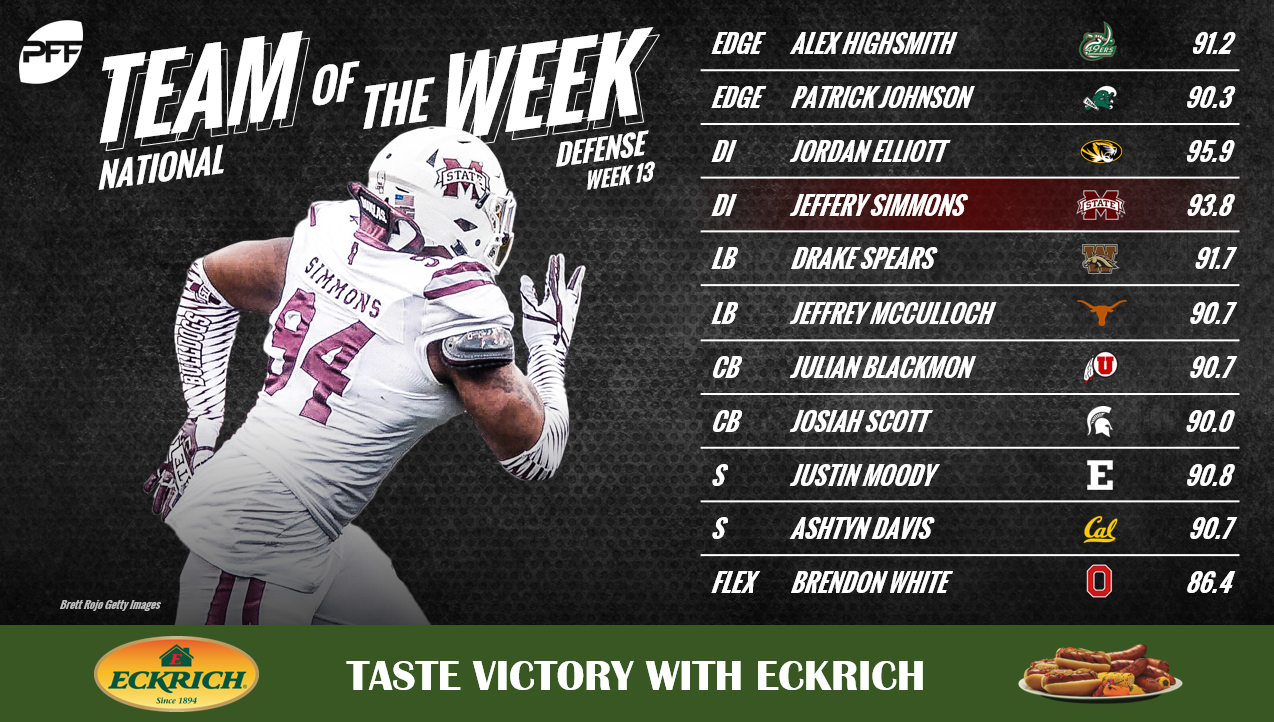 Edge Defender
Alex Highsmith, Charlotte
Week 13 Grade: 91.2
Highsmith came away with seven pressures on his 28 pass-rushing snaps, all hurries, and dominated against the run. His seven defensive stops led the nation's edge defenders and he racked up 10 total tackles without missing a single attempt. Rounding out his day, he dropped back into coverage on one snap, and despite allowing the reception, limited it to no yards.
Edge Defender
Patrick Johnson, Tulane
Week 13 Grade: 90.3
Johnson and the Green Wave came away victorious by the narrowest of margins, and Johnson had himself quite the day all around. He dropped into coverage 11 times and limited receivers to just two yards but was even more impressive as a pass-rusher. On just nine pass-rushing snaps, Johnson brought down two sacks and two more hurries and led the nation's edge defenders with a 94.9 pass-rushing grade.
Defensive Interior
Jordan Elliott, Missouri
Week 13 Grade: 95.9
Elliott was unstoppable for Missouri on Friday, coming down with one stop in run defense (on just eight snaps against the run), but doing his most damage when rushing the passer. On 26 pass-rushing snaps, Elliott brought down six total pressures that included three sacks. His 93.1 pass-rushing grade was 2.1 grade points clear of the next best interior defensive lineman in Week 13.
Defensive Interior
Jeffery Simmons, Mississippi State
Week 13 Grade: 93.8
Simmons (and the entire Bulldogs team) cruised past their rival Ole Miss in the Egg Bowl on Thanksgiving night as Simmons brought in five total QB pressures (1 sack, 4 hurries), two total defensive stops, a forced fumble, a batted pass and did not miss a single tackle on the evening.
Linebacker
Drake Spears, Western Michigan
Week 13 Grade: 91.7
Even two missed tackles aren't enough to keep Spears' coverage prowess off the Team of the Week this week. On 22 snaps in coverage, Spears was targeted three times, allowing just one reception for six yards while he intercepted another and forced another incompletion. In total, he saw a 2.8 passer rating when targeted and had the nation's best 94.2 coverage grade among linebackers.
Linebacker
Jeffrey McCulloch, Texas
Week 13 Grade: 90.7
McCulloch saw 72 snaps against Kansas, making his presence known in all facets against the Jayhawks. On 19 pass-rushing snaps, he brought in three QB pressures including a sack while he added four total tackles without a single miss on the day. He added an interception on the day as well as the Longhorns outlasted a pesky Kansas team.
Cornerback
Julian Blackmon, Utah
Week 13 Grade: 90.7
Blackmon was targeted five times in coverage against BYU, allowing three receptions for just 21 yards. He came away with an interception and two additional pass breakups as he didn't allow a single reception over eight yards. He made six total tackles on the evening as Utah improved their record to 9-3 ahead of the Pac-12 Championship Game.
Cornerback
Josiah Scott, Michigan State
Week 13 Grade: 90.0
Scott was targeted three times in coverage against Rutgers, coming away with two interceptions, despite allowing the Scarlet Knights lone touchdown on the day. Rounding out his day, he added three more total tackles without missing a single attempt.
Safety
Justin Moody. Eastern Michigan
Week 13 Grade: 90.8
Moody had an all-around solid performance for EMU, notching four total tackles without a miss, including a defensive stop. It was his prowess in coverage that sees him make the National Team of the Week as he was targeted three times as the primary coverage defender, allowing just one reception for no yards and two more pass breakups against Kent State.
Safety
Ashtyn Davis, Cal
Week 13 Grade: 90.7
Davis' day in coverage was so good that he hauled in two interceptions and a pass breakup despite seeing only one targeted pass as the primary coverage defender against Colorado. For the season, he now has four interceptions, four pass breakups and hasn't allowed a catch in two consecutive games.
Flex Defense
Brendon White, Ohio State
Week 13 Grade: 86.4
In a game that saw a combined 101 points, it may be shocking to see a defensive player on the Team of the Week but White grabs the flex spot after coming back from a poor performance against Maryland last week. On 50 snaps in coverage against Michigan, White was targeted just once and came away with an interception while he didn't miss a tackle over the entire course of the game against Michigan.