A squeaker from Ohio State notwithstanding, it was a ho-hum week for the top 10, with little change in the teams that compose this group for us after Week 11. The jockeying you're seeing among teams in the top seven is a product of the fact that the ELO difference between Alabama and Clemson is twice as big as the difference between Clemson and Georgia, and the difference between Oklahoma and UCF is about a fourth that difference.
Like all ELO systems (including our version for the NFL), PFF ELO is an iterative system that updates each team's rating after each game based on two things: how well they played against their opponent and how well they were expected to play against their opponent. The PFF ELO rating system measures the former using our unique offensive, defensive and special teams grades, while the latter is determined by the PFF ELO ratings leading up to the game and where the game is played.
For example, a heavy favorite playing at home is expected to outplay the visitor, so a victory would result in only a small rise in their PFF ELO rating and a similarly-small decrease in the defeated team's. However, if an upset were to happen, the visiting team would see their PFF ELO rating rise substantially, and the home team's see a similarly-sized drop.
Sometimes in football, the best team does not win, and PFFELO accounts for these oddities by using our grades. Hence there will be teams rated higher or lower in this system than their win-loss record would suggest.  Since PFF began charting college football in 2014, the difference in PFF ELO values alone has been able to explain over three-fourths of the variance in the closing Vegas line. Check back to profootballfocus.com for weekly college spread picks using this model and check out PFF Greenline for our NFL version of the product.
The PFF ELO College Power Rankings are brought to you by Eckrich, the Official Smoked Sausage of the College Football Playoff.
1.

This is college football's best team by a country mile, and while there is plenty of NFL talent on the defense, it starts with the passing offense and QB Tua Tagovailoa. His 1.25 passing yards for every air yard is easily the best in the SEC among qualifiers (Jalen Hurts is at 1.27), while he's making turnover-worthy plays on fewer than 3.0% of his dropbacks, keeping opponents at arm's length perpetually. They have a tough matchup against Georgia coming up in the SEC Championship Game, but it's difficult to see a situation where they don't make (and win) the College Football Playoff.
2.
Despite some mid-season jockeying, the Tigers have cemented themselves as the clear No. 2 in our rankings. Travis Etienne's usage has held steady at 10 carries a game as his yards after contact per attempt has climbed to 4.30. Trevor Lawrence has only been asked to manage games at this point and will need to improve on his percentage of negatively-graded throws, currently at 14.1% of attempts. The defense continues to be the backbone of this team allowing a successful rush on 24% of early-down attempts. They have the highest pressure percentage in the FBS and have also limited pass catchers to only 2.68 yards after catch per attempt, the 16th-best rate in the FBS.
3.
25th-ranked Syracuse proved to be little match for the Fighting Irish at Yankee Stadium on Saturday. Ian Book returned and did what was asked of him, increasing his EPA per dropback to 0.26. The defense once again was the story with Alohi Gilman and Jalen Elliott combining for three interceptions, four run stops with only three receptions allowed on seven targets into coverage. They need to continue to get this type of performance from their quality safeties if they want to compete with the likes of Alabama in the College Football Playoff.
4.

We would give Georgia just over a 42% chance to beat Alabama at home on December 1st, meaning that a berth in the College Football Playoff is very possible for the Bulldogs. Jake Fromm has not graded as well as some of the quarterbacks in the SEC, but the Georgia offense has been very efficient on his dropbacks, generating 0.41 expected points added on those plays.  In terms of PFF ELO, they are very clearly in the 2-4 tier, but there's a lot of football to play as well look to shake these things out.
5.
This is all about Kyler Murray. Oklahoma's offense is generating an astonishing 0.60 expected points added every time Murray drops back to pass. His supporting cast is turning every air yard into 1.11 passing yards, while Murray is earning a positive grade on over 40% of all of his dropbacks, and a "big-time throw" designation on almost 8.0% of his dropbacks. They are a tier below the top four, but if one of them falter, they will be an entertaining team to monitor for the playoff moving forward.
6.

Michigan had to battle Saturday to beat an Indiana team that, while plucky, is middle-of-the-pack at best in terms of Big Ten teams no matter how you slice it. That setback notwithstanding, the Wolverines are still the best defense in the Big Ten, allowing early-down success at less than a 35% clip in both the run game and the passing game. They have a big test against Ohio State coming up, one that we have them winning roughly 50% of the time.
7. 

UCF controlled the entire game against Cincinnati leaving little doubt they were the superior team in a 38-13 win. Adrian Killins flashed his big-play potential in the passing game, and in 2018 is averaging a ridiculous 19.5 yards after catch per reception. The real story was the impressive play of the Knights defense who recorded pressure on 43% of dropbacks. On the season, they have allowed a successful pass on 41% of early-down pass attempts and only 40% of early-down rushes. UCF wraps up conference play against USF before the AAC Championship Game next weekend.
8.

Michigan gets all of the love, but Penn State's defense has been almost as good through the season's first 12 weeks, allowing fewer than 40% of early-down runs and passes to grade successfully. Their offense has really been the letdown this season, with a negative EPA generated on early-down passes, which had made it difficult for them to both compete at all with Michigan a few weeks ago and beat Ohio State outright a couple of months back.
9.
Ohio State barely escaped Maryland with a win on Saturday despite a brilliant effort from their quarterback, Dwayne Haskins. It's been a rough second half of the season for the Buckeyes, one that has placed them squarely in the middle of the pack defensively in the Big Ten despite a strength of schedule that is just 56th in the nation through 12 weeks. Their big test is against Michigan at home, with the battle of two good-but-flawed teams deciding who will play for the Big Ten title come Conference Championship weekend.
10.

Boise State edged out Washington State by the slimmest of ELO margins to enter into our Top 10 for the first time this season. The timing is impeccable as they have a play-in game to the Mountain West Championship against 28th-ranked Utah State. Our model is high on Boise State which is directly related to the play of Brett Rypien. He sports PFF's seventh-best passing grade in the country absolutely honing in on intermediate and deep passes. His average depth of target is in the top 20 among qualifying quarterbacks with only 35% of his total yards coming after the catch, the 13th-lowest rate in the FBS. The Broncos are capable of competing with anyone if Rypien continues to display the accuracy he has shown throughout 2018.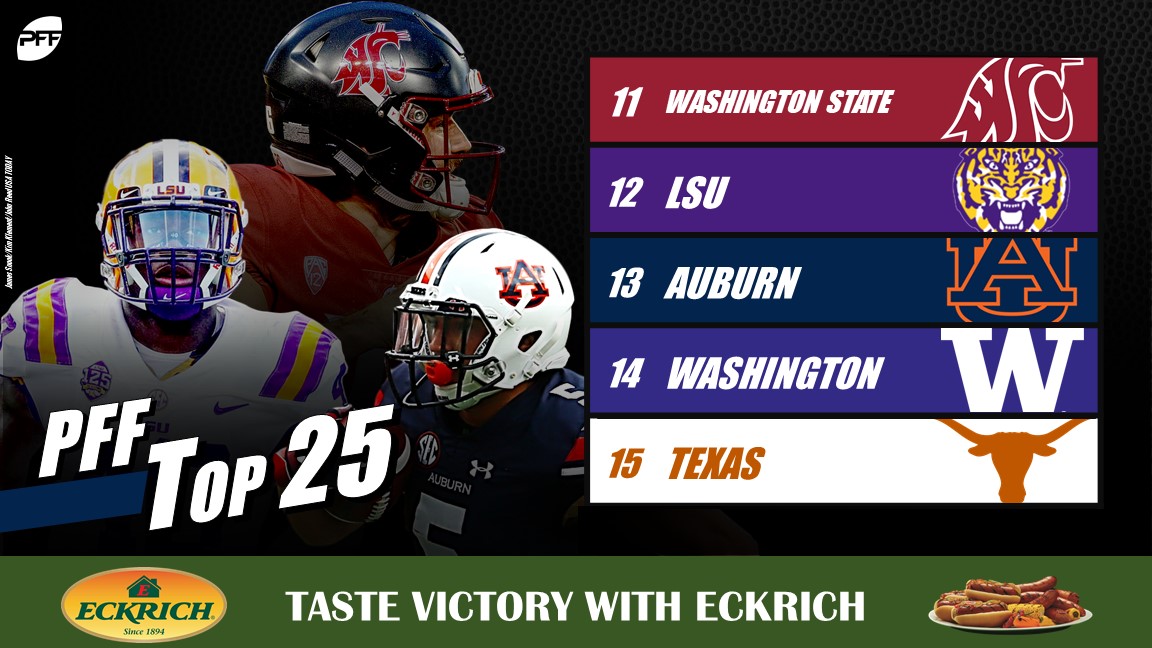 11. Washington State (+5)
12. LSU (-2)
13. Auburn (+2)
14. Washington (-2)
15. Texas (-2)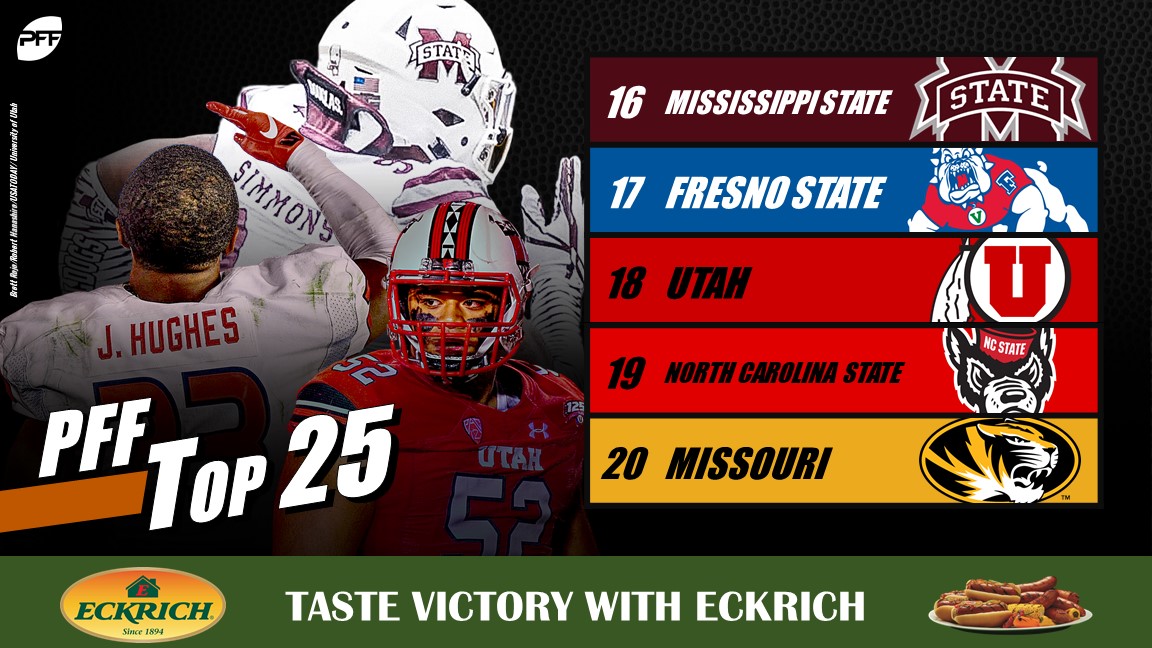 16. Mississippi State (-2)
17. Fresno State (-)
18. Utah (+1)
19. NC State (+9)
20. Missouri (+3)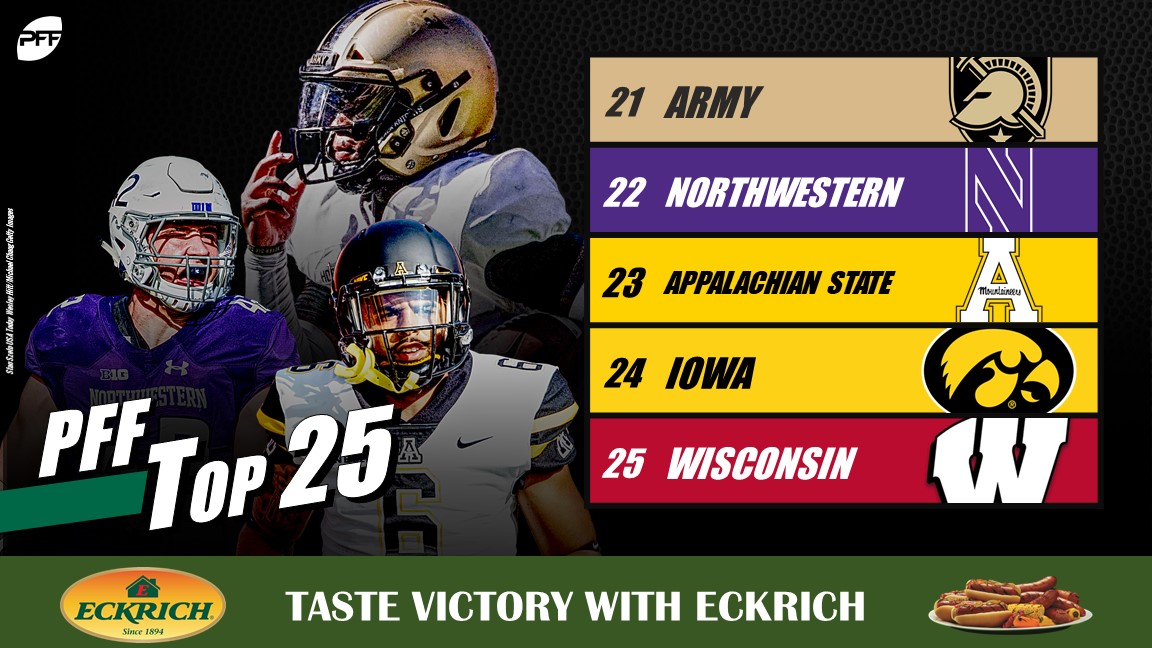 21. Army (-)
22. Northwestern (+2)
23. Appalachian State (+8)
24. Iowa (+3)
25. Wisconsin (+1)