Week 11 of the college football season went a bit as predicted, with every top-10 team winning, with the exception of Auburn, who played a top-10 team in Georgia. Syracuse makes our top 25 for the first time this season but has to play Notre Dame after doing so, while Iowa State gets to play Texas. Aside from this, the week looks a bit rough in terms of great matchups. But we carry on.
Like all ELO systems (including our version for the NFL), PFF ELO is an iterative system that updates each team's rating after each game based on two things: how well they played against their opponent and how well they were expected to play against their opponent. The PFF ELO rating system measures the former using our unique offensive, defensive and special teams grades, while the latter is determined by the PFF ELO ratings leading up to the game and where the game is played.
For example, a heavy favorite playing at home is expected to outplay the visitor, so a victory would result in only a small rise in their PFF ELO rating and a similarly-small decrease in the defeated team's. However, if an upset were to happen, the visiting team would see their PFF ELO rating rise substantially, and the home team's see a similarly-sized drop.
Sometimes in football, the best team does not win, and PFFELO accounts for these oddities by using our grades. Hence there will be teams rated higher or lower in this system than their win-loss record would suggest.  Since PFF began charting college football in 2014, the difference in PFF ELO values alone has been able to explain over three-fourths of the variance in the closing Vegas line. Check back to profootballfocus.com for weekly college spread picks using this model and check out PFF Greenline for our NFL version of the product.
The PFF ELO College Power Rankings are brought to you by Eckrich, the Official Smoked Sausage of the College Football Playoff.
1.

Alabama shutout a top-25 AP ranked team for the second consecutive week, limiting many of the questions folks have had about their defense. They are allowing -0.27 EPA per early-down pass attempt so far (best in the SEC) while allowing only -0.24 per early-down run (also best). Quinnen Williams is a legit superstar, managing to stand out on a team with numerous NFL players. Keeping Tua Tagovailoa healthy is an absolute must, as he's been the best passer in college football so far this season. But if they can accomplish this, they are every bit the favorite as they are assumed to be moving forward.
2.
Coming off of a victory against Boston College, Clemson is sporting a ridiculous set of defensive statistics at this point. They are allowing fewer than a fourth of early-down runs to generate success on the (with teams dumping over 0.4 EPA each time they run on first or second down), while still stopping the pass on almost 65% of early downs. While their offense has had good days and bad, it's hard to see any outcome where they are not in the College Football Playoff at this point, making the third Alabama/Clemson title game in four years a possibility to look forward to.
3.

The Bulldogs generated a convincing win against an Auburn team we've had in the top 10 of our PFF ELO power rankings throughout this season. Like Alabama, they've been extremely efficient offensively, with an early-down passing success rate of 53.4% and an early-down rushing success rate of 47.5%. D'Andre Swift has been terrific, averaging 7.0 yards per carry, including over four yards per carry after contact. He and Elijah Holyfield have generated 39 missed tackles in the run game through 11 weeks.
4.
Brandon Wimbush stepped in for an injured Ian Book and led the Fighting Irish to a blow out win over Florida State. Book is expected to return for their matchup against No. 25 ranked Syracuse on Saturday at Yankee Stadium. The Fighting Irish pass defense is emerging as one of the best in the country as on early-down pass attempts, they have allowed a successful pass on 35.7% of attempts. They allow 2.27 yards after catch per attempt which is the fourth-lowest mark in the FBS. No matter who is playing quarterback, if their pass defense continues to impress, they should win out and find themselves firmly in the playoff picture.
5.

Michigan rolled through another inferior opponent, dominating Rutgers on the road and improving to 9-1. They have a tune-up game against Indiana before their showdown with Ohio State in Columbus to decide who plays (gasp!) Northwestern for the Big Ten Championship. Shea Patterson has played better than expected, generating 0.16 EPA per dropback in 2018. Over 28% of his pass attempts have received a positive grade, second-best mark in the conference. Defensively, they may have the best coverage unit in the FBS and on early-down pass attempts they have allowed a successful pass just 33.6% of the time and only 2.3 yards after catch per attempt, which is fifth best in the FBS. This bodes well for their matchup with the Buckeyes who rely heavily on their receivers generating big yards after the catch.
6.
In what is becoming a common theme for the Sooners, they escaped with a win at home against Oklahoma State in a wild shootout. Offensively, they continue to be as good as anyone in the country but defensively they cannot seem to stop anyone at this point. They allow an average depth on completions of 7.4 yards, one of the worst marks in the FBS and they have allowed a successful pass on 52% of early-down attempts. Pass defense is why they find themselves on the outside looking in at the College Football Playoff and will most likely be the reason they stay out barring some massive upsets at the top.
7.

Penn State rode the generational talent of Miles Sanders to victory over Wisconsin. Sanders forced only two missed tackles bringing his season total to 32 but had 96 of his 154 total yards after contact. At 7-3, Penn State has two cupcake matchups to wrap up the season but finds themselves looking up at both Michigan and Ohio State in the Big Ten East. Trace McSorley hasn't exactly performed well from an EPA standpoint but does have the second-highest percentage of big-time throws in the Big-10.
8. 

Another week, another win by UCF, this time in non-impressive fashion against Navy. McKenzie Milton was pressured on just one of his 25 dropbacks against the Midshipmen, carving the blitz to the tune of 5-of-6 for 58 yards and a touchdown. He was also good on the ground, scoring a touchdown, forcing a missed tackle and gaining an additional 59 yards on eight carries. Their defense will always be an issue (they allowed over 360 yards on the ground at almost six yards per attempt against Navy), but they get Cincinnati at home this weekend, meaning that their chances of finishing undefeated again are real.
9.
Ohio State won a defensive battle, keeping Michigan State out of the end zone and finally pulling away to secure the road victory. The Buckeyes travel to Maryland before a home showdown with Michigan in two weeks. Ohio State had their best defensive performance since starting conference play as they allowed an EPA per pass attempt of -0.42, contesting almost 19% of attempts and allowing a passer rating of just 44.4. Dwayne Haskins continues to receive the majority of his passing production on throws within five yards of the line of scrimmage and if the Wolverines can limit yards after the catch as they have, it could be a recipe for disaster for the Buckeyes offense at home in two weeks.
10.

They survived a late rally, but this enigmatic LSU team rebounded Saturday against Arkansas to keep them in the top 10 in our rankings. Joe Burrow continued his ho-hum season, completing only four passes traveling more than 10 yards downfield and taking sacks on three of his eight pressured dropbacks. He's middle-of-the-pack in the SEC in terms of PFF grade per snap, with LSU's offense generating -0.15 EPA per dropback and generating 0.75 actual passing yards per air yard. This is an offense that can help LSU stay surprising in a season like this, but as we saw against the Crimson Tide two weeks ago, not an offense that can truly compete at this point.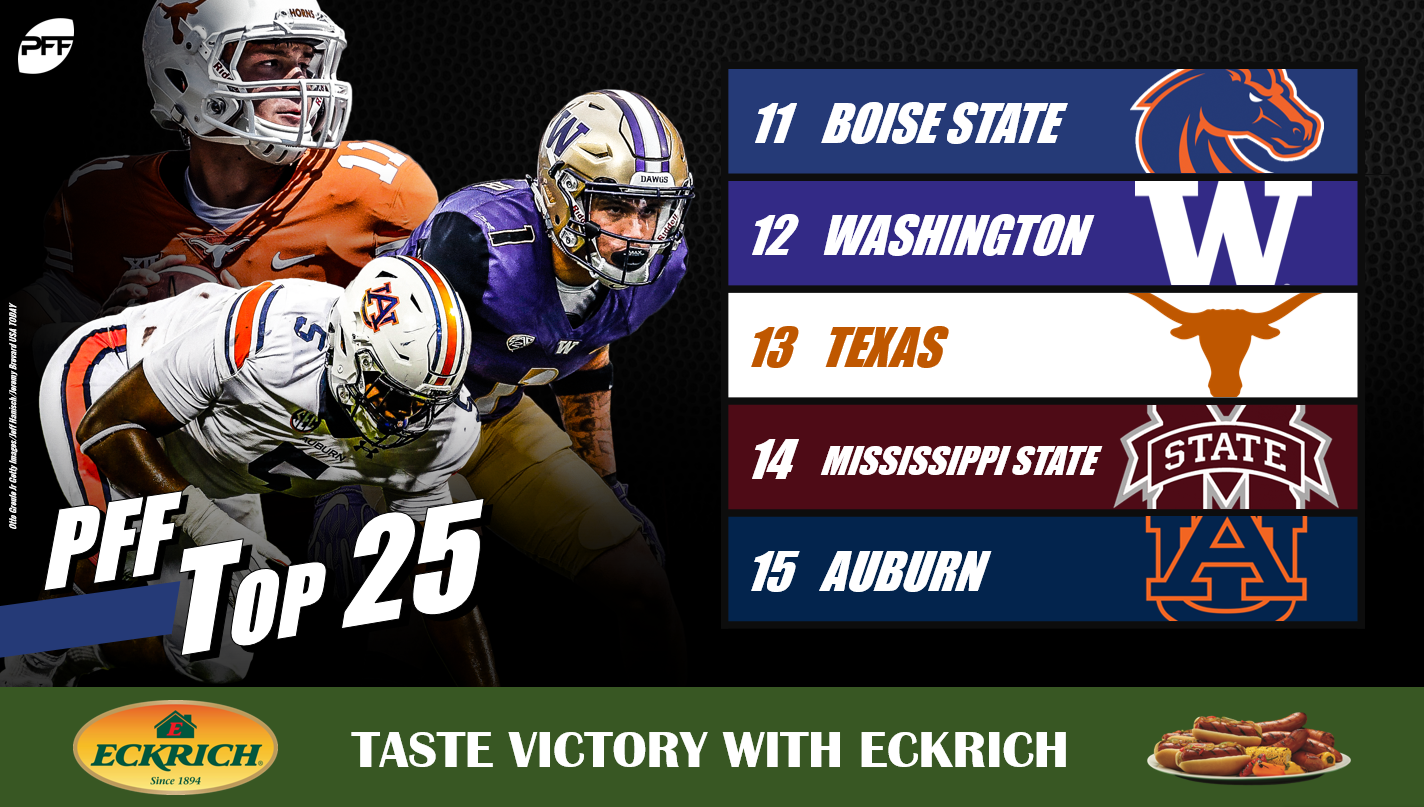 11. Boise State (+3)
12. Washington (-)
13. Texas (+6)
14. Mississippi State (-1)
15. Auburn (-5)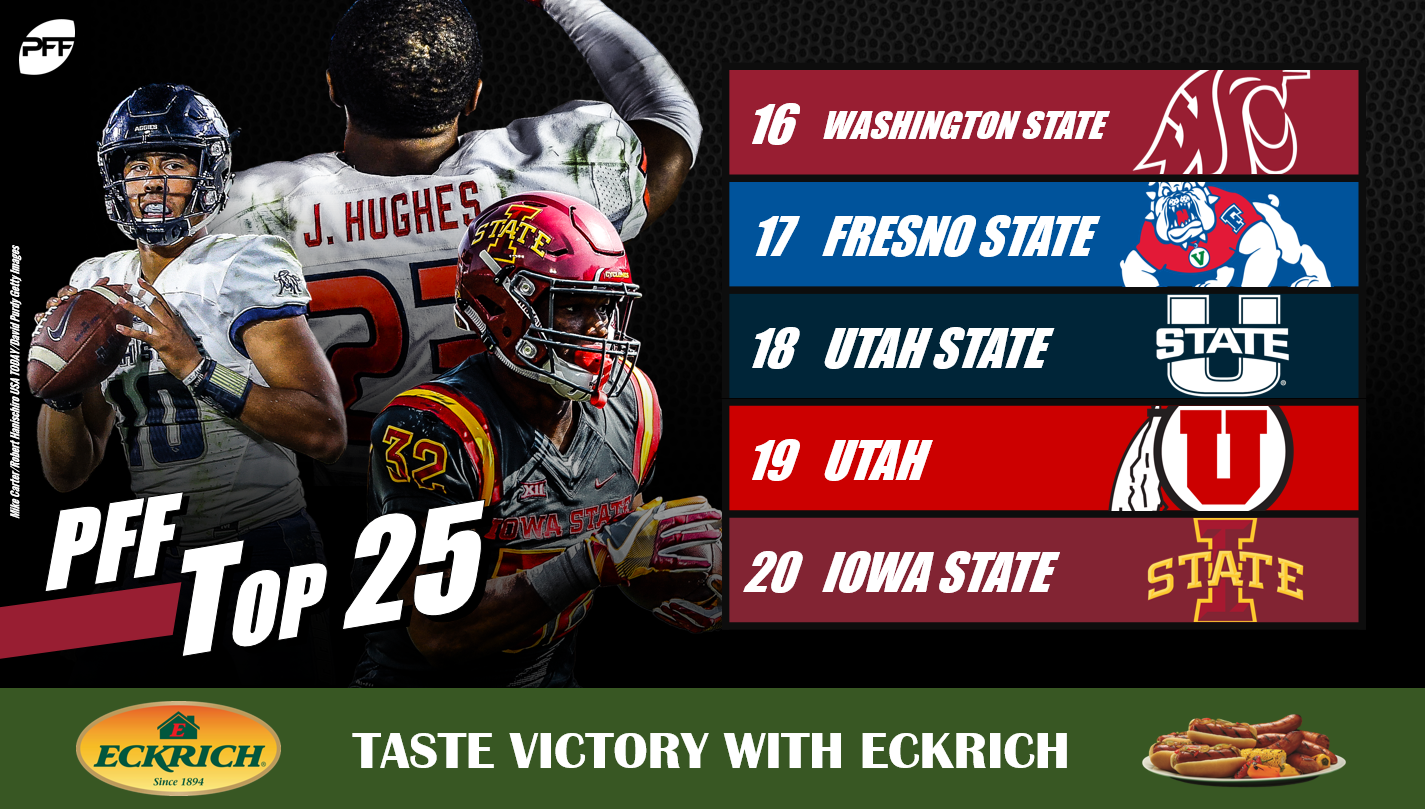 16. Washington State (+2)
17. Fresno State (-6)
18. Utah State (+5)
19. Utah (+7)
20. Iowa State (+16)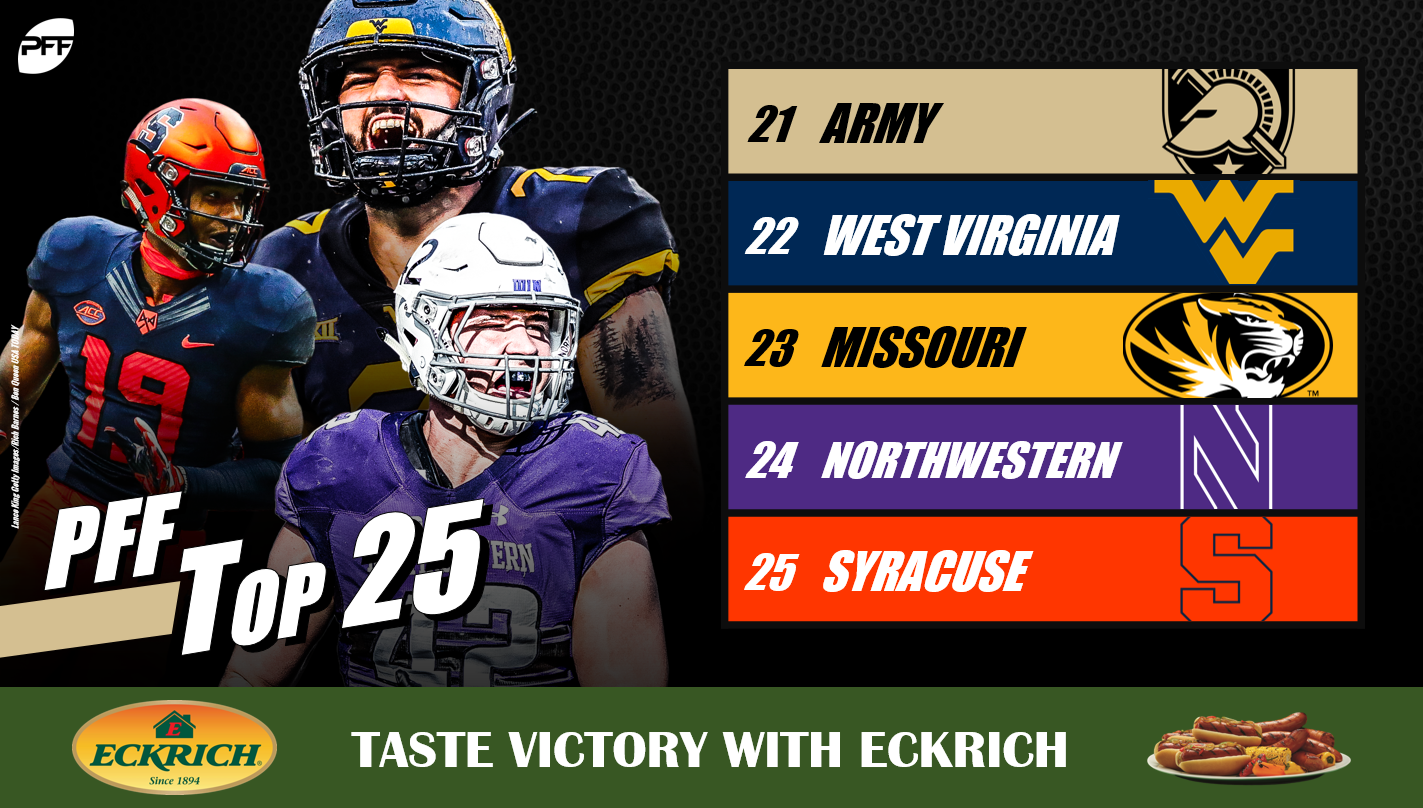 21. Army (+7)
22. West Virginia (+13)
23. Missouri (+15)
24. Northwestern (-2)
25. Syracuse (+17)