The 2018 Penn State football season has turned into a bizarro-world version of the 2017 season in the blink of an eye. The Nittany Lions lost to Ohio State and Michigan State in back-to-back weeks in nearly the exact same fashion as last year and find themselves at 4-2.
There is a lot of 'could have been' with the Penn State team in 2018. Many parts of their midseason report card have seen them grade out as elite or near elite in our grading system, particularly their passing and pass-defense grades are both over 90.0 for the season.
The Midseason Report on Penn State is brought to you by Eckrich, the Official Smoked Sausage of the College Football Playoff.
Yes, it's not all doom and gloom for Penn State this season. There are some promising trends for the Nittany Lions that bode well for the second half of the season and beyond.
Offense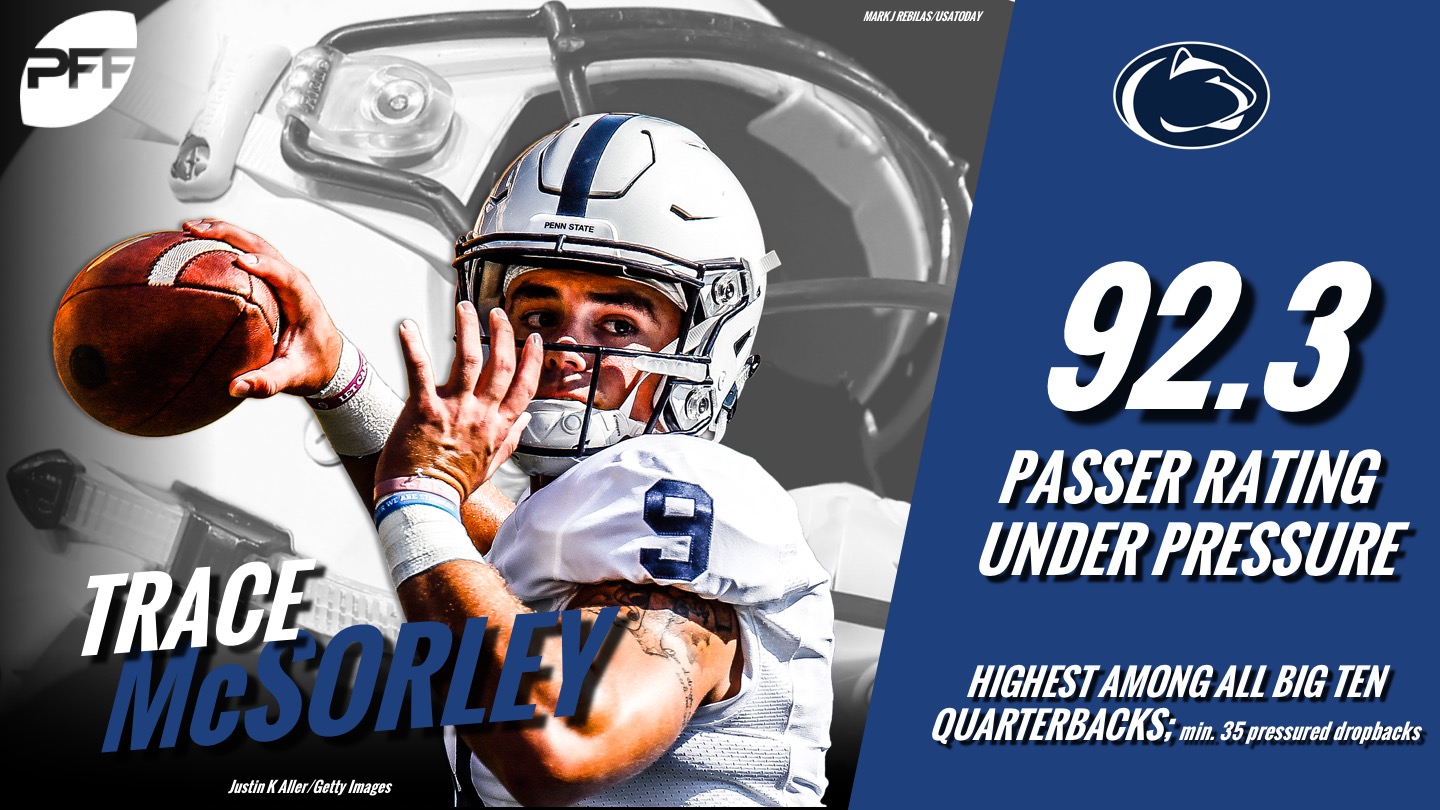 Trace McSorley
While QB Trace McSorley's raw numbers are not spectacular, take into consideration that the difference between his raw completion percentage of 53.8% is over 16 points lower than his adjusted completion percentage of 70.1%. He has only thrown two interceptions all season and before the Michigan State game, was featured in just how unlucky some of his bounces were this season.
The Running Game
The running game, led by Miles Sanders, has been very productive in their own regard, with an overall team grade of 79.1. Sanders hasn't just stepped out of the shadows of Saquon Barkley, he's leapt into the spotlight for the Nittany Lions. His rushing grade of 82.5 is 17th in the nation and second in the Big Ten. Sanders is also second in the conference in PFF's elusive rating, forcing 28 missed tackles on his carries – the most among Big Ten running backs. McSorley has also been an effective runner this year with nearly 200 yards after contact as a quarterback. He has racked up 303 yards on designed runs and another 181 on scrambles.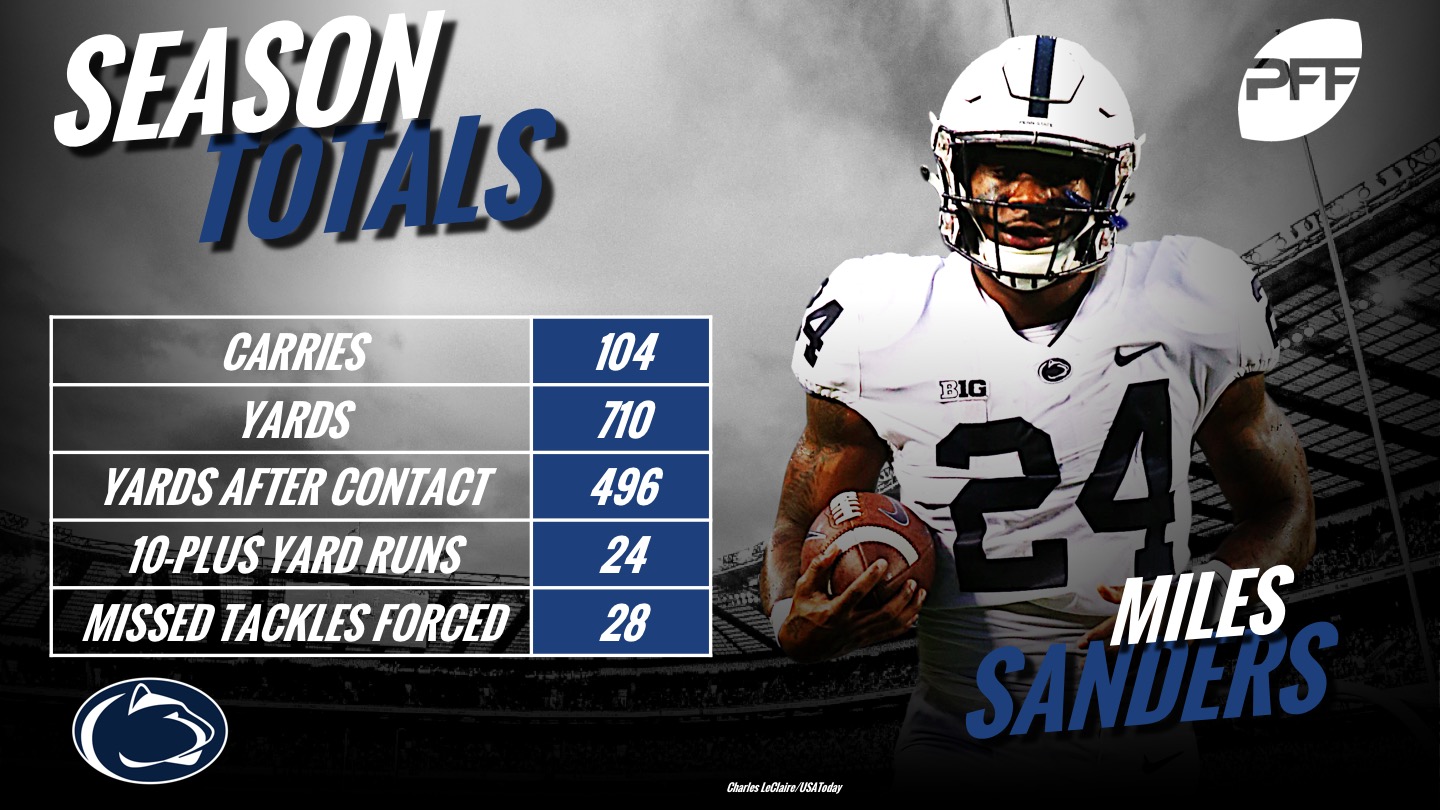 Freshmen Pass-Catchers
Two freshman have stood out for the Nittany Lions through the first six games. Slot receiver KJ Hamler leads the team with 375 yards and five touchdowns and sees a passer rating of 134.5 when targeted. True freshman tight end Pat Freiermuth has seen action in every game this season but was named the starter three weeks ago versus Ohio State. He has put up impressive numbers as well, sporting a 113.4 passer rating when targeted. Freiermuth has also added value as a blocker as his 72.1 run-blocking grade is second among conference tight ends with at least 66 run-blocking snaps. They are young, but Penn State clearly has versatile and dangerous weapons for the future.
Defense
Improved Run Defense
Defensively, the surprise so far has been the improvement in the run defense through the first half of the season. After losing three defensive tackles to graduation and two defensive ends to medical retirements in the offseason, Penn State struggled out of the gate, giving up 456 yards in their first two games on the ground. However, in the past two weeks, they have given up just 266 combined yards to Ohio State and Michigan State on the ground, with run-defense grades of 77.5 and 83.7, respectively. Once again, the Nittany Lions are led by a true freshman. Linebacker Micah Parsons has a run-stop percentage of 14.5% through six games as rotational linebacker, ranking first in the Big Ten among linebackers with at least 68 snaps in run defense.
Dynamic Duo at Safety
Save for the Ohio State game, the coverage for the Nittany Lions has also been stellar in all but one game this season as well. Brent Pry's defense has not posted a grade below 74.0 except against Ohio State. The safety duo of Nick Scott and Garrett Taylor have allowed a combined nine receptions for 92 yards and Taylor has chipped in two interceptions. Scott's passer rating of 50.8 when targeted is only bested by Taylor's of 21.2.
Despite two very tough losses this season, the Nittany Lions' outlook is not that bleak. In fact, they find themselves still ranked 10th nationally in our latest Top 25. They'll have to hope for some luck and win out to consider any chance at a top finish in the Big Ten, but a New Year's bowl game is not out of the realm of possibility just yet.