The last time that we saw the Penn State Nittany Lions walk off the field was two weeks ago after a devastating one-point loss to Ohio State. Now, the Nittany Lions exit their bye week and host Michigan State for their homecoming game. One thing has been clear this season, quarterback Trace McSorley hasn't been getting a lot of help from his receivers.
This feature is brought to you by Eckrich, the Official Smoked Sausage of the College Football Playoff.
The last game against Ohio State was the game of McSorley's life. He set the Penn State single-game yardage mark with 461 combined yards to go with two passing touchdowns and he did all this while suffering five drops throughout the game.
That is essentially a microcosm of the season so far for McSorley. The Penn State receivers have dropped 17 balls through five games, which is tied for fourth-most in the country and tied for most among Power-5 quarterbacks. In fact, he has the worst drop percentage of any quarterback and is double that of any other quarterback in the AP Top 25 at 12.4%.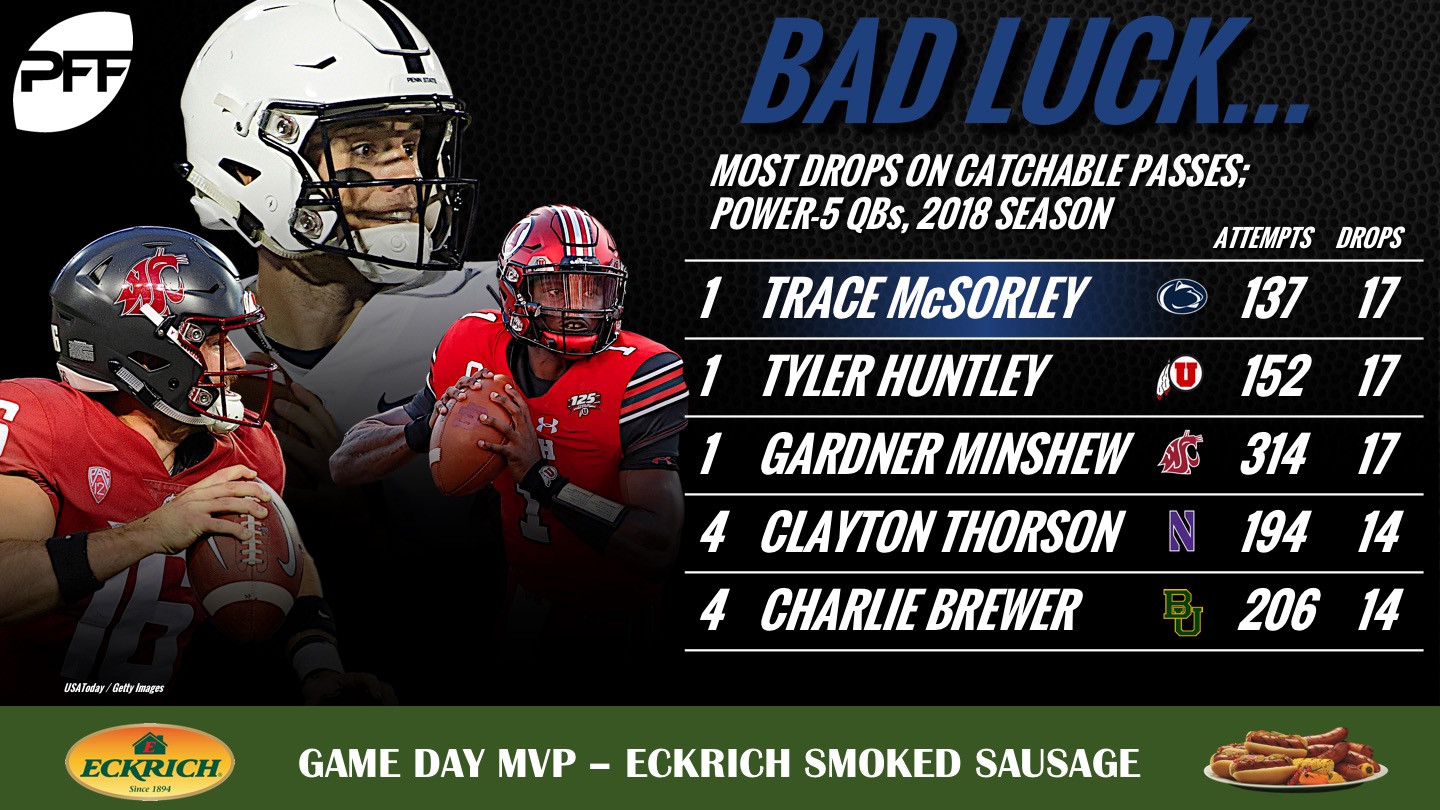 If you simply take the number of drops by the average yards per catch of the Penn State receiving corps, McSorley and the Penn State offense have lost out on 270 yards through the air. To put it another way, the offense has missed out on a whole game worth of passing yards.
Surprisingly, redshirt seniors DeAndre Thompkins (4) and Brandon Polk (2) have combined for six drops. Redshirt junior Juwan Johnson, the team's top target, has six drops through five games while freshmen KJ Hamler and Pat Freiermuth have only one drop apiece.
McSorley has developed a good connection in particular with Hamler amidst the drops. The freshman receiver may have an advantageous matchup this week against a Michigan State defense that uses it's safeties to cover the slot. Hamler has operated exclusively from the inside and has a passer rating of 129.5 when targeted while starting safties Khari Willis and David Dowell give up a passer rating of 89.8 and 100.8 when targeted.
It's not just drops. McSorley has been pressured on 32.1% of his dropbacks this season, the highest percentage of any quarterback in the Big 10 heading into their bye week. Strangely, in these situations, the senior quarterback has thrived. He has the best passer rating while under pressure in the conference at 104.7, something our data scientists proved in the offseason is highly unstable when looking at quarterback play on a week-to-week or season-to-season basis.
Pressure Trace McSorley at your own peril but don't expect McSorley to be able to keep that rate of play up.
Fortunately for Penn State, their opponents on Saturday do not have a starting linebacker or safety with a pass-rushing productivity over 3.1, showcasing how reliant they are on their front four to get home with pressure.
Coincidentally, McSorley has been his least effective when he's not pressured. His passer rating of 92.3 is over 10 points lower than when he's pressured. For most quarterbacks, those numbers are reversed but McSorley seems to be more accurate when he's under duress as opposed to in the pocket.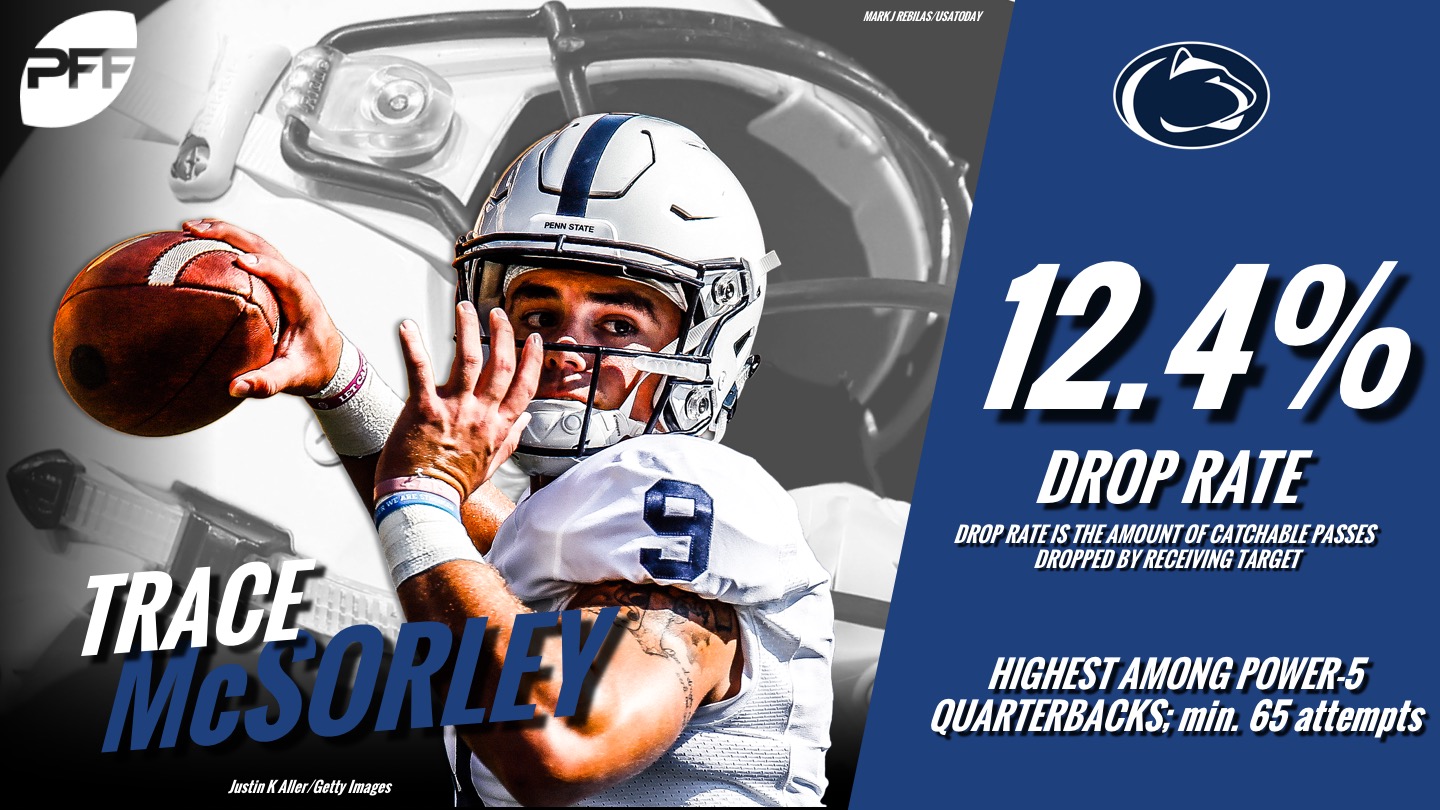 One thing that is the same from years past with McSorley, something we've become accustomed to, he's been very accurate this season. His adjusted completion percentage is 71.8%, a much better way to look at his accuracy as adjusted completion percentage accounts for dropped passes, throwaways, spiked balls, passes as he was hit as he threw and batted balls at the line of scrimmage. Taking into account all of those aforementioned situations, McSorley has thrown a catchable pass on 102-of-137 attempts this season.
As Michigan State boasts the 13th-ranked run defense by our metrics, this may be another week that No. 9 will have to shoulder the load for Penn State. If the first half of the season is any indication, he's more than up to the task. The real question is, can he get some more help from his pass-catchers through conference play?