The NCAA football season is in full swing and conference matches are giving us our first taste of a Top-5 matchup and a Top-15 matchup from our PFF Top 25 in Ohio State vs Penn State and Notre Dame vs Stanford, respectively.
With conference play also comes some top individual matchups we've been waiting for since the season was released earlier this year. Specifically, some very interesting 1-on-1 matchups between wide receivers and cornerbacks.
This feature on matchups for Week 5 is brought to you by Eckrich, the Official Smoked Sausage of the College Football Playoff.
With all of that in mind, here are the top four matchups between cornerbacks and wide receivers that we're looking at in Week 5:
Kentucky CB Derrick Baity vs. South Carolina WR Deebo Samuel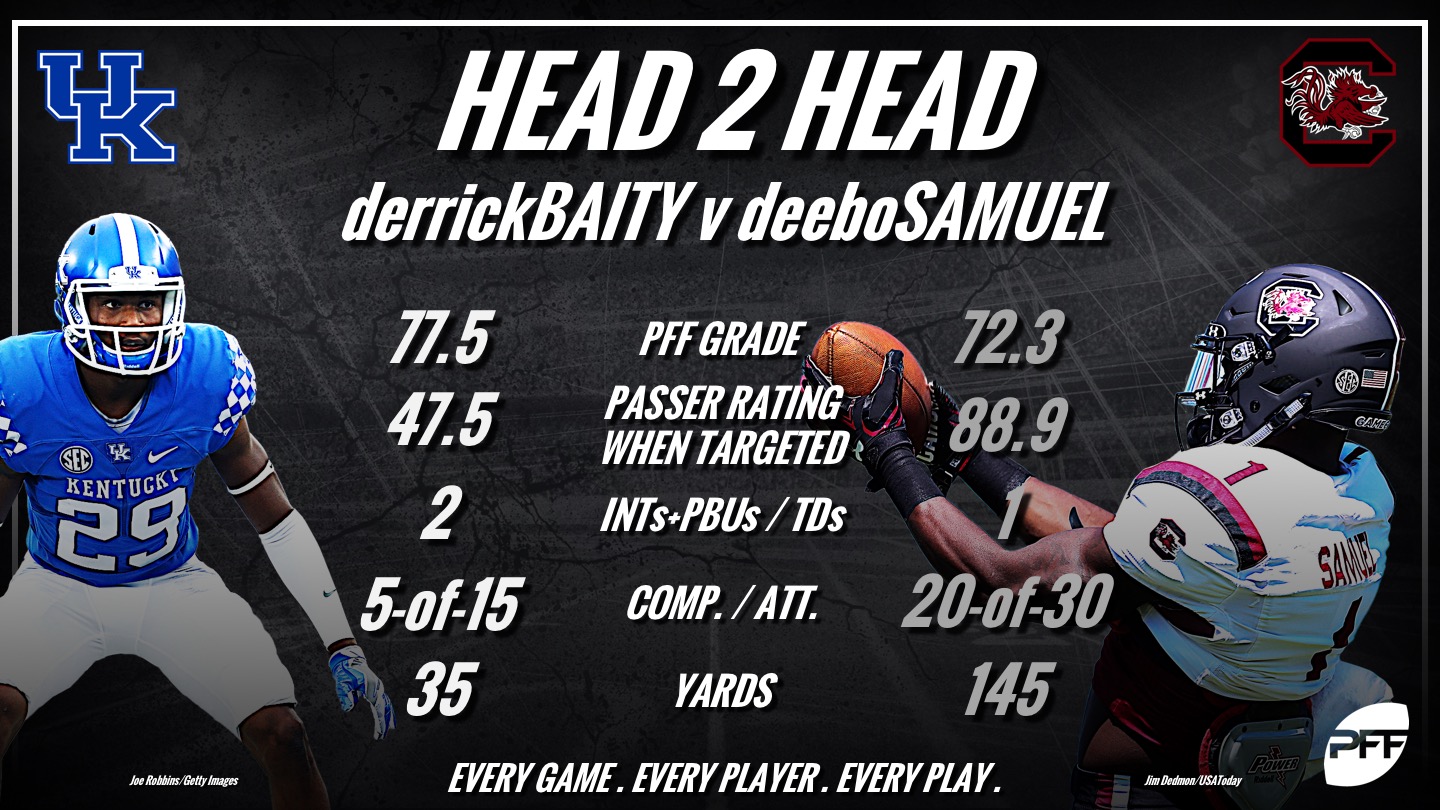 Baity had a breakout 2016 season before taking a step back last year, but the 6-foot-3 corner is back on track with a 77.5 overall grade this season while allowing only five of his 15 targets to be completed. He's added two pass breakups on his way to a 42.4 passer rating allowed. He'll see plenty of Deebo Samuel who lines up on the left side of the offense on the majority of his snaps while Baity will be opposite him at right cornerback. Samuel is off to a slow start after missing the majority of the 2017 season due to injury, but he's a slippery route runner with after-the-catch skills. He's forced four missed tackles on 20 catches this season after forcing 18 on 59 catches in 2016. He'll be a tough matchup for Baity's length, making this one of the week's most intriguing.
Georgia CB Deandre Baker vs. Tennessee WR Marques Callaway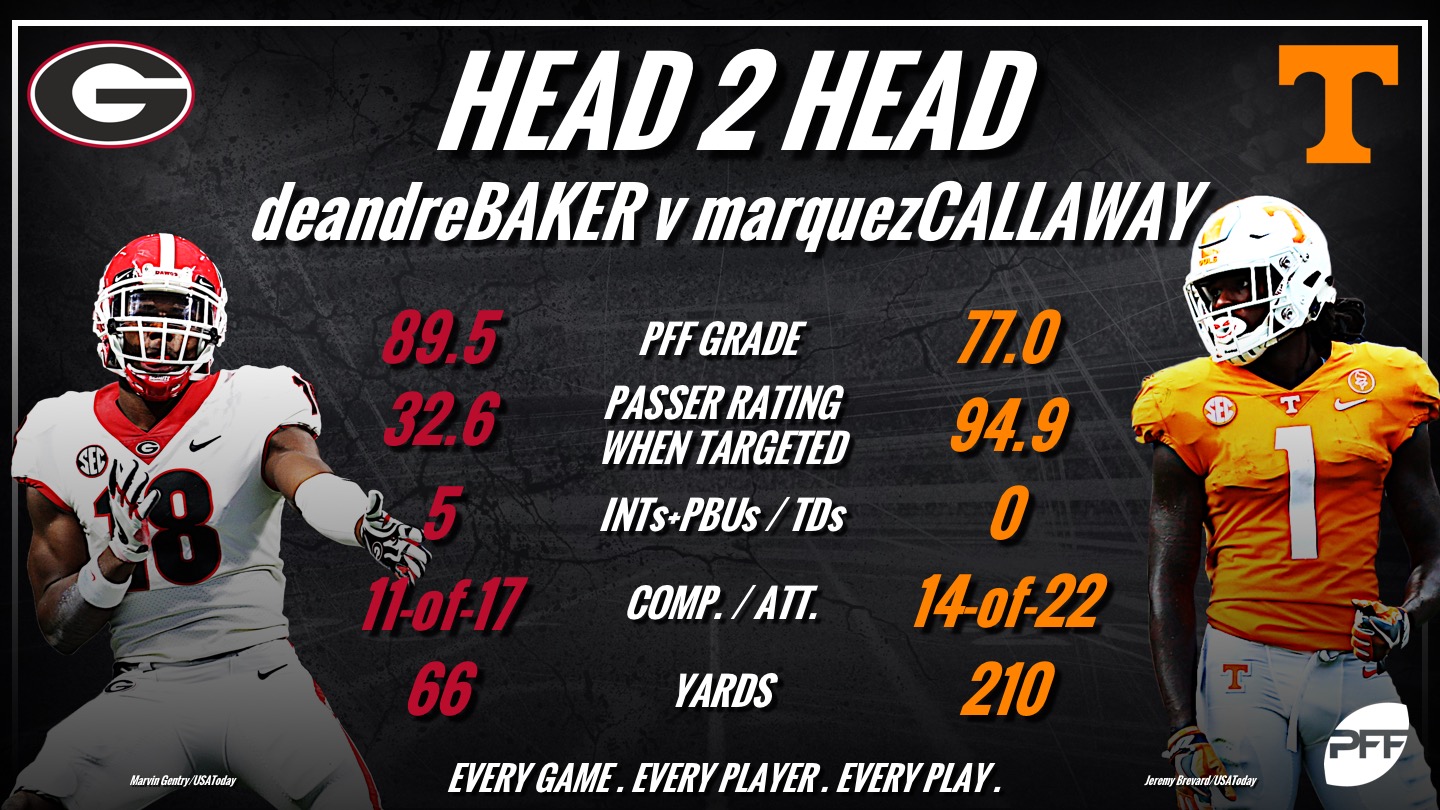 The top cornerback on the PFF draft board, Baker has been outstanding this season, grading at 89.5, best in the nation. He's allowed a passer rating of only 32.6 into his coverage to go with five combined interceptions and pass breakups. Baker has the skills to handle any kind of receiver, but Callaway should give him a challenge with his size and ball skills. Callaway has the top grade among Tennessee receivers at 77.0 overall, and his downfield body control is among the best in the nation.
LSU CB Greedy Williams vs. Ole Miss WRs DK Metcalf and DeMarkus Lodge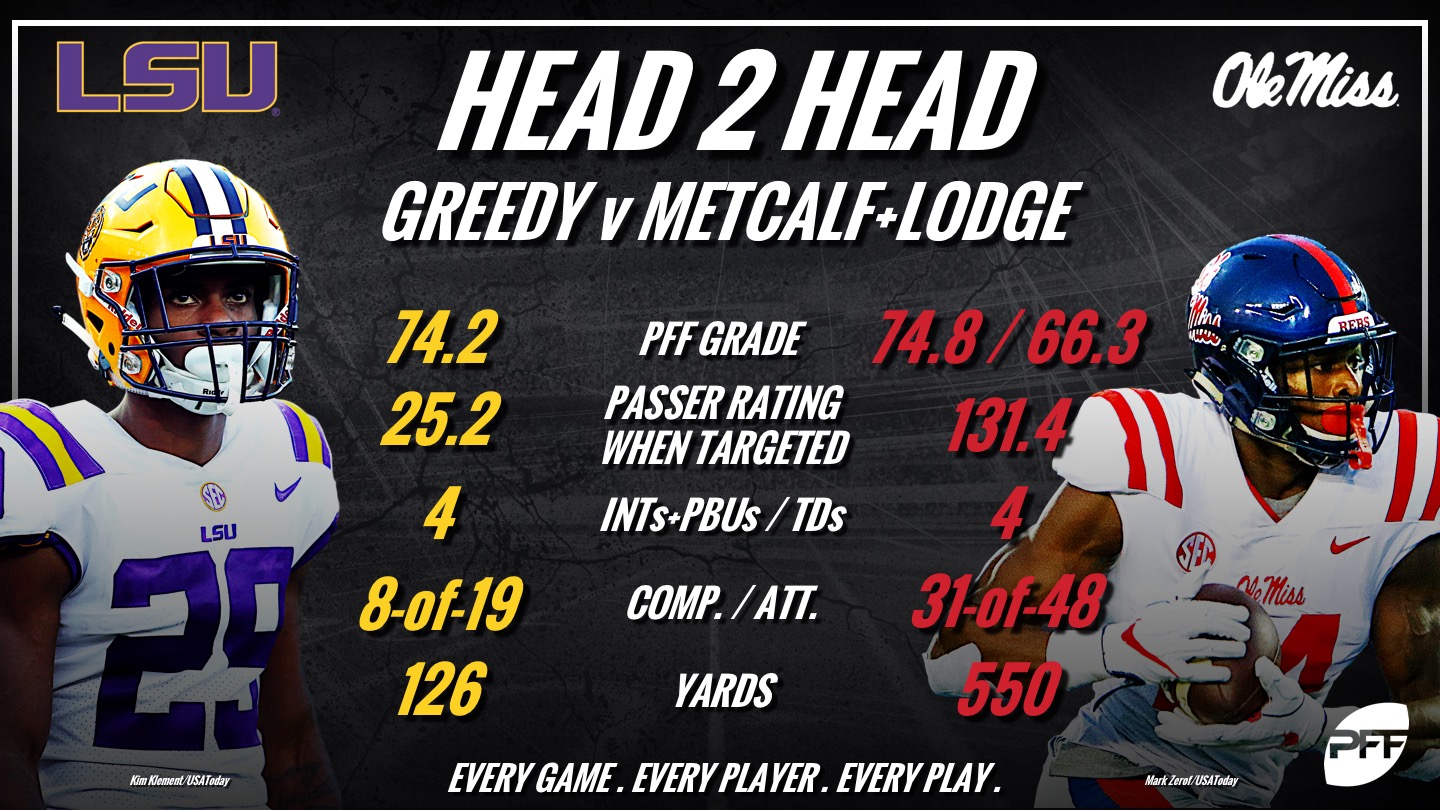 While Williams has been beaten more often than the numbers will show, he's still one of the best press man corners in the country. He has the size and movement skills to excel at the next level, and he'll be tested by Ole Miss' pair of outside receivers who have pro potential of their own. Metcalf is averaging a gaudy 20.4 yards per reception while Lodge has forced four missed tackles on his 13 receptions while averaging 7.1 yards after the catch per reception. Metcalf will spend most of his time on the left, while Lodge lines up on the right and Williams will see a good deal of both players as he's played 148 snaps at right corner and 92 on the left.
USC CB Iman Marshall vs. Arizona WR Shawn Poindexter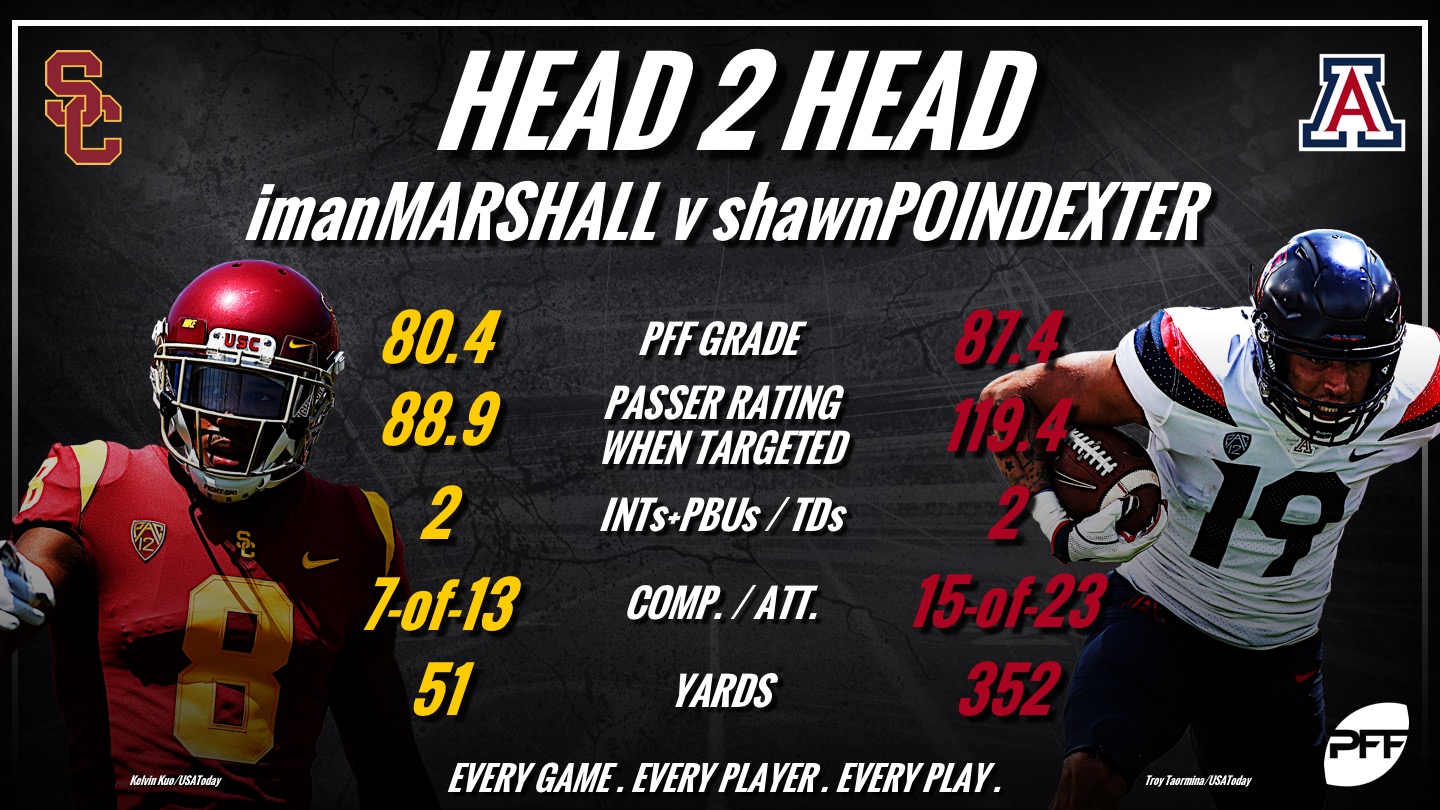 It's a matchup of great size as the 6-foot-5 Poindexter goes up against Marshall and his 6-foot-1 frame. Poindexter is enjoying a breakout campaign, grading at 87.4 overall and notching a passer rating of 119.4 when targeted while posting a gaudy 23.5 yards per reception. Marshall is in the midst of his best season as well, grading at 80.3 overall and allowing only 51 yards on 13 targets. He's also gotten his hands on two passes. Poindexter will spend nearly half of his snaps opposite Marshall at right corner and this matchup is worth staying up late for this Saturday.