College football was flipped upside down this past weekend after the Alabama Crimson Tide got upset by the Texas A&M Aggies despite being three-score favorites on the road.
The College Football Playoff race was already a chaotic one, but now, it's full-fledged anarchy. Along with that unexpected finish, we were graced with a multitude of down-to-the-wire finishes between highly ranked programs.
---
Click here for more PFF tools:
Rankings & Projections | WR/CB Matchup Chart | NFL & NCAA Betting Dashboards | NFL Player Props tool | NFL & NCAA Power Rankings
---
Below is how I'd order the top 25 teams after Week 6. Please note that this top 25 is not the same as PFF's Power Rankings.
Related content for you: Highest-graded players at every position through Week 6 of the 2021 college football season via Seth Galina
1. GEORGIA BULLDOGS (RECORD: 6-0, ATS: 5-1, RANK CHANGE: +1)
Another week, another strong defensive showing from the Bulldogs. They held Auburn to -0.32 expected points added (EPA) per play — the third-best among Power-Five defenses for the week. Opposing offenses are producing a successful play 29% of the time against Georgia this season — the lowest rate in the Power Five by nearly four percentage points. 
2. ALABAMA CRIMSON TIDE (RECORD: 5-1, ATS: 3-3, RANK CHANGE: -1)
Alabama's vulnerabilities were widespread in Week 6, as the Crimson Tide — the No. 1 ranked team in college football — went down to a Texas A&M team that struggled over the first five weeks of the season. From the below-average pass protection to the coverage unit letting up multiple open throws to suspect playcalling in the red zone, it was an all-around off day for Alabama. Now, it's important not to overreact to this one loss. After all, the Crimson Tide still have the fifth-most efficient offense in the Power Five while still sitting atop PFF's Power Rankings. But, they did show that they are in fact beatable.
3. OKLAHOMA SOONERS (RECORD: 6-0, ATS: 3-3, RANK CHANGE: -)
Saturday's college football slate had more drama than a week's worth of daytime soap operas, and Spencer Rattler's benching was one of the week's biggest plot twists. The decision to bench the once Heisman favorite was "turnover-related," according to head coach Lincoln Riley. Rattler threw a pick on a miscommunication with his tight end and then lost a fumble. Oklahoma generated -0.43 EPA per pass play with Rattler on the field — a bitterly disappointing figure from an offense that fans have come to expect more of over recent years. And upon first review, this will be Rattler's lowest-graded game by a wide margin. The offense received a spark from true freshman five-star Caleb Williams, as the Sooners produced 0.41 EPA per pass play with the first-year quarterback on the field. 
But while Williams did provide a much-needed jolt to the Oklahoma offense, there were some low-end moments as well. He threw five quarterback-fault incompletions — which is a mark Rattler has never hit in a single game in his career — and botched two snaps that earned the turnover-worthy play designation in PFF's grading system. Rattler and Williams each finished with as many negatively graded throws as positively graded ones. Williams clearly played better, especially in the running game, but this QB situation is always going to be subject to volatility because of the undisciplined nature of their playstyles.
4. CINCINNATI BEARCATS (RECORD: 5-0, ATS: 4-1, RANK CHANGE: -)
Cincinnati took care of business in its blowout win over Temple. The Bearcats did, however, get off to a bit of a sluggish start, which has been a common theme in 2021.
Cincinnati Bearcats in 2021
| | | |
| --- | --- | --- |
| Quarter 1 | | Quarters 2-4 |
| 0.03 | EPA per Play | 0.17 |
| 44.3% | Success Rate | 52.7% |
| 63.6 | Passing Grade | 85.9 |
| 68.5 | Rushing Grade | 91.2 |
This is due to a mixture of playcalling and player performance, but the person who needs to step up the most is quarterback Desmond Ridder. The Bearcats' starting quarterback has shown a lot of growth with his decision-making and deep passing this year, but he is still missing throws early. He has thrown 41% of his passes beyond the line of scrimmage in first quarters this season that were deemed uncatchable. In the last three quarters this year, that rate is almost cut in half (22%). If he can avoid the slow starts, no one is beating UC in the regular season.
5. IOWA HAWKEYES (RECORD: 6-0, ATS: 5-1, RANK CHANGE: -)
Iowa came from behind to knock off Penn State at home in Week 6, but unfortunately for the Hawkeyes, they suffered a major injury on the defensive side of the ball. Cornerback Riley Moss — who comprised the highest-graded outside corner room in the Power Five by over seven grading points entering Week 6 — suffered a non-contact knee injury while celebrating an interception. Terry Roberts did a good job filling in, allowing only 12 yards while forcing a couple of incompletions. Still, he's not going to be able to effectively replace a player like Moss, who was one of the highest-graded corners in the country.
For a team so reliant on its strong secondary, this would be a major loss if it's anything long-term.
6. OHIO STATE BUCKEYES (RECORD: 5-1, ATS: 3-3, RANK CHANGE: -)
Ohio State's offense provides more open throws than any other team in college football thanks to the scheme and elite separators in the receiving room. Quarterback CJ Stroud was still throwing a few too many inaccurate throws to open receivers to start the year. That's all changed since he missed Week 4.
CJ Stroud in 2021
| | | |
| --- | --- | --- |
| Weeks 1-3 | | Weeks 5-6 |
| 81.3 | Passing Grade | 93.5 |
| 5 | Turnover-Worthy Plays | 1 |
| 19 | QB-Fault Incompletions | 2 |
| 0.16 | EPA per pass | 1.09 |
Stroud still had an insanely low rate of tight and closing window throws against Rutgers and Maryland in Weeks 5 and 6, but he wasn't missing open receivers downfield. He is delivering accurate passes while his mechanics surprisingly look a lot cleaner than the start of the season. It's uncommon to see a quarterback make tweaks to their mechanics midseason, but Stroud has displayed a noticeable difference with his core control. 
7. MICHIGAN WOLVERINES (RECORD: 6-0, ATS: 5-1, RANK CHANGE: -)
Michigan pulled out the victory over Nebraska thanks to a Brad Hawkins forced fumble late in the fourth quarter that shifted the entire outcome of the game. But while the Wolverines left the road trip unscathed, their quarterback play was alarming. Quarterback Cade McNamara completed only eight passes over five yards downfield while tossing seven quarterback-fault incompletions on those same pass attempts. He had more than three times as many negatively graded throws as positively graded ones en route to a passing grade in the 40s upon first review. QB2 J.J. McCarthy — a 2021 five-star — only received a few designed runs and zero dropbacks, but that could change in the future given what McNamara displayed against Nebraska. Michigan has the elite defense and running game to win 10 games, and the quarterback position is the only thing holding them from making major noise.
8. OLE MISS REBELS (RECORD: 4-1, ATS: 3-2, RANK CHANGE: +1)
Ole Miss decided to run the ball at a rate nearly 14 percentage points higher than it did over the first five weeks of the season against Arkansas in Week 6. Running back Snoop Conner did his job in crunch time with 51- and 34-yard rushing touchdowns in the final 20 minutes of game action. Through the air, Ole Miss caught a lot of big breaks, posting its second-fewest completions of 10-plus yards for a game in the Lane Kiffin-era (five). Quarterback Matt Corral also tossed four turnover-worthy plays. Fortunately for Corral and Ole Miss, those five 10-plus-yard completions were major ones that resulted in 231 yards and two scores. None of Corral's four turnover-worthy throws ended up as a turnover. 
The big takeaway wasn't necessarily on offense though, as Ole Miss' defense looked more like its 2020 form. Ole Miss ranked second-to-last in the Power Five in success rate against for Week 6. The Rebels are at risk of sliding if that level of defensive play remains.
Coastal has been on a warpath against its easy schedule this season and is fresh off producing the most efficient offense in a single game by an FBS team this season in its blowout win over Arkansas State. The Chanticleers are the most efficient offense among FBS teams this season, accumulating 0.43 EPA per play, which is 0.13 ahead of the next best. They get this week off to prepare for the biggest game of their season against Appalachian State on a Wednesday night to kick off Week 8.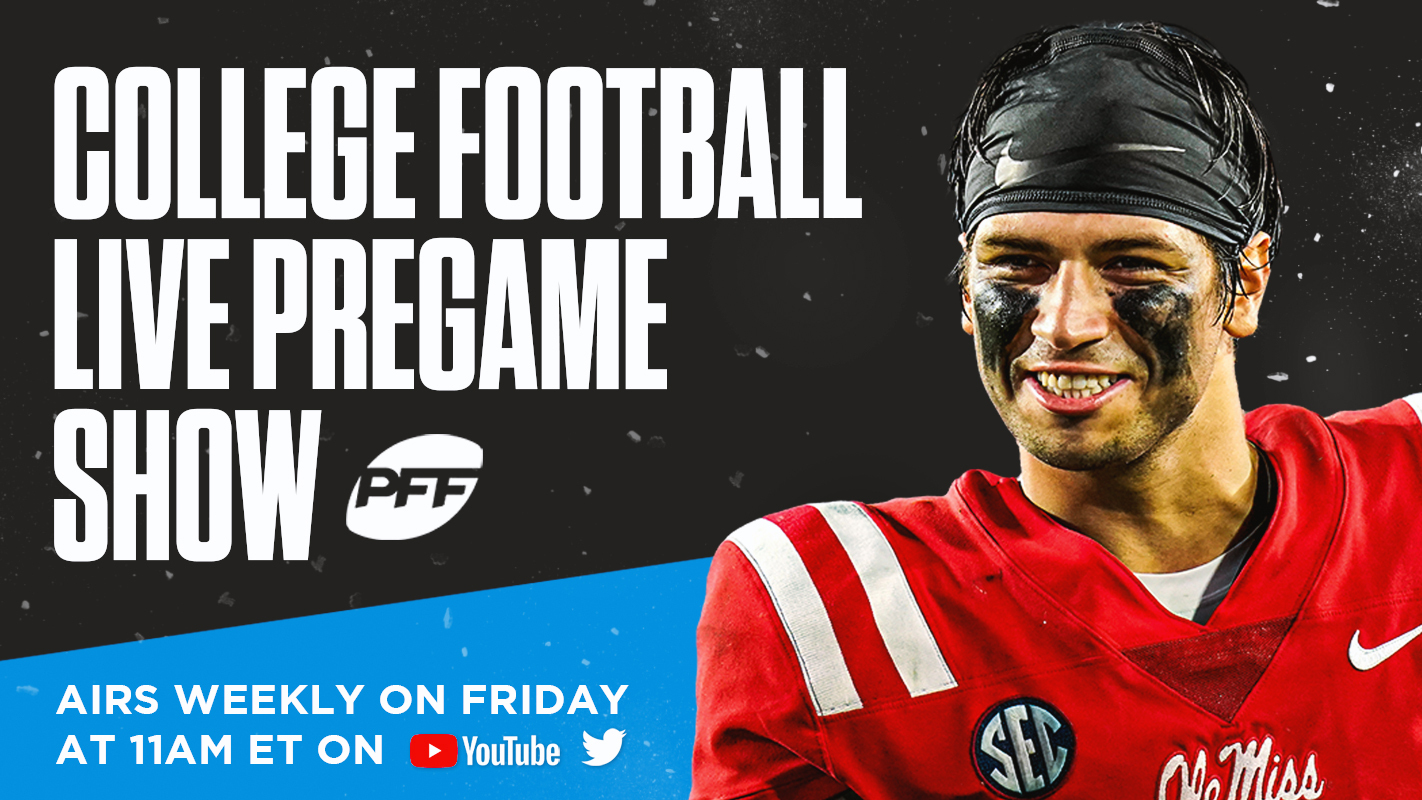 10. MICHIGAN STATE SPARTANS (RECORD: 6-0, ATS: 4-1-1, RANK CHANGE: +4)
Michigan State has the most improved offense in college football. A year removed from finding themselves outside the FBS' top 100 in offensive efficiency, Sparty finds themselves inside the top 10 among that group heading into Week 7. They've found a quarterback in Payton Thorne who can run their play-action deep shot offense at a high level.
Payton Thorne's Play-Action Passing in 2021
| | |
| --- | --- |
| Comp/Att | 37/63 |
| Yards (YPA) | 866 |
| TD:INT | 9:1 |
| Average Depth of Target | 15.9 |
| EPA per play | 0.64 (best in Power Five) |
Michigan State's Kenneth Walker III is one of the best running backs in the country, as he leads the FBS in broken tackles (60) and explosive runs (26).
11. TEXAS LONGHORNS (RECORD: 4-2, ATS: 4-2, RANK CHANGE: +2)
Texas may have lost the Red River Showdown after crafting a three-score lead at one point in the game. But, at the end of the day, the Longhorns showed they could hang with the big dogs and have plenty to be excited about over the next few years. 
This game showed just how much potential they have with speedy wide receiver Xavier Worthy, who won PFF's True Freshman of the Week for his 90.6 grade against the Sooners. True sophomore back Bijan Robinson made all the Sunday morning highlight reels after breaking 10 tackles on 20 attempts and picking up 126 of his 137 rushing yards after contact. Quarterback Casey Thompson did miss some throws, but he still earned an 83.1 passing grade on the day. Head coach Steve Sarkisian also had himself a day in the play-calling department. From the play-action passes to the RPOs to the pre-snap motion, Sark did his part to create positive plays for his offense. 
same play Sark dialed up in Bama vs LSU in 2019 that resulted in a DeVonta Smith TD over Derek Stingley Jr pic.twitter.com/PGYFzk1xHd

— Anthony Treash (@PFF_Anthony) October 10, 2021
Quarterback Sam Hartman and the rest of the passing offense weren't the problems in this closer-than-expected outing with the Syracuse Orange. Hartman led the Demon Deacons to an efficient passing attack that is now tied for fourth in the Power Five in successful pass rate when he is on the field.
Wake's inefficient ground game and inconsistent run defense were the ones to point the finger at. The running backs didn't create after contact, as they combined for only one missed tackle and 2.3 yards after contact. The defense, meanwhile, gave up 16 explosive runs of 10-plus yards — the most of any FBS team for the week. 
13. KENTUCKY WILDCATS (RECORD: 6-0, ATS: 5-1, RANK CHANGE: +3)
The Wildcats had their way with LSU's defense last week, generating a 58.7% success rate in Week 6 — the highest among Power-Five offenses. Most of their success came via the run game, as they generated 13 10-plus yard gains and had a stuffed run on only 2.4% of attempts. That helped the play-action passing game, as they generated 0.8 EPA per pass attempt (-0.17 without it). Replicating that success in Week 7 is going to be an incredibly difficult task, though, as they face a Georgia defense that ranks No. 1 in the Power Five in both run defense and coverage grade.
14. TEXAS A&M AGGIES (RECORD: 4-2, ATS: 3-3, RANK CHANGE: NR)
Quarterback Zach Calzada was a completely different quarterback in Texas A&M's Week 6 upset win over the Crimson Tide. He struggled to find his footing over the first five weeks of the 2021 season and entered Week 6 as the second-lowest-graded passer in the SEC. From holding onto the ball too long to crumbling under pressure, there was a lot wrong with his play in his first few starts, but there was little wrong with his performance against Bama. 
The 6-foot-4, 210-pound quarterback earned an 83.1 passing grade in Week 6 upon first review — the sixth-best mark ever earned by a quarterback going up against an Alabama defense. Calzada and the Aggies generated a 56.8% successful pass play rate for the game. The only passing offense that has managed to generate a higher rate against Alabama since 2014 was the 2019 LSU Tigers.
The Aggies signal-caller was as composed as can be against the Tide and looked anything but the quarterback who ranked fourth-to-last in the FBS in pressured-passing grade through Week 5. Calzada was pressured on 11 dropbacks in total, but he didn't take a single sack and completed seven passes for 123 yards and two scores. He also recorded two big-time throws and zero turnover-worthy plays.
15. OREGON DUCKS (RECORD: 4-1, ATS: 1-4, RANK CHANGE: -4)
Oregon's shaky quarterback situation came back to haunt the Ducks in their upset loss in Week 5. The Ducks offense, by design, helped make up for Anthony Brown's deficiencies against Ohio State but not this time. Brown earned a 42.8 PFF grade against Stanford, completing only two of 10 attempts on 10-plus yard throws while throwing a bad interception that set up a Cardinal score. Oregon running its lowest rate of play-action passes and RPOs in a single game this season could explain part of this, as that's where this offense's bread was buttered.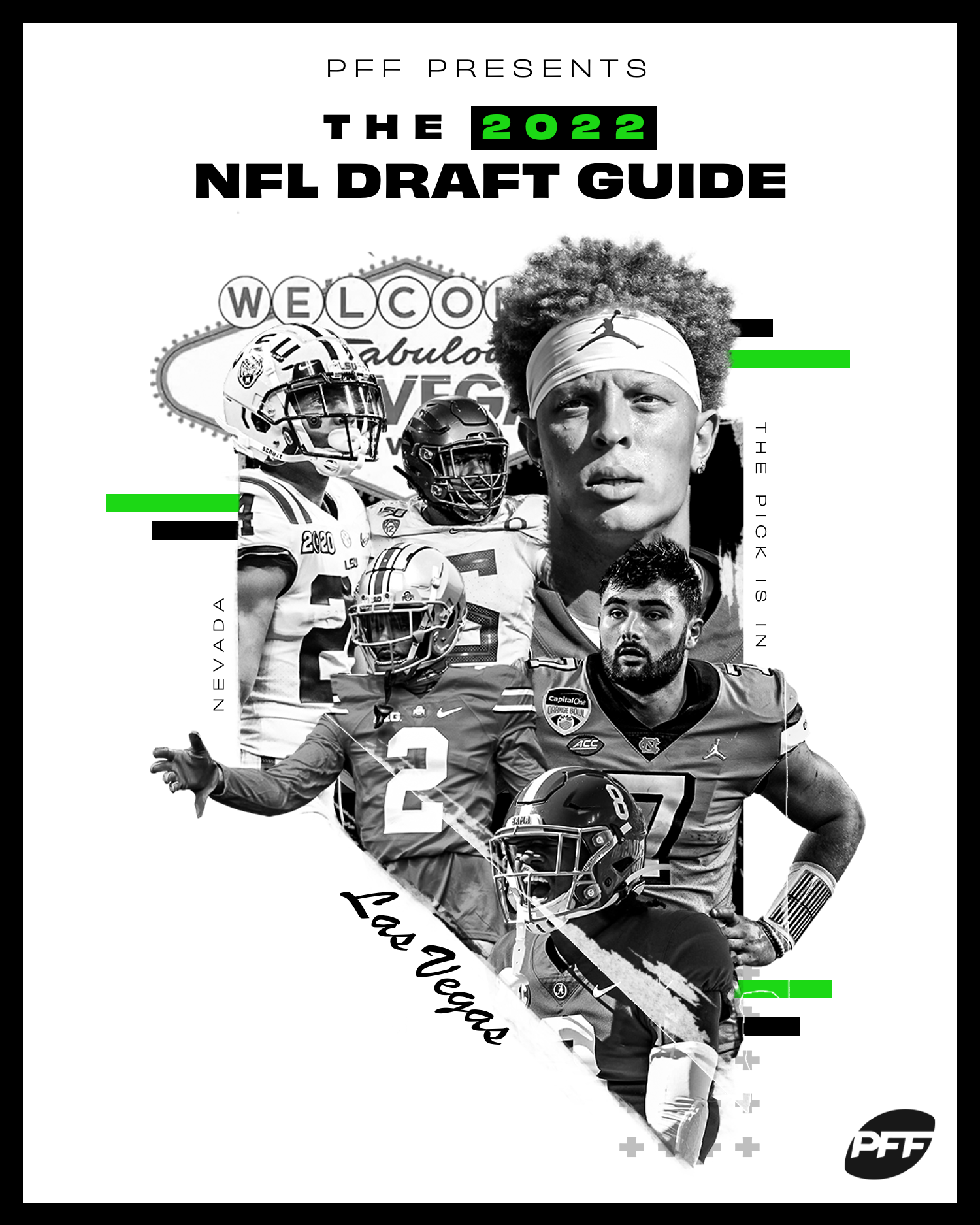 Whether it was Sean Clifford or Ta'Quan Roberson, Penn State lost because of poor quarterback play, as both passers posted sub 50.0 passing grades for the game. Clifford tossed a couple of turnover-worthy plays that Iowa picked off before he was knocked out with an injury. As for Roberson, he went zero for six on his throws of 10-plus yards downfield while recording three turnover-worthy plays. 
17. ARKANSAS RAZORBACKS (RECORD: 4-2, ATS: 5-1, RANK CHANGE: -5)
Arkansas' defensive unit had an uncharacteristically bad outing against Ole Miss. There were dropped interceptions, a big coverage bust, a misplayed double move and poor play-action pass defense. After giving up only two 50-plus yard plays in the first five weeks, the Razorbacks allowed four to the Rebels — three of which were a score. 
Notre Dame came back from two scores with minutes to play to knock off Virginia Tech. Up until those final moments, the Irish's passing offense was non-existent. Jack Coan opened up the game before being replaced by freshman Tyler Buchner, and those two led Notre Dame to a 37.1 passing grade and -0.27 EPA per pass until there were four minutes left to play. Coan then re-entered the game for the final two drives and performed admirably, recording a 77.3 passing grade over that timespan while going six-of-eight for 82 yards and a score when free of pressure. The defensive side of the ball performed well, as it led Virginia Tech to the second-lowest successful play rate among Power-Five offenses in Week 6.
19. SMU MUSTANGS (RECORD: 6-0, ATS: 3-2-1, RANK CHANGE: -)
SMU narrowly beat Navy in Week 6, and its defense was the main reason for the victory. SMU held the Midshipmen triple-option offense to 3.8 yards per play and a 25% success rate — both of which were among the five best in the FBS for the week. 
20. FLORIDA GATORS (RECORD: 4-2, ATS: 3-3, RANK CHANGE: -)
Florida had a walk-in-the-park game in Week 6 against the Vanderbilt Commodores, but there were some key takeaways from its 42-0 blowout win. We got a glimpse of backup Anthony Richardson — a 2020 four-star who shined on limited snaps early in the year. Unfortunately for Florida fans, his few passing snaps against Vandy left a lot to be desired, as all four of his completions were either behind the line of scrimmage or less than nine yards downfield. He also threw a pick while being hit by a pass rusher.
On a more positive note, starter Emory Jones executed the offense at a high level. He made only one notably bad decision on the day — a tipped pass that resulted in an interception. Jones posted a 63.6% accurate pass rate on 10-plus yard throws and had three times as many positively graded throws as negatively graded ones.
Emory Jones to Dameon Pierce for the 61 yard TD! #Gators pic.twitter.com/czsWOwn4Gc

— ✯✯✯✯✯ (@FTBVids_YT) October 9, 2021
21. NC STATE WOLFPACK (RECORD: 4-1, ATS: 3-2, RANK CHANGE: -)
NC State has been top-25 worthy on both sides of the ball. The offense isn't much of a surprise, but its defense undoubtedly is. A year removed from ranking 82nd in the FBS in team-defense grade, the Wolfpack are sixth out of the 130 programs in that metric through Week 5 of the 2021 season. On offense, quarterback Devin Leary is sustaining the success he had in 2020 before going down with a season-ending injury. Since last year, Leary ranks first in the Power Five in big-time throw rate and ninth in turnover-worthy play rate.
Oklahoma State has overcome a sluggish start and is now on a three-game win streak against the spread. Its defense has been the backbone of its success as of late. In Oklahoma State's last three games, it ranks sixth in the Power Five in team-defense grade. Its run defense, in particular, has been strong, ranking third among Power-Five teams in explosive run play rate allowed for the year (7.5%).
23. PITTSBURGH PANTHERS (RECORD: 4-1, ATS: 4-1, RANK CHANGE: +1)
Pitt's offense has been humming this season thanks to quarterback Kenny Pickett. He has earned a passing grade above 75.0 in each of his five starts, paving the way to an FBS-leading 92.8 mark for the season. The Panthers are top three among Power-Five offenses in explosive pass play rate and yards per attempt with Pickett at the helm. Now the question is, can Pickett and Co. replicate that success against a tougher schedule? They are 112th in the FBS in strength of schedule to date and jump up to 43rd when looking at their remaining strength of schedule.
Arizona State's defense came in clutch in its Week 6 over Stanford, as the Sun Devil offense started to slow down as the game went on. The defense ranked sixth in the Power Five in EPA per play against and the coverage unit, in particular, was the second-highest-graded of the week.
25. BAYLOR BEARS (RECORD: 5-1, ATS: 4-2, RANK CHANGE: NR)
Baylor's offense bounced back in Week 6 after its underwhelming showing in a Week 5 loss to Oklahoma State. The Bears had the 11th-most efficient offense among Power Five programs for the week. They found success on running back carries thanks to strong blocking and playcalling, accumulating 4.5 yards before contact per attempt, but the reason for the huge win over West Virginia came via the passing attack.
Offensive coordinator Jeff Grimes schemed up a bevy of open throws downfield, the offensive line didn't let West Virginia's blitz-heavy defense get any pressure, and quarterback Gerry Bohanon took advantage of the positive environment surrounding him. Bohanon completed 7-of-12 pass attempts over 10 yards downfield for 178 yards and three scores.