The college football season is nearing the midway point for most teams and after a full slate of games on Saturday, we at PFF and our team of over 500 analysts has dissected and graded every player on every snap of every game to bring you the most detailed and valid set of picks you can find anywhere.
The Week 6 Eckrich Team of the Week powered by PFF saw some impressive performances and, of course, the strength of opponent also factored into the overall selections as did the PFF player grades.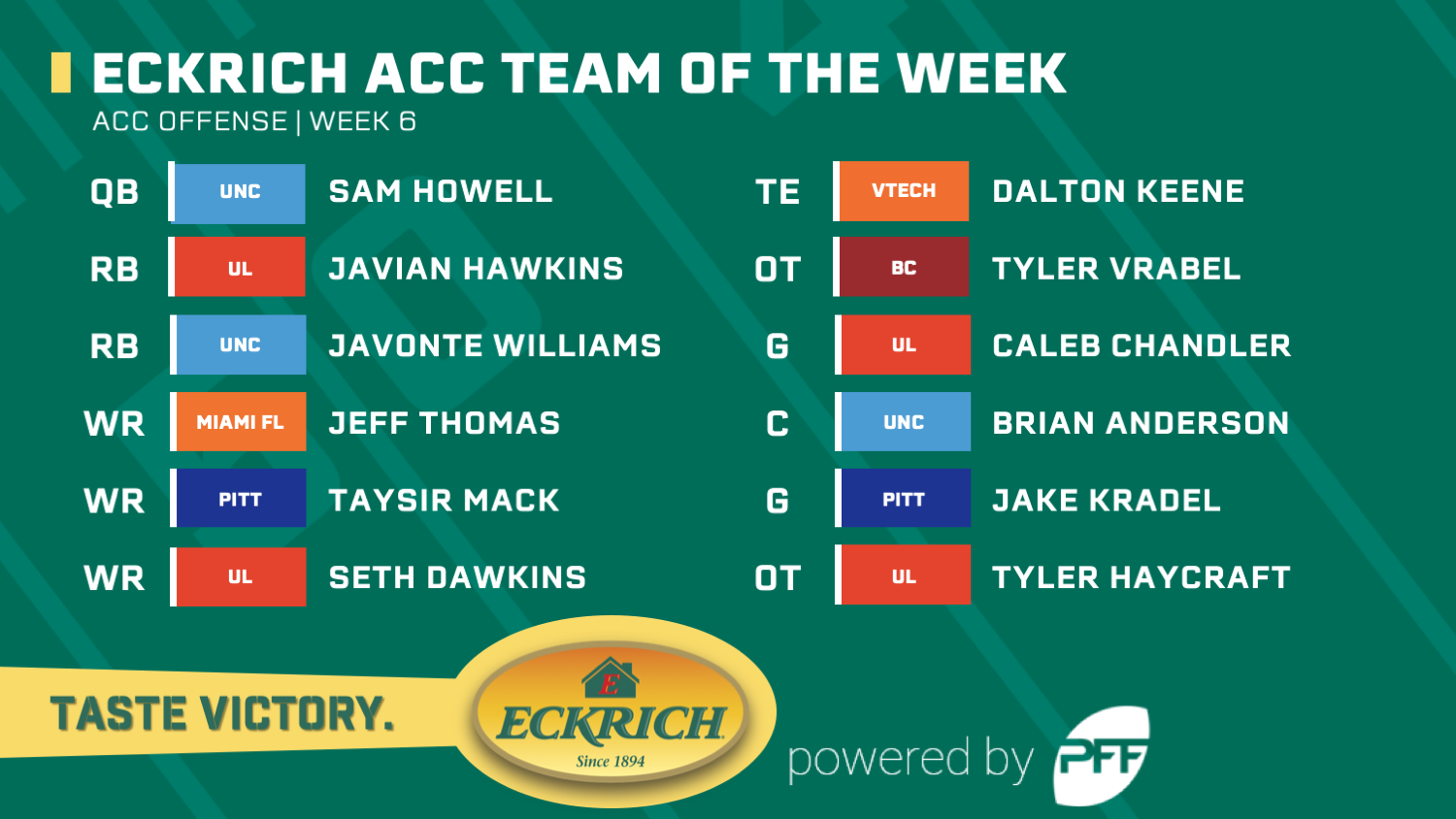 Quarterback
Sam Howell, UNC
Howell attempted a whopping 50 passes against Georgia Tech, completing 32 of them for 372 yards and four touchdowns. He had a fumble and an interception, so he was far from perfect, but his impact on the game was done mainly through the air as he outscored the Yellowjackets single-handedly.
Second-Team QB: Micale Cunningham, Louisville
Running Back
Javian Hawkins, Louisville
The Cardinals got a big victory as the home favorites in a squeaker over Boston College as Hawkins' effect on the ground certainly was a big factor. He ran for a conference-best 174 on the ground, forcing five missed tackles and gaining 94 of his yards after contact. Five more of his carries moved the chains for a first down as well as helped keep the Louisville offense on schedule.
Second-Team RB: AJ Dillon, Boston College
Running Back
Javonte Williams, UNC
Williams and the rest of the Tar Heels offense got it moving as he ran for 144 yards including seven carries of at least 10 yards or more. What separated Williams from the rest were his 13 missed tackles on the ground, leading the conference and the nation in that regard in Week 6.
Second-Team RB: Jordan Mason, Georgia Tech
Wide Receiver
Seth Dawkins, Louisville
Dawkins wasn't the highest-graded receiver on his team for his efforts (that went to Fitzpatrick) but his 163 yards did lead the conference. He recorded a touchdown and had 97 of his yards come after the catch as he saw a perfect passer rating of 158.3 when targeted.
Second-Team WR: Dez Fitzpatrick, Louisville
Wide Receiver
Jeff Thomas, Miami
In the Hurricanes come-from-behind attempt against Virginia Tech, Thomas' rapport with backup and former starting quarterback N'Kosi Perry was evident. He was targeted seven times in the game, hauling in six catches for 124 yards and two scores. He was the lone Miami wide receiver to see plus-grades and anything remotely close to a positive passer rating when targeted.
Second-Team WR: Tutu Atwell, Louisville
Wide Receiver
Taysir Mack, Pittsburgh
Mack's final stat line reads just 85 yards and a touchdown but his nine receptions without a drop were the most in the conference as he out graded the rest of those with more yards. Of his nine receptions, he had a touchdown and four more first-down catches in the win.
Second-Team WR: Dazz Newsome, UNC
Tight End
Dalton Keane, Virginia Tech
Keane and the Hokies went into Miami and came away victorious after a dominant first half of scoring. Keane finished the day with three receiving scores and 73 yards through the air while also finishing with plus-grades in both the run game and in pass protection. He churned out 63 of his yards after the catch in an impressive outing.
Second-Team TE: Brevin Jordan, Miami
Offensive Tackle
Tyler Vrabel, Boston College
Despite the losing effort by his team, albeit by just two points, Vrabel finished with the conference's top pass-blocking grade after he didn't allow a single pressure on his 38 pass-blocking snaps. He had plus-grades in the run game to boot, finishing as the highest overall graded tackle in the ACC.
Second-Team OT: Jordan Tucker, UNC
Offensive Guard
Caleb Chandler, Louisville
Louisville's big man in the middle kept a clean sheet in pass protection, allowing zero pressures on 37 pass-blocking snaps while he also finished with the conference's third-highest run-blocking grade among all guards.
Second-Team OG: John Phillips, Boston College
Center
Brian Anderson, UNC
Anderson was the conference's highest-graded pass-protector among centers, allowing just two hurries on a whopping 54 pass-blocking snaps. He had a decent run-blocking grade but anytime you have an offense that attempts 54 dropbacks, the passing game outweighs anything else.
Second-Team C: Jack Wohlabaugh, Duke
Offensive Guard
Jake Kradel, Pittsburgh
Kradel's effect on the game went a long way as he finished with no pressures given up on 30 pass protection reps while his grade int he run game was a top-five mark in the ACC.
Second-Team OG: Jack DeFoor, Georgia Tech
Offensive Tackle
Tyler Haycraft, Louisville
Haycraft made up for his two pressures allowed on 37 pass-blocking snaps by dominating in the run game. His 76.1 run-blocking grade was by far the highest in the conference among all tackles.
Second-Team OT: Silas Dzansi, Virginia Tech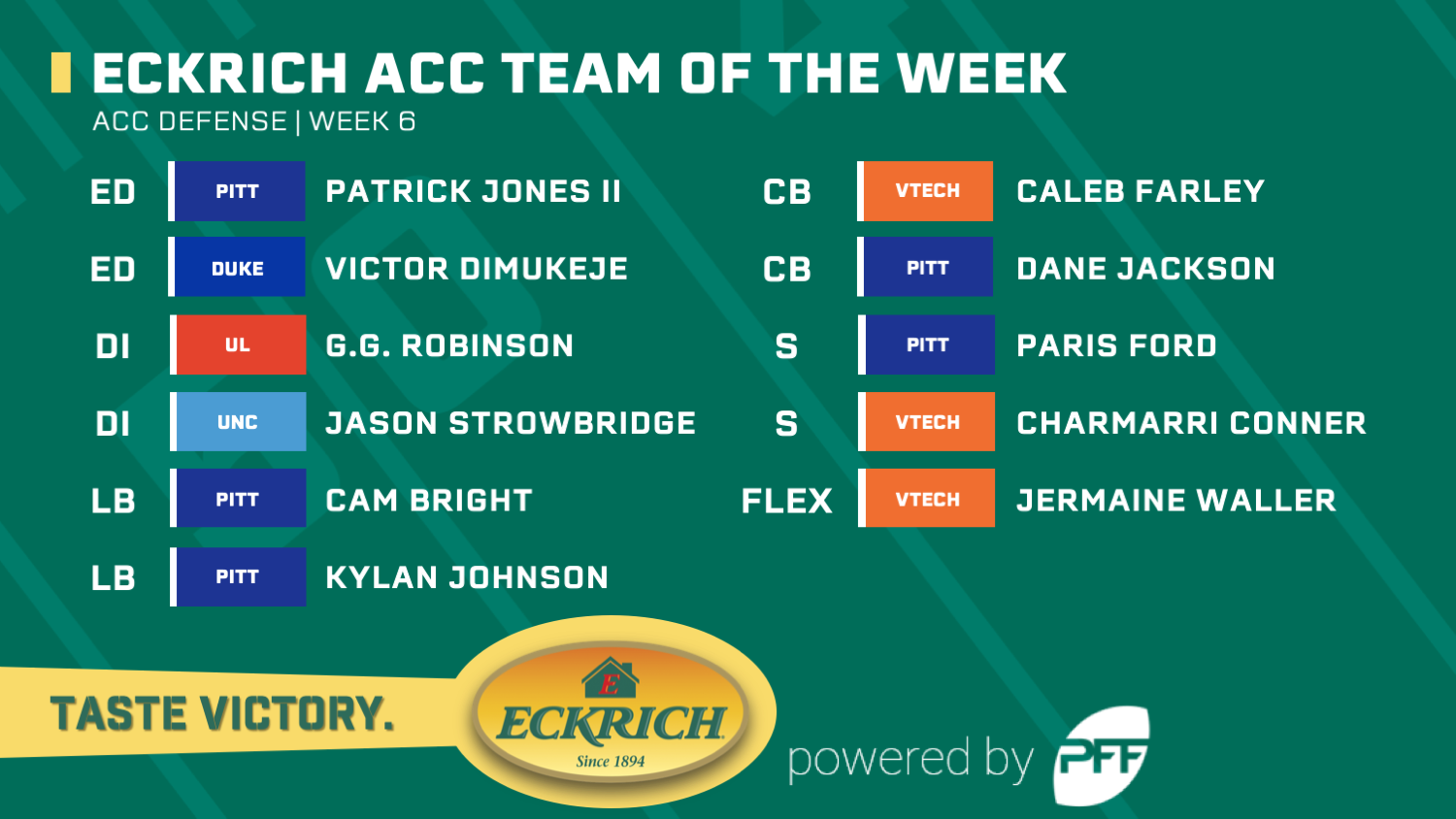 Edge Defender
Patrick Jones, Pittsburgh
Jones got home with two sacks, a QB hit and four more hurries as three other solo tackles went for defensive stops. He recorded two forced fumbles on the day as well, rounding out his total impact in the victory.
Second-Team Edge: Tomon Fox, UNC
Edge Defender
Victor Dimukeje, Duke
Leading the conference with 10 total pressures, Duke's defensive woes in the first half were certainly not his fault. He finished with a sack, three QB hits and six more hurries as his impact came majorly on the pass-rush.
Second-Team Edge: Jaylen Griffin, Virginia Tech
Defensive Interior
G.G. Robinson, Louisville
Robinson got home with two pressures but was a stalwart against the run and held up his assignments in the run game with seemingly relative ease. Robinson ate up the middle in the run game as Boston College RB AJ Dillon didn't have much success running up the middle and it was surely a big reason why.
Second-Team DI: Aaron Crawford, UNC
Defensive Interior
Jason Strowbridge, UNC
Strowbridge was able to secure two QB pressures up the middle while securing a run stop in the process. He had a monster grade that only gets tarnished by a few missed tackles, but outside those, was stout in all facets during the Tar Heels win.
Second-Team DI: Brentavious Glanton, Georgia Tech
Linebacker
Cam Bright, Pittsburgh
Playing exceptionally well in all three facets of the game, Bright was dominant for the Panthers as they got another strong victory against Duke. He blitzed Quentin Harris just eight times but came away with three pressures, secured seven total tackles including four defensive stops and allowed just seven yards on 30 snaps in coverage and three as the primary coverage defender.
Second-Team LB: Max Richardson, Boston College
Linebacker
Kylan Johnson, Pittsburgh
Johnson's biggest impact came in coverage for the Panthers as the Duke short-area passing attack was less than successful on many occasions due to Johnson. He patrolled the middle of the field with great success and was targeted just once as the primary coverage defender, a pass he broke up.
Second-Team LB: David Curry, Georgia Tech
Cornerback
Caleb Farley, Virginia Tech
Farley had a big game in coverage for the Hokies as he was integral in forcing Miami to backup QB N'Kosi Perry. Farley nabbed two first-quarter interceptions and in spite of allowing a touchdown in coverage late, still had plus-grades across the board. He was targeted eight times, allowing three receptions for 46 yards but had two picks and an additional pass breakup to boot.
Second-Team CB: Michael Carter, Duke
Cornerback
Dane Jackson, Pittsburgh
Speaking about Pittsburgh coverage, Jackson's one interception and two pass breakup outing against Duke went a long way in holding on to the victory. He saw six total targets and allowed just three receptions for all of 32 yards and a 26.4 passer rating into his primary coverage.
Second-Team CB: Chandler Jones, Louisville
Safety
Paris Ford, Pittsburgh
While coverage grades aren't necessarily the best place to look at a safety's impact on the game, Ford's coverage numbers were too good to look over. He was targeted as the primary coverage defender four times, allowing just two catches for 11 yards and came away with two interceptions to equal a 16.7 passer rating when he was targeted. He made 10 total tackles including five defensive stops in a dominant game.
Second-Team S: Marquis Water, Duke
Safety
Charmarri Conner, Virginia Tech
Conner flew all over the field, recording four solo tackles, all going for defensive stops and chipping in with a sack on a blitz. In coverage, he was the primary coverage defender on five targeted passes, allowing just 12 yards that including four yards after the catch. He broke up two passes to boot as he and the rest of the Hokies secondary played extremely well.
Second-Team S: Dylan Singleton, Duke
Flex
Jermaine Waller, Virginia Tech
Waller came down with two interceptions on the afternoon against Miami as he and Farley absolutely dominated outside. While Perry came in and put up big numbers, none of them came against Waller as he finished with just one catch allowed for a whopping 22 yards to go with his two interceptions.
Second-Team Flex: Damarri Mathis, Pittsburgh