For some players who will be selected next April, this past weekend was the last time we'll ever see them suit up in a college uniform. Their stock, for all intents and purposes, is their stock at this point. Let's dive into some of those guys and others who capped their regular season off with a bang (or fizzle).

Early Declarations
For those underclassmen who aren't bowl-eligible (and even for some of the top prospects who are), the time is nigh to decide whether to return to school or declare for the draft. Let's break down some who've already declared their intent for the draft.
WR Jalen Reagor, TCU
Few receivers had things go worse for them in 2019 despite full health. After going over 1,000 yards last year, Reagor was targeted 89 times this season and hauled in only 43 for 616 yards. TCU's QBs simply couldn't put it on Reagor accurately down the field, and they threw him all of 11 screens all year. We'll trust the promise he showed as a sophomore, but it will be difficult to see a team drafting him in the first anymore with his lack of production. That likely means he'll be a steal in our eyes.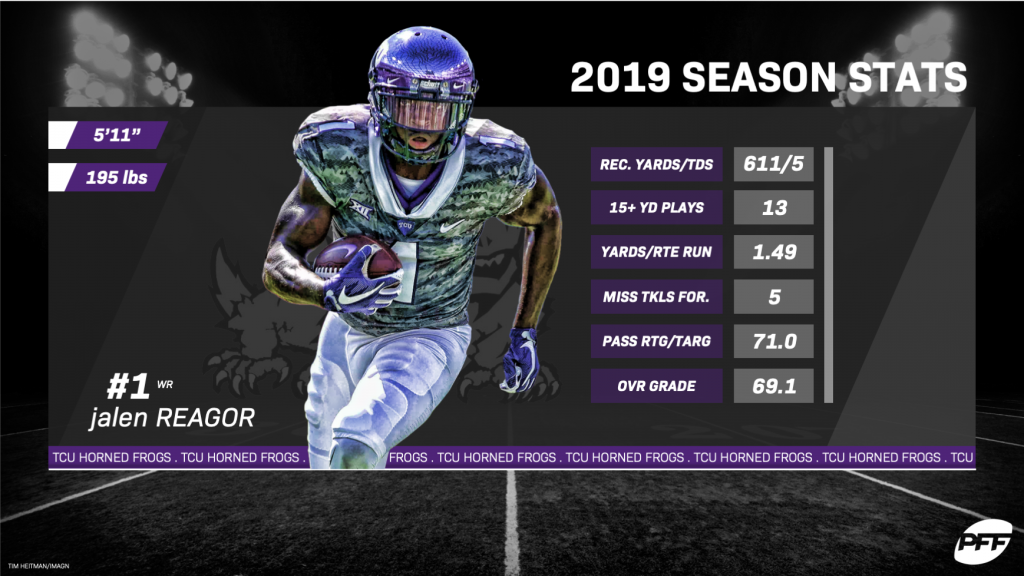 DI Jordan Elliott, Missouri
Elliott's name has flown under the radar, but there's a good chance he ends up as a top-30 player on PFF's board. He can beat you with quickness and he can beat you with power, as well. He's the only Power-5 defensive tackle in the country to earn a 90.0-plus grade in run defense and pass-rushing this season. Auburn's Derrick Brown grabs all the headlines, but Elliott actually graded out higher this season.
TE Albert Okwuegbunam, Missouri
Okwuegbunam certainly missed Drew Lock hitting him up the seam this season. The Missouri tight end's downfield ability was completely shot without the 2019 second-round pick at the helm, and he managed all of 66 yards over his last five games. The drop issues we've seen from him in the past persisted as well, with four drops on 30 catchable targets. That's not going to do him any favors as he looks like a late Day 2 to early Day 3 prospect at best.
Small School Watch
WR Omar Bayless, Arkansas State
Bayless didn't have a monster game this past week, but he did have a monster season in which he led college football in receiving yards (1,474) and was one of the leaders in touchdowns (16). That production seemingly came out of nowhere, as he managed only 566 yards and two scores last year. He's fairly sudden for a 6-3, 207-pound wideout, but his off-the-charts production was largely the result of an off-the-charts target share and poor competition. He was thrown the ball 125 times this past season with an average depth of target 13.7 yards downfield (high for a wideout). He only went 12-29 in contested situations this year and still sits behind small school wideouts like San Jose State's Tre Walker, Liberty's Antonio Gandy-Golden, SMU's  James Proche and Boise State's John Hightower on our board.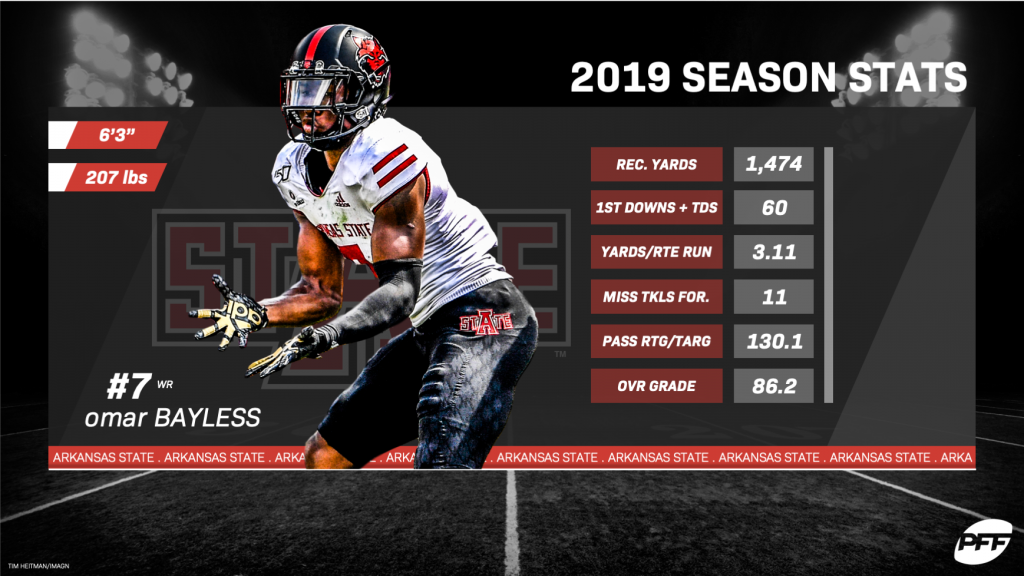 Stock Report – Up
WR Devin Duvernay, Texas
It was quite the breakout year for the senior, who ended up with 102 catches for 1,300 yards on the year. That comes after hauling in only 41 for 546 last season. This past week against Texas Tech, he caught six balls for 199 yards and a score. He's a solidly built, at 5-11, 210 pounds, and he is quick to turn into a running back after the catch with 23 broken tackles on the season. What's most impressive is the way he plucks the ball easily out of the air. He's had only five drops on 177 catchable passes his entire career. The Senior Bowl will be huge for his evaluation, as we rarely saw him covered one-on-one playing out of the slot at Texas.
RT Tristan Wirfs, Iowa
Wirfs has little more to prove from an on-field perspective after allowing only one pressure over his last six games this season. This past week against Nebraska was arguably his best performance of the season. On 57 snaps against the Cornhuskers, Wirfs wasn't downgraded once. It was the type of clear dominance you love to see from a top-10 draft pick. For Wirfs to move 300-pounders as easily as he does as only a junior is special.
CB Parnell Motley, Oklahoma
Motley will be an interesting projection to the next level. He was extremely productive this season, allowing only 20 catches from 44 targets for 232 yards, but that was a massive leap forward compared to his previous two years as a starter where he allowed 1,445 yards combined. He's exceptional in press, but he doesn't quite have prototypical press size at 6-0, 180 pounds. This past week against Oklahoma State, he was stingy once again, allowing 3-of-6 targets for only 22 yards and picking off a pass. His testing numbers at the combine will be worth watching, as it looks like he was making up for some speed deficiencies with his physical play style.
Stock Report – Down
C Lloyd Cushenberry III, LSU
Cushenberry's struggles in pass protection this season should terrify any GM looking to draft him early. He put two more clean whiffs on tape this past week against Texas A&M, and it wasn't even the highly touted Justin Madubuike making him miss. To add insult to injury, Cushenberry also dribbled two snaps back to Joe Burrow. He allowed 26 pressures during the regular season after only allowing eight all last year.
WR Donovan Peoples-Jones, Michigan
Shea Patterson kept pumping DPJ targets, and the junior receiver continually came up small. He brought in three passes for 69 yards and a touchdown on the day. That doesn't sound too bad until you realize he was targeted 12 times, dropped three passes and didn't catch a single one of his four contested targets. For a player whose production was already a serious question mark, given that he's managed only 409 yards on the year, this performance isn't going to help.
S Brandon Jones, Texas
Playing mostly from a quarters-type role this past week against Texas Tech, Jones was routinely a step slow and got exposed. He allowed eight catches from 10 targets for 85 yards, five first downs and a touchdown. The two incompletions were a drop and a deep overthrow where both should have been completed. Jones looks at his best executing a simple coverage role around the line of scrimmage, and tape like this past weekend would worry me about asking him to play deep.
2021 Watch List
LB Zakoby McClain, Auburn
The true sophomore linebacker will be remembered for his pick-six against Alabama this past weekend, but his performance was more impressive than just that. He racked up five stops on the day on 40 snaps — the most he's played in any game of his career. He's a very smooth overhang backer in Auburn's defense and graded out well as a run defender this year with an 87.6 grade in that regard. With only 286 snaps played on the season, McClain is a name to watch as he sees more time in 2020.