For the first time in seemingly forever, there's palpable excitement around Florida State football. The Seminoles are coming off their first 10-win season since 2016 and their first winning record in five years. With an ultra-talented roster returning, FSU ranks fourth in PFF's way-too-early top 25 for the 2023 college football season.

If everyone is buzzing about Florida State's future, surely star quarterback Jordan Travis is, too, right?
"Honestly, the only thing I'm excited for is the workout I have after this interview," Travis said in an exclusive interview with PFF. 
The redshirt junior is taking everything day by day, which is likely the only way he could've stomached the roller coaster both he and the Seminoles have been on.
Travis originally didn't receive an offer from Florida State as a three-star recruit from North Palm Beach, Florida. He spent one season as a backup at Louisville before transferring to Tallahassee in 2019. 
"Florida State was always my dream school," Travis said. "I've always been a fan through and through since my brother went there. It was an easy decision for me."
His older brother, Devon, was a star second baseman for the Seminoles before playing four years for the Toronto Blue Jays. He's now a coach in the Atlanta Braves organization. Unlike his brother, Jordan knew a career on the diamond wasn't for him.
"My final time playing baseball, I got hit in the head pretty good by a pitch," he said. "That was kind of it for me. I left baseball for my brother."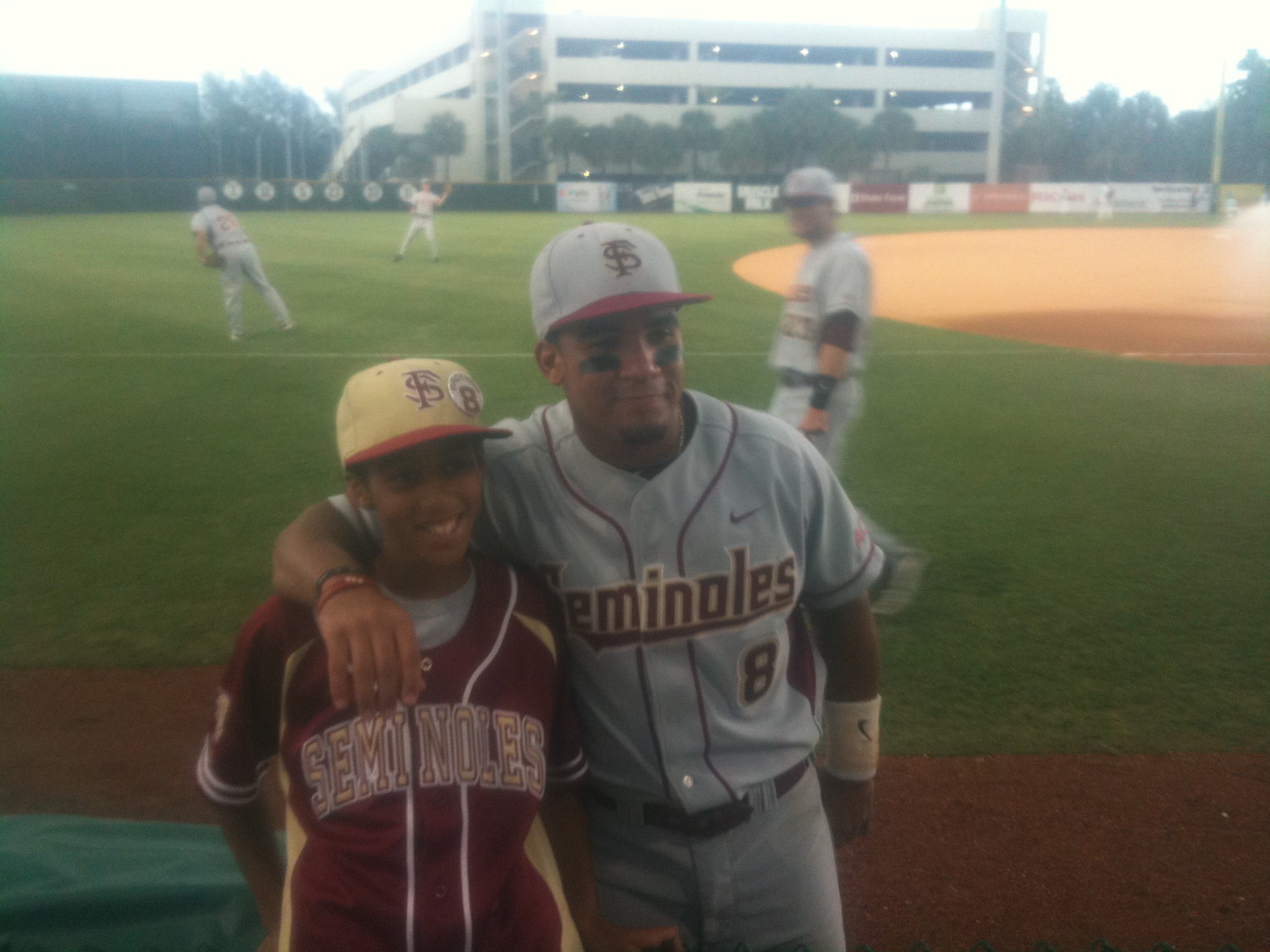 Florida State was always a dream school for Travis, but his tenure got off to a rocky start. The Seminoles endured four consecutive losing seasons from 2018-2021, the first time that's happened since 1973-1976. In that time, he experienced three head coaches. When asked about that stretch, Travis put it about as bluntly as one could. 
"Losing sucks."
He began to see the light at the end of the tunnel, though, when Florida State hired Memphis coach Mike Norvell to lead the program in 2020.
"I loved him from the first day he came here," Travis said. "He came in and earned our respect. He never asked for it, he earned it. Coach Norvell is the best decision Florida State could've made. We put our trust in him and knew it would work out." 
It really began to work out this season, especially in the Seminoles' second game. Unranked Florida State took down eventual SEC West champion LSU, 24-23, in one of the best games all season. 
"I knew midway through that LSU game that we had the potential to be special," Travis said. "We showed a lot of toughness in that game by never giving up."
Travis himself showed guts late in the third quarter. He took a shot from Tigers edge defender Ali Gaye and still threw a 35-yard pearl to Ontaria Wilson for a touchdown. Gaye was ejected for targeting on the hit, too.
While a scary hit ended his baseball career, that one confirmed to Travis that he could make it on the gridiron.
"I love it," Travis said, before pausing to laugh about the absurdity of that statement. "OK, I'm not going to say I love getting hit, but that was a big moment for me. Knowing I could take a hit, stay in the pocket and make the throw. A lot of people said I couldn't do that. I proved myself right on that play."
After the game, Travis made an effort to show that there were no hard feelings between him and Gaye.
Jordan Travis went out of his way to give Ali Gaye, the LSU player who was ejected for targeting on Travis, a dap and tell him it's all good. pic.twitter.com/T82jw83wfd

— Brendan Sonnone (@BSonnone) September 5, 2022
Respect to Ali Gaye for reaching out to me. I really appreciate that, and it shows what type of person he is. It's a part of football, and I wish nothing but the best for him????????

— Jordan Travis (@jordantrav13) September 6, 2022
Florida State finished the 2022 season with a 10-3 record and at No. 11 in the final AP poll. Among Power Five quarterbacks, Travis was the only one who ranked in the top 10 in big-time throw rate (7.1%) and turnover-worthy play rate (1.9%). His 91.7 grade was also the highest among Power Five signal-callers, beating out all four Heisman finalists.
Jordan Travis' PFF grade compared to 2022 Heisman finalists
"I've always been under the radar," Travis said. "Listen, I would've loved to be where those guys were. But not because of the Heisman ceremony. Because three of them got to play in the College Football Playoff." 
Those playoff aspirations could come true next season. Many star Seminoles, including Travis, spurned the 2023 NFL Draft to run it back in Tallahassee. 
"We all felt like we had unfinished business," Travis said. "I came to Florida State to change this program around, and I feel like we're really starting to do that. This is the year for us to put it all together."
Besides Travis, here are some of the key Seminoles returning in 2023:
One thing that Travis and those three have in common is that they all transferred to Florida State. The Seminoles dominated the transfer portal once again this year, with three big names joining the program.
"They're going to make a huge impact," Travis said of the incoming transfers. "This is 1000% one of the best all-around rosters in college football heading into next season."
While Travis didn't crack the top 10 of the Heisman voting this past season, he's already a top-five candidate to win the award next season, according to most oddsmakers. Florida State itself already launched a website for Travis' 2023 Heisman campaign.
"It's a blessing to be talked about for an award of that magnitude," Travis said. "But again, I came here to win a national championship. I didn't come here to win a Heisman."
Still, if Travis plays as well as he did last season and the Seminoles parlay their talent into a College Football Playoff run, it'd be hard to imagine him not taking home the Heisman Trophy. It also doesn't hurt that Travis is one of the most electric signal-callers in the nation.
THIS SCRAMBLE BY JORDAN TRAVIS ???? pic.twitter.com/Qg3klhDkJr

— ESPN College Football (@ESPNCFB) November 26, 2022
HOW DID HE DO THIS?

Jordan Travis DRIBBLES the football on this @FSUFootball touchdown run. ???? pic.twitter.com/F54OUNC8hx

— Bally Sports South (@BallySportsSO) October 24, 2020
While it's easy to get caught up in all of that preseason hype, Travis has learned to tune it all out.
"Last year, we were talked about as one of the worst teams in the ACC," Travis said. "Now, we're one of the favorites. We didn't listen to the noise then. So why should we now?"
Florida State's last Heisman winner was Jameis Winston in 2013. That was also the year of the Seminoles' most recent national championship. While Travis is solely focused on the latter, don't be shocked if both occur next season.
Breakdown of why I'm conducting Florida State's hype train in 2023 ⬇️ pic.twitter.com/vGJB5iuESj

— Max Chadwick (@Chad_Maxwick) January 7, 2023