As a part of our partnership with ESPN, this is a part of a story that was originally published on ESPN+ and can be viewed in its entirety here with your ESPN+ subscription – College football's top 20 breakout players of the season
With all the conferences back in action, we have seen more than 9,400 college football players log a snap in the 2020 season. Some have performed better than expectations, some have met expectations — whether they were high or low — and some have fallen short of expectations. Here, we are going to focus on the first bunch because who doesn't love to see unexpected breakouts?
Using PFF's advanced database and unique play-by-play grading, we ranked the top 20 breakout players of the 2020 season as we head into Week 11.
Note: This list was not formed based solely on difference in grade from 2019 to 2020. True freshmen were excluded.
2019 PFF grade: 76.2 (52nd of 140)
2020 PFF grade: 93.6 (third of 113)
It's clear that injuries hindered Wilson's success at the start of his collegiate career. He suffered an injury to his throwing shoulder in high school, which bothered him as a freshman in 2018 and resulted in surgery prior to his 2019 season. In 2019, Wilson injured his throwing hand a few weeks into the season, and that caused him to miss four games. In his nine starts, Wilson displayed requisite accuracy underneath center, but he couldn't get anything cooking downfield.
This year, however, has been a completely different story. Wilson has been pinpoint accurate to all levels of the field and has proven to be one of the best downfield passers in college football. He trails only Justin Fields and Trevor Lawrence in passing grade on throws of more than 10-plus air yards and ranks first in percentage of such throws resulting in a quarterback-fault incompletion. Wilson has firmly established himself as one of the premier quarterbacks in college football.
2019 PFF grade: 78.7 (41st of 140)
2020 PFF grade: 93.8 (T-first of 113)
Jones wasn't terrible in replacing Tua Tagovailoa following his gruesome hip injury in 2019, but he never came close to producing at the level of the 2020 No. 2 overall pick in the NFL draft. There were some concerns about his performance from a clean pocket last year, and it seemed highly unlikely that we would see Jones come close to the quarterback Tagovailoa was for the Crimson Tide. In 2020, however, Jones is playing better than Tagovailoa did as the Alabama starter.
Jones has had a great game each time he has taken the field this season — he has earned a PFF grade north of 82.0 in each of his six starts. Sure, the offense he is in and the supporting cast he has are extremely favorable, but when looking at the things a quarterback can control, Jones is still at the top of the position. His negatively graded throw rate is the second best in the FBS, behind only that of Fields. At this point, there's an argument to be made that Jones is the front-runner for the 2020 Heisman.
2019 PFF grade: 76.3 (T-70th of 458)
2020 PFF grade: 85.1 (second of 327)
Jean-Charles' teammate, Shaun Jolly, tied with Derek Stingley Jr. for the highest PFF grade at the position in 2019. This year, the App State phenom has taken the next step to form one of the best outside cornerback tandems in college football. His timing at the catch point is impeccable, and that timing has helped him rack up 13 forced incompletions — three more than anyone else in the FBS. Jean-Charles has made a play on the ball in each game he has played this season, and he has allowed a 29.3 passer rating on passes thrown his way on the outside. Throwing the ball in the stands every play would net a quarterback a 39.6 passer rating. In other words, it's best the opposition avoids Jean-Charles at all costs.
2019 PFF grade: 72.7 (T-105th of 362)
2020 PFF grade: 82.5 (17th of 272)
Wilson was perhaps the most unsurprising breakout of the 2020 season. The once highly coveted, top-20 recruit displayed impressive reps in his limited true freshman season in 2019, and he has been doing the same as a full-time starter in 2020. Wilson has been one of the most productive wide receivers in the country through three games, as he ranks third in the Power 5 in yards per route run, at 4.10. His teammate, Chris Olave, has been known as one of the best route runners in college football, and Wilson isn't too far behind him. The second-year receiver has generated separation on eight of his 11 targets against single coverage this season.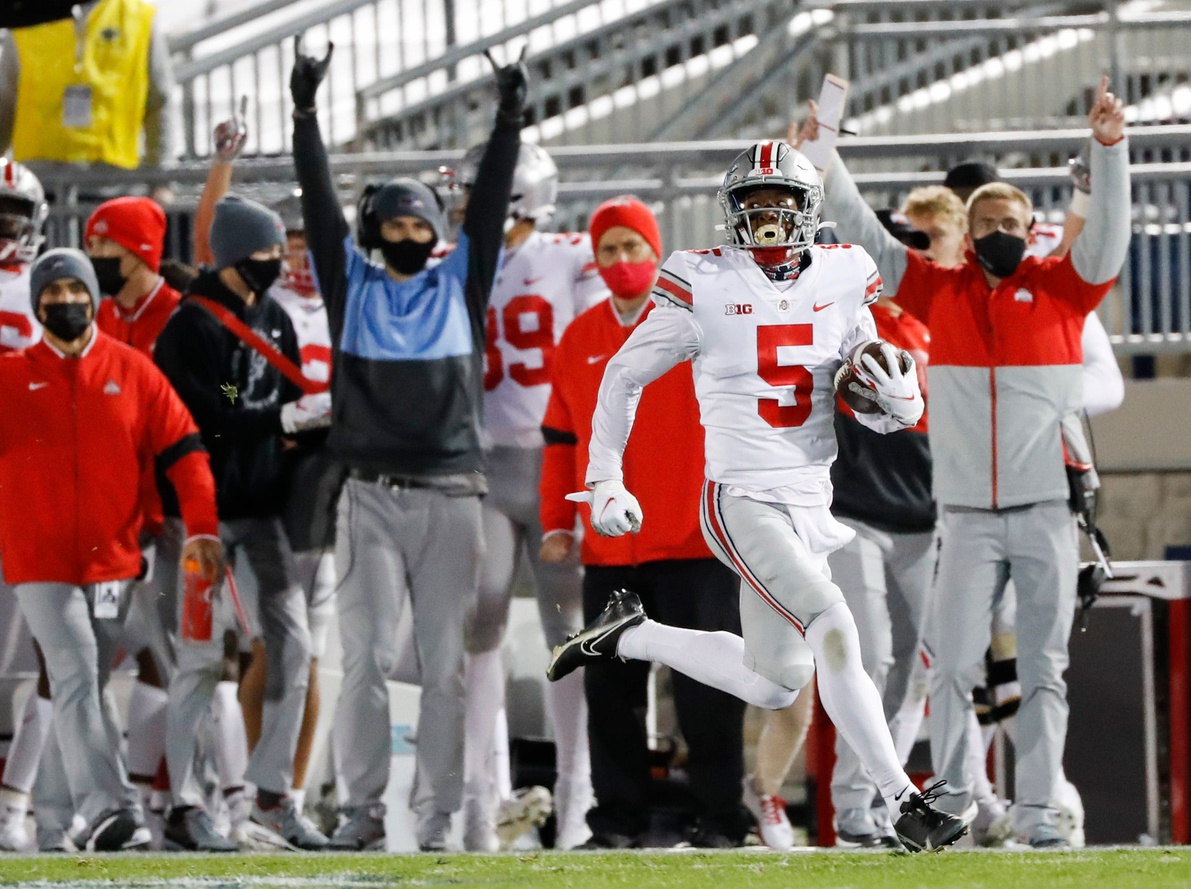 2019 PFF grade: 65.4 (T-253rd of 458)
2020 PFF grade: 80.8 (11th of 327)
Williams has been a starter for Oklahoma State since Week 1 of his redshirt freshman season in 2017, but it was up-and-down for the corner throughout his first three seasons — just as one would expect from a Big 12 starting outside corner.
In 2020, Williams has broken that Big 12 stereotype, as he has been the stingiest corner in the country. The fifth-year senior has played 165 coverage snaps on the outside in six starts this season. He is allowing an astounding 0.18 yards per coverage snap, the best mark in the FBS. Quarterbacks are afraid to throw the ball his way, and when they do test him, Williams is more often than not breaking it up. He has had 14 targets when playing outside and has allowed just five catches while forcing seven incompletions.
2019 PFF grade: N/A
2020 PFF grade: 89.2 (second of 309)
Rhattigan, a 2017 two-star recruit with only a handful of FBS offers, took a redshirt his first year with Army and subsequently played 21 snaps on the defensive side of the ball in 2018 and 2019. He earned a starting role this year and made a huge impact right away. In his first career start in Week 1 against Middle Tennessee, Rhattigan put up a 92.0 PFF grade, jumped a route for an interception and returned it for a touchdown. He has sustained that success throughout the season, shining in every facet of play. Rhattigan has posted grades above 70.0 against the run, as a tackler, when rushing the passer and when in coverage, which is something only nine other FBS linebackers have done so far this season.
The schedule Army has faced has been relatively painless, as it features three FCS teams in seven games, but the fact that Rhattigan has gone from the scout team to the second-highest-graded off-ball linebacker is impressive, regardless of competition.
2019 PFF grade: 71.9 (T-141st of 458)
2020 PFF grade: 83.8 (fourth of 327)
Slot corner is one of the most important positions on the field, and there hasn't been a better one in 2020 than Smith. The Mountaineer has the highest slot coverage grade in the FBS through Week 10, at 82.8, and he is just a true sophomore. Smith has allowed 20 yards or fewer in the slot in each of his seven games in 2020. He has a nose for the ball, too, racking up the most passing stops (i.e. tackles that constitute a loss for the offense) from the slot in the FBS this season, with nine.