Six of the top eight freshmen on this week's list play for a school currently ranked in the top six of the Associated Press poll, and the new top player on the list hails from what is still considered at this stage to be the best Group-of-Five team.
Thought seven weeks of play, here are the 10 best true freshmen in the country:
Ed Oliver, NT, Houston 87.2
Oliver has taken over the top spot thanks to a monster three-game stretch that has seen him amass four pressures, sixteen run stops and 22 solo tackles. His run defense grade of 89.7 tops all DTs in the country — not just freshmen. His 37 tackles and 29 total stops lead all DTs in the country as well.
Dexter Lawrence, DT, Clemson 86.2
Lawrence continues to be a dominant force on the pass rush, as he has racked up 16 total pressures the past three games, and at least four pressures in four of his last five. While he still grades among the top ten DTs in FBS on run defense, he is starting to lag behind Oliver in production, as Lawrence has amassed "just" 16 run stops through seven games.
Jalen Hurts, QB, Alabama, 79.2
Hurts continues to exceed expectations, as his overall grade ranks him 13th in the country — second in the SEC (just behind Austin Allen's 80.0). He has excelled on throws between zero and 20 yards through the air from the line of scrimmage, as he has completed 70 percent of his attempts in that range with five scores and just two interceptions. Accounting for his 14 throwaways and one pass where he was hit as he was in the act of throwing, he has connected on 112 of 162 attempts.
Nick Bosa, Edge, Ohio State, 83.0
Two weeks ago Bosa was 10th on the list, but has jumped up six spots due to huge back-to-back games against Indiana and Wisconsin. In those two games he has more than doubled his pressures totals for the season (he now has 18 on the season after posting eight through Ohio State's first four games), and has also added four stops.
Trayveon Williams, RB, Texas A&M 77.9
Williams was a true workhorse against Tennessee in Week 6, as he carried the ball 28 times for 215 yards, earning 138 of those yards after contact. He ranks eight in FBS in yards after contact per attempt and 11th in elusive rating, skills that will certainly be put to the test this week against top-ranked Alabama.
Rashan Gary, Edge, Michigan 80.8
While his reps are certainly being limited both by Michigan's depth on the defensive line and lopsided scores like Week 6's 78-0 romp over Rutgers, Gary has still been able to post some impressive numbers. In just 90 pass-rush reps has accumulated 15 total hurries, meaning his is pressuring the QB one out of every six pass-rush snaps.
Jawaan Taylor, OT, Florida 80.4
Taylor has finally started to show some warts in pass protection, as he has given up a sack and a hit each of the last two weeks, albeit against two strong defensive fronts. However, this past weekend against Missouri he did post his best run block grade since Week 2's game against Kentucky, and also helped his grade considerably with three excellent screen blocks.
Jonah Williams, OT, Alabama 78.6
Williams is starting to climb up the list due to his very steady play. He has not given up a pressure since Week 3's game against Ole Miss, and has now posted consecutive games without taking a penalty. His two total pressures in 234 total pass-block snaps this season has him ranked fourth in the country in pass blocking efficiency.
Michael Pinckney, LB, Miami 79.0
While the team result was not what the Hurricanes were looking for against the Tarheels, Pinckney has his most complete game since Week 2's matchup against Florida Atlantic. He racked up three pressures and three run stops against North Carolina, and now has 20 total stops on the season.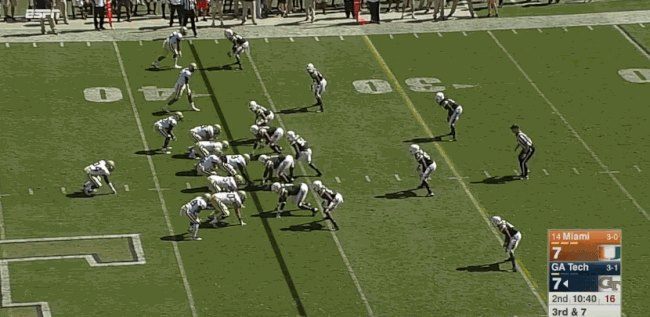 Lorenzo Harrison, RB, Maryland 76.4
Harrison is a new addition to the list this week, although considering Texas A&M has already missed 90 tackles this season, Alabama RB Joshua Jacobs could easily post the kind of week that gets him right back on the list. While Harrison has only had 16 total carries over the past three weeks, he has made the most of them by averaging 12.5 yards per pop and creating seven missed tackles.
Watch list:
N'Keal Harry, WR, Arizona State
Jacob Eason, QB, Georgia;
Greg Little, OT, Ole Miss;
Brian Burns, Edge, Florida State
Carter Coughlin, Edge, Minnesota;
Tai'yon Devers, Edge, Minnesota
J.J. Taylor, RB, Arizona
Demetris Robertson, WR, Cal
Benito Jones, defensive interior, Ole Miss;
Isaac Nauta, TE, Georgia;
Shane Buechele, QB, Texas;
Troy Dye, LB, Oregon