The college football transfer portal has been more active than ever this year, with the NCAA expected to grant immediate eligibility to all one-time transfers for the 2021 season. Essentially, it's college football free agency.
Most of the notable transfers who entered their names into the portal have already chosen new teams with their sights set on fresh starts. And today, with the help of PFF's advanced database available to college football Premium Stats+ subscribers, we are going to highlight the top 30 players who will be transferring this offseason, including five players who have yet to decide on a new school.
Subscribe to
Not too long ago, Kendrick looked like a possible first-round selection in the 2021 NFL Draft. But then an ugly outing against Ohio State in the College Football Playoff semifinal — 122 yards and two scores allowed — damaged Kendrick's stock. He subsequently decided to come back to Clemson for one more season and has since left the program. That rough outing against the Buckeyes was reminiscent of his performance in the College Football Playoff final in 2019-20 against LSU, when he allowed 114 yards and three scores.
Whichever team lands Kendrick will be getting a corner with plenty of potential. He joined Clemson as a five-star wide receiver recruit, and he spent his 2018 true freshman season at that position. Kendrick then moved to the defensive side of the ball in 2019, won a starting outside cornerback spot and played in 24 games for the Tigers. And outside of the two College Football Playoff contests, he was truly a lockdown corner.
Despite just learning the position, Kendrick allowed 15 yards or fewer in 18 of those 24 outings.
Gilbert, the No. 5 overall recruit in the 2020 class, lived up to the hype as a true freshman last year with an impressive 73.0 receiving grade — the highest mark from a first-year tight end and the third-highest at the position in the SEC last season. And Gilbert did that while running over 55% of his routes from the slot or out wide. He has all the fixings to eventually becoming the consensus No. 1 tight end in college football.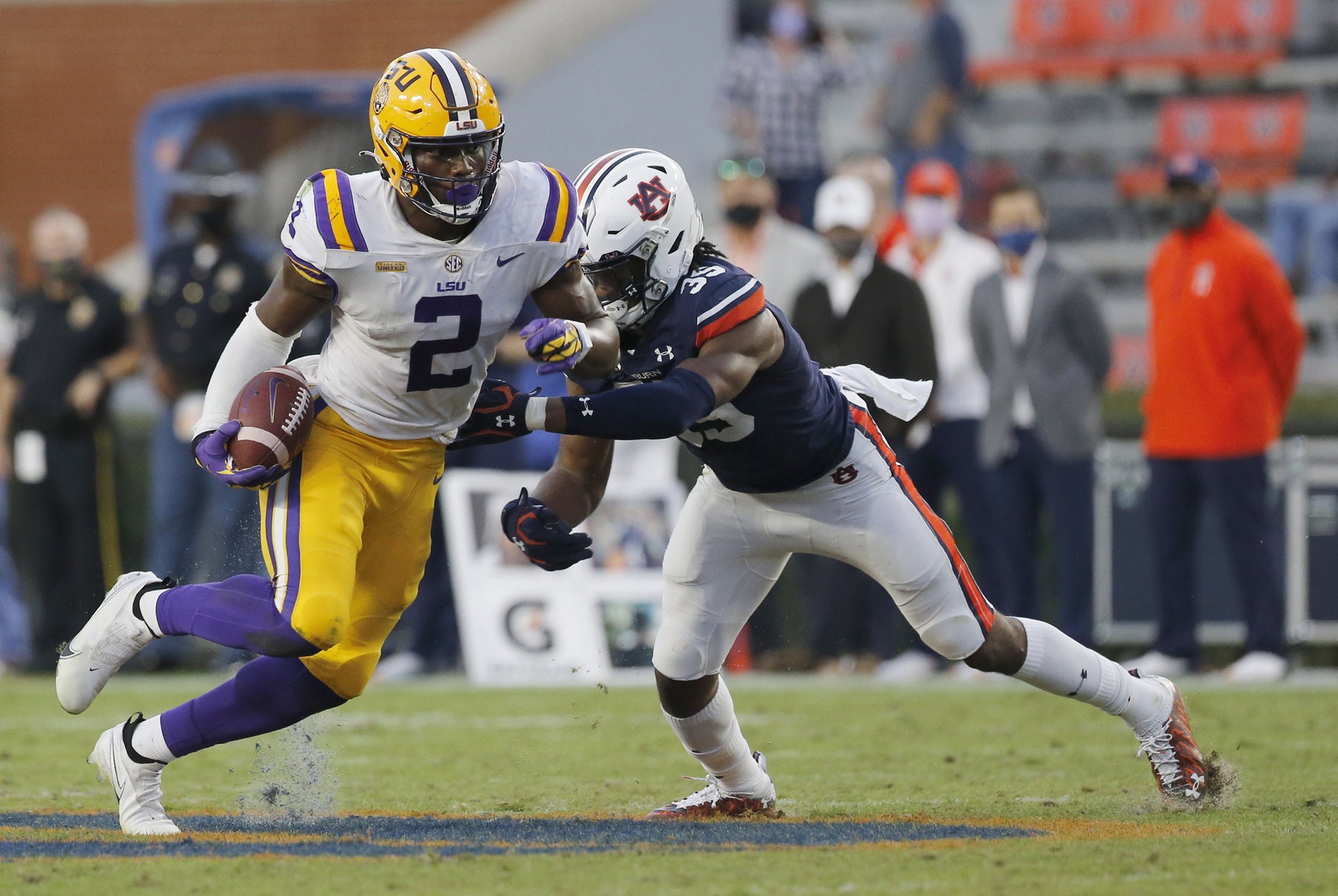 The 6-foot-5, 249-pounder has a massive catch radius and some craftiness in his route-running and after the catch. He hauled in seven of his 13 contested targets and broke nine tackles on 35 receptions in 2020.
Gilbert's transfer portal situation continues to be a whirlwind affair, though. He was set to enroll at Florida before recently decommitting. But wherever he lands, it's obviously a huge get for that team.
Miller, a highly coveted JUCO product in 2018 who originally committed to LSU, far exceeded expectations in his first season on the field at the Power Five level in 2020. He missed all of 2019 due to injury but responded in 2020 with a 77.6 coverage grade and the fifth-best forced incompletion rate (24.4%) in the Power Five.
Miller clearly thrived in West Virginia's zone-heavy defense. When looking at just his zone snaps, his coverage grade jumps to a top-10 mark in the Power Five. And he won't have to play a significantly higher rate of man coverage in Derek Mason's defense at Auburn, either. It'll be interesting to see how the depth chart shakes out with the talent the Tigers return, but that's a good problem to have. They now have one of the better cornerback rooms in the country.
Carter looked like a possible top defensive back prospect in the 2021 draft class prior to this past season, but a down year significantly hurt his stock. He has started at outside corner for Memphis ever since his true freshman campaign in 2017, excelling in that role. Carter posted coverage grades of 84.1, 70.4 and 75.1 in his first three years before a 62.0 mark in 2020.
Now, he'll join the Horned Frogs as a potential safety due to the team having Tre'Vius Hodges-Tomlinson and Noah Daniels manning the outside spots. Carter has movement skills that'll help him succeed, regardless of where he's at on the field. As a safety or cornerback, Carter is going to be a huge addition to a TCU secondary.
Jones places this high solely because of his impact against the pass. His run defense and tackling are shaky, but LSU can live with those deficiencies. Jones is fresh off a season in which he posted an elite 90.2 coverage grade and was a blitz weapon with 11 pressures on 48 pass-rush snaps.
His athleticism jumps out and is going to be an asset to the Tigers, who no longer have to be too worried about the departure of standout coverage linebacker Jabril Cox.
Milton is tough to rank due to his brutal injury history. The last time we saw him play was back in Week 13 of the 2018 season before he suffered a gruesome leg injury that required reconstructive surgery and almost resulted in amputation.
If Milton returns as the same kind of player we saw in 2017 and 2018, then he will quite easily be in the conversation as a top-15 quarterback in the FBS. 
Milton's 90.1 passing grade over his past two seasons on the field ranks as the third-best mark in the country. He was one of the best downfield passers in college football, posting the fifth-best big-time throw rate over those two seasons.
He was also among the best when it came to pocket presence and making something out of nothing under duress. Milton converted pressure to sacks at an FBS-low rate of 8.1% (the average is more than double that), ranked first in passing touchdowns when under pressure (16) and averaged seven yards per scramble.
The 2020 version of Grant Gunnell was wildly different from the 2019 version. As a true freshman two seasons ago, Gunnell looked like a future top-10 quarterback in college football. He took 185 dropbacks across eight games and displayed pinpoint accuracy en route to an 85.4 passing grade. Looking at just passes beyond the line of scrimmage, Gunnell's passing grade spikes to 92.1, with no turnover-worthy plays a 66% accurate pass rate. He didn't have enough attempts to qualify, but for reference, all three of those metrics would have ranked sixth or higher in the FBS.
But in the covid-impacted 2020 season, Gunnell looked nothing like his 2019 self. He attempted only 93 passes across four games due to getting hurt early in his third game of the season, and he still managed to rack up seven turnover-worthy plays while displaying shaky accuracy at times. 
Gunnell is going to be one of the most intriguing quarterbacks to watch in 2021. If he can replicate his play from 2019, Memphis will certainly have one of the highest-graded Group of Five quarterbacks.
Louisville's safety room severely underperformed in 2020. The group tied for the third-worst coverage grade among the 65 Power Five safety units. Duncan is bound to help fix that in 2021.
He shined in a limited role in 2018, broke out in a full-time role in 2019 and sustained that success in 2020. Over that span, he recorded an 89.1 PFF grade with grades above 87.0 both against the run and in coverage. He was just one of six FBS safeties to accomplish the latter. Oh, and he might just be one of the best tacklers at the position in the country. Duncan has missed only 16 tackles on 170 attempts in his career.
Ford-Dement went from JUCO to dominating Group of Five competition in one year at Old Dominion. And he's now likely to take his talents to a Power Five program.
He earned an 81.4 coverage grade with the Monarchs and allowed just 12 first downs in 12 games while making 13 plays on the ball. Ford-Dement displayed great ball skills in Old Dominion's zone-heavy defense. He originally was set to join UCLA, but he recently decommitted. Ford-Dement reportedly has offers on the table from Georgia, Michigan State and Minnesota.
Dynamic weapon Wan'Dale Robinson is a massive addition to the Wildcats' offense, as he is a proven weapon as a ball-carrier and an even better receiver. 
Over the past two years, the 5-foot-10 receiver has produced an 87.2 receiving grade and hauled in 10 of his 12 contested opportunities. On underneath targets, he has averaged over nine yards after the catch while breaking 11 tackles on 57 receptions. Robinson also boasts some impressive wheels, makes crisp cuts and is unafraid of taking shots over the middle of the field. 
Durden plays with a high motor and has unbelievable quicks for a 6-foot-5, 315-pound man. That said, he has so much to work on from a technical standpoint and is often errant; it works out for him sometimes — but not always.
Take his 2019 campaign, for example. That year, Durden produced an 81.7 pass-rushing grade, a 17% win rate and 45 pressures. All of those were top-10 marks among Power Five interior defensive linemen. But in the run game, Durden ranked dead last among the same group in total negative grades while ranking in the top 10 in positives. He also missed 16 total tackles on 48 attempts overall on the year. In 2020, Durden was limited due to injury; it was quite clear he wasn't his normal self, as he recorded a 52.7 PFF grade on 207 snaps. 
The moral of the story is: If Durden is healthy, expect him to make as many big-time plays as any interior defender in the Power Five, but if he hasn't improved technically, be ready for a boatload of mistakes to go along with it.
White is quite the story. He came to Old Dominion as a two-star tight end back in 2017, played that position until spring 2019 and then moved to the defensive side of the ball to play stand-up outside linebacker. He proceeded to be one of the most productive players at the position that year. 
White recorded an 87.8 run-defense and an 83.7 pass-rush grade with the Monarchs in 2019. He even won against Virginia Tech's Christian Darrisaw, who is a first-round lock in the 2021 NFL Draft. The 6-foot-4, 267-pound edge rusher oftentimes won with his bull rush; he established inside hand placement and snatched the tackle like clockwork. This is a big addition to a previously poor Georgia Tech pass rush.
Rambo was one of the most disappointing performers of the 2020 season. He looked like a shoo-in to be Spencer Rattler's new favorite target following his 2019 campaign, but that was far from the case.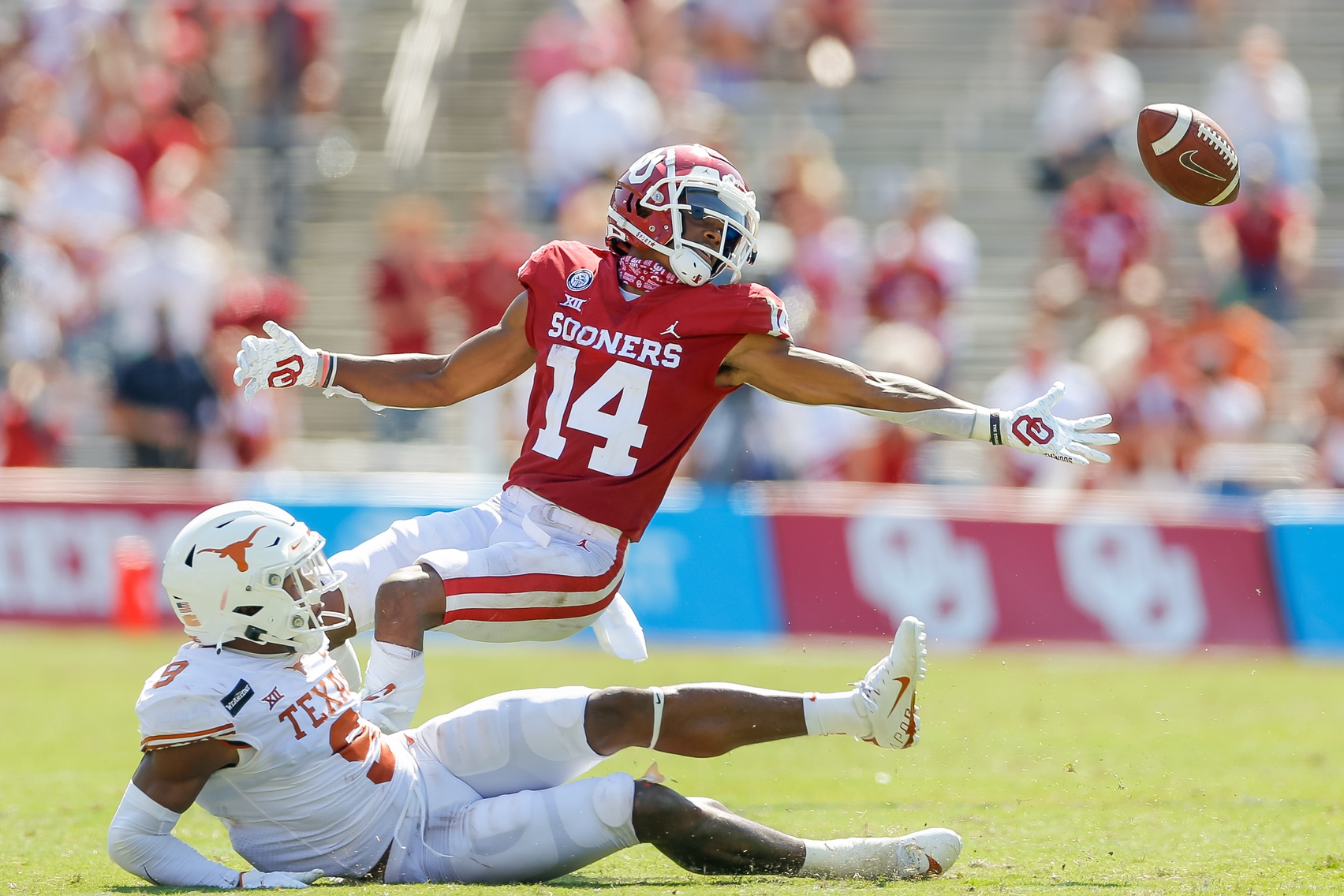 Rambo's receiving grade plummeted from 73.7 to 57.9. He is now set to take the field alongside D'Eriq King down in Miami and will try again to form an elite QB-WR connection.
Rambo was a big-play threat for the Sooners back in 2019, and that's precisely what Rhett Lashlee's offense needs. He ranked third in the Big 12 that year in percentage of targets to result in a 15-plus yard gain (28.6%) and ranked second among that same group, behind only CeeDee Lamb.
Strachan, a former walk-on who missed most of 2019, is fresh off a big-time breakout season in 2020 with the Panthers. He was a hybrid linebacker who was clearly better off rushing the passer as opposed to dropping into coverage.
Strachan notched a 90.2 pass-rushing grade and a 17% pass-rushing win rate for the season. The only problem is how he got to those numbers. They were buoyed by a handful of purely dominant performances, and when he went up against quality offensive lines, such as those of Louisiana and Appalachian State, Strachan wasn't too effective. 
He's quick and explosive, flashing a pretty good set of pass-rushing moves in his last year at Georgia State. Don't expect Strachan to match that elite pass-rushing grade playing in the SEC, but he should still provide quality production when on the field.
It'll be interesting to see what his frame looks like come Week 1, considering he has already thrown on 17 pounds in his first couple of months at South Carolina, according to head coach Shane Beamer (showed up at 220).
Three Old Dominion Monarchs among the top 15 transfers — who would have guessed?
Meiser had a huge breakout year in 2019, the last time we saw him. He was a lackluster pass rusher in 2018, posting just a 59.0 pass-rushing grade and nine pressures on 232 such snaps, but that all changed in the following campaign. Meiser raised his pass-rushing grade to 88.1 in 2019 while recording 34 pressures on 262 rushes. He's the case in point of why you should never trust sack totals to judge pass-rush production (had zero that year).
Northwestern struggled to get any pass-rush impact from its defensive tackles in 2020, but improvement looks to be on the way with Meiser joining the squad.
Jones was a diamond in the rough for the struggling 2020 Jayhawks, providing quality play at outside corner. He ranked fifth in the Big 12 in forced incompletion rate and sixth in yards per coverage snap allowed on the outside.
Don't just look at the school Jones is coming from and think nothing of the addition. This is a huge get for an Oregon State secondary that didn't have a great 2020, ranking 53rd in the Power Five in team coverage grade.
Eze should bring some stability to the Horned Frogs' offensive line in 2021. The 6-foot-8, 315-pound tackle ranked 15th among all FBS left tackles in pass-blocking grade and allowed just 12 pressures in 11 games last season for Memphis. However, he was out-leveraged often in the run game. On gap runs, specifically, he earned a grade that ranked in the fifth percentile among FBS tackles in 2020.
Hooker is going to be one of the most dangerous quarterbacks on the ground in 2021. Last season for Virginia Tech, he recorded a 10-plus-yard gain on nearly a quarter of his 86 designed runs and averaged 7.0 yards per designed run.
How he fares as a passer in Josh Heupel's offense, however, is a far different story. Heupel is going to simplify reads for Hooker, but the quarterback's ability to hit those downfield shots is suspect. Hooker had more turnover-worthy plays than big-time throws on 20-plus-yard throws in 2020, and his accurate pass rate on 10-plus yard throws was well below the FBS average — 39%, ranking 60th of 84 qualifiers.
Coan missed the 2020 season due to injury, later deciding to transfer to Notre Dame after it was clear he wasn't getting his job back from Graham Mertz, the No. 3-ranked pro-style quarterback in 2019.
Despite playing in a difficult-to-execute offense at Wisconsin in 2019, Coan played fairly well. He produced a 77.0 grade for the season, and the Badgers put together the third-most efficient passing attack in the Big Ten. Coan displayed great underneath accuracy, something head coach Paul Chryst needed in his offense (7.5 average depth of target was the lowest in the conference). 
Coan's deep ball, however, was far too errant. There were several instances of him getting overconfident and forcing deep shots that weren't there. Exactly 20% of his 20-plus yard throws were deemed turnover-worthy that year, the worst rate in the Power Five.
Downfield passing was a concern throughout Ian Book's 2020 campaign, and the same is likely true with Coan leading the way. All indications point to him being about the same kind of passer as Book.
Waters took a surprising step back in his fourth season as a Blue Devil in 2020 after making his name known as one of the ACC's top safeties in coverage the two years prior.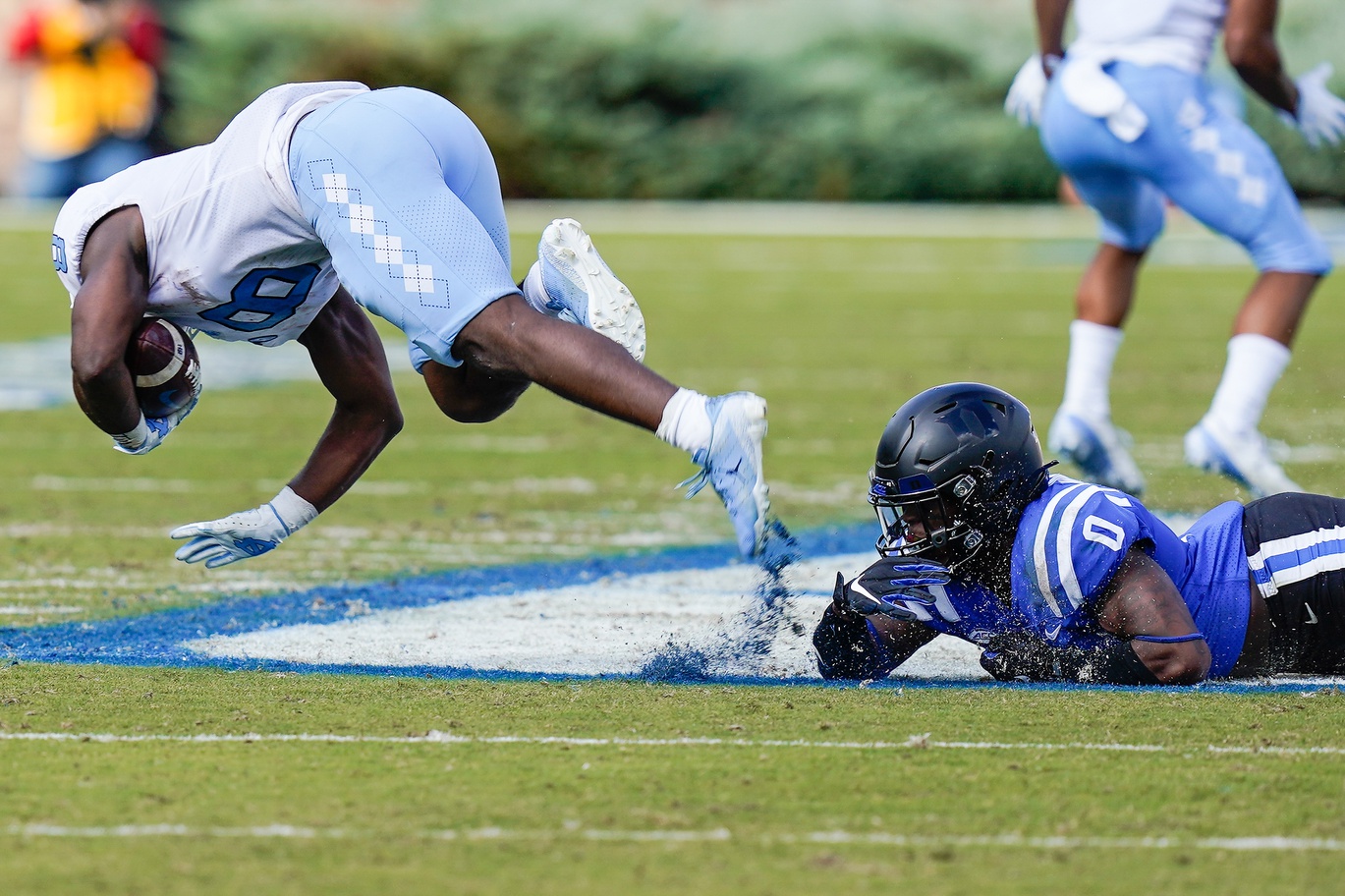 In 2018 and 2019, Waters ranked second among all ACC safeties in coverage grade (89.4). But in 2020, Waters' coverage grade slipped all the way down to 56.0, ranking 34th among 45 qualifying ACC safeties. He had a couple of major coverage busts against Miami and Florida State that resulted in 89- and 68-yard touchdowns, and he got lost in zone coverage a handful of other times, resulting in more chunk plays. That didn't happen at all in his standout years in 2018 and 2019; Waters just looked like a completely different player.
Considering how poor Texas Tech's coverage unit was in 2020 and the fact it lost its Zech McPhearson, the team's best defensive back, the Red Raiders desperately need Waters to find his old form. 
We saw only five games of true pass rushing from Ebiketie in 2020, but what he accomplished on that small sample was nothing short of spectacular. He racked up 22 pressures across 142 pass-rush snaps en route to an 88.3 grade in that facet.
Ebiketie boasts some pretty good pop behind his hands and good cornering ability. Losing Jayson Oweh and Shaka Toney obviously hurts Penn State's defense, but Ebiketie ought to ease the pain for the unit.
Williams is one of the more underrated players on this list. He broke out back in 2019 as a redshirt sophomore with an 83.5 receiving grade, but his production took a pretty steep hit in EMU's limited 2020 season.
Williams' receiving grade dipped over 17 points down to 66.1 in six games played. No one has swooped in to secure him as a transfer yet, but whichever team lands him will be getting a wideout with surefire hands. Just two drops on 99 career targets and a handful of off-target snags make him a player to keep an eye on.
Tangelo is a great addition to the Nittany Lions' defensive front, and he is bound to be one of the better 3-techniques in the Big Ten. He's been an effective player both against the run and as a pass rusher for Duke, with a PFF grade above 74.0 in each of the past three years.
When playing at defensive tackle over that span, Tangelo recorded the 13th-best PFF grade in the FBS.
Stevenson was a highly coveted four-star recruit in the 2019 class, ranking 37th nationally and third among cornerbacks, according to 247Sports. He predominantly resided in the slot for his true freshman and sophomore seasons at Georgia and was subpar at-best. His slot coverage grade ranked 11th in the SEC among 23 qualifying defensive backs.
He will now return back home to South Beach, where he is expected to try his hand at outside corner. Stevenson actually started his final game as a Bulldog on the outside against Cincinnati in the Peach Bowl and produced so-so results. He made a nice pass breakup in zone coverage but then got exposed playing soft-shoe press technique, resulting in a 25-yard gain.
Nester transferred back home after a couple of years at Virginia Tech, and he'll be West Virginia's best offensive lineman right away. In 2020, Nester was a quality guard for the Hokies, posting a 73.8 PFF grade that ranked fourth among ACC guards. He filled in at right tackle at times and thrived there with an 88.7 PFF grade (86 total snaps). 
Regardless of where he plays for the Mountaineers, Nester's pass protection is going to hold up just fine. He didn't see a lot of true pass sets in 2020 in Virginia Tech's offense, and that won't change too much in West Virginia's unit.
It will be interesting to see how he holds up in Neil Brown's rushing attack, though. Nester is a better fit for a gap scheme and now goes from a heavy zone team at Virginia Tech to an even heavier zone team at West Virginia. His grade on gap runs in 2020 sat in the 75th percentile among FBS guards, while his grade on zone runs sat in the eighth percentile.
Moore is entering his sixth year in the college ranks but hasn't played in a game since Week 1 of the 2019 season. He suffered a season-ending injury that night and shut himself down for the 2020 season to make sure he was 100% for his final college campaign in 2021.
Moore's most recent full season, back in 2018, was strong, though. Manning an outside starting spot for UCF, he posted a 78.5 coverage grade and allowed 16 yards or fewer in coverage in nine of his 13 games played while also making 10 plays on the ball.
The only problem was that the other four outings were littered with big plays, contributing to Moore giving up 342 yards for the season. He did this while playing well over two-thirds of his coverage snaps in press, which is quite impressive.
The first season of the Mike Leach-Mississippi State era could have gone a lot better. After knocking off LSU in the season-opener, the opposition started dropping eight into zone, and quarterbacks K.J. Costello and Will Rogers struggled. It's also worth noting that the Mississippi State offensive line was still allowing a substantial rate of pressure despite the defense rushing three, which obviously didn't help matters. Simply put, the offense was bad across the board.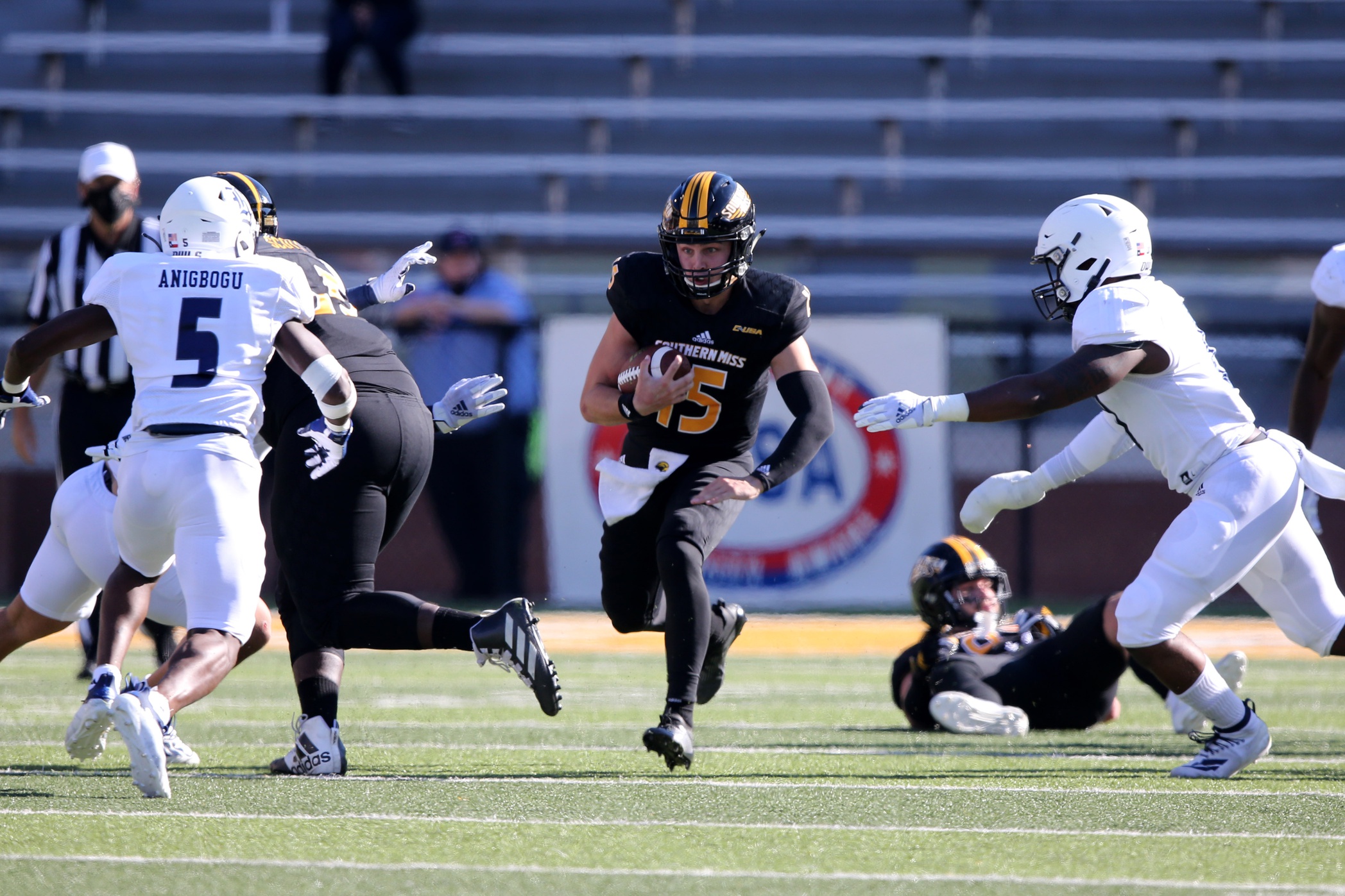 Former Southern Miss starter and incoming transfer Jack Abraham could help quell those mishaps some in Year 2 for Leach. He'll have to beat out Rogers for the starting job, which should be a probable outcome. In his 2019 and 2020 seasons, Abraham posted a 78.9 passing grade, including an 89.3 mark from clean pockets. The latter is over 12 grading points higher than what we saw from Rogers in 2020.
Abraham's biggest issue at Southern Miss was consistency. He faltered when facing better coverage units. Against Louisiana Tech and FAU in 2019, he racked up a combined 11 turnover-worthy plays, which accounted for half of his season total.
Will he be able to hang with the big dogs in the SEC? Only time will tell.
Campbell is going to be a great addition to an Ole Miss defense that fared poorly in 2020. He played 700 snaps in his three years at Maryland and was easily one of college football's best tackling off-ball linebackers over that span.
Campbell has attempted 111 tackles in his career, missing a mere eight. His career PFF grade sits at 79.7 and features a 75.0-plus mark in both run defense and coverage.
Radley-Hiles could very well end up back at Norman, which Lincoln Riley would love to see happen. But there's also a chance he heads elsewhere, such as his home near Los Angeles to play for UCLA.
Radley-Hiles is as competitive as they come. While that's admirable in any player, he would sometimes go a bit too far, as his ejection in the 2019 College Football Playoff semifinal and nine penalties in 2020 — the latter of which tied for the fourth-most among FBS defensive backs — can attest.
Outside of the penalties, though, Radley-Hiles was great in 2020. The 5-foot-9, 180-pound defensive back primarily manned the slot and racked up six plays on the ball and seven passing stops while allowing only 11 first downs.
Briggs was a four-star recruit in the 2019 class who ranked inside the top 100 nationally, according to 247 Sports. He is transferring back home to Cincinnati to join a formidable Bearcats defensive front.
He saw seven starts this past year as a true sophomore and put together decent pass-rush production considering he played half his pass-rush snaps at 0-technique. The 6-foot-1, 310-pound interior defensive lineman produced a 76.7 pass-rush grade for the season and notched an impressive 22% win rate when playing 3-technique.
His pass-rush move set is sorely lacking, but Briggs still found a way to push the pocket with his power. He is a prime breakout candidate for 2021. 
SMALL-SAMPLE WILDCARDS TO MONITOR
Year: Redshirt Junior
Recruiting: Four-star, ranked 249th overall in 2018 class
Career snaps: 160
Year: Redshirt Freshman
Recruiting: Four-star, ranked 73rd overall in 2020 class
Career snaps: 0
Year: Redshirt Freshman
Recruiting: Five-star, ranked 20th overall in 2020 class
Career snaps: 12
Year: Redshirt Sophomore
Recruiting: Four-star, ranked 131st overall in 2019 class
Career snaps: 92
Year: Sophomore
Recruiting: Four-star, ranked 81st overall in 2020 class
Career snaps: 105
Year: Junior
Recruiting: Four-star, ranked 138th overall in 2019 class
Career snaps: 321
Year: Redshirt Freshman
Recruiting: Four-star, ranked 93rd overall in 2020 class
Career snaps: 0