As we cross the halfway point of the 2020 college football season with some teams finishing up their year and others just getting started, it's time to give an update on our wide receiver rankings.
Below, you will find our top 25 wide receivers in college football heading into Week 10. How each receiver has fared in 2020 carries the most weight in these rankings, but we also took previous years into consideration when applicable. Those who suffered season-ending injuries (e.g., Jaylen Waddle, Reggie Roberson Jr.) are not included.
So, with the help of PFF's CFB Premium Stats+, here are the 25 best wide receivers in college football.
Editor's note:  PFF's CFB Premium Stats+ subscribers can view player grades, advanced statistics, positional snap counts and more. Subscribe today for access!
"He's not a burner like Ruggs or Waddle and has too thin of a frame."
Who cares? Smith hasn't let either of those two knocks get to him this season, proving he is the clear-cut best wide receiver in college football. He does just about everything at the position at a high level — from his release package to his route running to his ball skills. All of that has helped him earn a 93.4 receiving grade this season. That's the best in the FBS by a considerable margin.
While Smith has been on another level this season, he's always been a reliable target at Alabama. Since 2018, Smith has dropped just 2.2% of his catchable targets (seventh in the FBS) and generated the highest passer rating when targeted, at 152.7. The loss of Waddle is damaging for the Crimson Tide, but they still have college football's best offense with the Mac Jones-Smith connection.
Moore has yet to play a game in 2020 due to undisclosed reasons, but all indications are that he will be making his season debut soon, and that means the Boilermakers are getting one of the best receiving weapons in the game.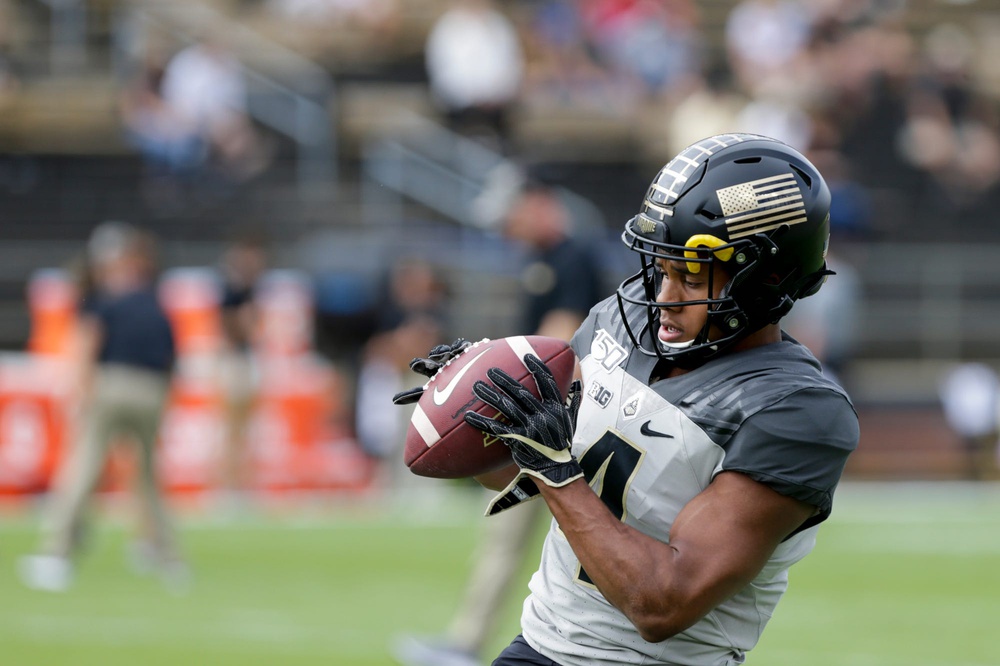 Moore played in just a few games last year before a season-ending injury, but as a true freshman in 2018, he showed enough to put himself in the No. 2 spot here. That year, Moore was the sixth-highest graded wide receiver in the FBS and put together the second-most valuable season by a non-quarterback true freshman in the PFF College era.
The 5-foot-9, 180-pound wideout is one of the best athletes in college football and a nightmare to tackle after the catch — he shattered the Power Five record for most broken tackles after the catch in 2018, with 37.
Minnesota hasn't had quite the start that many hoped for, but make no mistake — they still have one of the best wide receivers in the FBS. With Tyler Johnson now in the NFL, Bateman took over his role in the Gophers' offense, seeing an increase in slot snaps from 13% to 64%.
He still saw single coverage quite a bit in their 2020 opener against Michigan and cooked the defense just like he did last year when out wide. Bateman hauled in four of six targets for 84 yards against single coverage en route to a 91.4 receiving grade on such plays — the 15th-best game grade against single coverage this season.
The most refined route-runner in college football is none other than Ohio State's Chris Olave. He offers virtually nothing after the catch, but when a player gets open as much as he does, it helps you forget about that.
Last season, no wideout got open more against single coverage than Olave, and that helped him earn a top-10 grade on such plays. So far in 2020, Olave has been incredibly productive by generating 3.52 yards per route run — the 11th-best mark in the Power Five over the past two weeks.
Wallace is one of the top vertical threats in the game — he has hauled in a Power Five-high 10 vertical catches this year. The Oklahoma State Cowboy trails only DeVonta Smith in receiving grade on targets over 10 yards downfield this year and has made some incredible contested grabs on those deeper balls.
Wallace has caught eight of his 12 contested targets over 10 yards downfield, leading all Power Five wide receivers. He attacks the ball at the catch point, and his contested-catch ability makes life much easier for quarterback Spencer Sanders.
Moore was one of the most productive wide receivers in the country entering Week 9, but a lot of that production was thanks to head coach Lane Kiffin and his offense. Then, in Week 9, Moore once again went off. While he still had some schemed production, the wide receiver actually made some big plays with his route running and releases.
This past week, Moore came away with explosive plays of 15 or more yards on two saucy sluggos and a beautiful secondary release on a slot fade against off-coverage that resulted in a touchdown. Overall, he finished the day with a 90.8 PFF grade, earning PFF Team of the Week honors.
Toney is as filthy as they come after the catch. Over the past two years, he has hauled in 32 catches and broken 24 tackles. That broken tackle rate is over 25 percentage points higher than any other FBS wide receiver in that span. On top of that, he has averaged nearly 12 yards after the catch on those catches.
This year, we wanted to see Toney improve as a route-runner and show that he is more than a gadget player. So far, he has done that. He trails only Smith and Moore for the best PFF grade in the SEC and could possibly creep up higher on this list if he continues to show signs of development.
Wilson was one of our prime breakout candidates for this season, and he has been exactly that through two games. He has racked up 3.87 yards per route run, ranking second in the Big Ten and, like his teammate Olave did routinely last year, has cooked single coverage.
Among wide receivers to play in both 2019 and 2020, Wilson ranks sixth in receiving grade against single coverage (Olave is second). The Buckeyes' opponent this week, Rutgers, plays a ton of press-man coverage and hasn't lost many one-on-one battles this season. That'll likely change when the Scarlet Knights face the best wide receiver duo in the country (now that Waddle is out for the year).
With Moore out for most of 2019, Bell — at the time a true freshman — had to step up in his absence. He finished the year as the third-highest graded true freshman at the position, routinely making contested grabs and snagging inaccurate targets downfield.
This year, Bell has looked even stronger. Just this past week, Bell caught four of his five contested targets. When facing tight coverage, Bell has recorded an 85.2 receiving grade, the best in the Power Five.
Darden isn't very imposing against tight coverage, but it doesn't really matter with how much he gets open — whether it be against single coverage or from finding holes in zone. The 5-foot-9, 174-pound receiver has generated separation against single coverage at the fourth-highest rate this season.
Overall on the year, Darden has generated an explosive play of 15 or more yards with separation 14 times — tying for the third-most in the country. Darden is agile and brings a lot to the table after the catch, too, ranking in the top 10 in both yards after the catch and broken tackles this season.
Shakir was one of the best slot receivers in college football a season ago, ranking right behind Ja'Marr Chase and Tutu Atwell for best slot receiving grade in the FBS.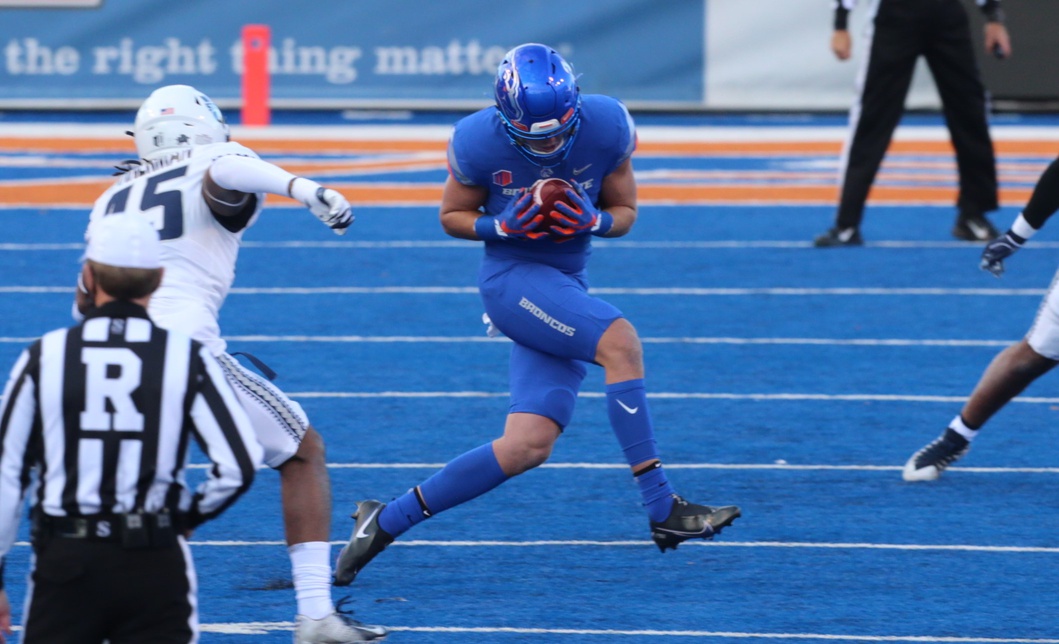 This year, however, Shakir is playing more on the outside, but he's still producing at a high level. Boise State kicked off its season a couple of weeks ago, and in the two games Shakir has played in, he has earned an 86.1 PFF grade — the third-best in the FBS in that span.
Walker is arguably the most underrated wide receiver in college football. He was the third-highest graded wide receiver to return in 2020, and some of his best plays stemmed from his body control and ability to snag off-target throws.
The 5-foot-11 receiver tied for the fifth-most inaccurate contested catches last year, with six. We saw this elite trait of his last week when he had an unbelievable back-shoulder catch in the end zone that won him PFF Play of the Week.
Mims is coming off a rough game against Texas Tech with a couple of rough drops, but recency bias aside, the true freshman has been nothing short of amazing in his first year on the college field.
The 2020 four-star recruit has been the best true freshman wide receiver by a country mile. Mims' 86.0 receiving grade leads that group and is the 12th-best in the FBS. He has been quarterback Spencer Rattler's top downfield target and has made the most of those targets, cracking the top 10 in receiving grade on targets over 10 yards downfield.
The highest-graded slot receiver through Week 9 is none other than Wake Forest's Jaquarii Roberson. With Waddle out for the season with an injury, Roberson is now the most productive slot receiver, generating 4.25 yards per route run. Not only does that lead the FBS, but it's also twice the FBS average.
Burks' 88.3 slot receiving grade in 2020 is not too far behind Roberson for best in the FBS. He has caught just about everything thrown his way and is the only Power Five wide receiver outside of Waddle to generate a perfect 158.3 passer rating when targeted in the slot.
At 6-foot-3, 232-pounds, Burks is not easy to bring down — his seven broken tackles on 25 catches and 8.2 yards after the catch per reception can attest to that.
Milne walked on with BYU back in 2018 and struggled in his first two years as an underclassman. His receiving grade in those two seasons combined was a lowly 57.8.
This year, however, Milne has broken out alongside quarterback Zach Wilson and has made himself one of the premier deep threats in college football. He ranks at the top spot in receiving grade on 20-plus yard targets and has brought in the second-most deep catches (9).
We had high expectations for Pickens in 2020, but so far, he has fallen well short of them. Pickens put up an 88.0 receiving grade that ranked third in the SEC as a true freshman in 2019. He had the surest hands in the country with the third-most catchable targets without a drop and made a lot of highlight-reel grabs with his huge catch radius.
This year, however, Pickens has looked like a completely different player. His receiving grade dipped to 60.6, and he has been one of the least productive wide receivers in the country, generating just 1.01 yards per route run, which ranks 195th of 209 qualifying FBS wide receivers. Pickens has reportedly been battling an injury, though, and that caused him to miss Georgia's last game against Kentucky. If Pickens can get healthy and return to his 2019 form, he is easily a top-10 receiver.
Marshall had one of the best standard stat sheets in the country a season ago with Joe Burrow throwing him the ball, as he hauled in a whopping 13 touchdowns on 46 catches. Despite that, he earned just a 71.6 receiving grade. That was largely because most of those scores stemmed from schemed up plays near the goal line or busted coverages.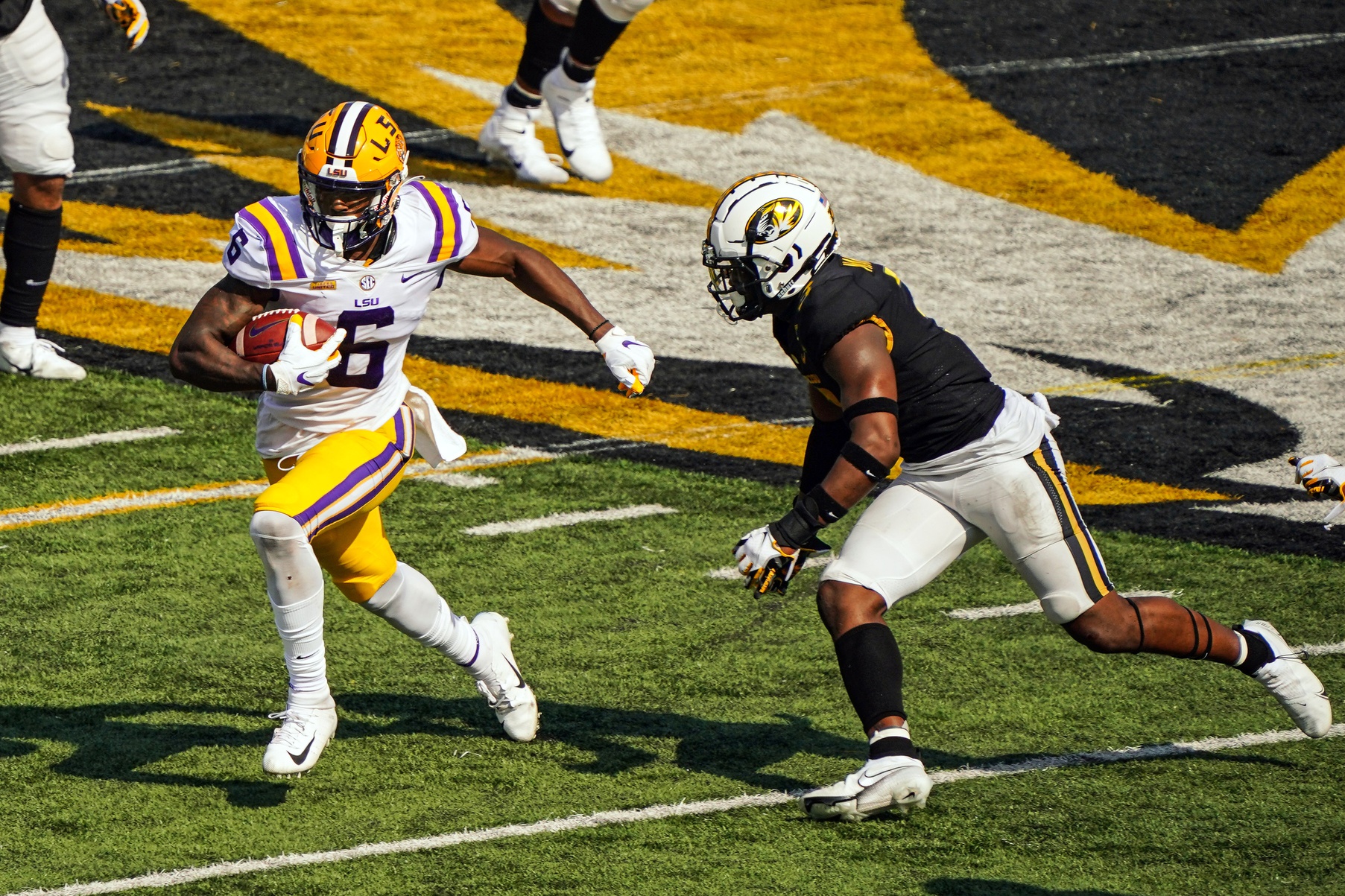 Without Burrow in 2020, Marshall has still stuffed the stat sheet with nine touchdowns on 31 catches. However, the difference is that he is earning this production as opposed to it being handed to him, subsequently raising his receiving grade to 83.7.
There have been some drop issues, as he has the third-worst drop rate in the SEC, but he has been a great vertical threat, ranking third in grade on such routes — as well as in contested scenarios — with his 6-foot-3 frame (6-of-8 on such targets).
Jackson, a 2018 four-star recruit, battled some injuries and struggled mightily in his first two years in Athens. He caught just five of his 16 targets with a drop and a fumble. Now healthy in 2020, Jackson has broken out and put together an 83.2 receiving grade through five games.
Philyor has had a couple of bad drops this year, but he showed why he is a top-25 wide receiver in college football last week against Rutgers. The Hoosier came away with over 5 yards per route run and a 78.5 receiving grade on the day. He flew past the Scarlet Knights on a post for an open ball, broke a tackle after the catch, helped put Indiana in the red zone and then later helped put them back in the red zone with a 37-yard reception on a double move.
We haven't seen it yet, but it's only a matter of time before Philyor gets some screen targets and shows off his feistiness after the catch. Last year, Philyor averaged over 7 yards after the catch and broke 16 tackles on 69 catches.
St. Brown is a prime candidate in the Pac-12 to skyrocket this season as he becomes more of a focal point in USC's offense and starts to see more reps on the outside. He is the highest-graded returning wideout in the conference and is bound to retain that No. 1 spot in 2020 with his fluidity and route-running ability.
Atwell — and really the entire Louisville team — has had a disappointing season so far. After posting a 91.2 PFF grade in 2019 that ranked second in the Power Five, Atwell has underwhelmed and lowered that mark to 75.3 in 2020. Granted, that's still decent, but it's far from his elite status and nowhere near the best in the ACC like many — including us — thought he'd be.
The 5-foot-9, 165-pound speedster would constantly turn a screen into a monstrous play or fly past defenses on a vertical route for an open ball, and that just hasn't happened nearly as often this season. Atwell has proven to be an elite receiving threat in the past, so he retains a spot in the top 25, but he has fallen steeply for his 2020 output thus far.
Perhaps the biggest surprise on this list is Heiligh. He entered the 2020 season with two years of PFF grades in the low 60.0s for the Chanticleers but has a near-elite 89.5 receiving grade through six games.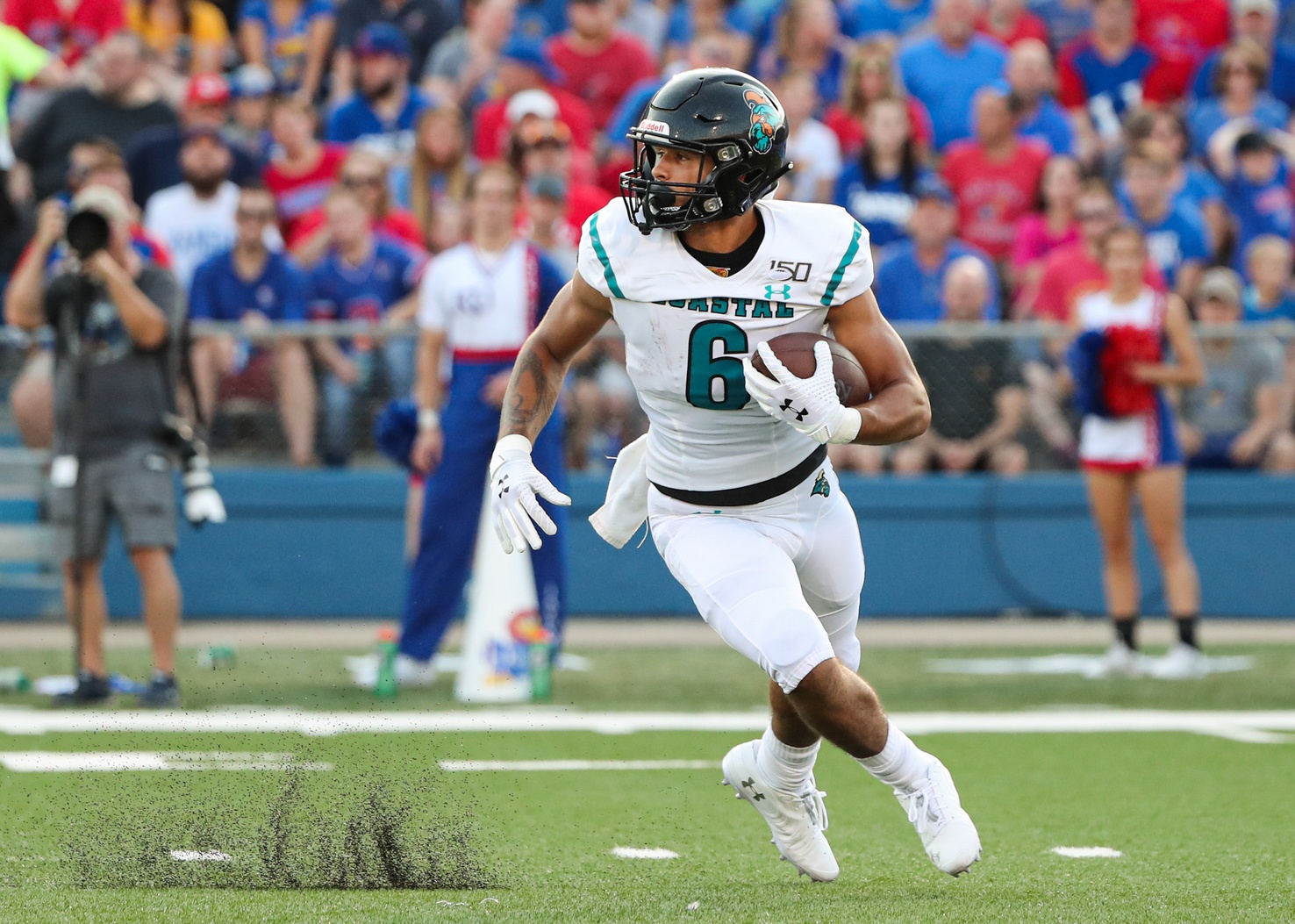 He is still not the best in contested scenarios, but his route running has vastly improved, resulting in far more open targets. Heiligh has generated open separation on 57% of his targets over 10 yards downfield — over 30 percentage points better than his 2019 rate.
UCF slot receiver Marlon Williams has had a huge breakout year in 2020. He has an 88.0 receiving grade through six games — the seventh-best in the FBS. Willians has been one of the toughest receivers to bring down after the catch this season. He leads the FBS in broken tackles, with 17, as well as in total receiving yards after contact, with 168.
I'm not so sure Metchie will be at the same level as teammates DeVonta Smith and Jaylen Waddle, but he has proven to be a fantastic vertical weapon for quarterback Mac Jones. Metchie has the fifth-best receiving grade and the third-most receiving yards (338) on vertical routes in the FBS this year.