Last week, we talked about five schematic trends that shaped the 2019 college football season. This week, we'll take our best stab at a trend that has the potential to have a significant impact on the 2020 season.
Unbalanced formation usage has hovered around 3.5% of all snaps each year that we have tracked college football (since 2014). Its trendline has stayed consistent, but with Memphis' Mike Norvell bringing his unique, unbalanced attack to the Power Five at Florida State this year, it could very well prove to be the push that these formations need to capture national attention.
[Editor's Note: PFF's advanced statistics and player grades are powered by AWS machine learning capabilities.]
All it takes is one team to have success on the national stage for something to be copy and pasted into playbooks throughout the country. Every high school and college team in America got its bootleg copy of LSU's offensive film from last year with the explicit purpose to take the best ideas from the Tigers offense — only to find out that you can't clone Joe Burrow for your own team. Unbalanced formations may just be a twinkle in the eye at this point, but with enough success, they might be the next big thing.
College rules state the offense needs to have seven people on the line of scrimmage, with five of them being ineligible to run downfield and receive a pass. In football's modern meta, this means those two remaining eligible players are usually aligned on either end of the field. Unbalanced formations put those players on the same side of the field.
Unbalanced Formation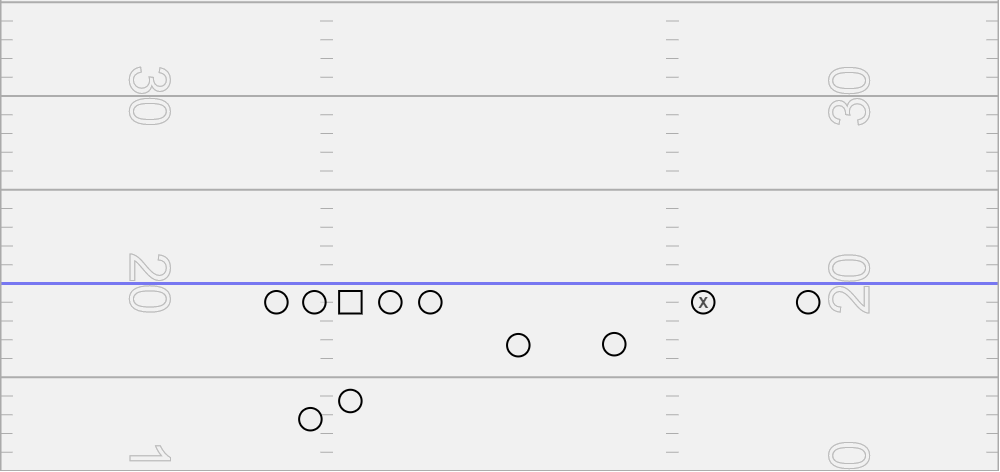 Anyone lined up on the line of scrimmage on the same side as the player who closes the line of scrimmage is ineligible. In this case, the slot receiver marked "X" is ineligible. Teams can overload one side of the field, but the caveat is that they are sacrificing a downfield receiver.
Subscribe to PFF Edge to continue reading
Already have a subscription? Sign In