These college football head coach rankings are a shoutout to the underdog and the unwanted, a chance to recognize those who might not be in the national spotlight but deserve their moment for clawing their programs up from the depths and steering it toward a new, compelling future.
It's always difficult to examine coaches through the prism of wins, losses and efficiency rankings. After all, coaches who win a seemingly endless number of games aren't necessarily good, and those who lose games aren't necessarily bad.
The opportunity to win games was the biggest factor here. Flying above or below program expectations was the most important point when putting this list together.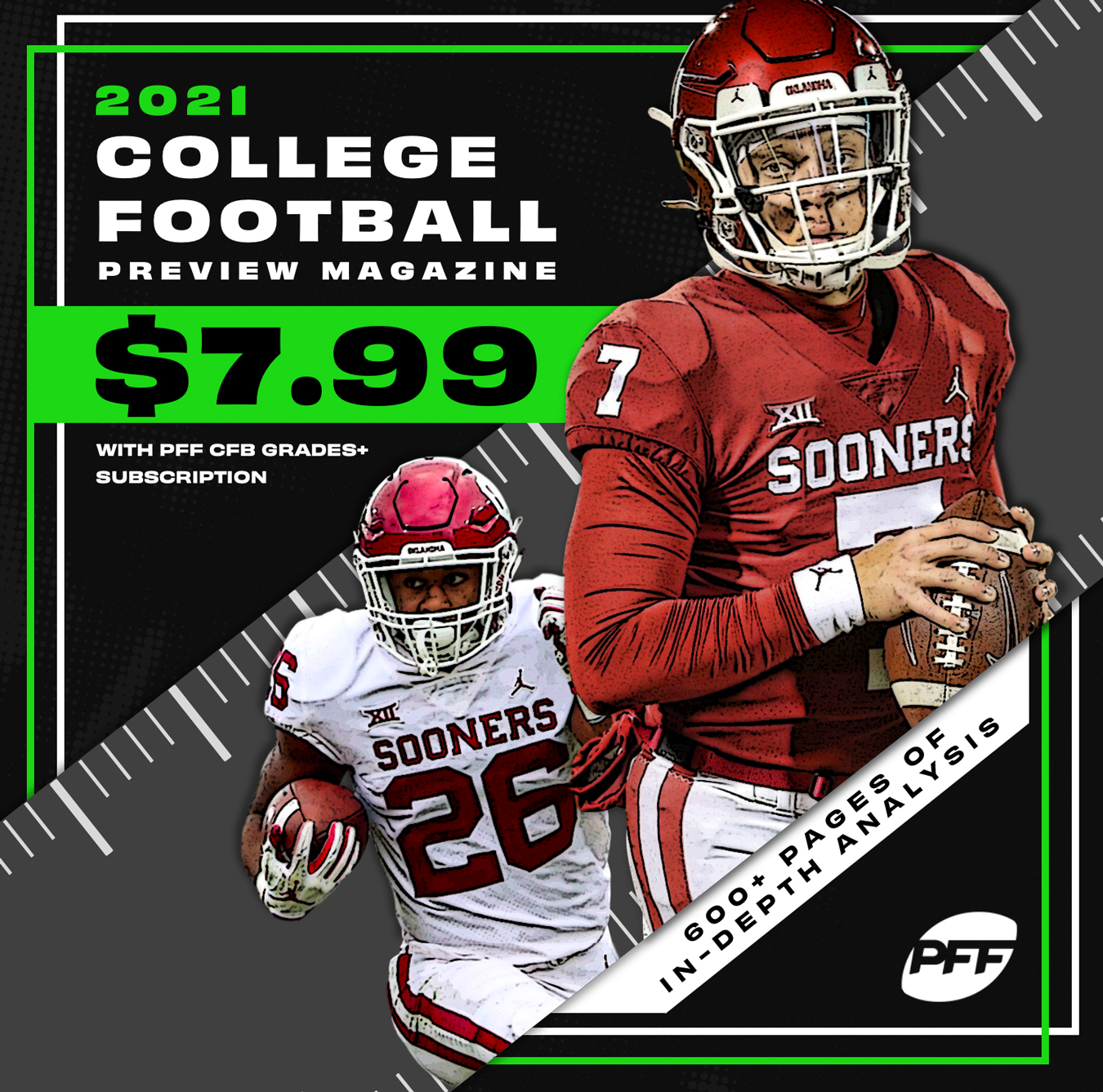 There isn't a lot more to say about these two. Sure, there might be an inclination to not have them at No. 1 or No. 2 out of ranking fatigue, but this is their rightful spot.
You could make the case that Swinney is No. 1 because the turnaround he pulled with this Clemson program is almost unheard of. It feels so long ago now, but "Clemsoning" was a real thing, and the program could never get over the hump. And this is precisely why Dabo could be seen as more successful than Saban — the Clemson program is not an "important" program in college football's history, unlike the Crimson Tide.
The venerated Frank J. Howard — he of famous rock — only led Clemson to six top-25 finishes in his 30 years, pairing that with a 58% win rate. That win rate climbed to 76% in the excellent Danny Ford era, leading to Clemson's first National Championship win in 1981, but then they went back to being Clemson between 1990 and Dabo's full-time appointment in 2009, winning 61% of their games during that span.
And that's what Clemson was: a good program left stranded in the shadow of some of their conference mates, far away from ever being a national power.
Dabo has lifted whatever "Clemsoning" curse was put on the Tigers and has won 81% of his games so far. He's led the program to four national championship games and two national Championship wins, a feat very few would have imagined all those years ago.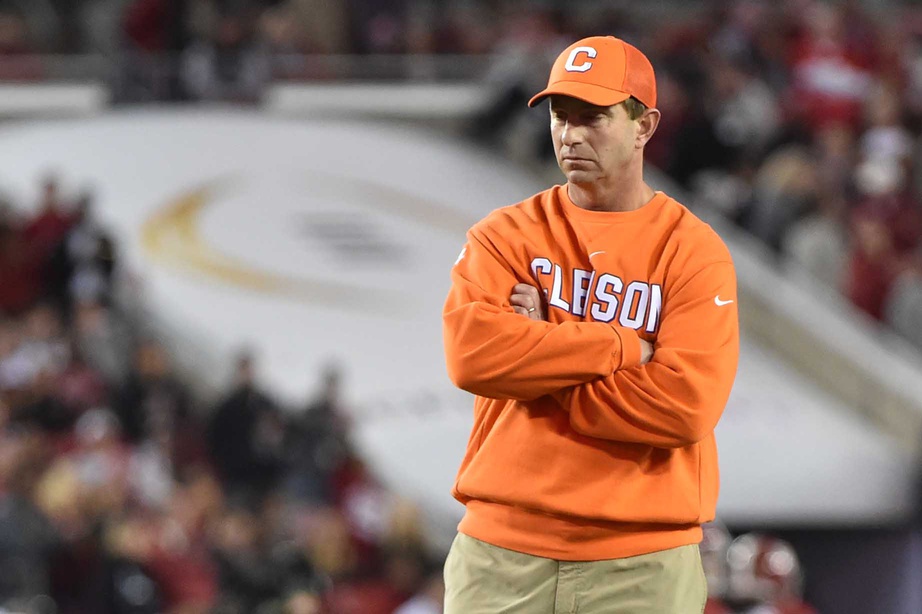 But Saban is still No. 1. Yes, Alabama was already the college football program before Saban's arrival, but they were in a down period when they signed him. And we have a history of Saban turning around other programs.
Toledo had gone 6-5 in 1989 before Saban took over for one year and led them to 9-2. The Rockets lurched back to 5-5-1 the year after under Gary Pinkel. Then, after coming back from the NFL, Saban took over a Michigan State program that had gone 19-26 in the four years before his arrival and shepherded them to a 34-24-1 record during his tenure.
Saban landed at LSU in 2000 and awoke the sleeping Cajun giant, compiling a 48-15 record and a National Championship in five years. LSU had just three winning seasons in the entire decade coming into the 2000s, and then Saban won them a National Championship within three seasons.
Another stint in the NFL led to the Alabama job, where he has won six National Championships. Yes, Alabama claimed 12 championships before Saban's arrival, but it was a program going through turmoil and probation before he took the reins. In the 10 years leading up to the longtime head coach, the team had only won 55% of their games. Saban is now at 88%.
Imagine a world in which Kirby Smart is a two-time national champion, one where his team did not blow a 10-point lead to Alabama in the fourth quarter of the 2018 championship game and then a 14-point third-quarter lead in the SEC Championship the following year.
It's a future that Dawg fans can only dream of because Smart is still only a one-time SEC champion and zero-time national champion. It's unfair, but it's hard to hold two fluke comebacks against him — not that he's totally off the hook for those two Bama losses — but he has surpassed Mark Richt's 74% win rate with his 79% win rate in six years.
Georgia's defense had fallen to 13th in expected points added (EPA) allowed per play in the two years before Kirby's arrival, but he's since straightened that out. The program ranks sixth in the same metric in the five years since he became head coach.
One could assume that Riley is just continuing the tradition of excellence left by Bob Stoops, but the Sooners experienced a big dip in offensive output in the mid-2010s. Oklahoma ranked 36th in the nation in EPA per play in 2014 while a team of pirates from East Carolina, led by none other than Lincoln Riley, finished 21st.
Riley was hired as the Sooners' offensive coordinator in 2015, and East Carolina fell to 65th in EPA per play while Oklahoma rose to ninth.
From 2016 to the present day, this is the No. 1 offense in college football by far. Their 0.254 EPA per play mark bests second-place Alabama (0.203) by a relatively significant margin.
It's hard to truly describe the offensive mess that Florida found itself in before Dan Mullen arrived in Gainesville. From 2014 to 2017, the Gators offense ranked 120th in EPA per play — that is not just bad, it is horrendous.
Mullen had them up to 29th in Year 1 and 30th in Year 2, and then they exploded with an 11th-place finish in 2020. Considering those advancements were mostly made with other coaches' recruiting classes, those numbers are as impressive as it gets. We also shouldn't forget his sterling 60% win rate as head coach of Mississippi State, where he took over a program that had only gone 21-38 in the five previous years under Sylvester Croom.
Fitzgerald has done a remarkable job in his 16 years at Northwestern, winning 57% of his games over that span.
Northwestern is not a historically good football program. In fact, it is a historically bad football program. From 1892 to 2006, the team played in six bowl games. They have played in 10 under Fitzgerald. From 1953 (when they joined the Big Ten) to 2006, they had two finishes in the AP Top 25. Since 2006, they've had five.
After going 3-9 in his first year as Iowa State head coach in 2016, Campbell has won 63% of his games in Ames, with three eight-plus-win seasons in his five years.
What Campbell has done is nothing short of remarkable. In 2021, he returns a team talented enough to win ISU's first conference title. The Cyclones' last four defenses rank eighth, 11th, 14th and 17th in EPA allowed per play among the 40 team seasons in the Big 12 since 2017.
We might forget that Urban Meyer served as Utah's head coach for only two seasons, and while he may have started the Utes down this track, Whittingham has sustained a level of success the school has never even come close to enjoying before.
Whittingham has won 67% of his games in his 17 years as head coach for a program that was invisible for most of its history.
After moving from the Mountain West to the Pac-12 and starting 18-19 over the first three years, the Utes now have won at least nine games in five of the last six seasons, not including the shortened 2020 season. It's easy to just think about Utah as a team that always competes for a conference title year in year out because of the recent past, but that is not how this program is viewed historically.  Since 2016, the Utes have been the best defense in the conference, posting a cumulative -0.149 EPA allowed per play in those five seasons.
The former Buffalo Bulls head coach is set to take over a program that has been a shambles since the end of the Mark Mangino era. They've won 21 games in 11 years. The best record over that timeframe stands at a meager 3-9.
Leipold has shown that he can turn around a downtrodden program. When Buffalo came back to Division I-A football in 1999, they embarked on a journey of countless losses. Between Craig Cirbus, Jim Hofher, Turner Gill and Jeff Quinn, the team won 3.25 games per season on average. After feeling his way around early in his Bulls tenure, Leipold went 24-10 in his last three seasons before landing this Kansas job. Over the last two campaigns, Buffalo ranked fifth in EPA per rush in the FBS.
Of course, he was wildly successful in the years before his Buffalo tenure. Division III Wisconsin-Whitewater was already somewhat of a national power at that level when Leipold took over the team in 2007, but his 109-6 record with the team is still truly remarkable. He won six national championships.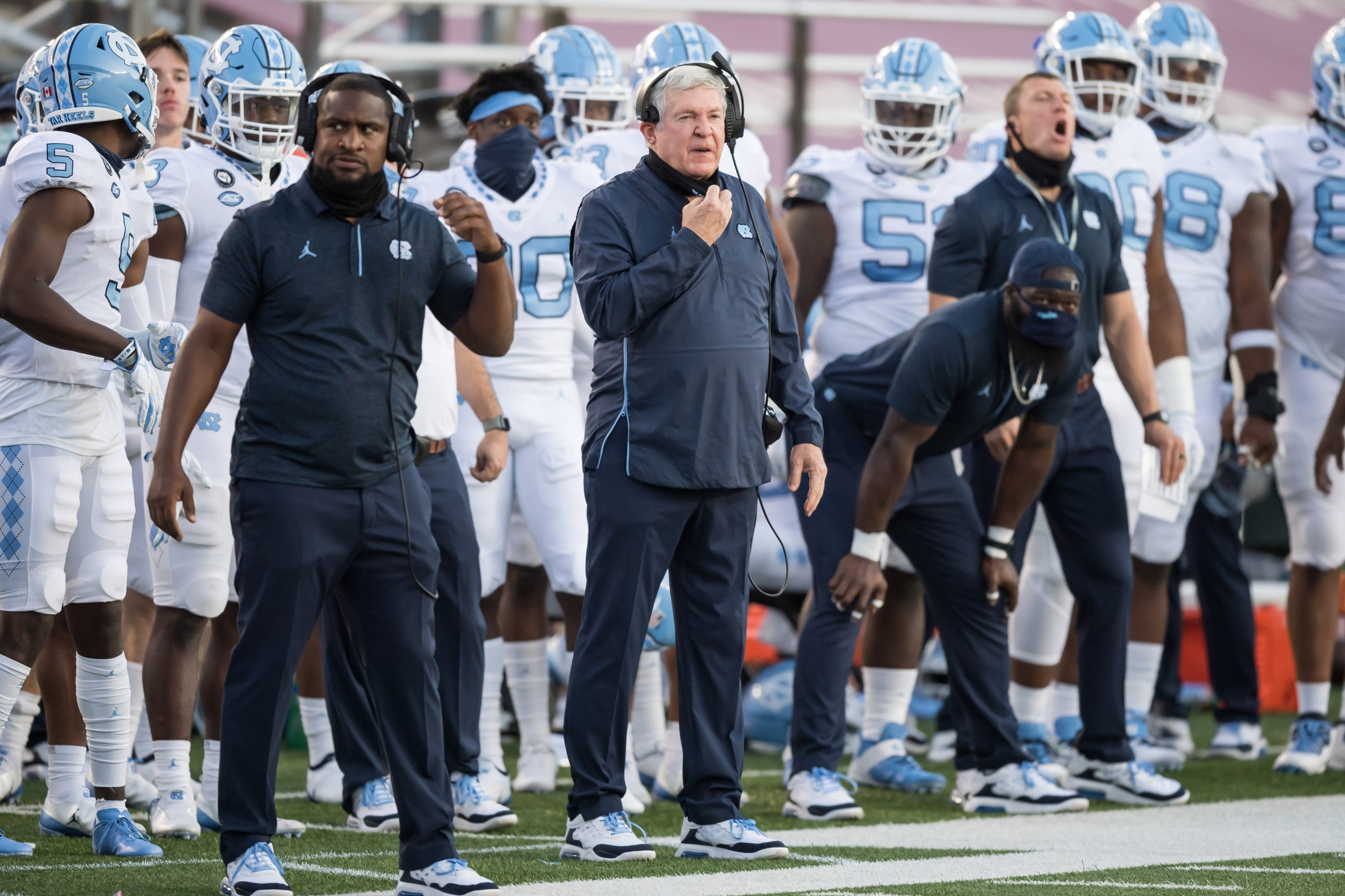 If this were 2013, when Mack Brown was hobbling to the end of his very successful stint as the head coach of Texas, there's no way he would be this high. After an incredible 2000s period that saw Texas win two Big 12 titles and a National Championship, a malaise set in and the wins dried up.
Brown has since come back with a vengeance. He's helped an offense that ranked 108th in the FBS in EPA per play over the last two Fedora years to a ninth-place finish over the past two seasons.
Coastal Carolina has only graced the FBS for four years, but it has improved every season, culminating in a ludicrous 11-1 record last fall thanks to a full-scale offensive transformation. In 2017, The Chanticleers ranked 71st in the FBS in EPA per play. They improved that ranking to 40th in 2018, 41st in 2019 and 14th last season. A rise this rapid from the FCS ranks is almost unheard of.
Chadwell arrived at Coastal Carolina from Charleston Southern, where he won two of the school's three conference championships and clinched the program's only two playoff berths. The Chanticleers head coach goes into this season looking for a shot at back-to-back Sun Belt titles.
It feels like a long time ago, but Notre Dame had fallen on hard times after the dominant Lou Holtz era that spanned the late 80s and early 90s. Holtz won 76% of his games in South Bend. Bob Davie and Tyrone Willingham then went on to win only 58% of their games combined before Charlie Weis' five years produced a 56% win rate. That's not good enough at Notre Dame.
Kelly has won 72% of his games with the Golden Domers to go along with an incredible four-year run at Cincinnati that saw him win 34 of 40 games, three years at Central Michigan where he produced the school's first double-digit-win season since 1979 and a 118-52-2 mark with Grand Valley State that culminated in two Division II Championship titles.
The Florida State dynasty of the late 1980s and 1990s produced 14 straight years where the team finished in the top five of the AP Poll under Bobby Bowden. But that is not the program Jimbo Fisher inherited in 2010.
Even with Fisher serving as offensive coordinator, the team stumbled to three seven-win finishes in the last four years of the Bowden era. Fisher quickly got the program back on track, though, winning 78% of his games and bringing home a National Championship.
After the championship-winning year of 2013, the FSU offenses that ranked 38th nationwide in EPA per play under his watch dropped down to 107th in the three years since he left. FSU has gone 14-20 in that period.
Now he's revamped the Texas A&M program, going 26-10 in three seasons and coming off a 9-1 season with huge aspirations for a national title hunt in 2021.
The Stoops era of Kentucky football is a case study in not giving up too soon on a coach when you are not a national power. We look back fondly on the Air Raid team of Hal Mumme in the late 1990s, but they only went 20-26. The Guy Morriss era was short and painful. The Rich Brooks era was longer yet still just as painful. The Joker Phillips era might as well not have happened.
Kentucky welcomed Stoops in 2013 but won just 12 games in three seasons. But instead of kicking him to the curb, the program stayed with him and has gone 23-14 in the last three years, the team's best three-year stint since the mid-1970s.
Kentucky has been a hard team to win with, but Stoops has seemingly transformed them from bottom-feeders to a mid-table team with a chance to upset the apple cart and win the East every once in a while. Their rushing efficiency stands out for a program like this — they're 14th in the Power Five in EPA per rush over the last three seasons, a mightily impressive figure.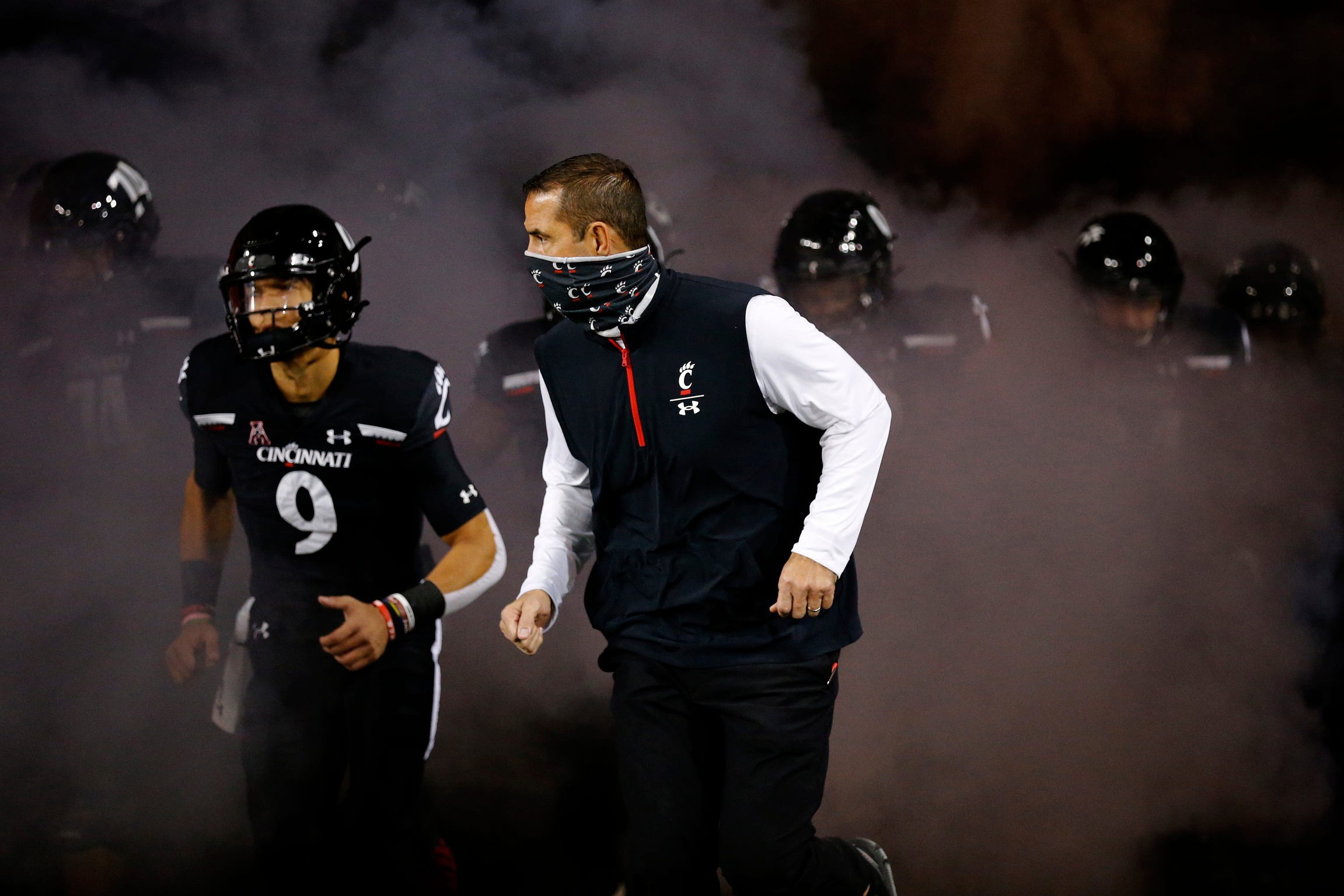 Fickell's record would surely have him higher on this list if it weren't for the fact that the Bearcats program has been wildly successful over the last couple of decades.
Cincinnati handed the reins to Mark Dantonio, Brian Kelly, Butch Jones, Tommy Tuberville and now Luke Fickell in consecutive seasons. The first three used the Bearcats as a stepping stone for Power Five jobs, but Fickell has outlasted each of them and now goes into his fifth season. The program had won at least nine games in seven of eight seasons from 2007 to 2014 but had fallen by the end of the Tuberville years. After a slow 4-8 start in his first year, Fickell is now 31-6 in the last three seasons, rivaling Brian Kelly's 33-6 three-year stretch.
Not a single Indiana coach won more than 50% of his games since Bo McMillin's run between 1934 and 1947. Until Tom Allen, that is, who sits at 52%. In fact, McMillan and Allen are the only two coaches in the program's history who can boast such win totals.
And that's what makes Allen's tenure so impressive. He has gone 14-7 over the last two seasons, a mark that would have been much better if Indiana could have feasted on some non-conference opponents last year. The future looks bright, as well, as they currently sit 24th on PFF's preseason ELO rankings.
The defense has improved by leaps and bounds under Allen, who came to the school as a defensive coordinator in 2016. They ranked 108th in the FBS in EPA per play over 2014 and 2015. Allen led the team to a 32nd-place finish in his one year as defensive coordinator in 2016 and sits at 28th over the last two seasons.
Red Blaik won 77% of his games as the head coach of Army during an 18-year stint that coincided with Army pulling in the best football players in the country because of war efforts. His last team, the 1958 squad, went 8-0-1 and represented the end of the great Army football program of yesteryear.
Thomas Cahill enjoyed mild success in the mid-1960s, going 23-7. Bob Sutton won 10 games in 1996. But those were the high points until Monken turned the program around.
Before Monken took over in 2014, the team had put forward just one seven-win season since 2000. Monken has not only surpassed those seven wins four times in seven years but he's also added two double-digit winning seasons. Just as importantly — if not more — Army had lost a record 12 straight to eternal rival Navy before Monken arrived. He lost the first two rival games in 2014 and 2015 to make it 14 straight but has since won four of the last five.
We must start with Franklin's time at Vanderbilt, where his 18-8 record in 2012 and 2013 is the best two-year mark since the 1920s. It is unheard of to have back-to-back nine-win seasons at Vanderbilt, and the program quickly fell off when Franklin left for Penn State.
Franklin has performed just as well with the Nittany Lions. And Penn State's 4-5 season in 2020 is the only reason why he's as low on this rankings list, as he went an astounding 42-11 from 2016 to 2019. Assuming 2020 was just a blip and not the beginning of a downward trend, Franklin has proven himself to be one of the top coaches in college football.
Mark Hudspeth improved the Rajin' Cajuns' win total from three to nine in his first year in charge, which started a four-year run of 9-4 finishes and a New Orleans Bowl victory each season. However, he fell to a combined 15-22 over his last three seasons, more in line with what Louisiana is as a program — they had two seasons in their history above the 9-4 mark before Napier took the program in 2018.
Napier has even bettered Hudspeth's mark. After a decent 7-7 start in 2018, the team is 21-4 over the last two seasons. The former offensive coordinator has produced the second-highest EPA per play figure in the Group of Five over the last two seasons, behind only UCF.
The Western Michigan program was trending way down when Fleck took over the program in 2013. After a 9-4 2008 season, Bill Cubit's Broncos fell to 22-27 over the next four years.
Fleck's first team went 1-11, a three-loss decrease from the previous year, but he ultimately turned the boat around and went 8-5 the next two seasons before the incredible 13-1 season of 2016, where the team only lost in the Cotton Bowl to Wisconsin.
That's when Fleck headed to Minnesota to rebuild the Gophers. Again, there was a win decrease in his first season, as the Gophers went from nine wins to five in 2017, but a two-game improvement in 2018 foreshadowed an 11-2 season in 2019. In their history, Minnesota has only won more games in a season twice — in 1903 and 1904. A 3-4 season in the Covid-shortened 2020 campaign put a slight damper on Fleck's progress, so 2021 is a big year for him.