Unlike some other college football postseason honors, the Jim Thorpe Award doesn't have a noticeable lean toward blue-blood programs or those in the College Football Playoff. One need look no further than Coby Bryant from Cincinnati and Trevon Moehrig from TCU the past two seasons to see that.
Unfortunately, the award still can favor the biggest name on the best team at times (see: Grant Delpit, 2019) or skew heavily toward ball production without taking into account a player's full body of work (see: Gerod Holliman, 2014). When looking at who has a good chance of actually winning the award, it's a safe bet to lean toward multi-year starters and upperclassmen.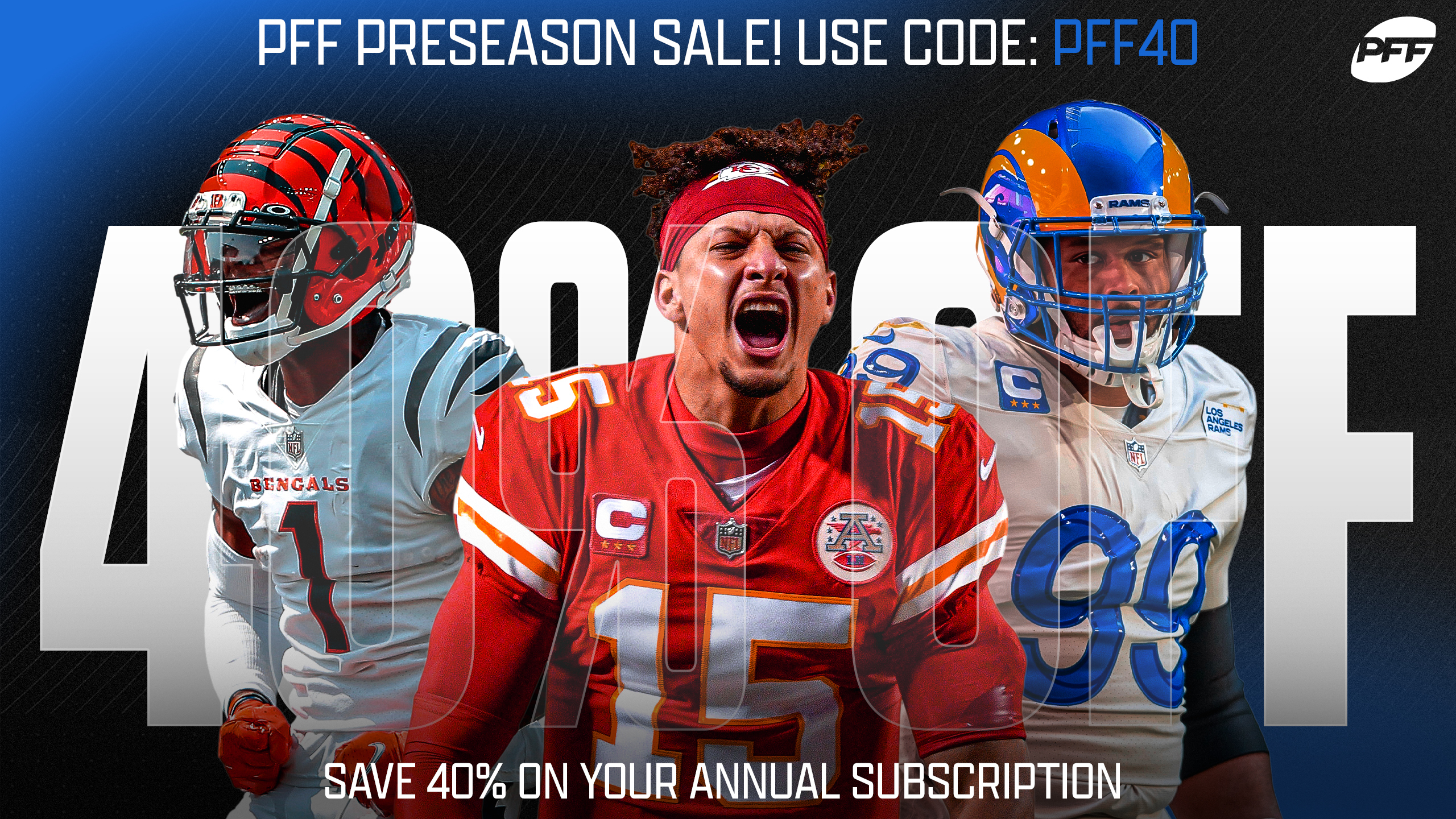 Big Name, Big School
CB Kelee Ringo, Georgia
In the same way broadcasts gushed about the physical prowess of Jordan Davis last season, Ringo could very well get the same treatment. He's a 6-foot-2, 205-pound cornerback who's been timed in the low 4.3s in the 40-yard dash. Ringo also put the cherry on top of Georgia's championship season with a pick-six late in the fourth quarter to seal a win over Alabama.
All that physical prowess would mean nothing, though, if Ringo didn't back it up on the field. As a redshirt freshman last season, he allowed only 24 catches on 59 targets for 346 yards. If he's even stingier than that in 2022, it's going to be tough to give the award to anyone else.
CB Eli Ricks, Alabama
Ricks was the best true freshman cornerback in the country when he started at LSU in 2020. That season, he allowed only 13 receptions on 28 targets for 237 yards with four picks and four pass breakups. Unfortunately, his sophomore campaign was cut short by a shoulder injury, and Ricks subsequently transferred. He couldn't have ended up in a better place for cornerbacks with Nick Saban coaching him and Will Anderson living in opposing quarterback's laps.
CB Clark Phillips, Utah
The Utes are building something special out West, returning a ton of starters from their Pac-12-winning squad a season ago. Phillips will be the biggest name among them on the defensive side of the ball after the way he finished his sophomore season. Over his final six games in 2021, including against Ohio State in the Rose Bowl, Phillips allowed only 13 catches on 23 targets for 119 yards with a pick and four pass breakups. That's fewer than 20 yards a game. If that's the player we see all year in 2022, the rest of the Pac-12 is in trouble.
CB Joey Porter Jr., Penn State
Somewhat surprisingly with the influx of former NFLplayers' sons becoming top secondary prospects in recent years, none have actually secured a Jim Thorpe Award. Porter could change that with a big redshirt junior season in 2022. The only problem is that his play style hasn't necessarily been conducive to counting stats. Still, he shuts down routes at the line of scrimmage, and his best reps cause quarterbacks to look elsewhere. He'll have to do better than the three pass breakups and one pick from a season ago to enter the conversation.
S Antonio Johnson, Texas A&M
Johnson definitely will have the "wow" factor in 2022 that already shows on his tape. The long 6-foot-3, 200-pounder covers ground like a gazelle when he gets up to speed. It's why his 62 targets faced while playing the slot last season resulted in only 228 yards (3.7 yards per target). He may not have a ton of ball production (one pick and one pass breakup last year), but make no mistake, he's always around the ball.
S Jordan Battle & S Brian Branch, Alabama
Alabama's secondary may very well cannibalize itself come voting time unless someone really stands out from the rest statistically. Battle is a true safety, while Branch is more of a slot cornerback, but both are as good as it gets at their respective positions in the country.
Battle was a bit of a surprise to return after a tremendous junior season that saw him earn an 89.7 coverage grade. Branch isn't quite as big a name just yet, but he may very well be the best tackling defensive back in college football. He's missed only one tackle on 82 career attempts.
S Brandon Joseph, Notre Dame
There's inherent randomness that goes into interception totals for defensive backs. Being good at one's job is often detrimental to interceptions totals, as it means they face fewer targets. Talk to anyone who's coached or been around Joseph, however, and they'll say his nine picks on only 56 targets the past two seasons are no fluke. He's a ball-hawk in every sense of the word, and there's no reason to think that won't continue after his transfer from Northwestern to Notre Dame this offseason.
S Tykee Smith, Georgia
While Georgia's front seven got all the hype in 2021 — and rightfully so — it's the 2022 secondary that will draw the eyes of NFL evaluators. Smith was uber-productive at West Virginia with an 89.7 coverage grade in 2020 prior to transferring to Georgia last season, but his first season with the Bulldogs never got off the ground, unfortunately. He missed the first five weeks with a foot injury, then tore his ACL seven snaps into the game against Auburn. Now he's back, and it will be interesting to see where he lines up after doing his best work in the slot (64% of snaps there) for the Mountaineers.
---
Talented Players Who Need More Pub
CB Cam Smith, South Carolina
Smith took over for Jaycee Horn and actually outgraded the 2021 top-10 pick in his first season as a starter. He allowed only 15 catches on 32 targets for 184 yards with an outrageous three picks and nine pass breakups. That means he got his hands on 37.5% of his targets a season ago. While the rest of South Carolina's defense was nothing to write home about, Smith has his side of the field locked down.
CB Tre'Vius Hodges-Tomlinson & CB Noah Daniels, TCU
The nation's best cornerback duo resides in Fort Worth. It's a bit of an odd couple, as TVT is one of the smallest starting outside cornerbacks in the Power Five at his listed 5-foot-9, 180 pounds and Noah Daniels is one of the most injury-plagued with only 510 snaps in four seasons. Both have allowed completion percentages below 50% for their careers with forced incompletion rates over 15%. It will be interesting to see how each fares in their first seasons without defensive guru Gary Patterson at the helm.
CB Kris Abrams-Draine, Missouri
Abrams-Draine started his career off at wide receiver before flipping to the other side of the ball. His production took off after a redshirt year in which he broke up nine passes and picked off three more while splitting time between the slot and outside. He's got the kind of easy hip fluidity to continue to be a versatile weapon for the Tigers' defense in 2022.
CB Garrett Williams, Syracuse
There's precisely a 0% chance that Williams wins this award. The first reason is that Syracuse won't be competing for much in the postseason in 2022. And secondly, he's not playing in a scheme particularly conducive to putting up big numbers. Still, the talent is there, which is why he's been starting since day one of his true freshman year for the Orange. He's currently the second-ranked cornerback on PFF's 2023 draft board.
S Jalen Catalon, Arkansas
Catalon may be short, but he ain't small. The 5-foot-10, 199-pound safety is one of the biggest hitters in college football, which is an easy way to score points from Thorpe Award voters. He's definitely a seek-and-destroy kind of safety who does not get beaten deep. On 42 career targets, the longest reception he's allowed is only 34 yards.
S Quindell Johnson, Memphis
Johnson is a three-year starter for the Tigers who's seen his grade improve every single season. He's been ultra-reliable versus both the run and pass, as he's never earned a below-average grade in either facet across a full season. Add to that his positional flexibility that saw him split his time almost perfectly in thirds between the box, slot and deep last season, and you have one of the more underrated safeties in the country.
S J.L. Skinner, Boise State
At 6-foot-4 and 220 pounds, Skinner is a throwback at the safety position. Despite that, he's no liability in coverage, earning an 80.2 grade in that regard last season. Still, he does his best work in the box. Skinner racked up 39 defensive stops last season, which ranked second-most among all safeties in college football.
S R.J. Moten, Michigan
While the Wolverines lost a ton from their playoff defense a season ago, Moten figures to step up into a more prominent role in his second season as a starter. He's a very reliable deep safety who is aggressive coming downhill in run support at 6-foot and 221 pounds. He didn't allow a single completion longer than 33 yards last season.
---
Breakout Candidates
CB Jason Marshall Jr., Florida

CB Denzel Burke, Ohio State

CB Kool-Aid McKinstry, Alabama

CB Tony Grimes, North Carolina

S Calen Bullock, USC

S Andrew Mukuba, Clemson

S James Williams, Miami (FL)
Welcome to the top of the 2021 recruiting class. Grimes is included here as well because he would have been the likely CB1 in 2021 had he not reclassified to head to North Carolina early in 2020.
The only problem is that the Jim Thorpe Award has never been given to a true sophomore. These players may all be future top-50 picks, but there's a slim-to-none chance they take home this postseason honor.