College football award watch season has finally arrived, which means it's time for PFF to provide the world with our preseason picks for the most prestigious honors in the game. Today, we dive into the Rimington Award, given each year to the nation's top center.
With the help of PFF's College Football Preview Magazine, PFF grades, advanced stats and, of course, the tape, here is a look at PFF's favorites and a list of other names to watch to take home the award.
Editor's Note: This is a PFF preseason watch list that is in no way affiliated with the Rimington Award.
Linderbaum went from a backup defensive tackle to the best offensive lineman in college football in two years. He played both sides of the ball in high school and was recruited to play on the interior defensive line. He logged just 18 snaps in his first season before flipping to center for the 2019 campaign, where he started and recorded the fifth-best grade in the FBS at the position (81.7). Linderbaum claimed the No. 1 spot in 2020 with an astounding 91.5 PFF grade, featuring just three pressures allowed on 280 pass-blocking snaps.
The Iowa center passes the athleticism test with flying colors. There's not an interior offensive lineman in the country with movement skills like Linderbaum. This is really his award to lose.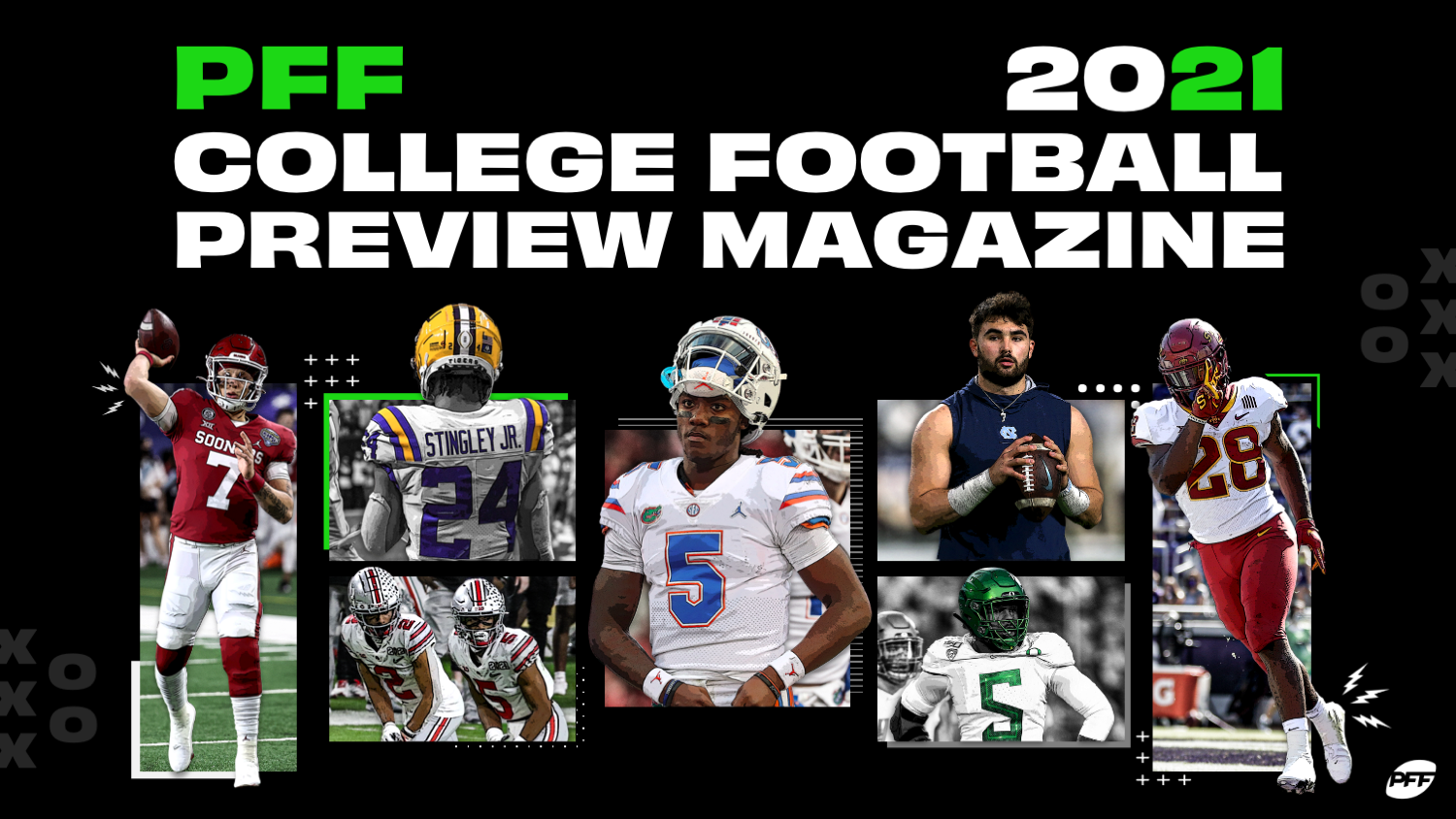 Gibson is an athletic defensive tackle-to-center convert like Linderbaum. The Charlotte, North Carolina, native flipped to the offensive side of the ball in the middle of the 2018 season— his second with the Wolfpack. Gibson was named the starting center for 2019 and performed quite well before breaking out in 2020. He posted a grade above 80.0 as both a run and pass-blocker last season, something only five other Power Five centers accomplished in the past five years. Linderbaum accomplished the feat last year, and the other four are now in the NFL.
Jarrett Patterson is one of the best interior offensive linemen in college football. That is, of course, if he doesn't kick outside to tackle in 2021, which is a real possibility. That's still up in the air, however, so he lands here on the Rimington list.
Patterson made his debut as the starting center in 2019 and performed exceptionally well. He ranked 11th among Power Five centers in PFF grade and didn't allow multiple pressures in any of his 13 starts. The Golden Domer was even better in 2020, ranking sixth among Power Five centers with a PFF grade of 81.7. Patterson's improvement primarily came in the run game, where he ranked eighth in positively graded block rate. He's also one of two returning Power Five interior offensive linemen to log at least 650 pass-block snaps without surrendering a sack in their college career.
Alec Lindstrom, younger brother of former Boston College offensive lineman and current Atlanta Falcon Chris Lindstrom, had rather low expectations coming into college. A two-star recruit, Lindstrom proved to be an underrated talent and a standout pass protector since he took over the starting center job in 2019. 
Lindstrom finished 12th among Power Five centers in pass-block grade in 2019. The Eagle then recorded the second-best mark among that group of qualifiers in 2020 (85.1). Pittsburgh and Clemson's ferocious defensive fronts did rattle Lindstrom a bit, posting pass-block grades of 54.5 and 46.4, respectively. He was sharp in every other outing, though, and his pass-block grade did not drop below 76 the rest of the season. He also played the fifth-most true pass sets among Power Five centers, further solidifying his impressive grade.
Kramer endured an unfortunate 2020 campaign, seeing just one start before having to quarantine for a couple of weeks due to COVID-19 protocol. He came back and was extremely rusty in his next two games against Rutgers and Nebraska, where he posted pass-block grades of 10.2 and 40.7. When he finally started to find his footing, he suffered an ankle injury and missed the Illini's last performance. In the two years prior, though, Kramer showed enough to prove he is one of the top centers in the country.
In 2018 and 2019 combined, Kramer had the third-best true pass set blocking grade among Power Five centers. His performance in the run game was shaky in 2018 — his second year starting — but he showed immense growth in that facet in 2019. Kramer maintained his blocks exceptionally well on the move, putting defenders on the ground like clockwork. His 14 big-time run-blocks were the most ever recorded by a Power Five center in the PFF College era.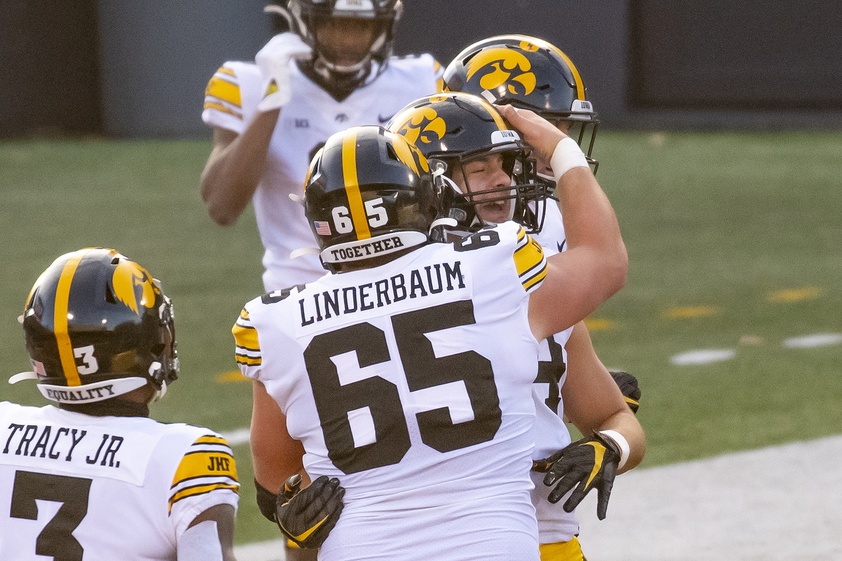 West performed admirably as a true freshman in 2019 after he transitioned from center to right guard in Week 3 (70.0 PFF grade from that point on). He took his play to new heights at left guard in 2020, earning a grade above 75.0 as both a pass-blocker and a run-blocker in four starts. He paved the way to the seventh-best overall grade among Power Five guards. West will, however, be kicking back over to center this fall.
Maietti might be the most underappreciated interior lineman in college football. He played for a lowly Rutgers program from 2016 through 2019 but was still one of the better pass-protecting centers in college football after redshirting his first year on campus. 
Maietti ranked sixth among Power Five centers in pass-block grade from 2017 through 2019. He then transferred to Missouri to play under Eli Drinkwitz for in 2020 and maintained his stout pass protection. Maietti also showed notable improvement in the run game, turning in a 76.5 run-block grade, over 13 grading points higher than his previous single-season best.
The Tiger also boasts the longest streak of career pass-block snaps played without a sack allowed by a Power Five center in the PFF College era (1,329). Creed Humphrey, who was drafted in Round 2 of the 2021 NFL Draft by the Chiefs, is in second place (1,230).
OTHERS TO WATCH (ALPHABETICAL ORDER)
STEVE AVILA, TCU
DAWSON DEATON, TEXAS TECH
JAMES EMPEY, BYU
ALEC FORSYTH, OREGON
DANNY GODLEVSKE, OKLAHOMA STATE
BAER HUNTER, APPALACHIAN STATE
JOHNNY JORDAN, VIRGINIA TECH
MIKE NOVITSKY, KANSAS
KODY RUSSEY, HOUSTON
MICHAEL SAFFELL, CAL
JOHN MICHAEL SCHMITZ, MINNESOTA