College football award watch season is here, which means it's time for PFF to reveal preseason picks for the most prestigious honors in the game.
Today, we dive into the Paul Hornung Award, given to the most versatile player in college football.
With the help of PFF's College Football Preview Magazine, PFF grades, advanced stats and the tape, here is a look at PFF's Paul Hornung Award favorites and a list of other names to watch.
Editor's note: This is a PFF preseason award watch list that is in no way affiliated with the Paul Hornung Award.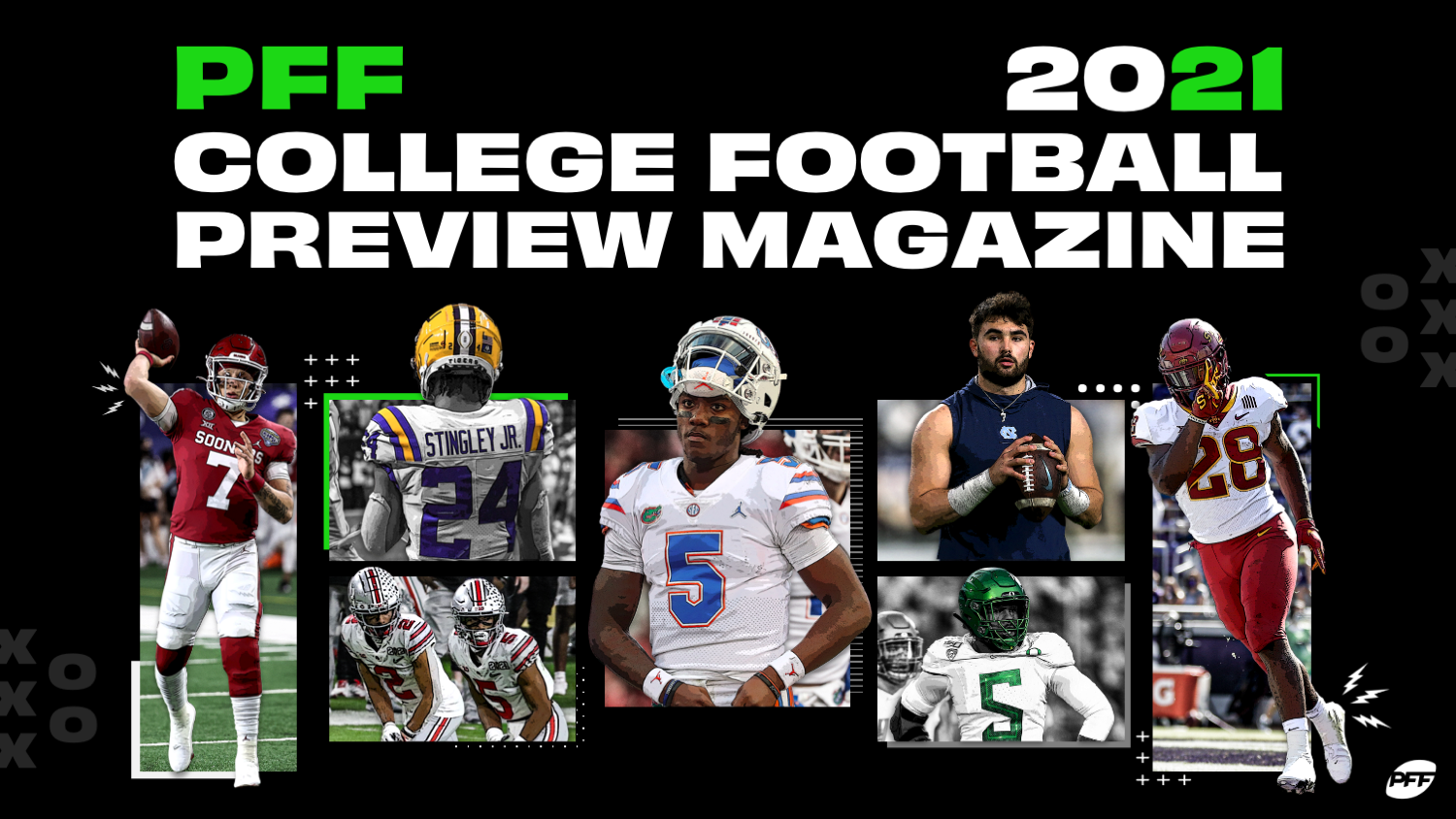 "I think we're gonna give him [Stingley] a couple of snaps [at wide receiver] in fall camp, let him see what he can do and see if we can manage it." — LSU head coach Ed Orgeron to Off The Bench in June
"That just depends on what Coach O wants, and if he needs someone to do that, then we'll talk about it." — Stingley on the possibility of playing both wide receiver and corner in 2021 at SEC Media Day last Monday
Stingley could very well line up at other positions in addition to his primary cornerback role during his junior year. Orgeron has alluded to the former Jim Thorpe Award winner playing wide receiver as well as returning punts for LSU in 2021. If that were to come to fruition, this would be Stingley's award to lose. He's the kind of rare athlete who can perform all three duties at a high level. 
His 2019 campaign at cornerback was truly special. It was the most valuable true freshman season by a non-quarterback in the PFF College era, dating back to 2014, and he achieved it by leading all FBS cornerbacks in coverage grade for the year.
Stingley's 2020 tenure wasn't quite the same, but he still performed admirably. He saw two fewer targets per game on average last season, as it quickly became apparent that opposing quarterbacks weren't looking to test him. Stingley saw 30 targets over his seven outings, allowing just seven first downs while forcing five incompletions. Three of those five incompletions came against Missouri despite him playing most of the game with an ankle injury. He hasn't run a route in a college game yet, but he has handled 26 punts in his career, averaging 10.2 yards per return.
Even if he only plays cornerback, Stingley is the clear favorite to be the No. 1 defensive player in college football this season. If he plays both sides of the ball, he's going to make the Heisman race that more intriguing.
Smith flashed a lot of promise at wide receiver and in the return game during his 2019 true freshman campaign, but Texas A&M head coach Jimbo Fisher knew he could be even more versatile.
Fisher wanted to give Smith some looks at running back in the team's bowl game, and Smith impressed in that new role. In 2020, he spent significant time at each position and was a dangerous player regardless. On 49 carries, he broke 16 tackles and racked up 10 explosive runs of 10-plus yards. As a receiver, he averaged 7.0 yards after the catch and broke 12 tackles on 43 receptions en route to a 73.1 receiving grade.
Smith didn't quite make as many plays as a punt returner in 2020 after posting a top-10 punt return grade in the Power Five in 2019. However, it's very likely the shifty weapon can get back to that level again, which would further strengthen his case for the Hornung Award.
It'll be interesting to see how Kentucky utilizes the Nebraska transfer after adopting a new offensive scheme. Regardless, he's going to provide a spark to the Wildcats' offense. He is a proven weapon as a ball-carrier and an even better receiver.
Over the past two years at Nebraska, the 5-foot-10 receiver has produced an 87.2 receiving grade and hauled in 10 of his 12 contested-catch opportunities. He has averaged over nine yards after the catch while breaking 11 tackles on 57 underneath receptions. Robinson also boasts some impressive wheels, makes crisp cuts and isn't afraid to absorb big hits over the middle of the field. He went from receiving 46% of his passing snaps from the slot in 2019 at Nebraska to 71.8% in 2020.
Turner epitomizes the word "versatile." Whether he's in the backfield, in the slot, at wildcat quarterback or returning a kick, he's making plays. Last year, the Jacksonville transfer had the second-most valuable season PFF has seen from a Hawaii non-passer on offense since 2014. He earned an 83.6 rushing grade and an 87.4 kick return grade in addition to racking up 15.2 yards after the catch per reception and 13 broken tackles on 33 receptions. No non-Power Five player has ever won the Hornung Award, but Turner is firmly on PFF's radar to take home the honor this fall.
DARK HORSES
Plumlee started eight outings for Ole Miss a couple of seasons ago as a freshman, establishing himself as one of the most dynamic rushing threats in the country. However, he was supplanted by Matt Corral in Year 1 of the Lane Kiffin era in 2020. Plumlee ended up playing 97 snaps on the year, but not all of them came at quarterback. He saw work at running back and wide receiver on a combined 43 snaps. And all indications are that we could be seeing more of the two-sport athlete in a diverse role for the Ole Miss football team:
"We had a conversation after baseball season, before I got to go home just for a little bit. We had a talk and he basically said that they want to use me in multiple, different spots. Whatever that may be, whatever that may look like, whether it's receiver, running back coming out of the backfield, a little bit of quarterback. Whatever helps the team win, I think is the phrase he used. — John Rhys Plumlee in July via Ole Miss Spirit
Plumlee has legit 4.4-second speed in the 40-yard dash and has proven he can be a dangerous weapon in the ground game. He averaged 7.2 yards per designed carry across 130 such attempts in 2019, and he also finished second among FBS quarterbacks in 20-plus-yard touchdown runs, with five. 
Jones is another under-the-radar Group of Five player to keep an eye on for the most versatile honor this fall. He will be suiting up for Georgia Southern in 2021 after spending his first three years at Tulane, where he was a dynamic all-around weapon.
He emerged in his debut season with the Green Wave in 2018 as a returner and racked up over 2,000 career kick and punt return yards despite not having any of his 101 attempts result in a touchdown. He has averaged 24.8 yards per kick return and 9.2 yards per punt return for his college career.
Jones started making plays on offense back in 2019 as both a receiver in the slot and as a runner in the backfield. He's generated 1.96 yards per route run when lined up in the slot or out wide over the past two seasons while averaging 4.0 yards after contact per attempt on the ground. Jones will be an interesting gadget player to watch in Georgia Southern's option-gun offense this year.
OTHER NAMES TO WATCH (ALPHABETICAL ORDER)