A locked-in college football schedule with no sudden changes. Tailgates with friends and family. Stadiums packed to the brim. Students storming the streets after a major upset win. It's all coming soon — the college football landscape is returning to normal.
The 2021 college football season kicks off in just under two months, and what better way to preview it than by cycling through PFF's preseason awards. Yesterday was the unveiling of the PFF Preseason All-America Team, and today begins the rollout of the 10 All-Conference teams. Below is the PFF 2021 Preseason All-Big Ten Team that was selected with the help of PFF grades and advanced statistics, which are now available to PFF's CFB Premium Stats+ Subscribers.
QUARTERBACK
Despite playing behind one of the worst offensive lines in college football in 2020, Penix posted an 82.9 PFF grade in six starts before tearing his ACL in Week 13. Only four other FBS quarterbacks spent a higher rate of their dropbacks under pressure than Penix (41%), yet the Hoosier overcame that to put together quality play. He remained calm in collapsing pockets, converting pressure to sacks at an astronomically low rate of 7.4%, the best mark in the FBS.
None of this is surprising after what Penix accomplished in 2019, posting an 84.0 PFF grade in six starts. And while his accuracy wasn't quite as consistent this past season as it was in 2019, he still managed to produce plus results in that area, ranking 19th in the FBS in the percentage of accurate passes thrown 10-plus yards downfield.
Penix ended up leading all Power Five quarterbacks in big-time throw rate this past season and established himself as one of the top passers in the country before the injury. As long as he can stay healthy, the Hoosiers can be a top-10 team again in 2021.
Second-Team: CJ Stroud, Ohio State
Third-Team: Graham Mertz, Wisconsin
Honorable Mention: Tanner Morgan, Minnesota
RUNNING BACK
Ibrahim has been the model of consistency over his three years with Minnesota, with rushing grades of 81.9, 82.4 and 83.4 — all of which were top-five marks in the Big Ten in their respective season. He's had little impact as a receiver, though, with his 0.31 yards per route since 2018 ranking last in the conference. If he can add more polish there, he'll rise up the national ranks.
Second-Team: Noah Cain, Penn State
Third-Team: Zander Horvath, Purdue
Honorable Mention: Chase Brown, Illinois
Walker is a fantastic transfer addition for the Spartans. He has been one of the more elusive running backs when it comes to churning out yards after contact. As a true freshman and a sophomore at Wake Forest over the past two years, he broke 0.32 tackles per attempt and averaged 4.0 yards after contact per attempt. Both were top-six marks among FBS running backs in that span.
Second-Team: John Lovett, Penn State
Third-Team: Hassan Haskins, Michigan
Honorable Mention: Tyler Goodson, Iowa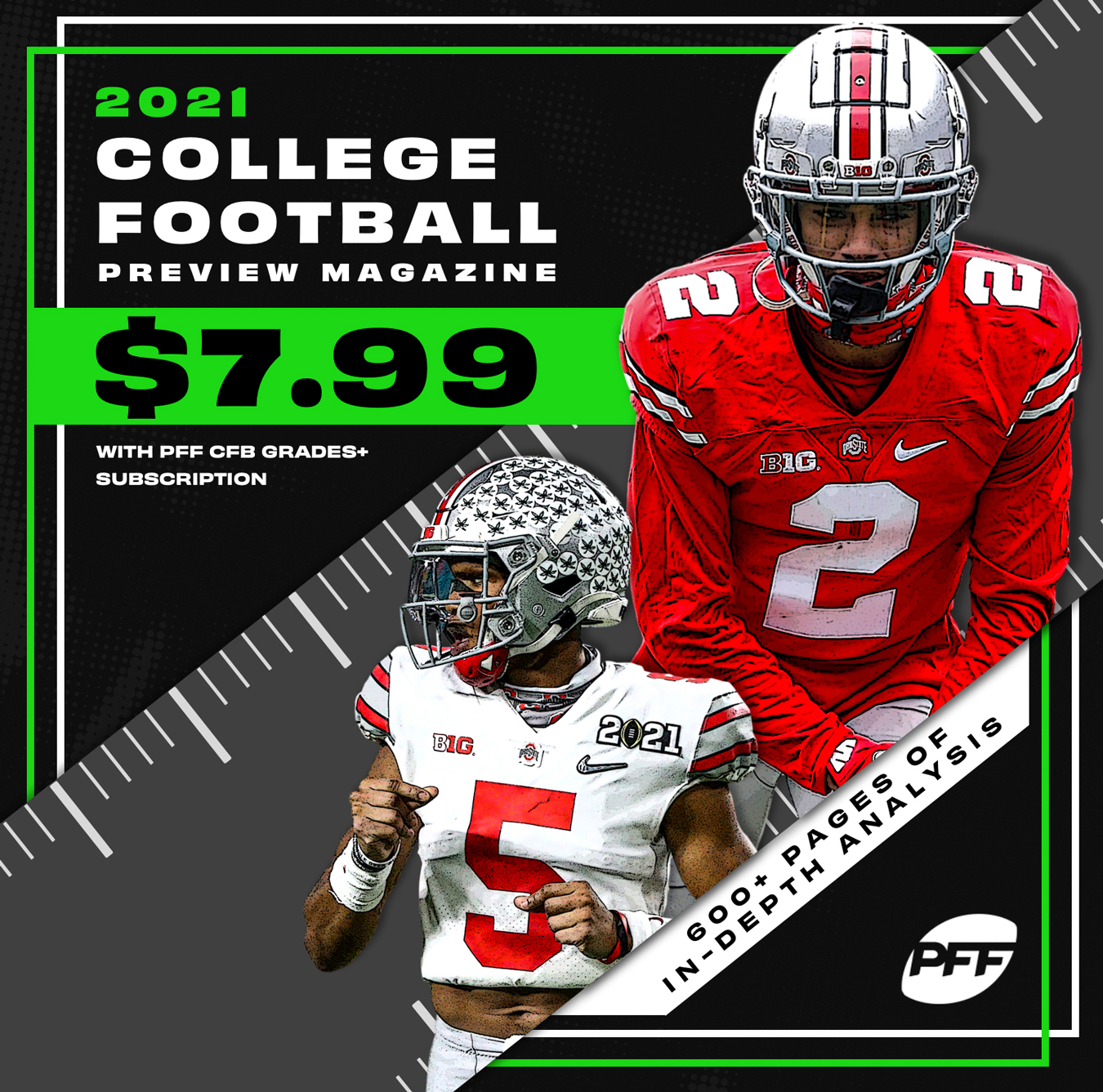 WIDE RECEIVER
Olave was projected to be a first-round selection in the 2021 NFL Draft, but he made the surprising decision to return to school and boost his stock even higher. The Buckeyes are getting back one of the most, if not the most, refined route-runners in college football. He has generated a step or more of separation on over 87% of his targets since 2019, the highest rate in the country.
Against single coverage over the past two seasons, Olave has racked up 15 receptions to result in a 15-plus-yard gain in which he had more than a couple of steps of separation. That trails only former Alabama wideout DeVonta Smith for the most in the FBS (19) and is five more than the next best Power Five receiver.
Second-Team: Ty Fryfogle, Indiana
Third-Team: Bo Melton, Rutgers
Honorable Mention: Dontay Demus Jr., Maryland
Like his teammate Olave, Wilson is one of the best route-runners in the game. He impressed against single coverage (ranked sixth in PFF grade on such plays) and frequently found soft spots against zone coverage while working from the slot, leading to a separation rate that ranked eighth-best in college football this past season. The 2019 five-star recruit is bound to put up numbers in this offense once again in 2021.
Second-Team: Jahan Dotson, Penn State
Third-Team: Ronnie Bell, Michigan
Honorable Mention: Milton Wright, Purdue
Bell is far from a separation-getter, but he makes up for it with top-notch body control and strong play against tight coverage. The 6-foot-2, 205-pound receiver adjusts to off-target throws like clockwork. He's hauled in the second-most off-target throws (catchable but inaccurate targets) since 2019 among returning Power Five wideouts since 2019, with 33.
Bell also produced a receiving grade against tight coverage as a true freshman and sophomore over the past two years that trails only former LSU wideout Ja'Marr Chase and former Alabama wideout DeVonta Smith for the best in the Power Five. His 30 contested catches in those two years are also seven more than anyone else in the Power Five.
Second-Team: Chris Autman-Bell, Minnesota
Third-Team: Jaxon Smith-Njigba, Ohio State
Honorable Mention: Rakim Jarrett, Maryland
TIGHT END
While Ferguson has yet to reach elite status after putting up an 81.4 receiving grade as a redshirt freshman in 2018, he has been a steadily solid tight end throughout his time at Wisconsin. The Badgers went from using him primarily as a slot receiver in 2018 to lining him up more as a traditional in-line tight end, which likely has contributed to his stunted development.
Ferguson's rate of in-line passing snaps went from 33% in 2018 to 71% in 2019 and 2020, a curious trend given that he put up the highest receiving grade in college football when lined up at receiver. Still, he has been the sixth-most-valuable tight end, according to PFF Wins Above Average (WAA), over the past three years.
Second-Team: Sam LaPorta, Iowa
Third-Team: Daniel Barker, Illinois
Honorable Mention: Peyton Hendershot, Indiana
OFFENSIVE TACKLE
Munford is taking advantage of his "super senior" year and returning to school for the 2021 season, which is a big positive for the Buckeyes. He was a decent starter at left tackle for Ohio State in 2018 and 2019, but he improved his play even further in 2020. Munford posted a 91.8 PFF grade this past season, the fourth-best mark in the FBS and the highest mark among returning tackles. His pass protection was nearly flawless, as well.
Munford stood strong against quality pass-rush units, such as Michigan, Clemson and Alabama, and displayed tremendous processing speed against stunts and blitzes all year long. Across 264 pass-blocking snaps, he allowed just three pressures, none of which were sacks or hits on quarterback Justin Fields. In turn, his pressure rate allowed was half a percentage point lower than any other Power Five left tackle.
Second-Team: Nicholas Petit-Frere, Ohio State
Third-Team: Tyler Beach, Wisconsin
Honorable Mention: Daniel Faalele, Minnesota
Northwestern suffered a crushing blow prior to the 2020 season when star left tackle Rashawn Slater opted out for the year due to COVID-19 and declared for the 2021 NFL Draft. That thrust true freshman Peter Skoronski into a starting role, and the former four-star recruit surpassed expectations.
He recorded an 81.4 PFF grade that led all true freshman offensive linemen by over six grading points. The ferocious Ohio State defensive line did make him look like a first-year starter, though, as he posted a 21.1 pass-blocking grade and allowed eight pressures. But in the rest of his outings, Skoronski looked advanced for his age. Excluding that Big Ten Championship game, he earned an 87.4 PFF grade. He's a prime "breakout to elite" candidate for 2021.
Second-Team: Blaise Andries, Minnesota
Third-Team: Logan Bruss, Wisconsin
Honorable Mention: Andrew Steuber, Michigan
GUARD
Schott, who walked on for Iowa in 2017, was only a couple of games into his 2020 season before suffering an injury that knocked him out of a few contests. He returned to the guard rotation as a non-starter for Iowa's final three outings. Still, Schott was a top-notch pass protector. He posted an 87.4 pass-blocking grade and allowed just one pressure, which was a quarterback hit by Purdue edge defender George Karlaftis on a stunt.
Schott's pass-blocking grade and pressure rate allowed were both top-three marks by a Power Five guard. And while he saw minimal snaps last season, it was a continuation of success from 2019, when he ranked 16th among Power Five guards in PFF grade.
Second-Team: Tyler Witt, Purdue
Third-Team: JD Duplain, Michigan State
Honorable Mention: Mike Miranda, Penn State
Seltzner went from being a walk-on in 2018 to one of the better pass-protecting guards in the Big Ten. While he's logged only 199 pass-block snaps in his Wisconsin tenure, his talent is evident. He owns an 82.5 pass-block grade for his career, with just three total pressures allowed.
Second-Team: Spencer Holstege, Purdue
Third-Team: Conner Olson, Minnesota
Honorable Mention: Juice Scruggs, Penn State
CENTER
Linderbaum went from a defensive tackle to the best offensive lineman in college football in just two years. He played both sides of the ball in high school but was recruited to play on the interior defensive line, where he logged 18 snaps in his first college season. He then flipped to center for the 2019 campaign, where he started and recorded the fifth-best grade in the FBS at the position (81.7).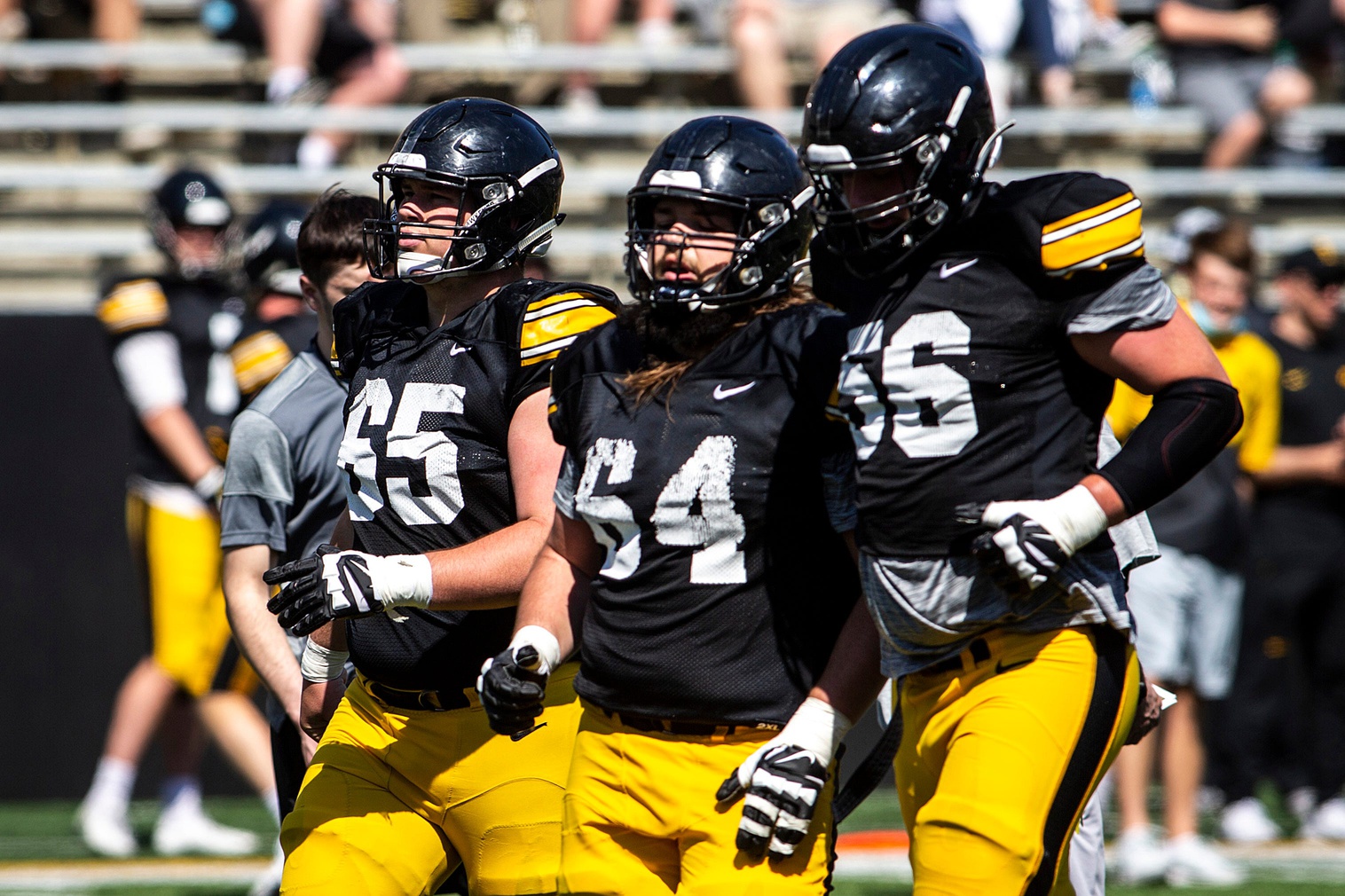 And this past year, Linderbaum claimed the No. 1 spot with an astounding 91.5 PFF grade, featuring just three pressures allowed on 280 pass-blocking snaps. The Iowa center checks the athleticism box with flying colors. There's not an interior offensive lineman in the country with similar movement skills.
Second-Team: Doug Kramer, Illinois
Third-Team: John Michael Schmitz, Minnesota
Honorable Mention: Gus Hartwig, Purdue
INTERIOR DEFENSIVE LINE
Garrett was a four-star prospect and a top-100 recruit in the 2017 class, but he didn't consistently see the field until the 2020 season after just over 400 snaps across his first three college campaigns. Yet, Garrett broke out in a big way in 2020, earning an astounding 88.9 pass-rush grade that trailed only Alabama's Christian Barmore — a second-round pick in the 2021 NFL Draft — for the best in the Power Five.
Garrett may have generated only 18 pressures in eight games, but he won on a consistent basis. In fact, his 17.9% win rate also trailed only Barmore for the best mark in the Power Five. He is a force of nature with heavy hands, bound to wreak havoc again in 2021.
Second-Team: Keeanu Benton, Wisconsin
Third-Team: Ifeanyi Maijeh, Rutgers
Honorable Mention: Jacob Slade, Michigan State
After playing defensive end for the entirety of his career, the 6-foot-5, 295-pound Stille kicked inside to defensive tackle in 2020 and had the best season of his career. He put up a 79.0 PFF grade, nearly nine points higher than his previous career-best. Stille was one of the more productive pass-rushing interior defensive linemen in the Power Five, recording an 81.5 grade in that facet, which ranked behind only Alabama's Christian Barmore and Ohio State's Haskell Garrett.
Second-Team: Jeremy Meiser, Northwestern
Third-Team: Derrick Tangelo, Penn State
Honorable Mention: Mosiah Nasili-Kite, Maryland
EDGE DEFENDER
Hutchinson played only three games in 2020 before suffering a season-ending injury, but the Wolverine seemed to be on his way to taking that next step forward on a mere 149 snaps (82.5 PFF grade). With a clean bill of health, he is quite easily among the best all-around defensive linemen in college football.
The 6-foot-6, 269-pounder is versatile, has incredible power behind his hands and is one of the more polished players at the position. For proof, look at his 2019 outing against Iowa when he became one of the few to post wins against 2020 Super Bowl champion Tristan Wirfs.
Hutchinson produced an 83.6 run-defense grade and 27 run stops along with a 76.0 pass-rush grade and 46 total pressures in 2019. Still, he never really put together a dominant performance from start to finish. We need to see more elite outings in 2021, and he easily has the potential to make that happen.
Second-Team: Boye Mafe, Minnesota
Third-Team: Drew Beesley, Michigan State
Honorable Mention: George Karlaftis, Purdue
Smith was a top-35 recruit in the 2018 class, according to 247Sports, but didn't see the field on a consistent basis until the 2020 season. The 6-foot-4, 267-pound edge rusher looked as good as many had hoped, posting an 85.1 pass-rushing grade, a 25.3% pass-rushing win rate (fourth in the FBS) and a 22.3% pressure rate generated (second in the FBS).
Smith has routinely shown an ability to attack with quickness and win with power. He essentially played only half a season in 2020 (seven games) and was in the midst of a big-time breakout. Expect that to continue in 2021 and for Smith to end up in the elite tier of pass rushers by the campaign's conclusion.
Second-Team: Zach Harrison, Ohio State
Third-Team: Jacub Panasiuk, Michigan State
Honorable Mention: Arnold Ebiketie, Penn State
LINEBACKER
Domann mans a hybrid role in the Cornhuskers' defense; he'll line up at outside linebacker or in the slot — the latter being where he has played most often. There's a reasonable case that he should be listed as a safety/slot, but his position noted by the team is outside linebacker, so here we are.
Domann's coverage prowess has been apparent ever since he took on a major role in 2019. Over the past two seasons, he's recorded an 86.6 coverage grade, nine forced incompletions and 19 passing stops. The 6-foot-1, 230-pound sixth-year senior also made major strides in run defense in 2020, raising his grade from 56.3 to 73.5.
Second-Team: Jack Sanborn, Wisconsin
Third-Team: Jake Hansen, Illinois
Honorable Mention: Olakunle Fatukasi, Rutgers
McFadden is the best blitzing off-ball linebacker in college football, and the Hoosiers will continue to take advantage of that despite the departure of defensive coordinator Kane Wommack, who is now the head coach at South Alabama. McFadden rushed the passer on close to 28% of his passing snaps in 2019, coming away with an 81.9 pass-rush grade. In 2020, that rate jumped to over 44%, and his pass-rush grade skyrocketed to 90.8. 
He did that while showing major growth in coverage and as a tackler, the latter of which was his downfall in 2019. McFadden went from missing a tackle on 27% of his attempts in 2019 to just 13% of the time in 2020. And all of his misses in 2020 came in two games (Penn State and Ohio State).
Second-Team: Leo Chenal, Wisconsin
Third-Team: Chris Bergin, Northwestern
Honorable Mention: Jack Campbell, Iowa
CORNERBACK
Football is in Mullen's blood. His brother, Trayvon Mullen, is a starting cornerback for the Las Vegas Raiders, while his cousin is none other than 2019 NFL MVP and Baltimore Ravens quarterback Lamar Jackson. So, it shouldn't be surprising that he is currently lighting it up in the college ranks as the best returning cornerback in the Big Ten.
The 5-foot-10, 175-pounder has inside-outside versatility and is a ferocious blitzer. He was asked to rush the passer 16 times this past year, and he came away with five total pressures. Mullen is also the proud owner of the highest run-defense grade among cornerbacks since he came to Bloomington as a true freshman in 2019.
And things only get better when looking at his coverage numbers.
Mullen's 22.9% forced incompletion rate since 2019 is the best among all Power Five cornerbacks. He has allowed more than 40 receiving yards into his coverage just once in his career when playing a minimum of 15 coverage snaps. In other words, he has done so 94% of the time, which ranks first among qualifying FBS cornerbacks over the past two years.
Second-Team: Reese Taylor, Indiana
Third-Team: A.J. Hampton, Northwestern
Honorable Mention: Jaylin Williams, Indiana
No defense plays more zone coverage than Phil Parker's Iowa Hawkeyes, and Moss emerged as one of the top zone corners in college football last year. Moss, a former two-star recruit, saw a handful of starts as a true freshman and a sophomore, but he spent most of his time as a reserve. In 2020, he was a starting outside corner from start to finish and posted one of the 15 best zone coverage grades at the position in the Power Five.
He possesses the eyes and overall feel for the position. Moss rarely put forth a flat-out bad performance in 2020, with one just one of his eight starts ending in a sub-60.0 coverage grade. One can expect a low rate of ball production in this kind of system, so minimal numbers there aren't too concerning, but that's not to say there isn't room for improvement in his performance at the catch point.
Second-Team: Cameron Mitchell, Northwestern
Third-Team: Coney Durr, Minnesota
Honorable Mention: Matt Hankins, Iowa
SAFETY
Joseph played only 13 snaps in 2019 before redshirting, but he exploded in 2020 and established himself as one of the game's top cover safeties. He intercepted six passes while
being responsible for only one explosive pass play of 15-plus yards. It didn't matter if he was playing single- or two-high deep safety, or if he was in the box or manning the slot; Joseph's coverage ability was on full display all season. He recorded a top-three coverage grade among FBS safeties (88.5). Expect fewer interceptions for Joseph in 2021, but don't let that change your opinion of the Northwestern safety.
Second-Team: Nick Cross, Maryland
Third-Team: Brad Hawkins, Michigan
Honorable Mention: Justus Harris, Minnesota
After two years of stellar play at Lackawanna Community College, Brisker chose Penn State over Alabama and others in 2019. He has been one of the top safeties in the country ever since.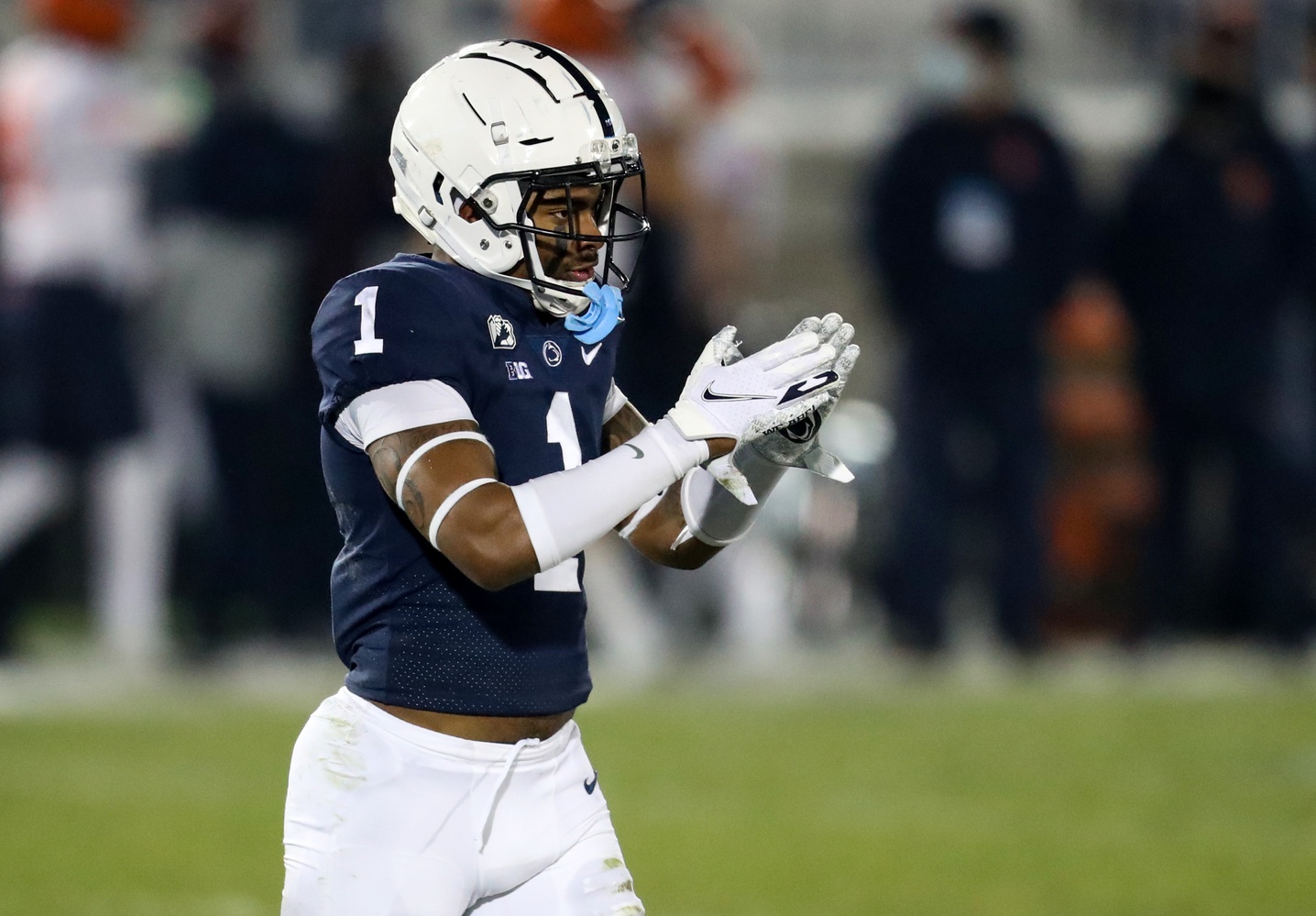 The 6-foot-1, 203-pound safety has earned PFF grades of 82.0 and 82.8 in his two years as a Nittany Lion, forming one of the five best two-year marks in the FBS. Brisker also owns 85.0-plus grades against the run and in coverage over the past couple of years, something no other Power Five safety can claim.
He certified himself as one of the best tacklers at the position a year ago, missing just one tackle on 60 total attempts. That 1.7% missed tackle rate led all FBS safeties on the year and was the second-lowest rate in the PFF College era.
Second-Team: Daxton Hill, Michigan
Third-Team: Jack Koerner, Iowa
Honorable Mention: Devon Matthews, Indiana
FLEX D
Young has been an integral part of Rutgers secondary since joining the team in 2018. He has started all but a handful of games over the past three years, making major strides in coverage last year while being a standout player against the run in all three seasons. In 2018 and 2019 combined, Young ranked 28th among 36 qualifying outside cornerbacks in coverage grade.
In 2020, he did something he hadn't done up until this point in his career: showcased inside-outside versatility (had just 21 snaps in the slot in 2018 and 2019). He thrived in that role, posting the seventh-best coverage grade among Big Ten cornerbacks. Young did that while recording an 80.0-plus run-defense grade for the third consecutive season. Since 2018, he leads all FBS cornerbacks in run-defense grade and leads the Power Five in run stops (31).
Young plays a physical brand of football that coaches dream of, and he has the movement skills for the position. His work in press coverage is no longer as important in this defense under head coach Greg Schiano as it once was, but if he can show signs of growth there, he can rise up the national cornerback rankings.
Second-Team: Tarheeb Still, Maryland
Third-Team: Faion Hicks, Wisconsin
Honorable Mention: Tre Avery, Rutgers
KICKER
First-Team: Matthew Trickett, Minnesota
Second-Team: Charles Campbell, Indiana
Third-Team: Charlie Kuhbander, Iowa
Honorable Mention: Matt Coghlin, Michigan State
PUNTER
First-Team: Tory Taylor, Iowa
Second-Team: Blake Hayes, Illinois
Third-Team: Adam Korsak, Rutgers
Honorable Mention: Brad Robbins, Michigan
KICK RETURNER
First-Team: Aron Cruickshank, Rutgers
Second-Team: Bo Melton, Rutgers
Third-Team: Jayden Reed, Michigan State
Honorable Mention: TJ Sheffield, Purdue
PUNT RETURNER
First-Team: Jahan Dotson, Penn State
Second-Team: Charlie Jones, Iowa
Third-Team: Garrett Wilson, Ohio State
Honorable Mention: Reese Taylor, Indiana