[As a part of our partnership with ESPN, this is a story that was originally published on ESPN+ and can be viewed in its entirety with your ESPN+ subscription – College Football Playoff National Championship: Ranking the 25 best players in LSU-Clemson]
The College Football Playoff National Championship is almost here, and the top two teams have risen from a talent-filled and tumultuous 2019 college football season. The Clemson Tigers and LSU Tigers are both full of talent on either side of the ball, so we take to the PFF data from grading every player on every play of every game to rank the top 25 stars in the championship game. Ed Orgeron's squad narrowly comes out on top, with 13 of the top 25 players.
Note: This is not a projection of NFL talent or a future ranking. It's based on how good the players are right now heading into Monday night's game.
1. Joe Burrow, QB, LSU
This one is simple. Take the Heisman Trophy winner who just set College Football Playoff records with eight total touchdowns against Oklahoma as the best college player to likely participate in a National Championship game. Burrow is that good. His accuracy levels are off the charts. His grades top every other player in every other situation. Burrow is in a class of his own this season.
2. Trevor Lawrence, QB, Clemson
The second-best quarterback in a game for probably the first time in his entire career, Lawrence usually plays second fiddle to no man. While his NFL projection may have him ahead of Burrow, Lawrence enters the National Championship just a tick behind the LSU signal-caller for the top grade at the position this season. Still, since a forgettable Week 8 first quarter against Louisville, Lawrence turned it on and became the highest-graded quarterback down the backstretch of the season. He proved his worth with his legs against Ohio State and added a wrinkle to his already stellar right arm.
3. Isaiah Simmons, LB, Clemson
The Butkus Award winner as top linebacker could (should) have won the Hornung Award for the most versatile player, as Simmons plays all over the field. He's the new-age prototypical NFL linebacker as he can drop and cover like a safety just as well as he can take a three-point stance and rush the passer like an edge rusher. He's as talented as they come on defense in this game and should once again prove to be incredibly valuable for Clemson's coverage prowess against the best quarterback they've seen.
4. Derek Stingley, CB, LSU
Stingley is more than just a standout true freshman; he's the standout player at his position this year. He's the highest-graded cornerback in the country, and since his minor lapse against Alabama earlier this season, he's allowed just 10 receptions for 96 yards despite seeing 33 targeted passes sent his way. He locked down the Oklahoma offense and hasn't been beaten for any catch longer than 20 yards over his past five games.
5. Ja'Marr Chase, WR, LSU
Chase was largely kept quiet against Oklahoma, as star cornerback Parnell Motley limited him like he'd not been limited before. Still, Chase is the Biletnikoff Award winner for a reason, as he's tied with teammate Justin Jefferson for the season lead in touchdowns at 18. Chase averages 7.8 yards after the catch per reception, and he is the only receiver in the country who saw at least 100 targets yet still averaged over 20.0 yards per catch.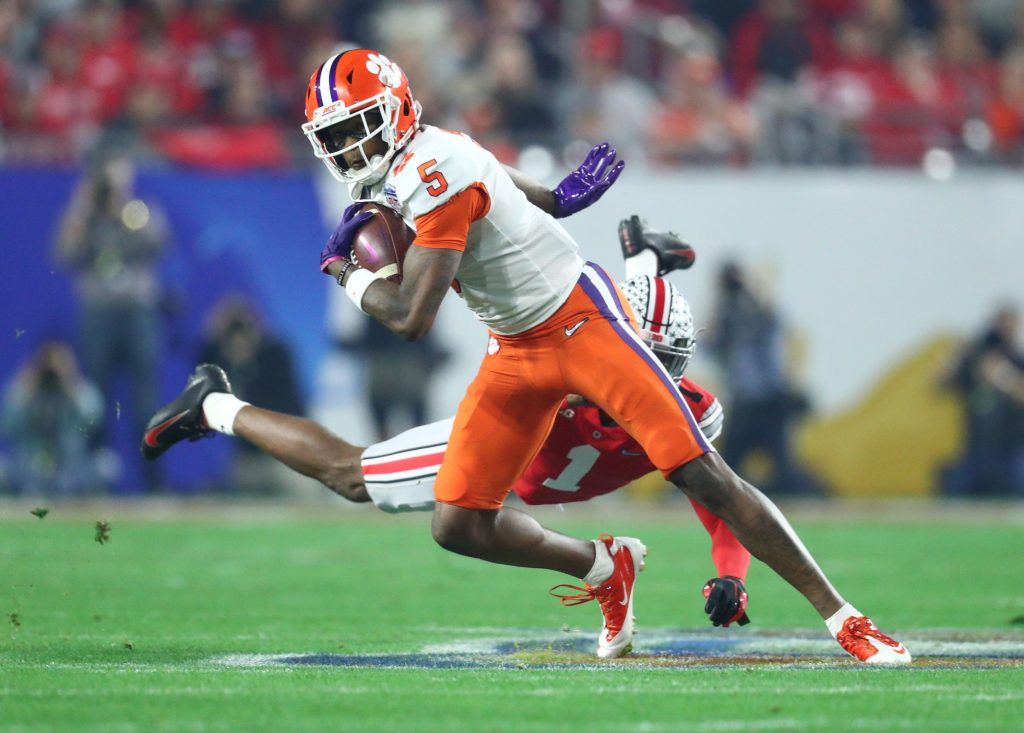 © Mark J. Rebilas-USA TODAY Sports
6. Tee Higgins, WR, Clemson
Quietly jumping into talks as the highest-graded receiver in all of college football, Higgins showed his value to his team when they seemingly sputtered after he was injured against Ohio State. Still, he returned to action, playing sparingly against the Buckeyes and caught two crucial first downs in the process. He has the ability to take over games (see the ACC Championship Game) and has perhaps the best hands of any big man in college football.
7. Travis Etienne, RB, Clemson
The PFF record holder for most missed tackles forced per attempt in a season added a fabulous wrinkle to his game when he scored the game-winning touchdown against Ohio State on a checkdown to him in the passing game. Etienne now has forced 11 missed tackles in the passing game and another 85 on the ground, and he's close to setting the PFF record for most missed tackles forced in a season despite logging just 191 carries and 33 receptions.
8. Justin Jefferson, WR, LSU
Jefferson's ability to take over a game was never more apparent than in his performance against Oklahoma when he scored four touchdowns through the air against the Sooners. Still, he showed glimpses of this before, as he went for over 150 yards and three scores against Texas way earlier this year. He finished only three games without scoring a touchdown but hauled in at least five receptions in all but two games in 2019; his ridiculous 83.6% catch rate is by far the best mark among receivers with at least 65 targeted passes.
9. Kristian Fulton, CB, LSU
Forgotten on his own team not because of his success but rather the surprising play of his teammate Stingley, Fulton is every bit a lockdown cornerback. He's been targeted 59 times and allowed just 26 receptions on the year, and he hasn't been beaten for a pass longer than 35 yards since Week 6.
10. K'Lavon Chaisson, Edge, LSU
Chaisson has been on a tear recently, ripping 15 total pressures in his last three games, including a two-sack performance against Oklahoma. For the year, he's recorded 31 total pressures that include seven sacks, six hits and 18 more hurries. He'll be the best pass-rusher on the field in the National Championship.
11. Xavier Thomas, Edge, Clemson
Thomas hasn't exploded onto the scene like he seemed prime to do in 2019, but he's been incredibly efficient when rushing the passer. He's racked up 24 pressures on just 215 pass-rush attempts, and he presents a mismatch against tackles with his combination of size and speed.
12. Grant Delpit, S, LSU
A do-all safety, Delpit has played 1,312 career snaps in coverage and another 1,008 against the run. He hasn't quite rushed the passer like he did a year ago, but this year's Thorpe Award winner has been more than stingy in coverage. He's been the primary coverage defender on 18 targeted passes, and he's allowed just 10 catches for 169 yards while intercepting two and breaking up another four passes to see a 66.4 passer rating when targeted.
13. Clyde Edwards-Helaire, RB, LSU
We didn't get to see the full effect he has on his offense because the LSU passing attack just couldn't be stopped against Oklahoma, but when the going gets tough for the Tigers, Edwards-Helaire has served as a terrific safety net for Burrow. Helaire's biggest impact has come in big moments, and most importantly, he's been lethal down the stretch, as he closed out the regular season with 12 broken tackles through the air this year and 38 receptions over his final six games. His impact will certainly be felt if the Clemson secondary can stick with the talented guys outside.
14. Tanner Muse, S, Clemson
Muse rolls around the field like he owns the place, and that's because he basically does. He's seen 28 targets come his way in coverage, and he's broken up three of those while nabbing four interceptions. He doesn't miss a whole lot of tackles, playing his position to near perfection with above-average grades in every facet of play.
15. A.J. Terrell, CB, Clemson
Allowing just 50.0% of the passes thrown his way to be caught, Terrell has allowed all of 42 yards after the catch on 36 targeted passes this season and is limiting quarterbacks to a 58.7 passer rating on throws his way. Terrell has yet to grade lower than 78.8 for a season in his three-year career.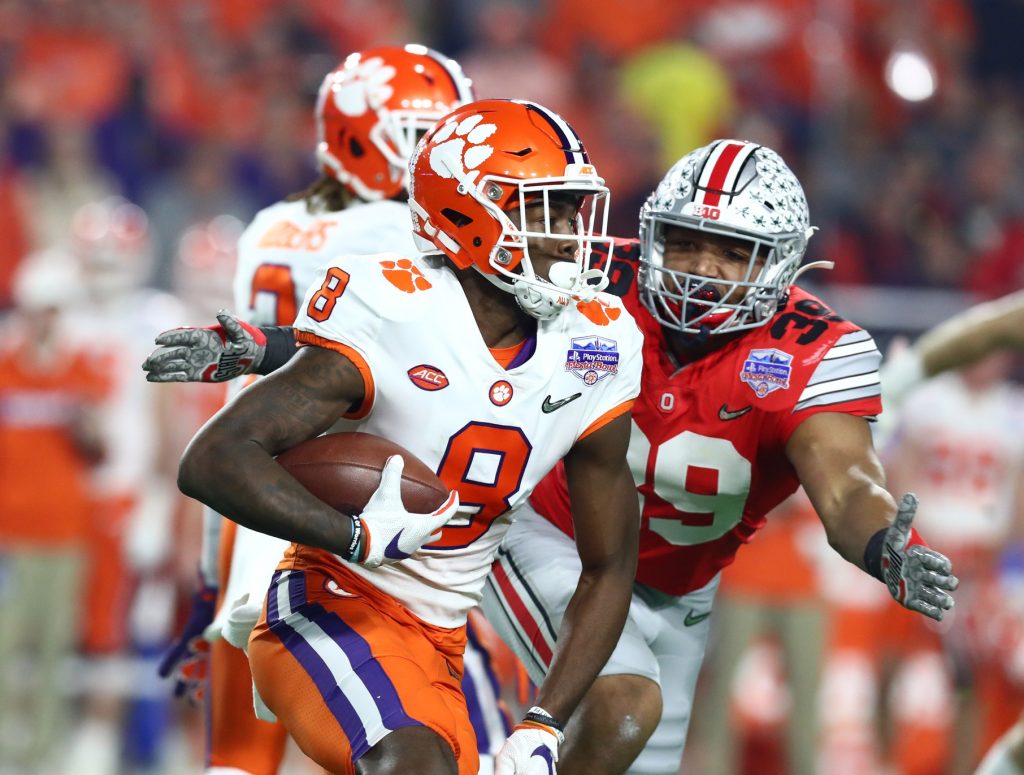 © Matthew Emmons-USA TODAY Sports
16. Justyn Ross, WR, Clemson
Ross can take over games if he gets the chance to, but in 2019, he seemed like a different player to the one who was the highest-graded receiver in all of football in 2018. He has turned it on as of late, and he still has broken 11 tackles with another 268 yards after the catch this season, but he hasn't had that one dominant game that we became all too familiar with a year ago.
17. Damien Lewis, OG, LSU
Lewis is the highest-graded lineman in this game, ranking 18th in the country among all guards entering the National Championship. He has allowed 13 total pressures on his 547 pass-blocking snaps this season and has allowed just two combined sacks and hits over his past six outings.
18. James Skalski, LB, Clemson
Another rover in the middle of the field for the Tigers, Skalski has over 100 snaps in run defense, coverage and as a blitzer, recording a solid set of statistics across the board. He's recorded 39 defensive stops and has brought in 19 total QB pressures while allowing no catch longer than 26 yards all year long.
19. Patrick Queen, LB, LSU
Queen flies all over the field for LSU but certainly has his strength: coverage. He'll be needed to patrol the middle of the field in the National Championship, something he's done very well this year, as he's allowed just 165 total yards on 355 coverage snaps and no catch longer than 20 yards.
20. Derion Kendrick, CB, Clemson
Despite allowing just 50.0% of targeted passes thrown his way to be caught, Kendrick's strength has been his tackling this season. He's missed just one of the 35 total tackle attempts this year and still has yet to surrender a touchdown in coverage. The latter will certainly be tested against LSU.
21. Tremayne Anchrum, OT, Clemson
After allowing just 11 pressures all season long, Anchrum has locked down the right tackle spot for Clemson in 2019. Pass-blocking is his strong suit, as he's kept a clean sheet in pass protection in six outings this season and has allowed just a single sack (against Ohio State) this year.
22. Jacob Phillips, LB, LSU
Considered by PFF to be the best tackler in college football, Phillips has missed only three of his 88 tackle attempts this year. He's put forth ridiculous tackle numbers but has been sure when he makes those attempts. He's been strong against the run and even chipped in with nine pressures as a blitzer.
23. Terrace Marshall, WR, LSU
Marshall has the chance to score a lot of touchdowns, as he occupies the No. 3 receiver role on a star-studded trio of receivers for LSU. It's a role that he's occupied very well at times this year, and he currently ranks 11th in touchdown receptions. 
24. Tyler Davis, DI, Clemson
Davis dominates up the middle in every facet. He's produced 26 total QB pressures and another 17 stops in the run game and even batted two passes down at the line of scrimmage.
25. Thaddeus Moss, TE, LSU
Owner of perhaps one of the catches of the year, Moss has reliable hands in the air. He currently ranks second among all tight ends by hauling in 42 catchable targets without a drop, but he has had issues with fumbles after the catch.