As a part of our partnership with ESPN, this is a part of a story that was originally published on ESPN+ and can be viewed in its entirety here with your ESPN+ subscription — The College Football Playoff's 25 best players
Four teams are left to vie for the 2021 College Football Playoff national championship: the Alabama Crimson Tide, the Michigan Wolverines, the Georgia Bulldogs and the Cincinnati Bearcats. Each program is in contention for a reason — it fields some of the top talent in college football.
So how do the top players on the four teams stack up? With the help of PFF's unique play-by-play grading system and a multitude of other advanced metrics, we can answer that question. Below are PFF's top 25 players in the 2021-22 College Football Playoff, and it's a fairly evenly distributed bunch. The rankings don't project or account for NFL talent, but are rather based solely on output from this season.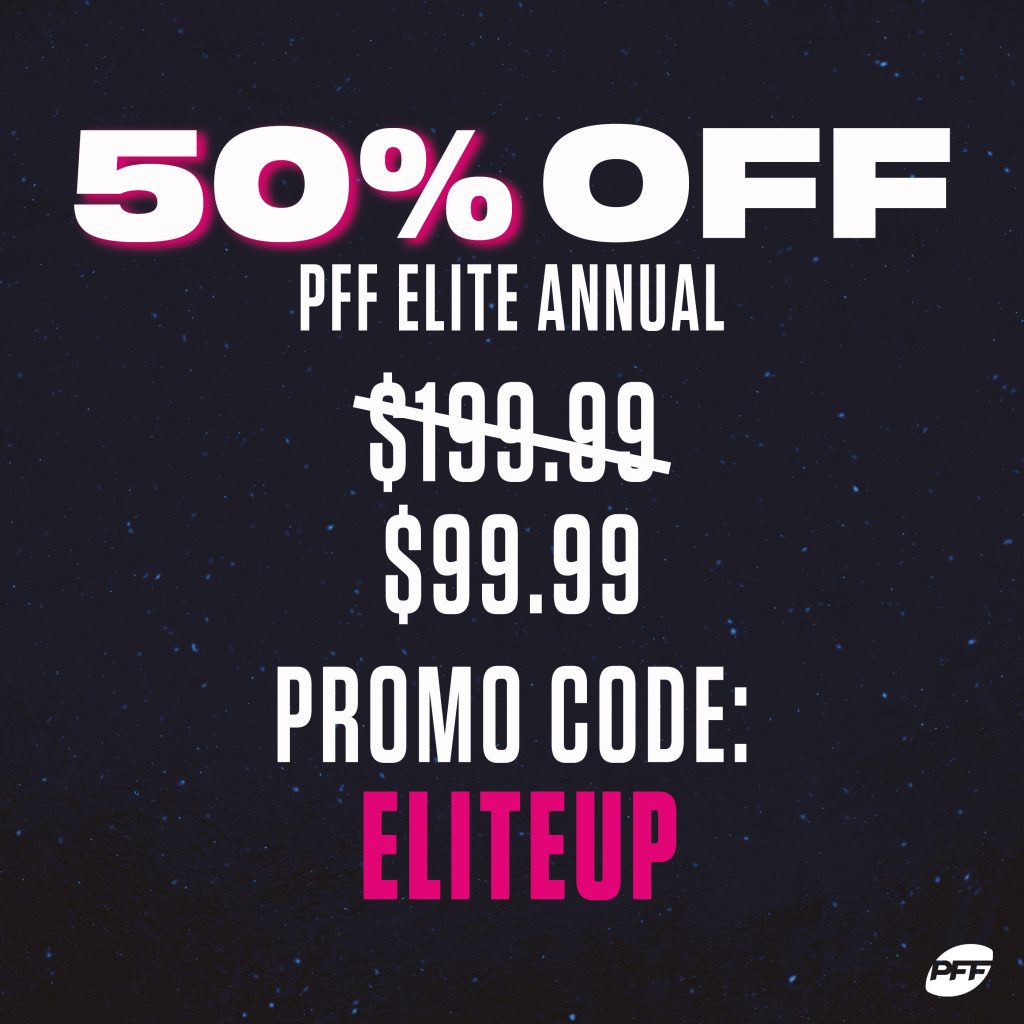 Click here for more PFF tools:
Rankings & Projections | WR/CB Matchup Chart | NFL & NCAA Betting Dashboards | NFL Player Props Tool | NFL & NCAA Power Rankings
Best Bets Tool
---
Young is playing at an unprecedented level given his age and experience. He earned a 92.9 PFF grade this season, which not only leads all FBS quarterbacks for the 2021 season but also is the highest mark PFF has on record (since 2014) from a non-draft-eligible passer. Young is a high-level processor and decision-maker, helping him become the most valuable player in the College Football Playoff by PFF Wins Above Average.
Like Young, Hutchinson is performing at a level that PFF has never seen before at his position. He has generated 0.80 PFF Wins Above Average this season, which is 0.2 more than the previous edge defender record set by former Ohio State Buckeye Nick Bosa in 2017. Hutchinson earned a 94.7 PFF grade this season and has proved to be the most advanced player at his position.
Gardner is simply a lockdown cornerback. Despite playing mostly on an island, he has allowed fewer than 20 yards in each of his 13 starts while giving up only 117 yards in total across 428 coverage snaps (0.27 yards per coverage snap). Of those 428 snaps, 355 came in press coverage.
Only three edge defenders in the Power 5 managed to generate PFF grades above 80.0 both as a run-defender and a pass-rusher this season. Among them is Anderson. He is a high-level playmaker, tying for first in tackles for loss or no gain against the run (15) and tying for second in pressures generated (73).
Williams is one of the most dangerous receivers in college football. The 6-foot-2, 189-pound weapon is one of the fastest at his position, which makes him an explosive play waiting to happen. His 12 touchdowns of 20-plus yards and 21.4 yards per catch overall are both the most in the Power 5. The Ohio State transfer's separation rate sits at the 92nd percentile among FBS receivers, and his speed has helped him gather 9.9 yards after the catch per reception.
Dean is an athletic marvel who has been a nightmare for offenses all season. He makes plays both as a blitzer and in coverage, earning him a 90.0-plus PFF grade in both facets of play — something no other Power 5 off-ball linebacker has done in a full season in the PFF College era (since 2014). All of this has led him to earn the highest PFF grade of any player at the position.
Bowers is already in the conversation for best tight end in college football despite being a true freshman. He has earned a 91.9 PFF receiving grade in 2021 while generating 3.23 yards per route run. That's not just a never-before-seen level of production for a true freshman; it's at a level rarely obtained by any player at the position. Bowers leads all Power 5 tight ends in both of those metrics this year. With the help of his speed, explosiveness and ball skills, Bowers is already a college football star.
While Corum's volume numbers don't eclipse those of his teammate Hassan Haskins, his rushing grade and rates in a bevy of metrics do. Corum boasts the second-highest rushing grade in college football among FBS running backs with at least 100 carries. He has generated 1.9 rushing yards over expectation this season, the most in the FBS by two-tenths of a yard.
Battle is in the midst of the fourth-best season from an SEC safety in the PFF college era. The Alabama star owns a 90.2 PFF grade heading into the College Football Playoff. He's played over 250 snaps each in the box, slot and at deep safety. He sports a 79.0-plus grade at all three positions.
Ridder showed immense growth as the Bearcats' starting quarterback this season, particularly down the stretch. He was a toolsy but inconsistent passer for Cincinnati in his first three years, putting up single-season PFF grades of 74.1 (2018), 72.2 (2019) and 76.3 (2020). This year, he developed his deep ball, sharpened his decision-making and improved his tight-window accuracy by leaps and bounds. Ridder posted a 91.0 PFF grade in 2021 and didn't produce a single turnover-worthy play in more than half of his games. Along with that, he has the best deep passing touchdown-to-interception ratio in the country (14:0).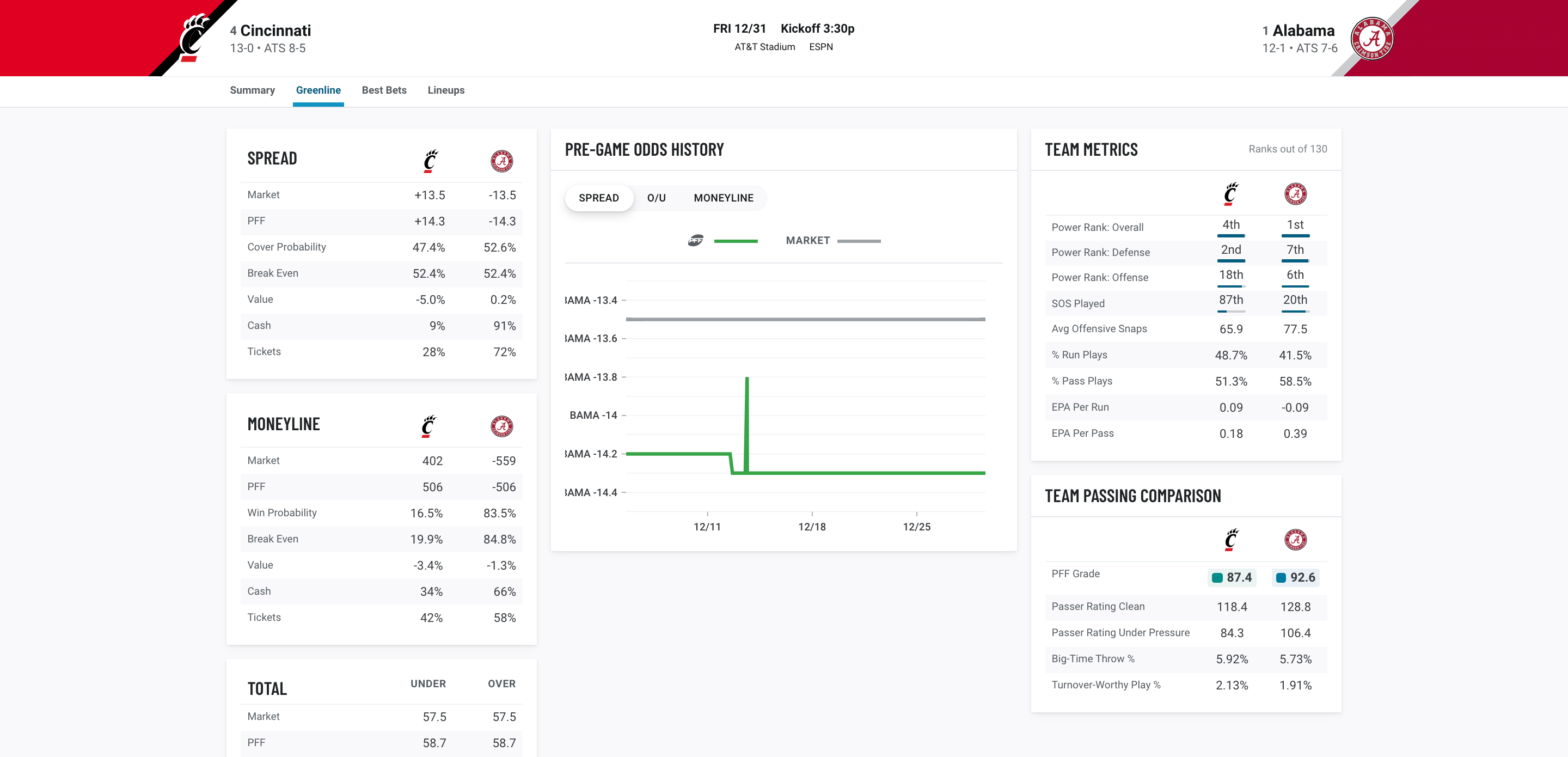 Haskins is one of the most reliable running backs in the country. He's handled a whopping 261 carries this season and hasn't fumbled the ball once. He enters the College Football Playoff semifinal ranking top five in both PFF grade and PFF Wins Above Average among FBS running backs.
Wyatt has been the most impactful player along a talented Georgia defensive line. He's tied for first among Power 5 interior defensive linemen in PFF grade for the 2021 season (89.7). Wyatt also ranks third in positively graded play rate against the run and eighth in pass-rush win rate. He's paired that with a couple of forced fumbles and batted passes.
The running back in second place behind Blake Corum in rushing yards over expectation this season is none other than Jerome Ford. The former Alabama runner has been a breakaway threat for Cincinnati, as his six touchdowns of 20-plus yards — tied for the fourth most in the FBS — can attest.
Carter has been a massive breakout player for the Bulldogs this season. Despite being in mostly a reserve role, Carter has produced a top-10 pass-rush grade (84.4) and the No. 1 positively graded run play rate among FBS interior defensive linemen. He is the third-most valuable interior defender in the Power 5 entering the College Football Playoff semifinal. For a true sophomore, that's quite impressive.
Ojabo picked up the game of football five years ago and came to Michigan as a raw but gifted athlete. He stepped into a significant role in 2021 after playing only 26 snaps his first two years with Michigan, and he has shown polish quicker than expected. Ojabo ranks among the top 10 edge defenders in the Power 5 in pass-rush grade this season (88.2).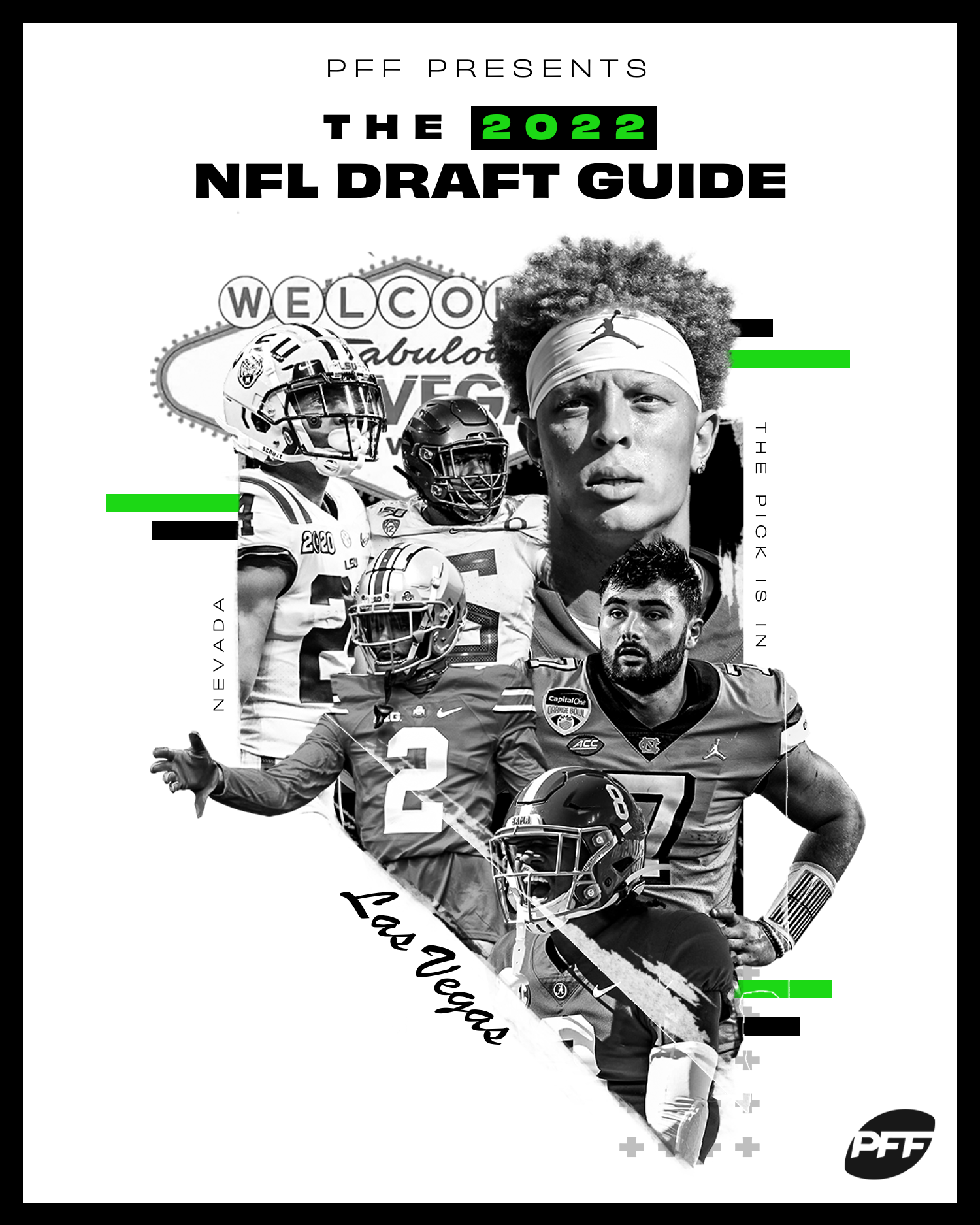 Tindall hasn't even started a game for Georgia this season, but he's undoubtedly one of the team's top defenders. He earned an 83.0 PFF grade across 390 snaps this year, a top-10 mark among off-ball linebackers. Tindall has also been a key member of the Dawgs' blitz package, rushing the passer 74 times and tallying 19 total pressures — 12 of which were either a sack or a hit.
Mathis is a veteran on the Alabama defensive line and one of the most all-around impactful players at the position nationally. He ranks seventh among Power 5 interior defensive linemen in PFF grade this season. He and Jalen Carter are the lone players at the position to own grades above 80.0 as both a run-defender and a pass-rusher when lined up at defensive tackle.
Alabama battled pass-protection issues at times in the 2021 season, but Neal was rarely the problem. He owns an 84.2 PFF grade this season, the third-best mark in the SEC — behind only Kentucky's Darian Kinnard and Mississippi State's Charles Cross. And Neal has done that while playing the second-most true pass sets in the conference. The 6-foot-7, 350-pound left tackle is a huge asset to an underwhelming Alabama offensive line this season.
Kendrick was a top transfer addition from last year's cycle and has lived up to the hype. The former Clemson Tiger and top-100 recruit has allowed fewer than 10 yards in coverage in more than half of his 13 games played this season. He has yet to give up a touchdown in coverage this year. Meanwhile, he has picked off two passes and broken up five others. It's easier to play cornerback on a team with such a formidable front seven, and while Kendrick has had a hiccup once or twice this season (he allowed 165 of his 318 total yards for the season against Tennessee), there's little to complain about with his play.
Turner is one of the biggest surprises of the 2021 season. Despite playing just one coverage snap his first two years on campus in 2019 and 2020, he has produced a top-10 coverage grade among FBS cornerbacks in 2021. He took over a starting spot in Week 8 and has impressed since. Turner is allowing a 36.7% catch rate over that span and has given up more than 25 yards in coverage just once in the seven starts.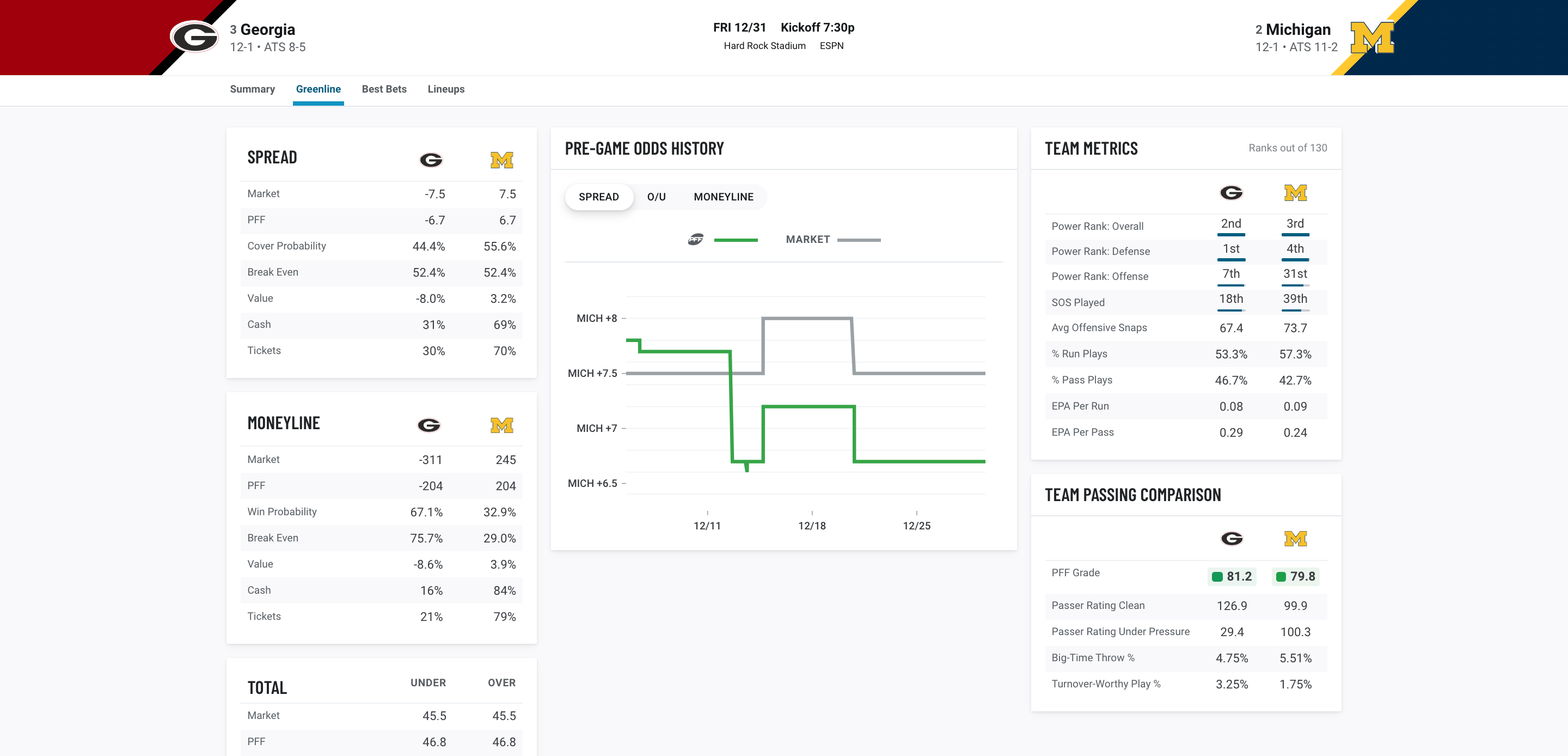 Bryant is prone to giving up some big plays in coverage — he allowed 442 yards and three touchdowns in 2021 — but he's done a good job of handling a large target load while teammate Ahmad Gardner eliminates his side of the field. Bryant has racked up 14 combined pass breakups and interceptions while allowing a modest 44% catch rate. All of this has led him to earn an 86.3 PFF grade this season, ranking inside the top 10 among FBS cornerbacks.
Robinson will be close to 100% healthy for the College Football Playoff semifinal, which is good news for the Crimson Tide. He brings physicality on every rep and is a big-time threat in the red zone. Before getting hurt in the Iron Bowl in Week 13, Robinson ranked 11th in rushing grade and seventh in missed tackles forced. Overall this season, he slots in at fourth among Power 5 running backs in touchdowns from inside the 5-yard line (11).
Hawkins is enjoying a career year after making the move to playing free safety more than anywhere else. He is one of six FBS safeties with a grade above 80.0 both against the run and in coverage. Hawkins has made minimal mistakes in the latter facet, with just 19 yards allowed all year long. As such, he is the second-most valuable safety in the Power 5 — behind only Alabama's Jordan Battle.
Davis' ranking may come as a surprise, but he hasn't been as productive as social media and the Bednarik Award make him out to be. Davis earned an 80.6 PFF grade this season while playing just 36% of Georgia's snaps. He generated only nine pressures on 178 pass-rush snaps en route to a 67.6 grade in that facet. Davis is, however, a strong run-defender, which is good enough to crack a top 25 spot. Among Power 5 interior defensive linemen, he ranks inside the top five in both run-defense grade and positively graded run play rate.
Sanders is long, strong and fast at 6-foot-5 and 255 pounds. He ranks in the top 10 nationally among edge defenders in pressures generated on true pass-rush opportunities (40). Sanders earned an 83.1 pass-rush grade this season and ranks third in the FBS in batted passes (six).