No year in college football will be more memorable than the one we are experiencing now, as the impact of COVID-19 has forced most colleges to cancel the 2020 fall football season with the hope of trying to play in the spring.
We aren't here to give you our opinion on whether they should or should not have played in the fall, nor are we going to do that with their attempt to play in the spring. Instead, we want to shine a light on the players who deserve credit for the performances they have put forth over their college careers.
Without further ado, we present to you what would have been the 2020 PFF College Preseason All-PAC 12 Team.
QUARTERBACK
Few people expected Slovis to have immense success as a true freshman last year after being thrown into the starting role due to a season-ending injury to J.T. Daniels, but here we are naming him one of the best players in the country. He earned an 80.8 passing grade on the year, displaying some of the sharpest accuracy we have ever seen. Slovis ranked sixth or better in limiting uncatchable passes at every level — short passes under 9 yards to the intermediate range of 10-19 yards to deep 20-plus yard shots. He has far from tapped into his full potential and is a star in the making.
RUNNING BACK
Borghi was a top receiving back for Mike Leach, but now he will get his opportunity to shine a bit more as a rusher under Nick Rolovich, even if those opportunities may be very few and far between. He brings great value in both facets with his wheels and elusiveness; he was one of three backs to earn 80.0- plus grades as both a rusher receiver and receiver in 2019.
RUNNING BACK
Oregon's offense ranked second in the conference in EPA per running back rush last year, and Verdell was a big reason why. Only Zack Moss averaged more yards after contact per attempt than Verdell (4.1), and his 81.2 rushing grade trailed only Borghi for the best among those who were set to return this year.
WIDE RECEIVER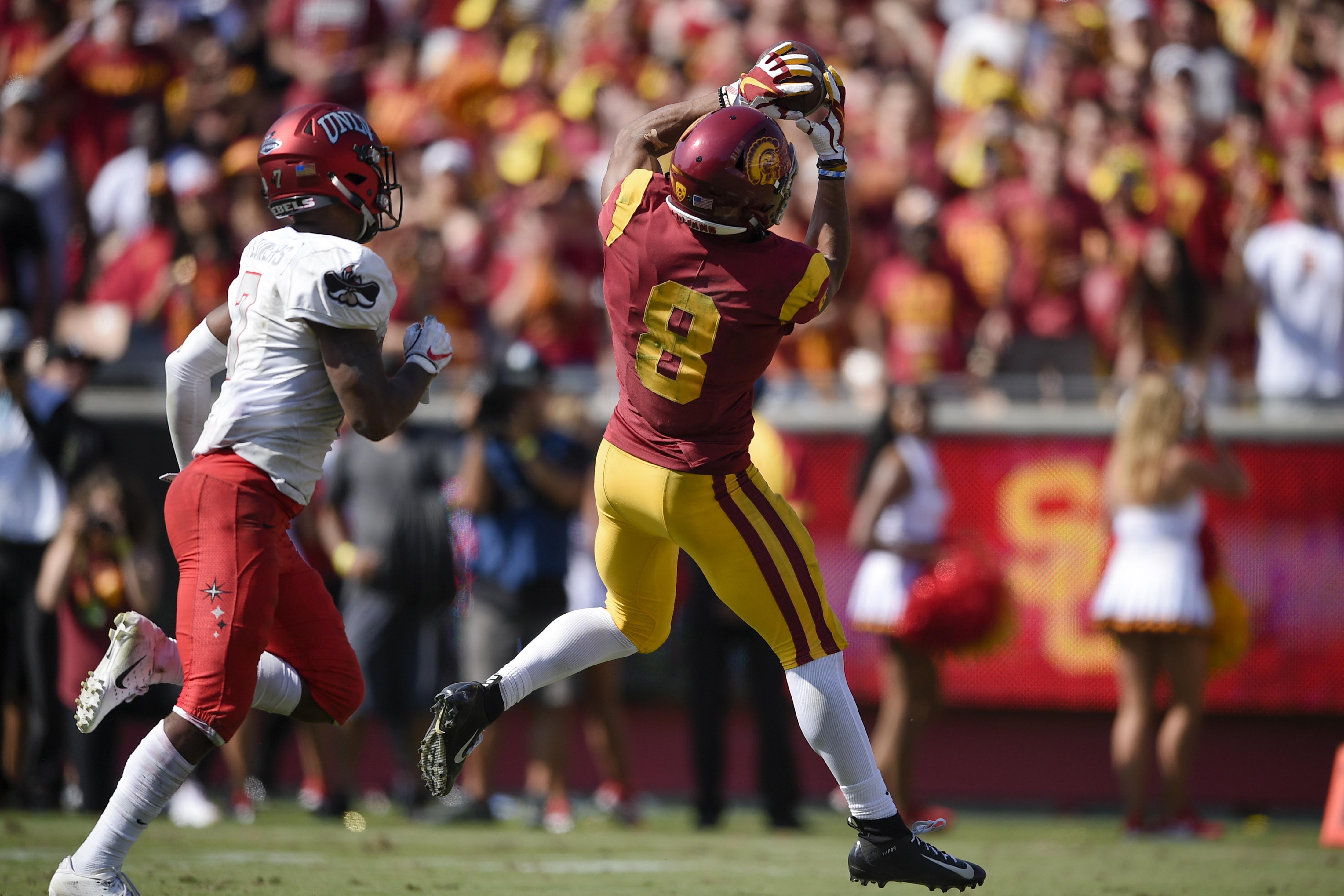 St. Brown is a fluid and sudden route-runner who is more than capable of winning on the outside. He saw only 39 targets against single coverage last year but generated separation on 22 of those targets.
WIDE RECEIVER
Vaughns has incredible ball skills and can adjust to anything off-target. He also has the ability to make highlight-reel catches just inches from the sideline — his 28 receptions within a yard of sideline since 2017 are six more than any FBS wide receiver over that span. Perhaps more impressively, he has dropped only 10 of the 209 catchable targets over his career.
WIDE RECEIVER
Philips is a refined route-runner who freezes defensive backs out of his crisp breaks. He generated a step or more of separation at the 11th-highest rate among FBS slot receivers in 2019 and earned third-best receiving grade among the wide receivers who were set to return to the PAC 12.
TIGHT END
While his size isn't prototypical for a tight end, Kuithe is incredibly athletic and has route-running chops most guys his size don't. He's a weapon in the slot — 47% of his slot targets resulted in a 15-plus-yard play, the highest rate in the FBS.
OFFENSIVE TACKLE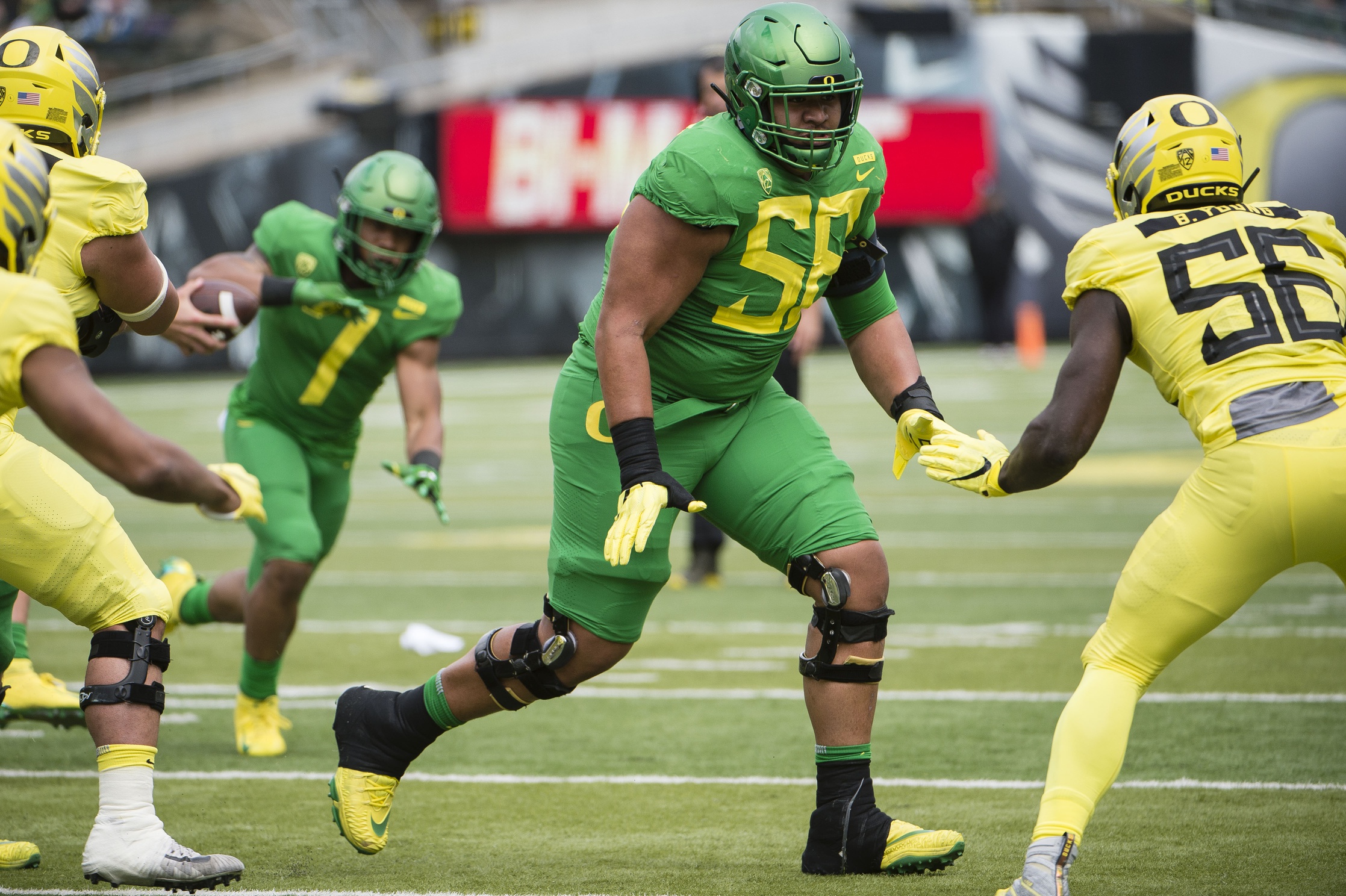 Sewell is to the offensive tackle position what Trevor Lawrence is to the quarterback position. Players get tagged with the "generational" status far too often, but it without question applies to Sewell. He's the best tackle we have seen since PFF College's inception in 2014, and it isn't particularly close. Sewell earned grades above 91.0 as both a pass-blocker and a run-blocker in 2019, paving the way to a 95.8 PFF overall grade on the year. For perspective, that's a full grading point higher than the next best season by a Power 5 tackle (Michigan State's Jack Conklin in 2015, 94.6).
OFFENSIVE GUARD
Vera-Tucker is the best pass-protecting guard in the country. His pass-blocking grade in 2019 leads all returning Power 5 guards, and he lost only four of his 121 true pass sets last season. He was a candidate to replace Austin Jackson at tackle, and we are confident he could maintain his top-tier status there.
CENTER
It was a close call between Dalman and Michael Saffell of Cal, but the Stanford center ultimately gets the nod here. He had the fourth-most true pass sets of 2019 and sat at the 85th percentile among FBS centers in pass-blocking grade on those reps.
OFFENSIVE GUARD
There was a whole lot to like with the way West played as a true freshman in 2019. Taking out the first two games of the year when he started at center before kicking to guard, West earned a 69.9 PFF grade that ranked third among all first-year guards in the FBS.
OFFENSIVE TACKLE
Lucas is a unit at 6-foot-7, 324 pounds, and he really isn't easy to defeat in pass protection. He ranks eighth in pass-blocking grade since 2018 and has allowed the ninth-lowest pressure rate on true pass sets among FBS tackles.
---
[Editors Note: PFF's customizable NFL Mock Draft Simulator gives you the opportunity to be the GM of any team and is now updated with a select group of 2021 prospects]
---
INTERIOR DEFENDER
Onwuzurike is — and has been — one of the most dominant interior defenders in college football. He's the ninth-most valuable player at the position since 2018 and has used his quick first step to help produce the highest pressure rate among Power 5 players at his position.
INTERIOR DEFENDER
Odighizuwa can walk guys back as a pass-rusher. His pass-rush win rate in 2019 (13.1%) was third in the PAC 12. Throw in the fact that he also earned the fourth-best run-defense grade in the PAC 12, and you have yourself a top-tier player on the line.
EDGE DEFENDER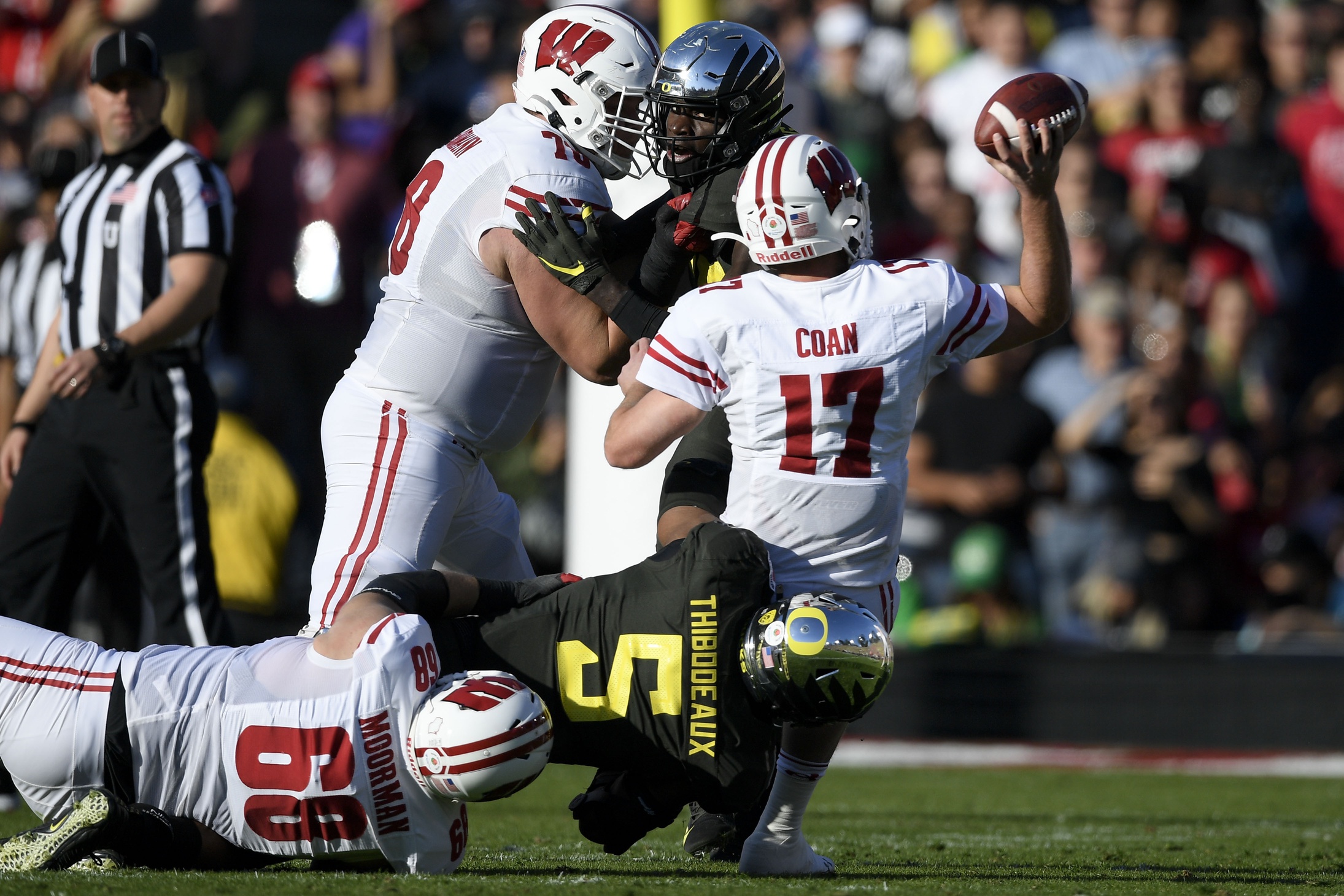 Thibodeaux came to Oregon as one of the highest-ranked recruits in the country and very much lived up to the hype right out of the gate as a true freshman in 2019. His get-off and bend are up there with the best in the country. Thibodeaux broke out specifically in the Ducks' Week 6 matchup against Cal last year when he posted a 92.2 pass-rush grade and from there on out was the highest-graded pass-rusher in the PAC 12. It's up there as one of the best seasons we have recorded by a true freshman edge rusher.
EDGE DEFENDER
Rashed's sack total from 2019 might be skewing the perception of him a little bit too far in his favor, as his 77.5 pass-rush grade was 33rd among Power Five edge rushers. He's not elite, but he's still in the conversation for the PAC 12's top edge rusher.
LINEBACKER
One of the best things Lloyd brings to the table is his blitzing — he recorded a pressure on 21 of his 106 pass rushes last season. He struggled down the stretch last year but was one of the 15 highest-graded Power 5 linebackers through the first nine weeks of the season.
LINEBACKER
Landman, Jahad Woods and Colin Schooler are all in a similar boat, as all three had strong 2018 seasons, and all three dropped off in 2019. Landman ultimately gets the nod here, though, as he has proven to be able to play at a near-elite level. In 2018, the Colorado linebacker earned an 85.7 PFF grade that ranked 11th among Power 5 linebackers.
CORNERBACK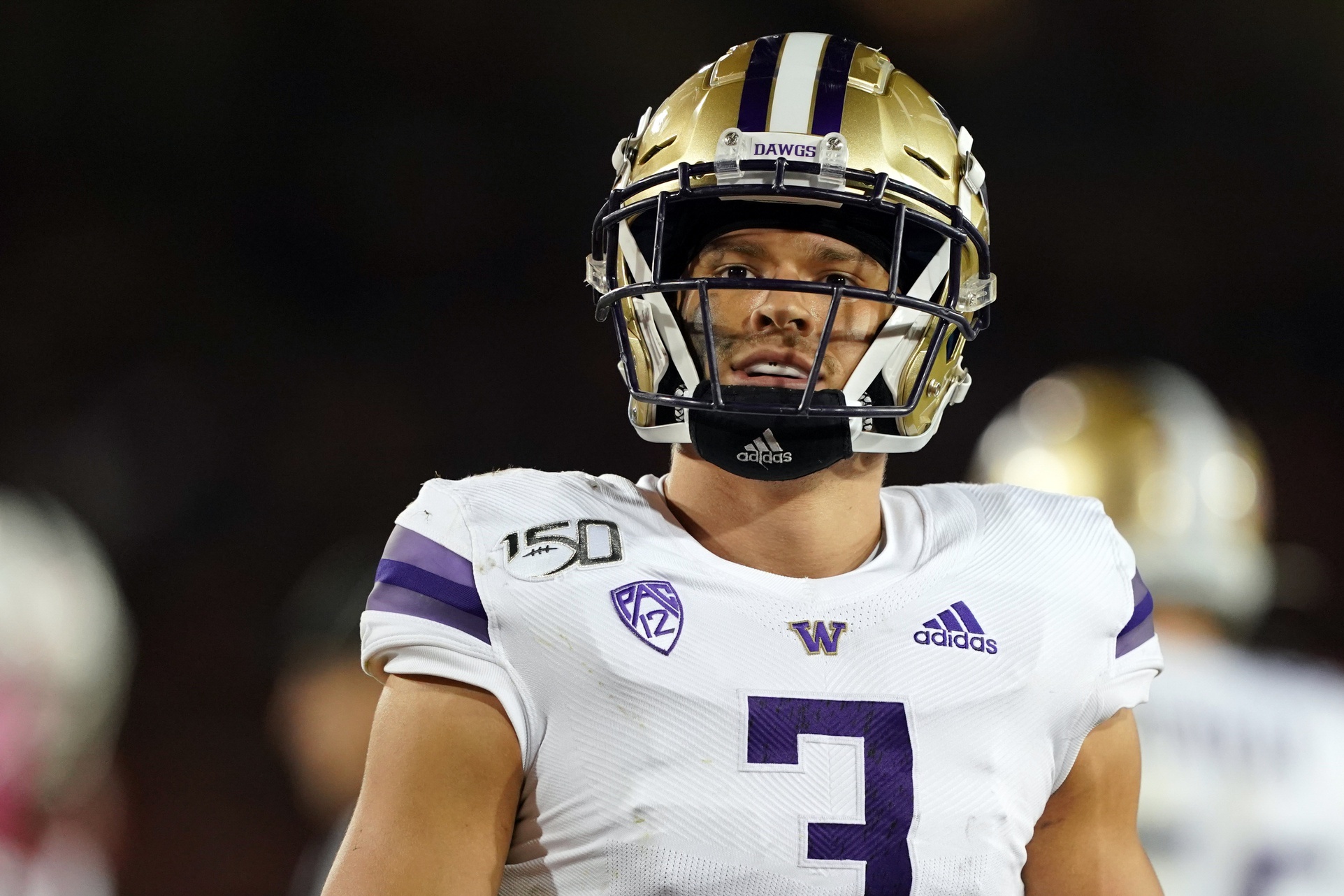 Molden has been one of the most productive slot defenders we have ever come across in the PFF College era. Over the past two seasons, Molden has produced the second-best slot coverage grade and forced 21 incompletions, six more than anyone else at the alignment. He reacts swiftly in coverage, and that helped him rack up 26 passing stops in the slot in 2019, nine more than anyone else in the FBS. Molden still gave up a concerning amount of first downs (21), but his nose for the football outweighs the bad.
CORNERBACK
Wright has earned a much larger role in Oregon's secondary after impressing on his 306 snaps as a true freshman in 2019. He allowed a minimal 34.8% catch rate (8 of 23) on his targets in coverage en route to an 81.9 coverage grade. Wright's performance in press coverage, in particular, stood out. On his 91 press snaps, he allowed just three catches on 13 targets (zero for first downs) and made six plays on the ball.
SAFETY
Holland is a playmaker in its purest form. Over the last two years — as a true freshman and sophomore — Holland has come away with 20 combined pass breakups and interceptions, second among FBS safeties. Over that same span, no defensive back has earned a higher slot coverage grade than Holland. Oregon's secondary is a historically talented one, and Holland's skill set is a big reason for that.
SAFETY
Breeze hadn't really been relied upon before his breakout down the stretch of the 2019 season that culminated with him winning the Rose Bowl MVP on the defensive side of the ball. Breeze posted an 86.9 coverage grade over the 2019 campaign.
FLEX DEFENSE
Graham has been one of the top outside cornerbacks in college football the last couple of years, producing a two-year 89.7 coverage grade that is among the 10 best in the country. His read-react ability is lights out, and he has tallied 26 forced incompletions (sixth) and 23 passing stops (second) at outside corner since 2018. Whether Oregon puts him there or in the slot in order to get Mykael Wright on the field, you can count on Graham to make plays.
KICKER
PUNTER
KICK RETURNER
PUNT RETURNER