It was the wildest week of college football action from a big-picture standpoint and the Team of the Week is littered with the usual top-notch performances across the nation. The Big 12 quarterbacks continue to light up the scoreboard, an All-American running back's backup makes this week's list and there are a few familiar names throughout, as there always.
Your Week 11 Team of the Week:
Quarterback – Mason Rudolph, Oklahoma State 91.4 
One of the hottest quarterbacks in the country, Rudolph rarely missed a throw on his way to 395 yards on 20-of-28 passing. He threw two touchdowns to finish a dominant three-week stretch that bodes well for Oklahoma State's chances down the stretch.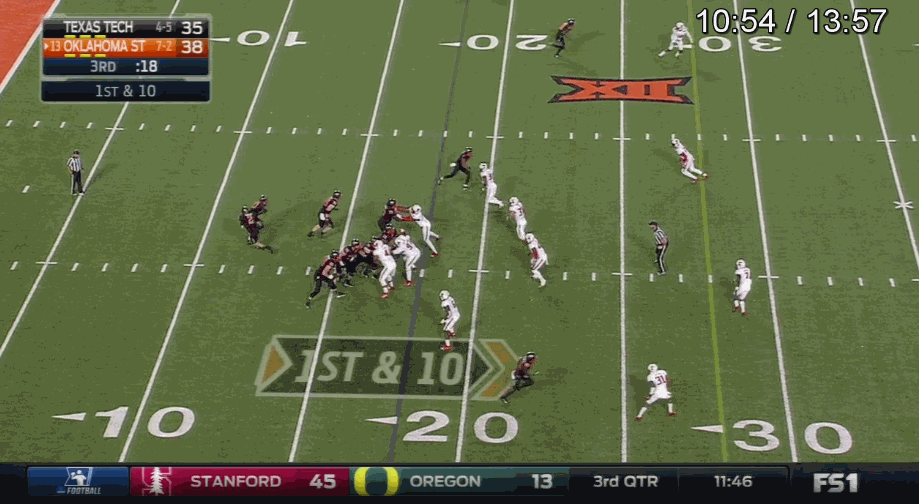 Running back – Joe Mixon, Oklahoma 89.5 and Derrius Guice, LSU 89.1
It was another great all-around performance for Mixon who carried the ball 14 times for 124 yards and a score while catching five passes for 63 yards. He forced four missed tackles as a runner and two as a receiver. Guice went off for 252 yards on 21 carries to go with two touchdowns, forcing seven missed tackles along the way and picking up 117 yards after contact.
Wide receiver – Courtland Sutton, SMU 88.0 and Mike Williams, Clemson 86.4
With 12 catches for 166 yards and two scores, Sutton continues his strong season as he won at the catch point and separated deep on his way to a national high 5.55 yards per route on the week. Williams ranked third in that department at 3.88, catching 15 passes for 202 yards and a touchdown as he did his part despite Clemson's first loss of the season.
Slot – Rodney Adams, USF 81.5
Adams caught eight of his nine targets from the slot for 115 yards and a touchdown as he averaged 4.60 yards per route to rank second in the country this week.
Tight end – O.J. Howard, Alabama 89.5
Perhaps the best all-around game of the season for Howard, he caught six passes for 77 yards while putting together another strong game together as a run blocker where he graded at 80.0 for the week. He ranked as both a top-10 receiver and blocker this week.
Offensive tackle – Eric Olson, Northwestern 86.8 and Mike McGlinchey, Notre Dame 85.3
Olson complemented a clean day in pass protection with the No. 2 run-blocking grade of the week at 82.4 as he did a fine job on his double-team blocks at the point of attack. McGlinchey had the top run-blocking grade as he overpowered the Army front seven while not surrendering a pressure on his 36 snaps in pass protection.
Guard –Jacob Bailey, Indiana 84.9 and Quenton Nelson, Notre Dame 84.4
While fellow guard Dan Feeney gets most of the attention, Bailey was clean on 46 snaps in pass protection while posting his best grade of the season as a run blocker at 84.3. Nelson returns to the list once again behind another dominant outing in the run game at 85.7 while locking down the left side with McGlinchey in pass protection on 36 snaps.
Center –Brian Gaia, Penn State 85.2
Penn State's season seems to have turned around in lockstep with Gaia's who put together his fourth straight strong game and he's making his first Team of the Week appearance. He was strong at the point of attack in the run game, making a number of key blocks and losing few while surrendering only one pressure on the day.
Defense
Edge rusher –Derek Barnett, Tennessee 88.2 and Bradley Chubb, NC State 86.3
Barnett may get a permanent home on the Team of the Week as he put together another standard outing that consisted of a sack, two QB hits, and five hurries on only 31 rushes. Chubb remains one of the nation's most underrated defensive linemen as he finished with a season-high six stops in the run game to go with two sacks and a hurry on his 19 rushes.
Defensive interior – Kevin Maurice, Nebraska 88.3 and Steven Richardson, Minnesota 86.7
It was another disruptive performance for Maurice who picked up two QB hits and two hurries on only 27 rushes while playing outstanding run defense with the nation's top grade of 90.9 this week. Richardson played on the other side and played similarly strong run defense at 87.0 while adding five hurries as a rusher.
Linebacker –Jordan Evans, Oklahoma 90.8; Airius Moore, NC State 88.5; Edwin Freeman, Texas 88.4
The stat sheet captured Evans' game as he finished with two interceptions, two sacks, a QB hit, and one pass breakup in his best game of the season. Moore kept the ball in front of him in coverage and he played a strong all-around game against the run. He added two hurries as a rusher. Freeman has taken to his newfound playing time, this week with the No. 4 run defense grade in the country at 86.9 while doing a nice job in coverage at 82.7.
Cornerback – Brad Watson, Wake Forest 90.7 and Marc Walton, Ball State 90.4
Watson was targeted only four times, but he gave up just two receptions while knocking away the two incompletions. Walton had one of the best statistical games of the year with only one catch allowed on 12 targets and he broke up four passes while intercepting another.
Safety – Tony Fields, Indiana 88.0 and Jah'Shawn Johnson, Texas Tech 87.3
Fields had an interception and four stops in a strong all-around game both in coverage and against the run. Teammate Jonathan Crawford almost joined him on the team with his two pass breakups and one stop in the run game. It was a rare strong performance on defense for Texas Tech, but Johnson has put together two straight good weeks, this time getting in on four stops while breaking up a pass.
Kicker – Eddy Pineiro, Florida
Pineiro was a highly-regarded kicker when we arrived at Florida, and showcased his big leg in Saturday's game against South Carolina. Connecting on both field goal attempts, including one from beyond 50 yards, he also boomed four of his five kickoffs for touchbacks.
Punter – Rigoberto Sanchez, Hawaii
Averaging 43.8 net yards per punt, Hawaii's Rigoberto Sanchez saw just two of his four punts returned this week. His punts travelled an average of 49.5 yards, and his best punt was in the air for 4.95 seconds.
K/PR – Antonio Callaway, Florida
Callaway averaged 25.0 yards per return on four punt returns this week, including having one punt return for a touchdown called back for a penalty, A nightmare to try and bring down, he forced six missed tackles on punt returns alone.
SEC — Gordon McGuinness 
QB: Joshua Dobbs, Tennessee, 77.7
HB: Derrius Guice, LSU, 89.1
FB: J.D. Moore, LSU, 76.2
WR: Josh Malone, Tennessee, 80.7; ArDarius Stewart, Alabama, 78.7
TE: O.J. Howard, Alabama, 89.5
OT: Brian Wallace, Arkansas, 78.4; Cam Robinson, Alabama, 77.9
OG: Jervontius Stallings, Kentucky, 78.0; Jashon Robertson, Tennessee, 78.0
C: Frank Ragnow, Arkansas, 83.0
ED: Derek Barnett, Tennessee, 88.2; Corey Vereen, Tennessee, 81.5
DT: Davon Godchaux, LSU, 82.4; Dalvin Tomlinson, Alabama, 81.9
LB: Claude George, Texas A&M, 85.2; David Reese, Florida, 82.9; Deshaun Davis, Auburn, 82.6
CB: Jamoral Graham, Mississippi State, 84.9; Jaylon Jones, Ole Miss, 82.0
S: Deontay Anderson, Ole Miss, 83.2; Marcell Harris, Florida, 82.5
K: Eddy Pineiro, Florida
P: Josh Growden, LSU
K/PR: Antonio Callaway, Florida
Pac-12 — Jordan Plocher 
QB: Sam Darnold, USC, 79.7
HB: James Williams, Washington State, 86.3
WR: J.J. Arcega-Whiteside, Stanford, 83.5; John Ross, Washington, 83.4, River Cracraft, Washington State, 82.9
TE: Pharaoh Brown, Oregon, 85.2
OT: Andre James, UCLA, 84.6; Cole Madison, Washington State, 81.1
OG: Johnny Caspers, Stanford, 81.0; Eduardo Middleton, Washington State, 80.4
C: Scott Quessenberry, UCLA, 82.2
ED: Uchenna Nwosu, USC, 83.3; Porter Gustin, USC, 81.5
DI: Jordan Carrell, Colorado, 85.0; Solomon Thomas, Stanford, 83.6
LB: Manase Hungalu, Oregon State, 84.6; Cameron Smith, USC, 83.6; Jordan Perez, Stanford, 83.3
CB: Treston Decoud, Oregon State, 83.3; Chidobe Awuzie, Colorado, 80.2
S: Budda Baker, Washington, 84.9; Ryan Moeller, Colorado, 83.8
Big Ten — Josh Liskiewitz 
QB: Tommy Armstrong Jr., Nebraska, 71.4
RB: Akrum Wadley, Iowa, 88.3; LJ Scott, Michigan State, 82.6
FB: Alec Ingold, Wisconsin, 79.5
WR: Austin Carr, Northwestern, 78.3
TE: Josiah Price, Michigan State, 84
OT: Eric Olson, Northwestern, 86.8; Blake Hance, Northwestern, 81.4
OG: Jacob Bailey, Indiana, 84.9; Derek Dowrey, Penn State, 84
C: Brian Gaia, Penn State, 85.2
DI: Kevin Maurice, Nebraska, 88.3; Steven Richardson, 86.7
ED: Garrett Sickels, Penn State, 83.2; Shareef Miller, 79.3
LB: Jerome Baker, Ohio State, 86.2; Ryan Connelly, Wisconsin, 83.6; RaeKwon McMillan, Ohio State, 83.6
CB: Montre Hartage, Northwestern, 88.0; Marshon Lattimore, Ohio State, 86.8
S: Tony Fields, Indiana, 88.0; Jonathan Crawford, Indiana, 86.0
Big 12 — Bryson Vesnaver 
QB: Mason Rudolph, Oklahoma State, 91.4
HB: Joe Mixon, Oklahoma, 89.5; Ke'aun Kinner, Kansas, 79.4
WR: Allen Lazard, Iowa State, 85.8; James Washington, Oklahoma State, 85.0; Johnathan Giles, Texas Tech, 81.0
OT: Victor Salako, Oklahoma State, 83.0; Hakeem Adeniji, Kansas, 80.2
OG: Kyle Bosch, West Virginia, 75.3; Ishmael Wilson, Baylor, 73.6
C: Brian Bobek, Iowa State, 82.2
ED: Cole Walterscheid, Oklahoma State, 79.5; Ogbonnia Okoronkwo, Oklahoma, 79.4
DI: Vincent Taylor, Oklahoma State, 82.6; Tyrone Hunt, Baylor, 81.5
LB: Jordan Evans, Oklahoma, 90.8; Edwin Freeman, Texas, 88.4, Devante Averette, Oklahoma State, 84.7
CB: D'Andre Payne, Iowa State, 88.2; Jomal Wiltz, Iowa State, 84.5; Rasul Douglas, West Virginia, 83.1
S: Jah'Shawn Johnson, Texas Tech, 87.3; Kamari Cotton-Moya, Iowa State, 82.9
K: Cole Netten, Iowa State
P: Drew Galitz, Baylor
KR: Barry J. Sanders, Oklahoma State
ACC — Coming Soon
QB Jerod Evans, Virginia Tech, 80.3
WR Mike Williams, Clemson, 86.4; Auden Tate, Florida State, 85.5
TE Jaylen Samuels, North Carolina State, 82.9
HB James Conner, Pittsburgh, 78.3
OT Will Richardson, North Carolina State, 80.6; Tyler Jones, North Carolina State, 76.6
OG Parker Braun, Georgia Tech, 76.7; Garrett Bradbury, North Carolina State, 81.1
C Kenny Cooper, Georgia Tech, 77.0
ED Bradley Chubb, North Carolina State, 86.3; Harold Landry, Boston College, 82.9
DI DeAngelo Brown, Louisville, 83.2; BJ Hill, North Carolina State, 83.9
LB Airius Moore, North Carolina State, 88.5; Cole Holcomb, North Carolina, 85.8; Matt Galambos, Pittsburgh, 84.2
CB Brad Watson, Wake Forest, 90.7; Lawrence Austin, Georgia Tech, 81.2
S Josh Jones, North Carolina State, 84.9; Reggie Mitchell, Pittsburgh, 82.2
Group of Five — Zoltan Buday 
QB: Brett Rypien, Boise State, 85.5
RB: Larry Rose III, New Mexico State, 91.5
WR: Michael Gallup, Colorado State, 93.4; Tanner Gentry, Wyoming, 91.8
TE: Daniel Montiel, Memphis, 89.6
OT: Jake Barnhorst, Air Force, 79.4; Zack Golditch, Colorado State, 83.9
OG: Robert Hunt, Louisiana-Lafayette, 87.4; Fred Zerblis, Colorado State, 87.3
C: Jake Bennett, Colorado State, 87.7
ED: Brandon Crawford, Buffalo, 86.5; Ladell Fleming, Northern Illinois, 84.6
DI: Tanzel Smart, Tulane, 90.2; Ed Oliver, Houston, 85.3
LB: Ulysees Gilbert III, Akron, 85.2; Keith Brown, Western Kentucky, 89.1; Nico Marley, Tulane, 89.0
CB: Marc Walton, Ball State, 90.4; Torry McTyer, UNLV, 90.6
S: Money Hunter, Arkansas State, 90.9; Jamari Bozeman, Bowling Green, 85.3