With the Big Ten now back in action and most college football teams at or inching closer to the halfway point in the 2020 season, it's time to update our Heisman rankings. Typically, we list out our top 10 candidates for the prestigious award, but as of now, it seems unnecessary to go that far because there are truly only five players who can win the 2020 Heisman. These five are in a tier of their own this season and are playing above their counterparts by a large margin.
Using PFF's advanced database and play-by-play grading, which is also available to PFF's CFB Premium Stats+ subscribers, here are our top candidates through Week 8 of the college season to take home the 2020 Heisman Trophy.
Editor's note: Use promo code BIG10 for 20% off any PFF College subscription. And if you haven't already, check out PFF's customizable NFL Mock Draft Simulator, which is now updated with a select group of 2021 prospects. Try it today!
We would rather have Trevor Lawrence over Mac Jones anytime and anywhere, but this list is based on who has performed the best so far in the 2020 season, and Jones is playing better than any player in the country.
The Alabama quarterback has yet to produce a bad game this year, recording a PFF grade north of 82.0 in each of his five starts. No other SEC quarterback has more than two so far. That's propelled him to a 93.7 PFF grade for the season — the best in all of college football and nearly six grading points higher than any other SEC quarterback. 
Jones has been pinpoint accurate with the ball and has rarely thrown an inaccurate pass, doing so on just 8% of his attempts — the best rate in the FBS. And Jones has the lowest negatively graded throw rate, too. Sure, he might be helped out some by the supporting cast at his disposal as well as the offense as a whole, but Jones still has performed well in unfavorable situations. His pressured passing grade is the fifth-best in the FBS, and his grade throwing to a tight window ranks ninth.
Lawrence has fallen from his top spot in the PFF Heisman rankings due to his play in Weeks 6 and 8. In those two games, Lawrence earned passing grades in the 60.0s against Miami and Syracuse, with five turnover-worthy plays to three big-time throws. He was by no means completely bad in either of those outings, though, and has still been producing at an elite level over the course of the season.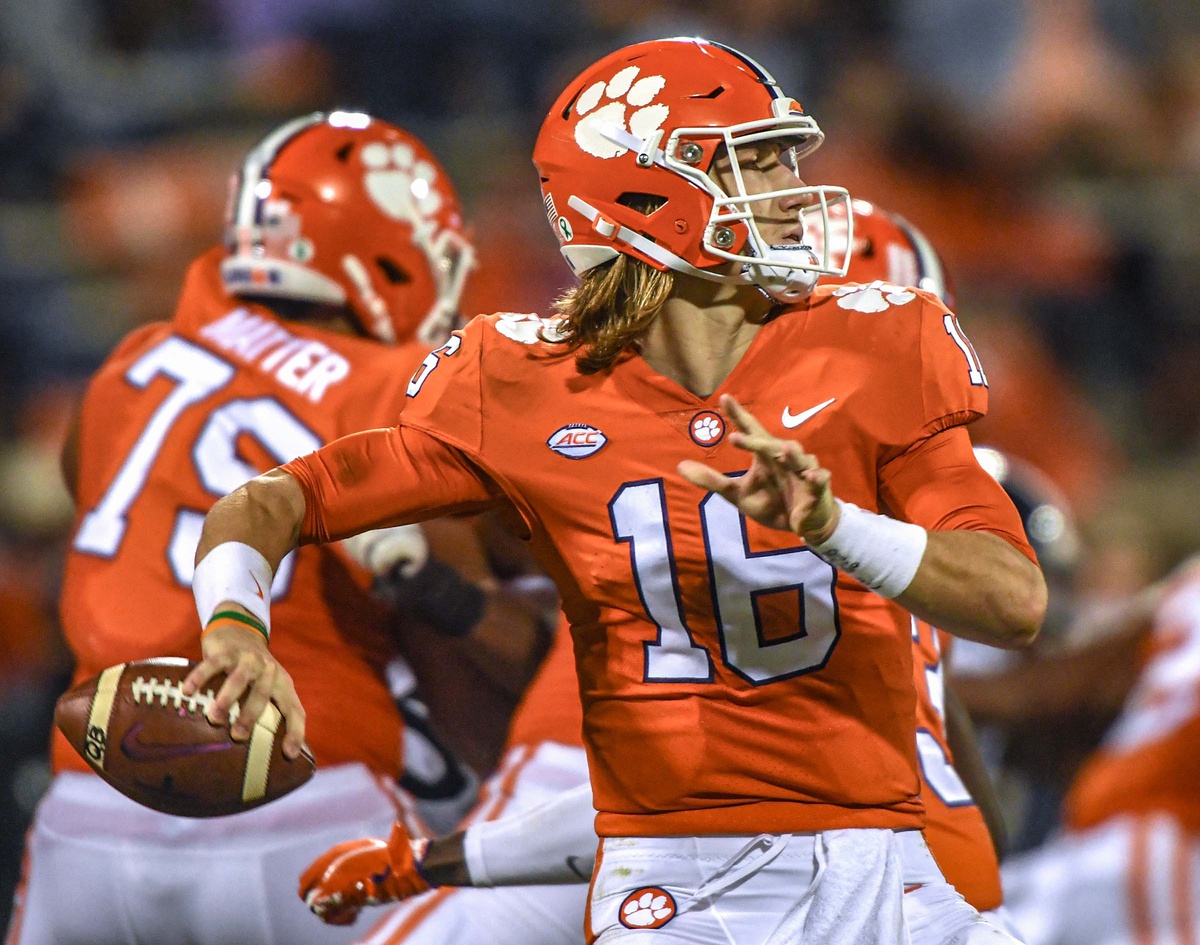 The future 2021 No. 1 overall pick has earned a 91.3 PFF grade this season, trailing only Mac Jones for the best in the Power Five. In both 2018 and 2019 — seasons in which he finished with PFF grades north of 90.0 — Lawrence didn't come close to producing that mark through his first six games. In fact, he was short of 80.0 through the first six weeks in each season.
On throws of 10 or more yards downfield, Lawrence's passing grade jumps to the best in college football. He has thrown an accurate ball on 66% of such throws, nearly 10 percentage points higher than the next best FBS quarterback. Lawrence's biggest concern entering the year has been the sudden bouts of inaccuracy, but that has been far from a problem this year. While he sits at No. 2 now, I wouldn't be surprised if he reclaims the top spot in the coming weeks.
The biggest surprise of the 2020 season has without question been BYU's Zach Wilson. He was coming off a 2019 season in which he battled injuries, was inaccurate downfield and produced a good, but far from great, 72.5 passing grade. This year, Wilson has earned a passing grade north of 87.0 in five of his six games, paving the way to a season passing grade of 94.0. Cupcake schedule be damned, that's impressive to do over that sample, regardless of competition level.
Wilson ranks in the top three in both negatively and positively graded throw rates — that is something we have never seen before in the PFF College era. Downfield accuracy was Wilson's Achilles heel in 2019. He threw just 32% of his passes over 10 yards downfield last year accurately, ranking 113th of 130 qualifying FBS quarterbacks. This year, he has improved that mark to 57%, ranking second in the country.
BYU's schedule is easy, but you can't discredit Wilson for that because he is doing exactly what he should against this competition — he's dismantling them and playing near impeccable ball right now.
Fields has featured in just one game in the 2020 college season, and he really could not have played much better. The second-year Buckeye earned a 91.1 PFF grade against Nebraska, which was the eighth-best mark we have seen in 2020 against a Power Five defense and the second-best of his career.
There was one turnover-worthy throw on a negated play, but taking out those penalized plays, Fields threw a catchable ball on every single one of his pass attempts. It was just the second time this season where a quarterback threw at least 20 passes in a single game and all were catchable (Graham Mertz in Week 8 was the other). Fields also put his athleticism on display on the ground against the Cornhuskers, as he picked up two explosive runs of 10 or more yards and six broken tackles on 11 rush attempts.
The second-best quarterback of the 2019 season was none other than Fields, and he kicked off his 2020 campaign with a pristine game that made him look like he may grab that top spot.
I won't argue with the fact that Rattler has had a few costly interceptions in crunch time this season — he threw an interception at the end of both the Kansas State and Iowa State games that sealed losses for the Sooners. But outside of those few costly passes, Rattler truly has been one of the best quarterbacks in college football.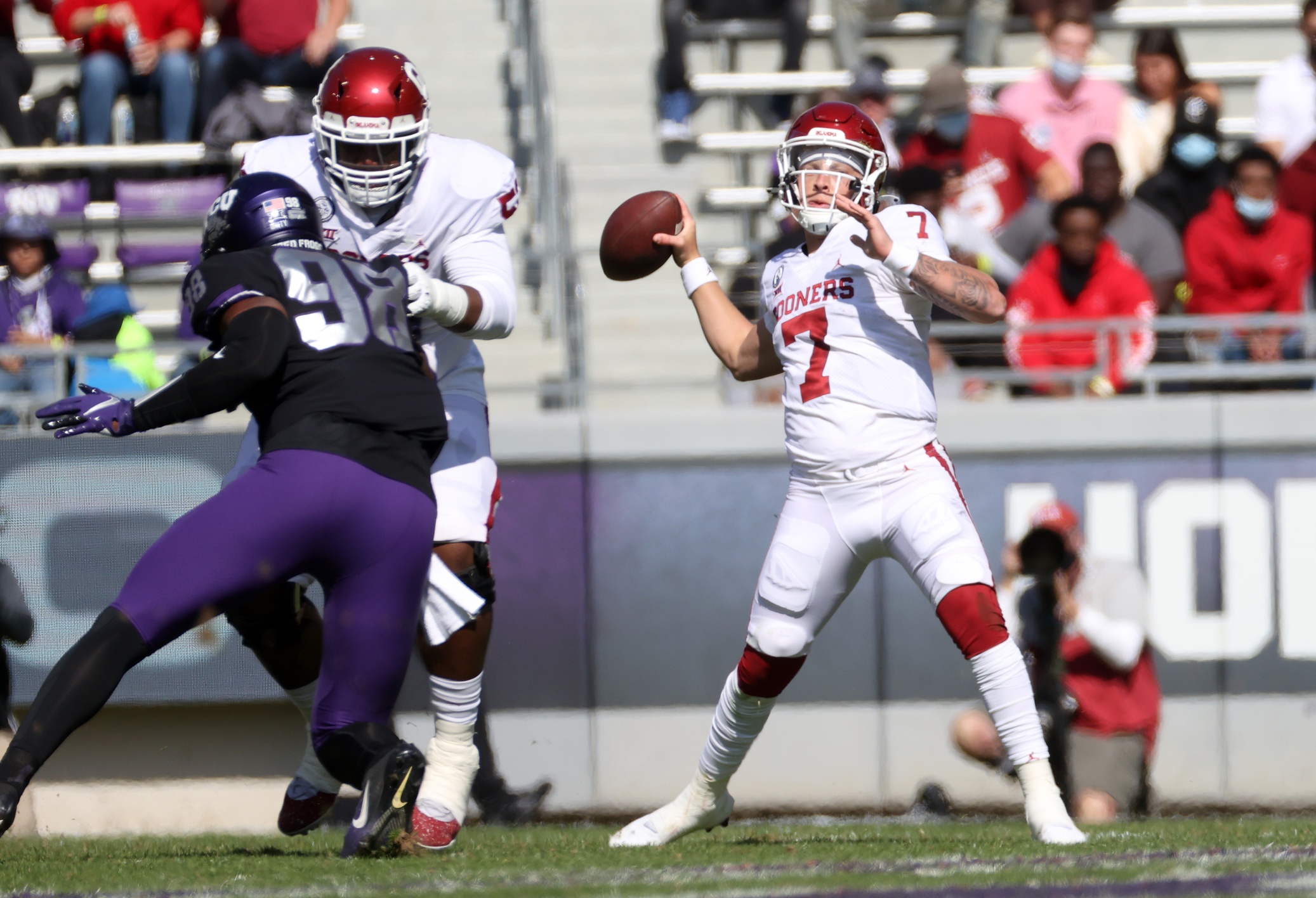 He has recorded a 92.0 passing grade this year, ranking third in the FBS — behind Wilson and Jones. He also joins those two as the only quarterbacks to rank in the top 10 in both negatively graded and positively graded throw rate.
The backbone of his success has been his outside-the-pocket passing. Rattler has earned a 95.0 passing grade when throwing outside the pocket this year. Not only is that the best of the 2020 season, but it's also on pace to break the PFF College era record set by Baker Mayfield back in 2016, at 92.8. And when he has stayed put inside the pocket, Rattler has still been great, as his passing grade on those plays remains in the top 10 in the FBS.
So, ignore those game-sealing interceptions from Rattler — he has been remarkable outside of those few throws and is only going to get better from here with more reps under his belt.
If there is any non-quarterback who can sneak into the Heisman conversation this season, it's Alabama wide receiver DeVonta Smith. He currently has a 91.1 receiving grade in 2020, ranking second in the FBS — and his role is getting ready to ramp up even more after Jaylen Waddle suffered an unfortunate season-ending ankle injury.
Smith can go toe-to-toe against any defensive back in the country in single coverage. He leads all Power Five wide receivers in receiving grade (91.5) and explosive receiving plays of 15 or more yards (10) against single coverage. From his ball skills to his releases, Smith is a lot for any defensive back to handle.
Even with all of Smith's success, we still have yet to see him do significant damage vertically, as he did in 2019. He finished with the seventh-most receiving yards on such routes in the Power Five, at 457. So far in 2020, Smith has just 72 — and he's still earned the best grade in the SEC. Smith has room to get even better from here, and he is bound to rack up numbers with Waddle done for the year.