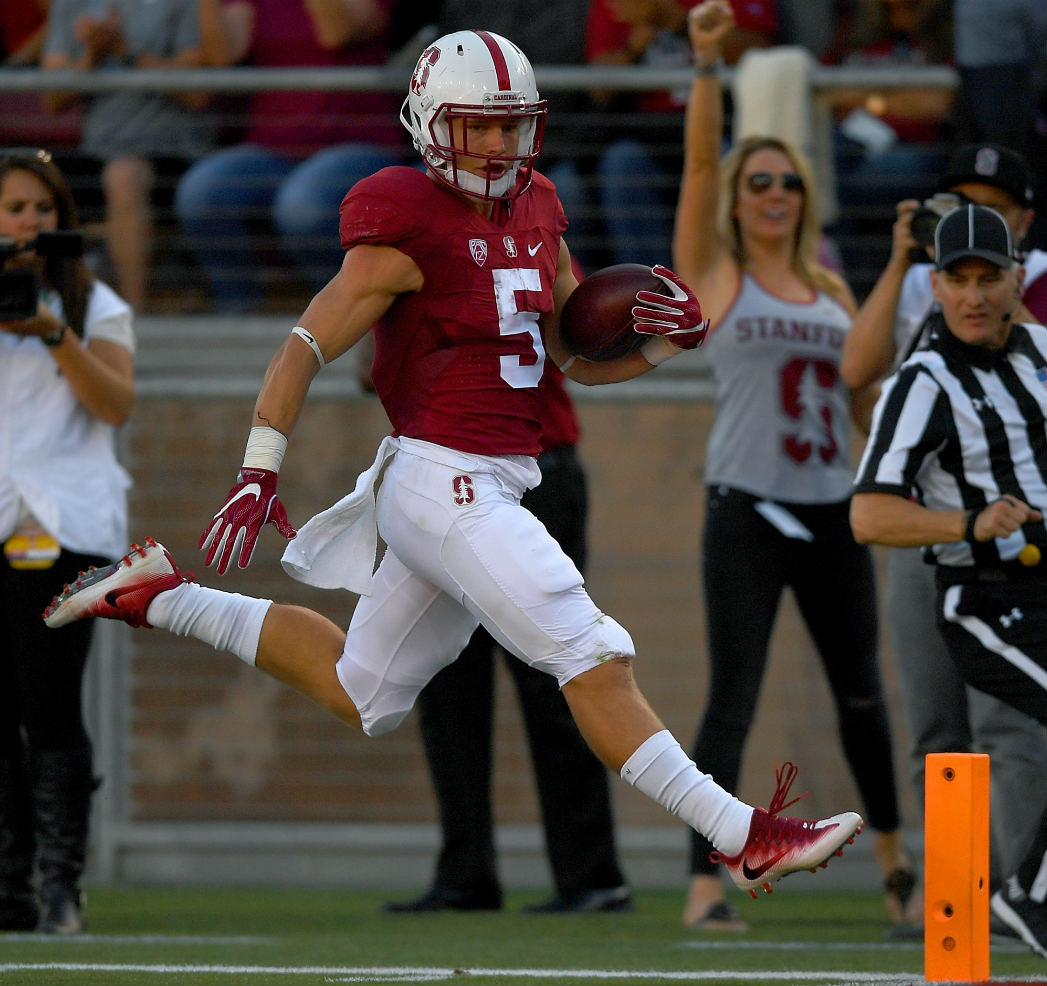 <> at Stanford Stadium on September 17, 2016 in Palo Alto, California.
The Dream Team returns for its next iteration, this time with a twist. In the past, I simply assembled the best team of college football players in the country, but for this version, it will be all about the pass game. I'm building the best passing offense in college football as well as the best defense to stop the pass in college football. Next week we'll flip the script and take a look at the running game. Here's this week's Dream Team, with an eye toward the pass.
Quarterback
Mitch Trubisky, North Carolina
Sometimes I get a little emotional and make rash decisions. Enter Trubisky who his playing as well as any quarterback in the country not named Lamar Jackson, but since this is a pass-first team we're assembling, it's Trubisky's show. He's spreading the ball around to his playmakers at UNC and he'll do the same with the vast array of weapons we supply him here on the Dream Team. Trubisky is headed for his biggest challenge of the year this weekend against Virginia Tech, but for now, he gets the nod as Dream Team quarterback.
Running backs
Christian McCaffrey, Stanford
I'm on record as saying that McCaffrey could be drafted high if he were just a slot receiver and had never played running back, but his ability to excel in both spots makes him all the more valuable. With the top receiving grade in the nation a year ago, McCaffrey creates mismatches with opposing linebackers in safeties and the ability to line up all over the field brings an added dimension to the offense.
Curtis Samuel, Ohio State
Perhaps getting redundant with McCaffrey already on the team, Samuel provides a similar threat for the Ohio State offense. This season he's lined up in the backfield on 73 snaps and in the slot on 96 snaps, and he's been productive no matter his alignment. With 328 yards on the ground (8.0 yards per carry) and 345 receiving yards on 23 receptions (15.0 yards per reception), Samuel is a big play threat in all facets and we'll use that versatility in our passing game.
Wide receivers
Corey Davis, Western Michigan
While he's not seeing the volume that he's had in recent years, Davis has been his usual efficient self as a receiver, catching 75.0 percent of his targets for 467 yards (15.6 yards/rec) and sixth touchdowns. On our team, Davis is the move-the-chains route runner as he knows how to get open at the short and intermediate level while also showing the deep ball and after-the-catch skills to make him an all-around threat. Davis' route running will always have a place on the Dream Team.
Amba Etta-Tawo, Syracuse
On the other side, we're looking for a deep threat and few receivers have gotten behind the defense as often as Etta-Tawo this season. Syracuse has moved toward a "Baylor" offensive system that features the deep ball and Etta-Tawo has been the beneficiary after transferring from Maryland. He leads the nation with 11 catches on deep (20-plus yard) receptions while also leading in deep yards with 472 and tied for the lead in touchdowns with five. It's not just high volume for Etta-Tawo either as he's caught 55.0 percent of his deep attempts, good for third in the nation. He's slotted in as our deep threat on the Dream Team.
Ryan Switzer, UNC
With production through the roof the last two weeks, Switzer has emerged as our top option in the slot. He's third in the nation with 540 slot yards and tied for second with 3.80 yards per route run while in the slot. Switzer has made the most of his screen opportunities, leading the nation with 385 yards after the catch and he's yet to drop a pass this season. It's not all short stuff as he's caught all nine of his targets at the intermediate (10-19 yard) level while also catching two deep passes for 94 yards and two scores. Switzer will work out of the slot for the Dream Team to complement the other two pass catchers on the outside.
Tight end
Evan Engram, Ole Miss
Some would argue that we're adding another wide receiver to the roster in Engram, but he's showed well enough as a blocker through the years that we can still classify his as a tight end. He can line up as an H-back and block on the move or split out wide to create mismatches against linebackers, both skills bringing great versatility to the Dream Team offense. Engram has the top receiving grade in the nation among tight ends at 90.9 and we'll use those skills all over the formation.
Offensive tackles
Connor Williams, Texas
Still yet to allow a pressure this season in his three games, Williams does benefit from playing in Texas' up-tempo system, but he's been outstanding in pass protection for two straight years. He's also athletic enough to get out into space in our screen game, so Williams gets the nod at left tackle.
Ryan Ramczyk, Wisconsin
Ramczyk finally gave up his second and third pressures of the season last week against a loaded Michigan defensive line. He's now surrendered only three on his 156 snaps in pass protection, so we'll take his smooth-moving long frame to protect our quarterbacks.
Guards
Dan Feeney, Indiana
While injuries have kept Feeney off the field in recent weeks, he has a track record of success in the pass game and he may be the best pass protecting guard in the nation. He's allowed only 14 pressures (one sack, two QB hits, and 11 hurries) on 942 attempts since 2014, so he's a great fit for this pass-first offense.
Lamont Gaillard, Georgia
Gaillard has emerged as one of the nation's top guards this season in all facets, but it's his 87.1 pass blocking grade that leads all Power-5 guards. He's surrendered just one hurry on his 146 attempts so he'll pair with Feeney to keep our quarterback clean on the interior.
Center
Bradley Bozeman, Alabama
Replacing first-round pick Ryan Kelly is no easy task but Bozeman has done it in pass protection with a clean slate on his 194 attempts. He hasn't been as strong as Kelly in the running game, but for this exercise, he gets the nod as the center on our pass-first Dream Team.
Edge rushers
Myles Garrett, Texas A&M
Is there any doubt with this one? Garrett has the nation's top pass-rushing grade at 89.7 and that's right in line with his three-year career. He leads the nation with 10 QB hits while adding three sacks and 13 hurries on his 142 rushes, bringing his career totals to 25 sacks, 30 QB hits, and 82 hurries on his 793 attempts for the best pass rusher in the country.
Derek Barnett, Tennessee
Right there with Garrett for their respective careers is Barnett who has heated up in recent weeks and gotten right back into the discussion to challenge Garrett at the top. He now has four sacks, seven QB hits, and 13 hurries on his 152 rushes this season, bringing his three year totals to 25 sacks, 26 QB hits, and 82 hurries on 888 total rushes. Garrett and Barnett will be on the same field this weekend as both Dream Team bookends look to continue their dominance rushing the passer. 
Pass-rush specialist ("Tim Williams Position")
Tim Williams, Alabama
Enough said. Tim Williams will play the Tim Williams position until further notice. He had a sack and three hurries on only six rushes last week, bringing his season totals to one sack, four QB hits, and 14 hurries on his 84 rushes. That's pressure on 22.6 percent of his rushes, well above the NCAA average of 10 percent.
Defensive interior
Malik McDowell, Michigan State
We're adding length and block shedding on the interior with McDowell who boasts the No. 4 pass rush grade in the nation at 86.8 this season. He's been disruptive this season with six QB hits, and nine hurries on his 100 rushes, this after ranking as one of the top interior rushers a year ago. McDowell continues to improve in all facets of the game.
Jake Replogle, Purdue
It's time to jump aboard the Replogle hype train as he simply disrupts offensive football plays in both the run and pass game. For this exercise, we're looking for a pass rusher and who better than the pass rush productivity leader in Replogle. His PRP is 14.3 as he's notched 22 total pressures on 117 attempts, including a sack, five QB hits, and 16 hurries. He's no one-year wonder as he was just as productive last season, so even with little hype, Replogle simply gets the job done.
Linebacker
Jabrill Peppers, Michigan
I'm sure it's been a lifelong goal of Peppers to be a Dream Teamer at multiple positions. This week, he makes it happen as he was a safety on the team two weeks ago, but we're slotting him in at linebacker in our quest to stop the pass at all costs. He'll bring the versatility to cover tight ends, kick out on slot receivers, or move around and blitz the quarterback. Peppers will be our movable chess piece on the defense, but we're calling him "linebacker" this week.
Reuben Foster, Alabama
We rave about Alabama's pass rushers, then usually move to their defensive backs who are quite impressive in their own right. But the rock in the middle of the defense is Foster who owns the nation's top grade among linebackers at 91.2 overall. His 86.1 coverage grade is no slouch either as Foster keeps plays in front of him but can also make plays on the ball as evidenced by a national-high seven passes defensed last season. Foster can also get after the quarterback as he has a sack, four QB hits, and a hurry this season, making him a great fit in the middle of the Dream Team defense.
Jarrad Davis, Florida
Perhaps some recency bias going on here, but I'm usually good for at least one knee-jerk reaction on the Dream Team. It's not as if Davis hasn't had a strong career at Florida, but he's coming off a game in which he deflected three passes while picking up three hurries, so we're riding the hot hand on this week's team. Davis has always been a good blitzer, so we'll use him in that capacity, but he ran the seam and deflected a pass that led to the game-winning interception on Saturday, so we'll take that all-around skillset at linebacker.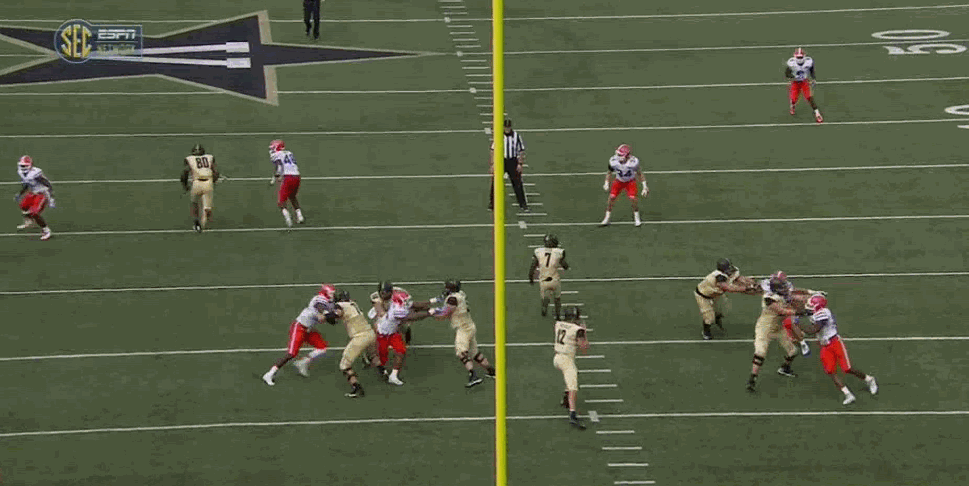 Cornerbacks
Jourdan Lewis, Michigan
Welcome back, Jourdan Lewis. The nation's top coverage grade returned two weeks ago and picked up right where he left off as he's allowed two catches for seven yards on seven targets in his two games this season. Of course, he sealed the deal for Michigan with an incredible one-handed interception that looked like Odell Beckham playing defense. I don't care that it was fourth down, Lewis made the highlight-reel pick, and it may not have even been the best one of his career (look up last year's pick-6 against Northwestern). Lewis is back in full force and even at a listed 5-foot-10, he brings a feistiness to man coverage that is difficult to match.
Tre'Davious White, LSU
Few corners are playing as well as White this season as he cements his stock as one of the top cornerback prospects in the nation. He owns the No. 2 coverage grade among power-5 corners at 88.1 and he's allowed only 13 receptions on 28 targets for 97 yards (3.5 yards/target) to go with two interceptions and two passes defensed. White has played himself right onto the Dream Team.
Mook Reynolds, Virginia Tech
From a pure coverage standpoint, Reynolds has been the best slot cornerback in the nation this season as evidenced by his 88.8 coverage grade that leads all power-5 cornerbacks. He's been targeted 19 times, allowing only seven catches for 25 yards, good for a ridiculous 1.3 yards/target. He's tacked on an interception and three passes defensed so far this year, but watch out this weekend as he matches up with Dream Team slot corner Ryan Switzer in one of the best battles of the weekend.
Safeties
Derwin James, Florida State
"You can't make the club in the tub"
The old saying that injured players are useless, or little value to their teammates and coaches. Not on my team. I miss you Derwin — come back soon.
I'm breaking all of the rules this week because James deserves a spot on my pass-first Dream Team. Part safety, part edge rusher, no player can affect more parts of the game like James. Florida State misses that versatility that saw him line up at free safety on one play and edge rusher the next, but we'll take advantage of his unique skillset and move him around the Dream Team defense to wreak havoc on opposing quarterbacks.
Nate Gerry, Nebraska
Gerry has been strong in coverage in his three years of grading and he boasts the top power-5 coverage grade this year at 91.3. He can read and break quickly on the ball, leading to three passes defensed this season that ranks second in the country and an impressive three-year total of 11 interceptions and eight passes defensed. We need a playmaker on the back end and Gerry is the man for the job.