Alabama's defense has a reputation of being able to fit against whatever offense is thrown at it. The Crimson Tide have so many tools available for them in their defensive toolbox that they can easily get into whatever front and coverage is necessary for suppressing the opposition.
They can play three-down fronts or switch to four-down fronts. They can play one-high safety coverages or an assortment of two-high safety coverages. It's a stark contrast to the defense Ohio State trots out. The Buckeyes want to play one defense and execute it at a high level.
For the Ohio State's offense in the national championship game, finding the area where the Alabama defense has shown itself to be a tad simpler might be the key. That may be the unit staying in heavier personnel than it normally would. Ohio State is already a pretty heavy 12 personnel team — a grouping that means it will play with a running back, two receivers and two tight ends. The Buckeyes have done this on 174 snaps this season, and it makes up 33% of their offense, good enough for 28th in the country. They are efficient in it, too. Their .27 expected points added (EPA) per play in 12 personnel is better than their .2 EPA per play in 11 personnel.
Alabama is still very good against 12 personnel, albeit slightly less good when the offense tries to run with three receivers on the field instead of two tight ends. Their EPA per play against it is -.05 while it's -.13 against 11 personnel. They are still in the negative, but there is a significant difference.
Where it gets more interesting is when teams bring that second tight end on the field and then line up in typical 12 personnel formations. When the tight ends are used "in the core" and not as split receivers, Alabama has struggled a very little bit, albeit in a small sample size. Against single back sets with two tight ends in traditional tight end formations, Alabama is just at .005 EPA per play on 50 snaps.
Ohio State can use these heavier sets to its advantage and create a binary reaction for Alabama. The Buckeyes will certainly have the speed at receiver to get good matchups outside if Alabama wants to play one-high against the heavier formations. Alabama has great outside cornerbacks with Patrick Surtain, 88.6 coverage grade, and Josh Jobe, 77.0 coverage grade, but Ohio State has two great receivers, as well. If the Crimson Tide feel like they need to stay in two-high to account for Chris Olave and Garrett Wilson, then Ohio State can use its bulk to run the football.
And if the Buckeyes can get some defined reads for Justin Fields on early downs in the passing game from heading into 12 personnel, they can help keep Alabama guessing. How 'Bama lines up in contrast to the two-tight end sets will tell Ohio State a lot, as well. If they are going to line up in base with a Sam linebacker on the field, there is a very good chance they'll roll down to a one-high safety defense.
In base, Alabama will either blitz 12 personnel and play with no safety deep in Cover 0 or one safety deep in Cover 1 or Cover 3  some 66% of the time. They'll do it only one-third of the time when they stay in nickel. Both Cover 1, Cover 3 and Cover 0 give great opportunities for Ohio State to hit big plays down the field.
Hanging out in 12 personnel a little more is the first step and throwing to those big boys is the second. Fields spent the whole season really just passing to Chris Olave and Garrett Wilson. With Alabama's talent at cornerback, Ohio State could look to find some success elsewhere.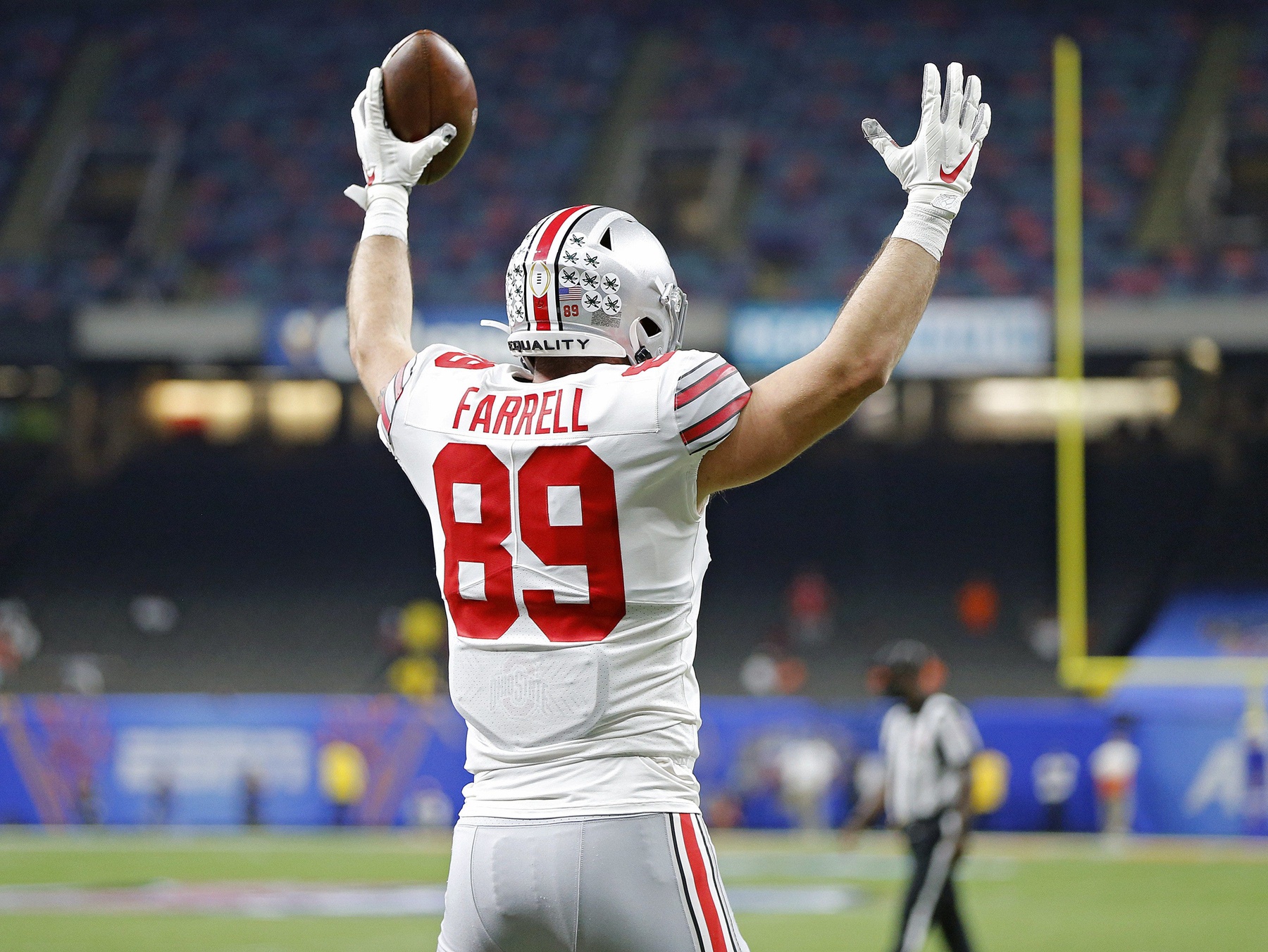 Tight ends Jeremy Ruckert and Luke Farrell haven't gotten the ball much — combining for just 25 targets on the season — but both were four-star recruits. Ruckert was the second-best tight end recruit in the country in 2018, according to 247Sports, while Farrell was the seventh in 2016. We saw in the Clemson game how dangerous they could be, as the duo hauled in three touchdown passes.
The Alabama linebackers have not been good in coverage this season. Dylan Moses owns a 61.3 coverage grade while Christian Harris has a 54.3 mark. That's not great, and it's certainly exploitable by Justin Fields, Ryan Day and others. Most of the catches by tight ends against Alabama and for Ohio State this year have been in the flat, but the size of both Ruckert and Farrell caused some problems down the field for Clemson. Two of Ohio State's three touchdowns to tight ends against the Tigers were them boxing out smaller defenders to secure space inside of them.
If Alabama goes two-high and Ohio State feels it now has space to run the ball, both tight ends can handle themselves appropriately, as well. Among all tight ends who have at least 100 run-blocking snaps, Farrell's 81.5 grade is fifth-best in the country, while Ruckert's 70.7 mark is 39th. They can both get the job done in that facet.
I really believe these two cats are key in Ohio State exploiting Alabama's defense, either by making them predictable or by out-muscling them. Ohio State is going to do what Ole Miss did and play at a lightning-fast pace while using different formations to confuse the Tide. They aren't going to do what Florida did and spread Alabama to its limits to create one-on-one matchups.
For the Buckeyes, it might be getting big and trying to create matchups with their tight ends.