Redshirt freshmen aren't supposed to play the way Drake Maye is.
The first-year starter for North Carolina ranks near the top in every major passing category so far this season. His 91.6 passing grade is third in the FBS. His 1,594 passing yards rank seventh. His 19 touchdowns are tied for first, and his 16 big-time throws also place first. He already has two games in which he has thrown five touchdowns and no interceptions. And he now has the Tar Heels sitting at a 4-1 record and tied for the top of the ACC Coastal division.

Maye took the reins from Sam Howell this season. Howell, who started for the Tar Heels from 2019-2021, holds the record for the most passing yards in school history, with over 10,000. He also holds the record for the most passing touchdowns in a career, most passing touchdowns in a single season and most yards in a single game. Still, Maye had a better first five games than Howell had through the first five games of any of his three seasons.
But Maye attributes his early success to Howell's example.
"[Watching Sam Howell] was a huge help," Maye said in an interview with PFF. "Sam is one of the best to ever do it here. I just tried to soak it all in — in the film room, how he took care of his body, how he would prepare for a game. I tried to be attached to him like his little brother. His preparation is unbelievable. I think [being around him], that's paying off."
Maye is not only a prolific passer, but an efficient one. Despite ranking within the top 35 in total pass attempts, he has just one interception and three turnover-worthy plays on the season. His 1.5% turnover-worthy play percentage is 11th-best in the FBS for quarterbacks who have thrown at least 100 passes. The redshirt freshman is also top 20 in the country in accuracy, with a 78.1% adjusted completion percentage.
If Maye's last name sounds familiar, that's because it should. He's the youngest of four brothers, all of which play or have played college sports. His oldest brother, Luke, was a key player for the Tar Heels' basketball team that won a national championship in 2017. The second oldest, Cole, was a pitcher for the University of Florida baseball team that won a national championship in 2017. And the brother closest to him in age, Beau, is currently a forward on North Carolina's basketball team.
As you would expect, growing up as the youngest in a house full of future collegiate athletes came with its built-in challenges. 
"We found every way to make things competitive," Maye said. "It was usually me and the oldest versus the middle two. Nobody wanted to lose. Being the youngest, I think, was a blessing. Having three older brothers to push you and mold you. That helped shape who I am. I wouldn't say they were tough on me, but they didn't let me slack around. They pushed me to take everything I can to the max."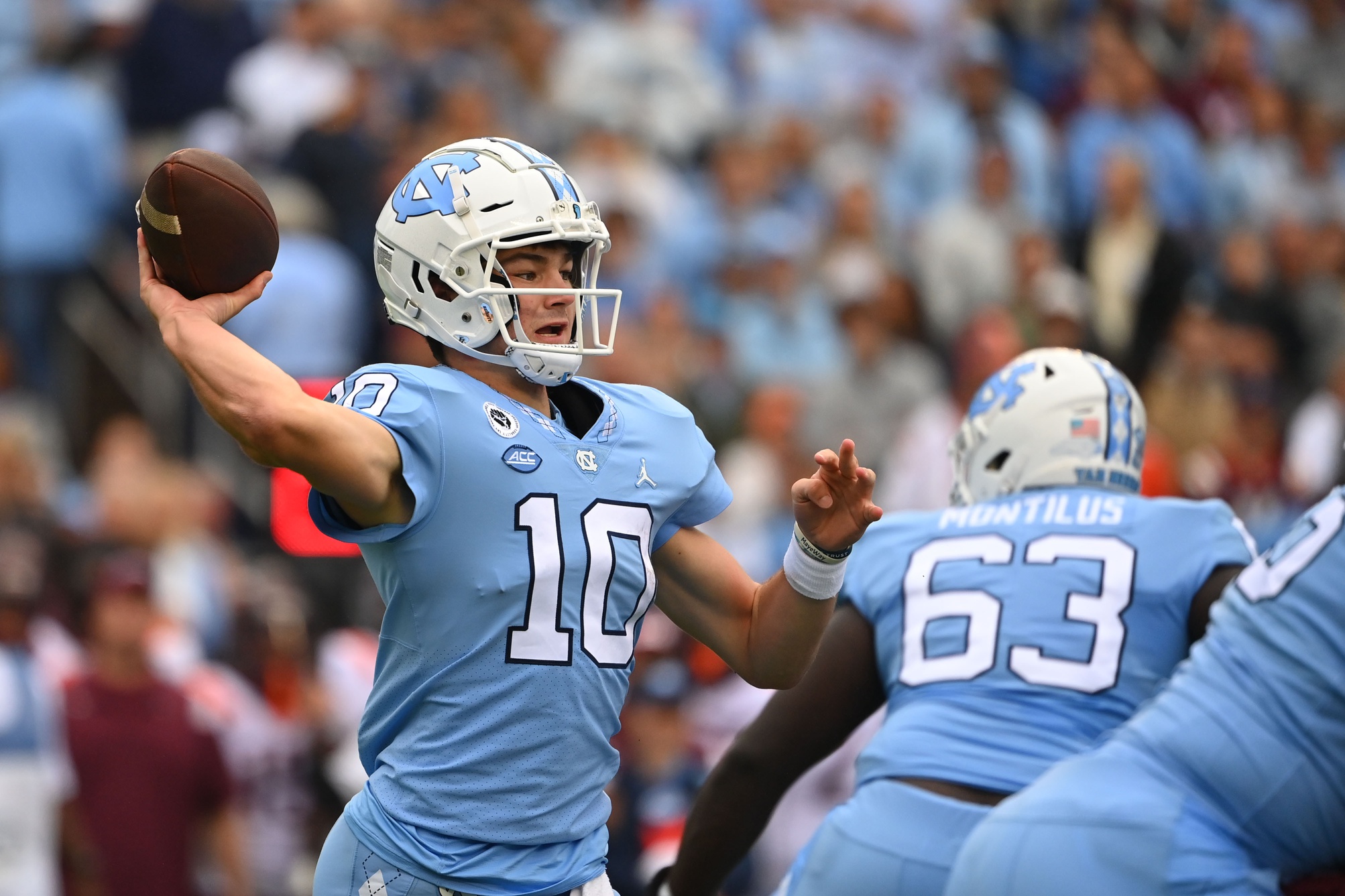 The youngest brother didn't say that his older siblings were too tough on him, but when it came to playing pickup games or things like that, it wasn't easy. He mentioned the times that, before he hit his growth spurt, he was 5-foot-7 going up against his brothers who were all above 6-foot-4.
These days, Drake can measure up — literally. Now standing at 6-foot-4 himself, he's grown in more ways than just physically. Maye, again, cited his time with Howell last season as a main influence on how well-prepared he feels as a first-time starter.
"I felt like throughout last year, at practice, Sam [Howell] would be hard on himself if he made the wrong decision, and he put that on himself," Maye said. "So I take pride in that. Sometimes, I need to make sure I shake it off when a bad play does happen. But I feel like I've done a good job of making the right decision. Keep making those right decisions and the ceiling is the roof, as Michael Jordan said."
Sam Howell (2021) vs. Drake Maye (2022) through first 5 games
| | | |
| --- | --- | --- |
| | 2021 SAM HOWELL | 2022 DRAKE MAYE |
| PASSING GRADE | 77.4 | 90.8 |
| COMP. / ATT. | 95/154 | 114/165 |
| TD/INT | 14/4 | 18/1 |
| PASSING YDS | 1,494 | 1,584 |
| PASSER RTG | 113.4 | 133.5 |
| ADJ. COMP% | 71.7% | 78.1% |
| TWP% | 2.0% | 1.5% |
| BTT% | 6.5% | 9.7% |
For as much as Maye likes to distribute the ball — nine different players have caught touchdowns from him already this season, and 13 have caught passes — he's just as likely to distribute the credit for his early-season success. He praises "the big guys up front" for keeping their protection and giving him time to load up on big throws. He's quick to say the skill position guys are "better playmakers than me," and that's why he's so eager to get it in their hands in the right ways and watch them go off.
But make no mistake. Maye is a playmaker himself — and a damn good one so far this season. He grew up an Aaron Rodgers fan and continues to study the back-to-back MVP to take tips and tricks from his game. He's also become a huge fan of what Josh Allen can do — not just as a runner but also as a passer.
Whether it's living up to the high bar that the Maye family name has established, continuing his predecessor's legacy or striving to have his name next to the likes of Rodgers and Allen someday, one thing is for certain: It's been a hell of a start for the young Tar Heels gunslinger.