With most of the college season now in the books, the excitement turns to the bowl games, the College Football Playoff and the topic that is always sure to get fans talking: awards season. No award is bigger than the Heisman Trophy, which will be awarded to the winner in New York this Saturday. Before then, we're sharing our top 10 candidates for the coveted trophy.
Lamar Jackson, Quarterback, Louisville
Jackson had this award locked up by mid October, but the wow factor definitely wore off somewhat in the final few weeks of the season, both for himself and Louisville. That being said, it's impossible to ignore what Jackson did over the balance of the season, and he had many more outstanding performances than he had lackluster ones. As a passer he was at his best when he didn't have to deal with pressure, completing 63.5 percent of his passes and throwing 26 touchdowns to five interceptions, compared with a 41.1 percent completion percentage and four touchdowns and four interceptions when pressure got there.
Where Jackson really separated himself were his skills as an electrifying runner. Rushing for 1,793 yards, Jackson forced 46 missed tackles, including 14 on 45 quarterback scrambles, Jackson found the end zone 21 times. On a Louisville offense that had problems along the offensive line, Jackson did everything he could, and then some, to try to carry the offense to the College Football Playoff. They came up short, but Jackson's season is more than deserving of taking home college football's most coveted individual trophy.
Baker Mayfield, Quarterback, Oklahoma
While Jackson's season dipped in the final quarter, Mayfield's continued to roar on, and in the end he has made this a far closer battle for the top than it looked like it would be early in the year. At 93.6, he had the highest overall grade among quarterbacks in the nation and was outstanding as a passer. On throws travelling 20 yards or further downfield, Mayfield went 31-for-58 for 1,398 yards, while his 17 touchdown passes on those throws ranked third in the nation.
Jonathan Allen, Defensive interior, Alabama
If there is a defensive player who has the strongest claim to the Heisman Trophy this year, it's Alabama's Jonathan Allen. The perfect combination of dominant and versatile, he did damage when lined up both on the edge and on the defensive interior. Most of his snaps came on the inside, and his 12.0 percent run stop percentage rating ranked second among all 3-4 defensive ends, while his 12.1 pass-rushing productivity rating ranked third, with Allen racking up 56 total pressures from 367 pass-rushing snaps.
Deshaun Watson, Quarterback, Clemson
The similarities between Watson's 2015 and 2016 season are interesting and if he hadn't a couple of average performances earlier in the year, he would be pushing Jackson and Mayfield for the top spot. He ended the season spectacularly well, throwing for nine touchdowns and two interceptions in the games against South Carolina and Virginia Tech. That South Carolina game had one of the most ridiculous stats you'll see all year, with Watson going 26-for-32, but with four of his incompletions coming on dropped passes.
Dede Westbrook, Wide Receiver, Oklahoma
The second part of the duo that PFF analyst Bryson Vesnaver liked to call "Maybrook," Dede Westbrook produced a ridiculous season himself this year. With an overall PFF grade of 88.5, he is one of the top receivers in the nation, and a legitimate threat to score a touchdown whenever he is on the field. From 346 snaps as a receiver this year, Westbrook averaged 4.22 yards per route run, the third-highest mark among wide receiver this year.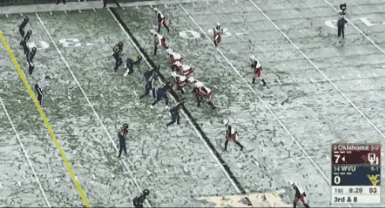 Reuben Foster, Linebacker, Alabama
Another Alabama defender who is among the very best players in the nation, Foster was truly dominant at the linebacker position this year. His overall grade of 92.6 highlights it, but what was most impressive was just how good he was in all facets of the game. Impressive in coverage and against the run, 55 of his 69 tackles resulted in a defensive stop, and he added three sacks, 10 hits and four hurries as a pass-rusher. He showed the sideline-to-sideline ability that scout at the next level will love, but most importantly he was one of the best players on the best team in the nation this year.
Cordrea Tankersley, Cornerback, Clemson
Tankersley's coverage numbers this year were incredibly impressive, allowing just 259 yards and one touchdown in coverage over the course of the 2016 season. He looked very good playing the ball in the air too, coming away with three interceptions and seven pass breakups. His overall grade of 89.8 highlights his place among the elite players in college football this year, but the fact that he allowed just 25 receptions, at 10.4 yards per catch, tells a pretty convincing story by itself.
Myles Garrett, Edge, Texas A&M
The year of the edge defender delivered some of the best players in the nation making the lives of many offensive tackles completely miserable and, despite being limited by injury throughout the year, Garrett was still one of the most dominant players in the nation. He impressed against the run, but it was as a pass-rusher where his impact was once again felt the most. Racking up nine sacks, 15 hits and 27 hurries from 310 pass-rushing snaps, he was once again a force off the edge. Arguably the most dominant player in college football over the past three years, Garrett will likely be hearing his name called early in the NFL draft this spring.
Jordan Willis, Edge, Kansas State
Garrett isn't the only dominant edge defender worthy of making this list, with Kansas State's Jordan Willis also putting up some eye-popping numbers as a pass-rusher this year. His 72 total pressures were the third most of any 4-3 defensive end this year, and if you watched any Kansas State games, it felt like he practically lived in the backfield, making plenty of offensive tackles look very silly when he did. He wasn't just impressive as a pass-rusher though, making a big impact against the run, where he had the second-highest grade among 4-3 defensive ends.
Dalvin Cook, Running Back, Florida State
In what was likely his final season at Florida State, running back Dalvin Cook delivered once again, confirming that he will go down in history as one of the best running backs to come out of the school. Arguably better than he was in 2015, Cook was downright dominant at times this year, and had one of the best single game performances you'll see from a running back in the win over Florida. His 79 forced missed tackles led the nation, and when you add in a further seven missed tackles forced on 30 receptions, and an average of 3.9 yards after contact per carry, it gave him an elusive rating of 112.2, good for the 14th-highest mark in the nation.