With only one game remaining before the bowl games and College Football Playoff, it's time to roll out our 2016 PFF All-American team.
See who received the top honors — along with second- and third-team selections — right here:
Quarterback: Lamar Jackson, Louisville
It was a close call in the end between Jackson and Oklahoma's Baker Mayfield, and were we looking at a quarterback's ability as a passer alone, Mayfield would be the easy choice. That doesn't cover the type of player Jackson is though, and his ability to extend plays and electrify crowds with his ability as a runner is something we haven't seen since Michael Vick's days at Virginia Tech. Jackson rushed for 1,793 yards, forcing 46 missed tackles and scoring 21 touchdowns, with a PFF rushing grade of 97.9. As a passer he was at his best when pressure didn't get to him, with 26 touchdowns and five interceptions on the 300 dropbacks where he was kept clean. A truly remarkable season as a dynamic playmaker, Jackson carried the Louisville offense for much of the year.
Second team: Baker Mayfield, Oklahoma
Running back: Dalvin Cook, Florida State
You can make the case that Cook was even better in 2016 than he was in 2015 and if the Orange Bowl against Michigan is to be his final game at Florida State, he will leave as one of the schools' best players on offense. This year he forced 79 missed tackles on 268 carries, nine more than the next best running back. Averaging 3.9 yards after contact, and adding seven missed tackles on 30 receptions, Cook had the 14th-best elusive rating in the nation at 112.2. When you watch Cook play one thing that jumps out is the number of quality runs he has. It's not always about the long touchdown runs either, with Cook often making a smart cut to give himself some space on a four- or five-yard carry.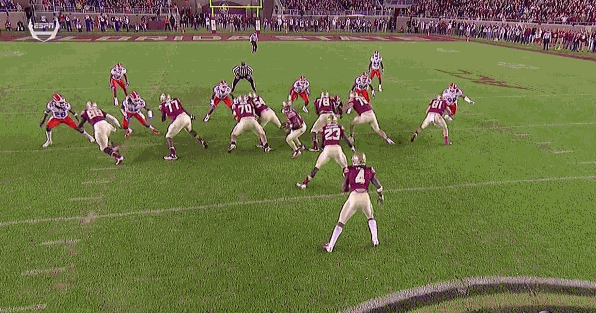 Second team: Kareem Hunt, Toledo
Full back: Nick Bawden, San Diego State
One of the things that isn't mentioned enough when talking about San Diego State running back Donnell Pumphrey is just how good his lead blockers have been. A year ago it was the undersized but utterly dominant Dakota Gordon, and this year Nick Bawden is the highest-graded lead blocker in the nation, bulldozing over linebackers at the second level to give Pumphrey additional room to work with.
Second team: Sam Rogers, Virginia Tech
Wide receiver: Dede Westbrook, Oklahoma; Zay Jones, East Carolina
Two incredible receivers this year, Westbrook and Jones put up eye-popping numbers in different ways. Jones was a ridiculous 217 passes thrown his way, and forced 24 missed tackles over the course of the year and while he benefited from a system that fed him the ball, he made the most of that, dropping just six of the 164 catchable passes thrown his way. Westbrook earned his trip to New York as a Heisman Trophy finalist by dropping just four of the 78 catchable passes thrown his way, forcing 25 missed tackles and scoring touchdowns. He finished the year averaging 4.22 yards per route run, the third-best mark in the nation.
Second team: Corey Davis, Western Michigan; John Ross, Washington
Slot receiver: Austin Carr, Northwestern
He didn't really get noticed by most people until an eight-catch, 158-yard performance against the Ohio State Buckeyes, but Carr was the best slot receiver in all of college football from our perspective all year. Carr ranks fifth in the nation with an average of 3.04 yards per route run from the slot, and is second with 12 touchdowns when lined up as an inside receiver. He dropped just four of the 88 catchable passes thrown his way as a slot receiver, providing a safe pair of hands, as well as a touchdown threat, in the Northwestern offense.
Second team: Nicholas Norris, Western Kentucky
Tight end: O.J. Howard, Alabama
With 37 receptions for 445 yards, and a yards per route run average of 1.54, along with providing a safe pair of hands for true freshman quarterback Jalen Hurts, Howard was a solid receiver at tight end this year. Where he truly separates himself from his peers though is as a run blocker. There wasn't a better run-blocking tight end in college football this year, and he impressed in arguably the toughest conference defensively.
Second team: Michael Roberts, Toledo
Offensive tackle: Connor Williams, Texas; Ryan Ramczyk, Wisconsin
In his second season in college football, Williams stepped up to become the best tackle in the nation, and was one of the most consistent players in the country period. He didn't allow a single sack all year until the final game of the year against TCU, and that was the only time he allowed any Texas quarterback to be knocked to the ground. Allowing just five total pressures all year, his 99.1 pass blocking efficiency rating was tied for fourth among all offensive tackles, and he dominated as a run blocker too. Ramczyk was solid as a pass protector too, allowing just one sack, three hits and 11 hurries from 348 pass blocking snaps, but he too earned his PFF All-American honor thanks to his dominance in the running game.
Second team: Cole Madison, Washington State; Forrest Lamp, Western Kentucky
Guard: Will Hernandez, UTEP; Cody O'Connell, Washington State
Most of the top guards in the nation this year came from the Group of Five conferences rather than the Power-5, but Cody O'Connell from Washington State impressed in pass protection, as a run blocker and on screens to earn his spot here. UTEP's Hernandez was the best run blocking guard in the nation by a considerable margin, and it helps that he didn't allow a single sack, hit or hurry over the course of the year in pass protection.
Second team: Nico Siragusa, San Diego State; Fred Zerblis, Colorado State
Center: Frank Ragnow, Arkansas
If you watched any of Arkansas this year, it won't come as a surprise to see Ragnow named as our first-team All-American center. Utterly dominant for much of the year after moving from guard to center in 2016, Ragnow looked at his best in space, either at the second level or on pull blocks. He played a huge role in their success running the ball, with Arkansas averaging 6.4 yards per carry on runs between center and left guard this year.
Second team: Bradley Bozeman, Alabama
Edge: Myles Garrett, Texas A&M; Derek Barnett, Tennessee
The same two players who were our pre-season All-Americans on the edge remain there at the conclusion of the year after dominant performances for the second year in a row. It's incredibly tough to split them in terms of performance, though Barnett was the more productive pass-rusher this year, with a pass-rushing productivity rating of 14.9 to Garrett's 13.7. Both were solid against the run too, and the discussion can now shift to which one is likely to be drafted ahead of the other in this spring's NFL draft, provided both declare. With PFF grades of 92.1 and 91.6 respectively, you really would be happy with either.
Second team: Jordan Willis, Kansas State; Trey Hendrickson, Florida Atlantic
Defensive interior: Jonathan Allen, Alabama; Jake Replogle, Purdue
If there is one player who can feel slighted about not getting an invite to New York for the Heisman Trophy award ceremony, it's Alabama's talented defensive lineman Jonathan Allen. Dominant and versatile, he has as good a case as anyone to claim to be the best player in the nation. Allen ranks second on the year among 3-4 defensive ends with a run stop percentage of 12.0 percent, and third with a pass-rushing productivity rating of 12.1, racking up 56 total pressures from 367 pass-rushing snaps. Replogle had the second-highest pass-rushing productivity rating among defensive tackles at 15.2, with two sacks, 10 hits and 26 hurries on 191 pass rushing snaps. A consistent menace to opposing interior offensive linemen, he excelled against the run too.
Second team: Vincent Taylor, Oklahoma State; Soloman Thomas, Stanford
Linebackers: Reuben Foster, Alabama; Blair Brown, Ohio; Stacy Thomas, Louisville
On an Alabama defense that boasts superstars at every level, Foster has been one of the top players. 55 of his 69 tackles have resulted in a defensive stop, and he has graded very well against the run, in coverage and as a blitzer too. Foster's success is well documented, but just how well Ohio's Blair Brown has played this year has gone relatively unnoticed. He has registered 63 tackles resulting in a defensive stop in 2016, and like Foster has excelled in all three phases. You'd be forgiven for thinking that Lamar Jackson was the only player on the Lousiville roster, but linebacker Thomas had a PFF grade of 90.4 this year, earning his spot as a first-team All-American.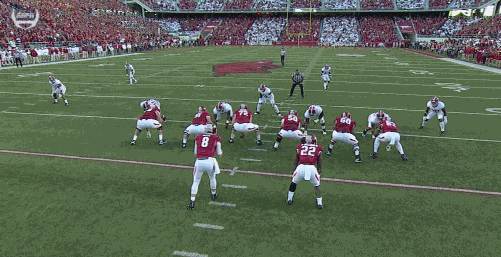 Second team: Calvin Munson, San Diego State; Keith Brown, Western Kentucky; Kenneth Olugbode, Colorado
Cornerback: Cordrea Tankersley, Clemson; Desmond King, Iowa
Tankersley's coverage numbers this year are pretty eye opening, allowing a catch on 44.6 percent of the passes thrown into his coverage, giving up just 259 yards and one touchdown over the year, while picking off three passes and breaking up seven more. All that adds up to an NFL passer rating of 42.2 on throws into his coverage. King was targeted just 45 times in coverage, giving up just 18 receptions for 224 yards and coming away with two interceptions and eight pass breakups over the course of the year. A complete defender, he also excelled against the run.
Second team: Jaire Alexander, Lousville; Rasul Douglas, West Virginia
Slot cornerback: Minkah Fitzpatrick, Alabama
Another of Alabama's defensive stand outs, Fitzpatrick has been outstanding when lined up in the slot, and impressed when he's had to cover at safety too. On the 37 passes thrown into his coverage when lined up in the slot, Fitzpatrick has allowed 17 receptions for 212 yards, with no touchdowns and three interceptions. That was good for an NFL passer rating of just 30.5. For context, the NFL passer rating of dropping back to pass and just throwing the ball away is 39.6. That means it's smarter for opposing quarterbacks to throw the ball away than try to go after Fitzpatrick in coverage.
Second team: Tre'Davious White, LSU
Safety: Jamal Adams, LSU; Nathan Gerry, Nebraska
Adams took his game to a new level in 2016, stepping up as a complete defensive back and one of the best all round players in the nation. Outstanding against the run and coming up to tackle receivers on short passes, Adams has seen 33 of his 55 tackles result in a defensive stop. He has improved in coverage in general too, and played a key part in LSU all but shutting out Ole Miss tight end Evan Engram when the two teams met this year. Like Adams, Gerry keeps his place here from mid-season, excelling in coverage with a PFF grade of 88.7, coming away with four interceptions and six pass breakups and impressing against the run too.
Second team: Marcus Williams, Utah; Budda Baker, Washington
Kicker: Zane Gonzalez, Arizona State
What Gonzalez achieved this year was truly remarkable, connecting on 92.0 percent of his field goal attempts. His only two misses came on field goals of 50+ yards, perfect from inside that distance, but he also connected on seven field goals from 50+. Further showcasing his big leg, Gonzalez kicked 59 touchbacks on 81 kickoffs this year.
Second team: Daniel Carlson, Auburn
Punter Mitch Wishnowsky, Utah
Head and shoulders above his peers at punter, Wishnowsky averaged 48.1 yards per punt and 44.6 net yards per punt over the course of the 2016 regular season. Just 19 of his 60 punts were returned with 36 of them landing inside the opposing 20 yard line.
Second team: Jake Bailey, Stanford
Kick returner: Quadree Henderson, Pittsburgh
Henderson led the nation with three kickoffs returned for touchdowns over the course of the year, averaging 31.1 yards per kick return. One of the most dangerous returners around, kickers regretted giving him the opportunity to return kicks this year.
Second team: Adoree' Jackson, USC
Punt returner: Jabrill Peppers, Michigan
Peppers might not have made it onto our defensive All-American team, but his impact on special teams was incredibly important for Michigan this year. Averaging 14.6 yards per punt return on 21 returns, Peppers finished the year with one touchdown as a returner.
Second team: Tim White, Arizona State
Special teamer: Branden Leston, Western Kentucky
No player in the nation made as many special teams tackles than Leston, who finished the regular season with 14 solo tackles and two assists. Even better, he didn't miss a tackle on special teams all year.
Second team: Justin Moody, Eastern Michigan