After waiting nine long weeks, we finally basked in the return of Pac-12 football. Although there may not be too many top-tier draft-eligible players to watch after Oregon tackle Penei Sewell and Stanford tackle Walker Little decided to opt out, there are always players who burst onto the scene and talented underclassmen who put themselves on the national radar. 
Without further ado, here are the highest-graded Pac-12 players from Week 10.
Editor's note:  PFF's CFB Premium Stats+ subscribers can view player grades, advanced statistics, positional snap counts and more. Subscribe today for access!
1. QB JAYDEN DE LAURA, WASHINGTON STATE — 90.3
Not only did Washington State enter its first Pac-12 bout with a new head coach after Mike Leach left for Mississippi State, but the team was also without 32 players due to injury or COVID-19 protocol, including star running back Max Borghi.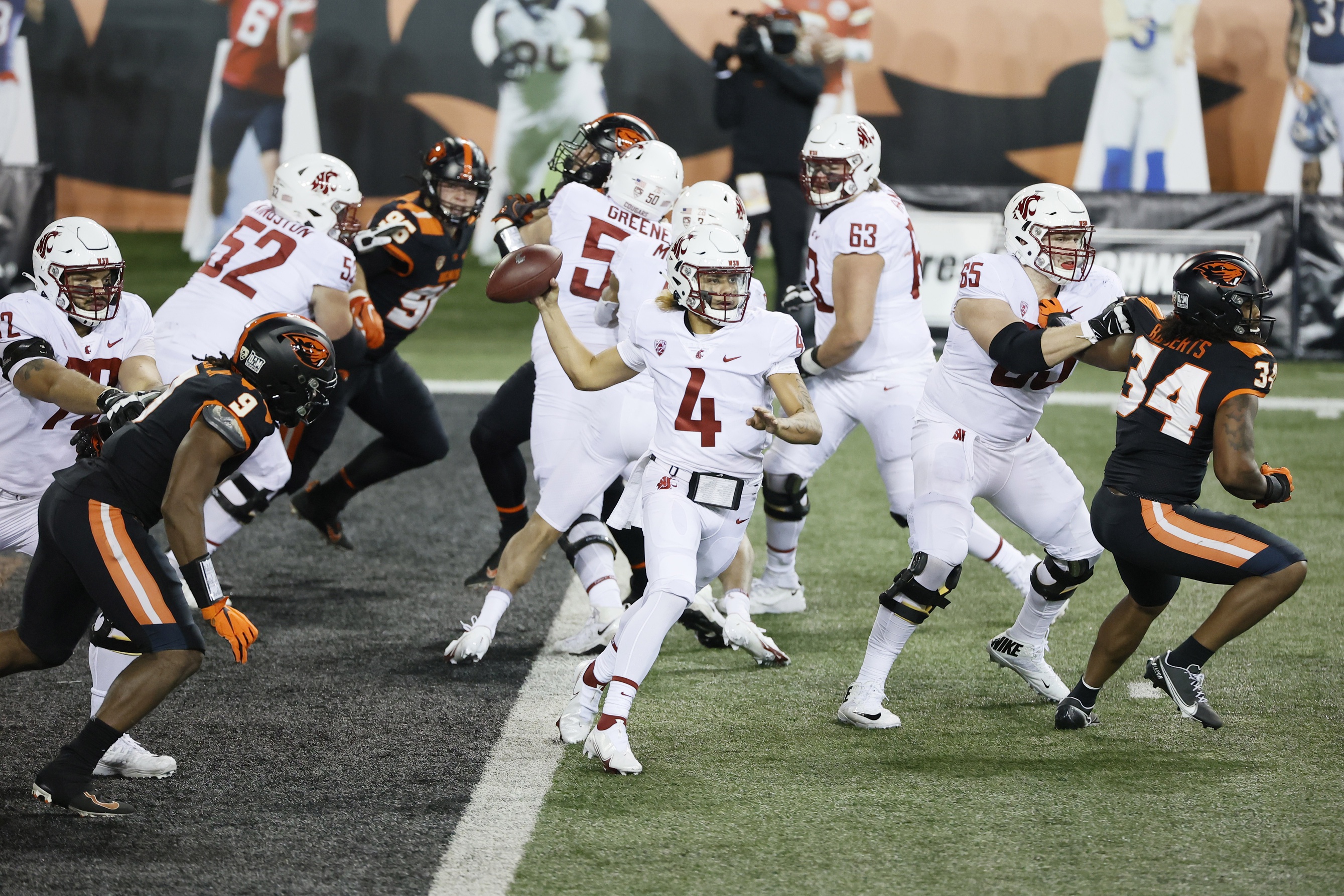 Many predicted Oregon State to trounce the Cougars, but they did not account for just how well the true freshman quarterback from Honolulu, Hawaii, was going to play. De Laura's 90.3 PFF grade ranked seventh-best among quarterbacks and one spot ahead of Heisman dark horse Zach Wilson in Week 10. 
He took six shots 20-plus yards downfield, completing three for 80 yards, two touchdowns and one interception. The pick was his fault, as it wasn't a particularly accurate throw, but all three of his completions were big-time throws — PFF's highest-graded passes. Each was perfectly placed into tight coverage downfield. It was clear the coaching staff had no leash on their quarterback, either, as his attempts went 12.1 yards downfield on average and 80.6% of his 227 passing yards came through the air — the third-highest rate of the week. 
De Laura also flashed his athleticism, taking nine carries for 51 yards and a plunge past the pylon. He was impressive in the pocket, too, avoiding any sacks despite being pressured seven times. There were five more occasions where his offensive line got beat, but he scrambled or let go of the football before they could turn into pressure. The Hawaii native has obvious talent, and if he can continue to improve with each game, the Cougars will be in great shape for years to come.  
2. DI SIMON SANDBERG, OREGON STATE — 89.9
The first of just two defenders on the list, Sandberg put together an imposing performance in the Beavers' loss to Washington State. He netted zero negatively-graded plays, as he was never bullied by the opposition and limited his mistakes. He generated only one pressure, but it was a clean beat against the opposition that nearly turned into a sack.
Sandberg also batted a pass and was one of the lone bright spots on an Oregon State defense that surrendered 38 points in its season opener. 
3. OG RYAN WALK, OREGON — 89.6
All Oregon does is produce offensive line talent, and Walk is no exception. The Ducks trotted out an entirely new front five with Sewell opting out and Brady Aiello, Jake Hanson, Calvin Throckmorton and Shane Lemieux taking their talents to the NFL.
This required the coaching staff to piece the new line together, which meant Walk making the move from center to guard. He saw action at both left and right guard in Week 10 and was bullish at each position. His 89.6 overall grade and 90.2 run-blocking grade were both tops among offensive guards in college football. 
Walk forfeited zero pressures from both guard spots on 26 pass-blocking snaps, providing quarterback Tyler Shough plenty of time in the pocket up front. Stanford's defensive line is not all that remarkable, but Walk had his way with them, which is a good sign for the rest of his season. 
4. OT ABRAHAM LUCAS, WASHINGTON STATE — 87.7
Lucas was one of just five offensive tackles in Week 10 to post 80-plus grades in both run blocking and pass blocking. He made his presence known at right tackle, allowing zero quarterback pressures on 38 reps in pass protection. He was similarly dominant in the running game, playing a key role in the Cougars averaging 13.1 yards when rushing to the right side of the offensive line. 
Lucas has never finished a season with a PFF pass-blocking grade worse than 85.0, and if his execution against Oregon State is anything to glean from, he will once again exceed that mark in 2020. 
5. QB SAM NOYER, COLORADO — 86.5
Noyer sat behind Steven Montez for the past four years before earning his first start at quarterback in his college career in Week 10. With Noyer sitting at 6-foot-4 and 220 pounds with solid movement skills, it is no surprise the Buffaloes moved him to safety and special teams last year and now plan to utilize his legs this season, as was evident in their first game of 2020.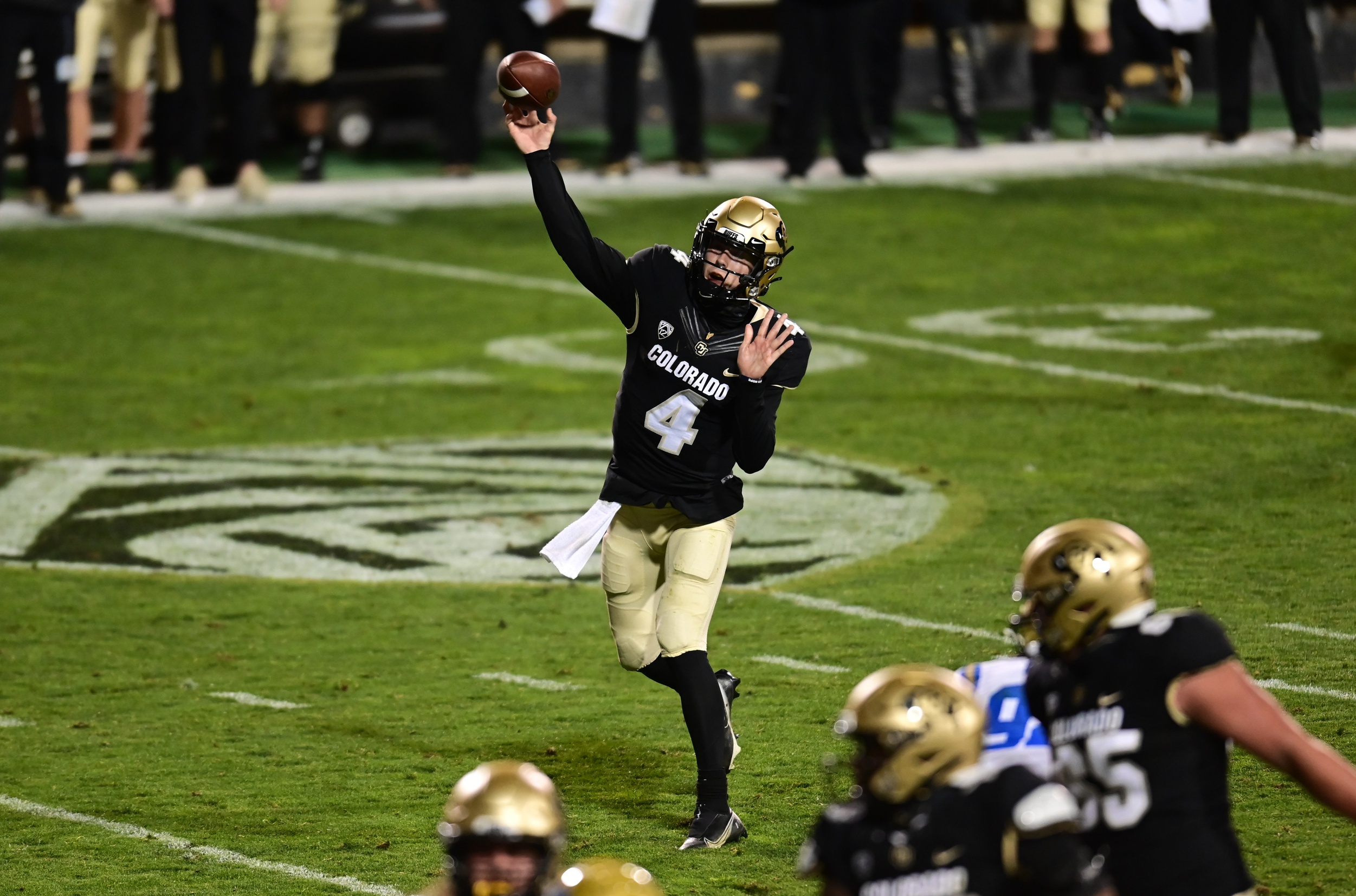 He carried the rock 13 times on designed runs, which was the fifth-most of any Power Five quarterback in Week 10, gaining 52 yards and punching in a score with two missed tackles for good measure. 
He wasn't asked to do too much in the passing game, owning a conference-low 6.4-yard average depth of target and releasing the football in 2.43 seconds, the second-fastest mark. Noyer struggled against pressure, as can be expected in his first game back at quarterback, completing just one of seven attempts and making a turnover-worthy play.
On the other side, he was imposing from a clean pocket, earning an elite 90.1 passing grade by completing 19-of-25 passes — with two drops — for 252 yards and a touchdown. His 10.1 yards per attempt when free of pressure was the 15th-best mark in the nation. 
6. C DREW DALMAN, STANFORD — 86.4
Dalman was not only the highest-graded center in the Pac-12, but he was also the second-highest-graded center in the country — just behind Iowa's Tyler Linderbaum. He allowed just one quarterback hurry on 29 snaps in pass protection and created lanes up the middle for his running backs to bounce through. He made 10 positively-graded plays on the day, tied for the second-most of any Power Five offensive lineman in Week 10. 
He had his way with Oregon's interior defensive linemen for much of the contest and has now played 698 total snaps in pass protection without allowing a sack.
7. HB DEON MCINTOSH, WASHINGTON STATE — 86.0
All-conference running back Max Borghi missed the season opener due to an undisclosed injury, which thrust McIntosh into the starting running back role. McIntosh did not waste his opportunity in the backfield, compiling 144 yards — 73 after contact — on just 18 carries. He had nine runs of 10 or more yards and also forced six missed tackles, the third-most in the conference and tied for the 10th most in the nation. 
Borghi will retain his role once he is healthy, but McIntosh showcased his ability and likely earned himself more playing time in the future. 
8. CB CHASE LUCAS, ARIZONA STATE — 84.7
No matter if it was Amon-Ra St. Brown, Drake London, Tyler Vaughns or Bru McCoy lining up across from him, Lucas held his own. Against one of the most electrifying receiver units in the nation, he allowed four receptions on six targets for a measly 27 yards. He also forced two incompletions, missed zero tackles and caused a fumble in coverage that was recovered by the Sun Devils.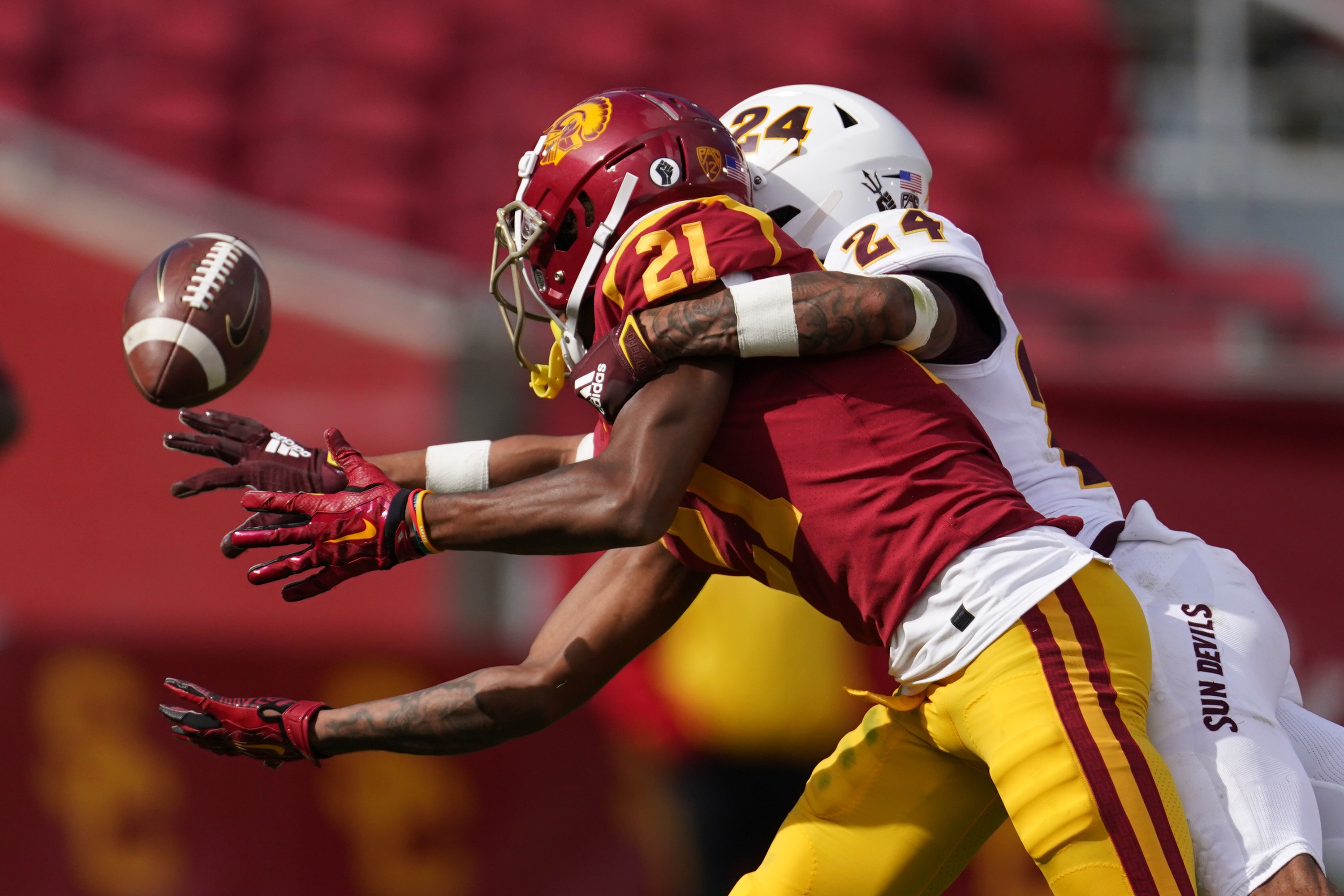 The redshirt senior is starting in his fourth straight season, and his experience and awareness showed. If Lucas can continue to play the way he did Saturday, his draft stock will rise tremendously. 
9. QB TRISTAN GEBBIA, OREGON STATE — 83.8
Without Jake Luton — who recently made his NFL debut for the Jacksonville Jaguars — manning the signal-caller position, the Beavers had a huge hole to fill. Gebbia may not have led Oregon State to a victory over Washington State, but he showed ability from the position. He finished the contest with zero turnover-worthy plays and zero big-time throws; he kept the ball out of harm's way but also did not make any throws into tight windows downfield. 
He completed 69.4% of his passes — second-best in the conference — for 329 yards and one touchdown. He made his money targeting the middle of the field, completing 66.7% (ninth) of his passes 10-19 yards downfield for 150 yards and a 121.5 passer rating (11th), culminating in a 90.3 passing grade (seventh) — all of which were top-15 ranks in the Power Five. 
10. TE GREG DULCICH, UCLA — 80.7
There are a plethora of explosive receivers in the conference, but Week 10's leader in receiving yards was UCLA's electric tight end Greg Dulcich. The Bruins are no stranger to talent at the tight end position, with Thomas Duarte (2016), Caleb Wilson (2019) and Devin Asiasi (2020) all hearing their names called on draft day in recent years. It is too early to declare Dulcich will be the next stud to get drafted, but he was stellar against Colorado in his first game as a starter. 
He received nine targets, but only four were deemed catchable. He caught all four for 126 yards, three first downs and one touchdown. It was not as if Dulcich had just one chunk play that accounted for most of his yards, either, as all four of his receptions went for 15 or more yards.