We're already through the third week of the season after a fun slate of games on Saturday that did nothing to change the leader atop of the race for the Heisman Trophy. After the third week of action, we take another look at who's in line for the Heisman in our weekly Heisman Watch.

1. Joe Burrow, QB, LSU
A week after taking care of Texas, Burrow and the LSU Tigers hosted Northwestern State and put on a passing clinic. He completed 21-of-24 passes for 373 yards and two scores as the offensive line gave him clean pockets on 18 dropbacks, but Burrow also took care of business when he did see pressure. When pressured in the pocket, Burrow completed 5-of-6 attempts for 85 yards and a score, all equaling a perfect passer rating and an elite overall grade. This is great news for the Tigers and for his Heisman candidacy as the road gets much more difficult ahead.
2. Jalen Hurts, QB, Oklahoma
The Sooners, led by Hurts, went into LA and knocked off the UCLA Bruins convincingly. Hurts was brilliant from a clean pocket in this game, completing 12-of-15 attempts for 209 yards and two touchdowns while he was also sharp passing the ball down the field. On throws targeted at least 10 yards past the line of scrimmage, Hurts connected on 7-of-11 passes for 210 yards and all three of his touchdowns. He added 79 yards in the designed run game and had an additional 78 yards on three scrambles showcasing what makes him perhaps the nation's best dual-threat quarterback through three weeks.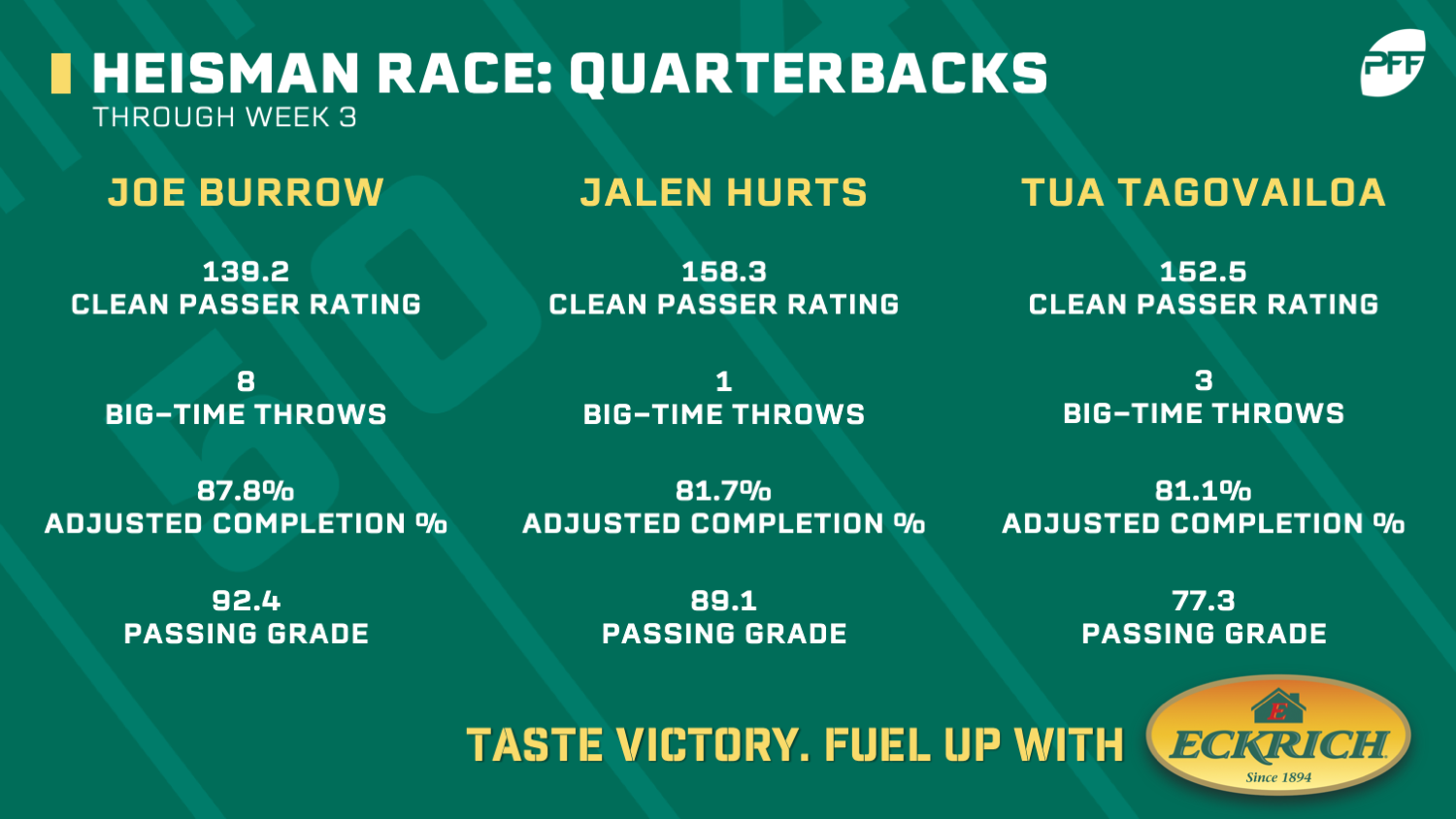 3. Tua Tagovailoa, QB, Alabama
Needing just 28 completions to reach the 400-yard plateau, Tagovailoa threw for 444 yards and five touchdowns against South Carolina in an impressive display of passing that saw him find open receivers all over the field. He wasn't tested often in this game and his receivers did a bevy of the work while he was kept clean on 28 of his 39 dropback attempts. He'll certainly be tested against some better secondaries in the future but if his first conference game of the season is any indication, he and the Crimson Tide are still the class of the SEC.
4. Justin Fields, QB, Ohio State
In what was a dominant display of passing, Fields finished the game with elite overall grades when kept clean and had terrific numbers on downfield passes. To the intermediate range alone (10-19 yards past the line of scrimmage), he connected on 9-of-10 passes for 139 yards and a touchdown. Of his 199 yards in the game, he saw 93.5% of them come through the air, averaging 8.3 yards per attempt and 7.6 air yards per pass. Answering any critic that said he couldn't throw the ball down the field — against their first Big Ten opponent to boot — Fields has firmly placed himself in the discussion with Hurts to battle it out for top dual-threat QB in the country.
5. Sam Ehlinger, QB, Texas
On the heels of the loss to LSU, Ehlinger cracks into the top 10 rankings here after cruising past Rice on Saturday. Ehlinger completed 23-of-27 attempts for 279 yards and three scores while taking care of the football admirably and avoiding any turnover-worthy attempts. Kept clean from pressure on 26 of his 32 dropbacks, Ehlinger had elite overall and passing grades by throwing for 252 of his yards in the game and dissecting the defense near perfectly. His adjusted completion percentage on those clean attempts sat at an elite level also, throwing a catchable pass on 91.7% of his clean-pocket attempts.
6. Zack Moss, RB, Utah
The nation's leader in missed tackles forced needed little time to showcase what makes him perhaps the nation's best running back overall on Saturday as the Utes and Moss took quick work of Idaho State. He needed 10 carries to reach 106 yards, forced six missed tackles on those carries and gained a whopping 110 yards after contact. Any time a running back can average a missed tackle forced on even 25% of his carries, that number is astounding. Moss, at this point of the season, is forcing a missed tackle on over 50% of his attempts. That figure is mind-boggling.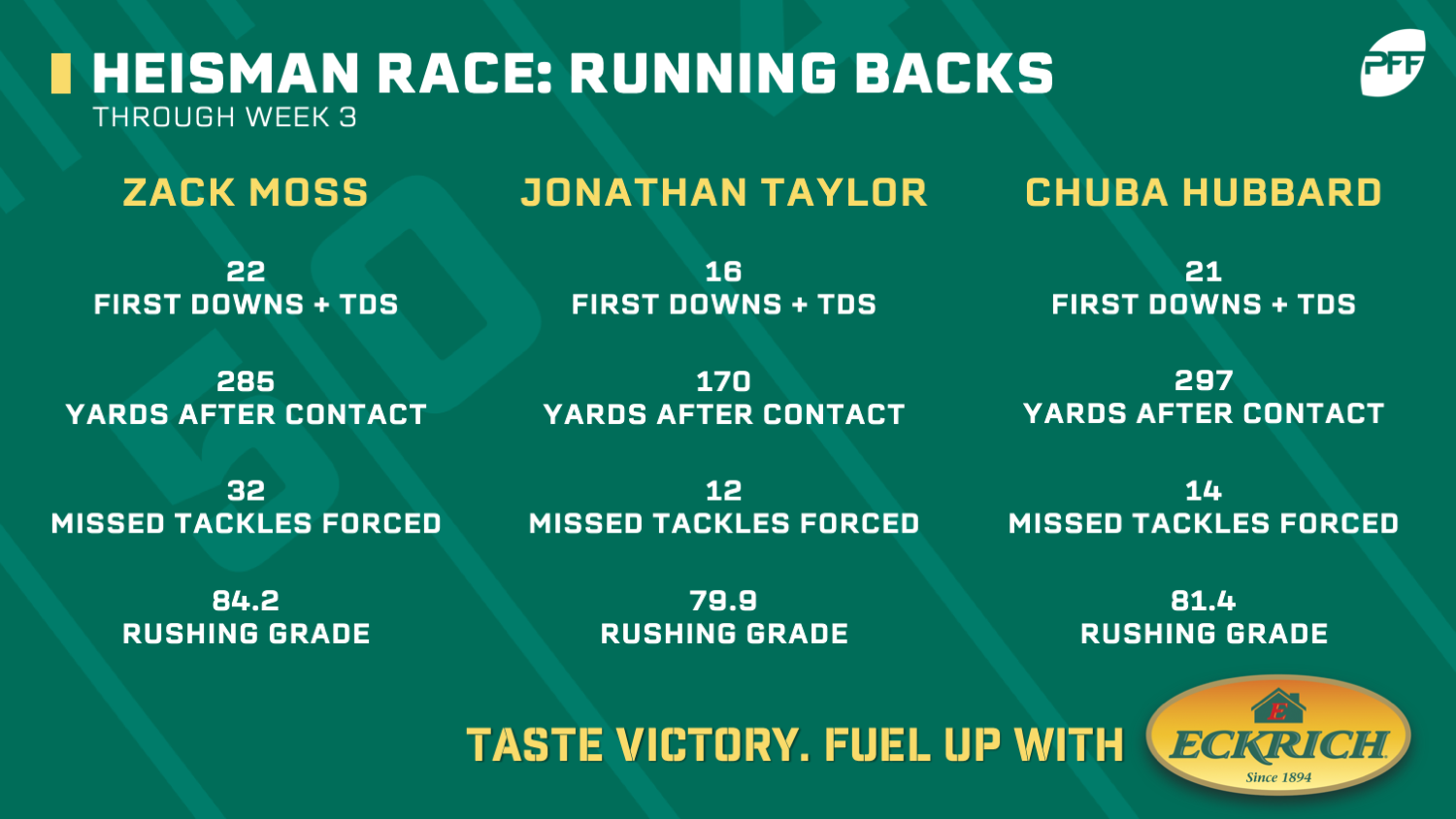 7. Tyler Huntley, QB, Utah
Huntley also needed just 17 attempts to reach 257 yards and three scores as he had a near-perfect game through the air against Idaho State. Like the aforementioned Fields, Huntley connected on passes downfield like he'd been doing all year, answering any critics who said he couldn't throw a good pass well downfield. Huntley had a 95.7 passing grade on passes targeted at least 20 yards past the line of scrimmage against Idaho State, throwing for three scores and 165 yards in the game, something the Utes should see as promising as they approach some tougher defenses in the Pac-12.
8. Skylar Thompson, QB, Kansas State
Sure, Thompson doesn't have the gaudy passing numbers you'd expect for a Heisman Finalist but at this stage of the season, all Thompson has done is impress with his game for the Wildcats. He led the team into Starkville and an upset victory over Mississippi State on Saturday and was sharp throwing the ball to all levels of the field. He's led Kansas State to a 3-0 record and their offense is capable of putting up points, especially considering they may have faced their toughest defense to date in Mississippi State. Thompson has accounted for 30 first downs in the passing game and another four on the ground.
9. Jonathan Taylor, RB, Wisconsin
With Wisconsin on a bye week this past weekend, we take a look at what we wrote last week on Taylor: It surely seems like the Badgers understood that the NFL is a passing game and a running back's value will depend heavily on his receiving ability as the feeding of Taylor in the passing game has increased dramatically in 2019. He has his first three receiving touchdowns of his career this season and has already surpassed his receiving yardage total from 2018 through just two games. That, and the fact that he's still remarkably consistent on the ground with 22 career games of at least 100 yards (out of 27 total games), Wisconsin is still in good hands with Taylor leading the way.
10. Chuba Hubbard, RB, Oklahoma State
Hubbard finds himself on this list again as he leads the country with 516 yards on the ground through three games. He's gained another 297 yards after contact, averaging 4.50 yards after contact per attempt. Hubbard leads the country in rushing yards, and this is taking into consideration the fact that he had an eight-carry performance for just 39 yards against McNeese in Week 2. He'll certainly get more looks as they get into conference play and likely increase his lead if he can keep up his efficiency on a per-carry basis. If he can add a receiving element to his game, he'll vault up this list.