The Group of 5 saw some intense action over the course of the 2019 season, and some individual performances really stood out. While we've outlined the full all-conference teams this week, it's time to take a look at the Players of the Year in each of the Group of 5 conferences.

Utilizing our play-by-play grading on every player during every game, here are the best players, regardless of position, from each of the five Group of 5 conferences:
American Athletic Conference
Josh Jones, LT, Houston
Jones was as dominant as they come at the left tackle position this year, finishing eight of his nine games as the Cougars' highest-graded player on offense. His game grades came in a flurry as he dominated the competition in front of him on seemingly every snap. Jones finished a career-year in overall grade with career-high figures and elite grades in every facet, including the country's second-best run-blocking grade and seventh-best pass-blocking grade among all FBS tackles. While his pass protection was elite in the fact that he allowed just four pressures on his 325 pass-blocking snaps all year long, it was his efforts in the run game that set him apart.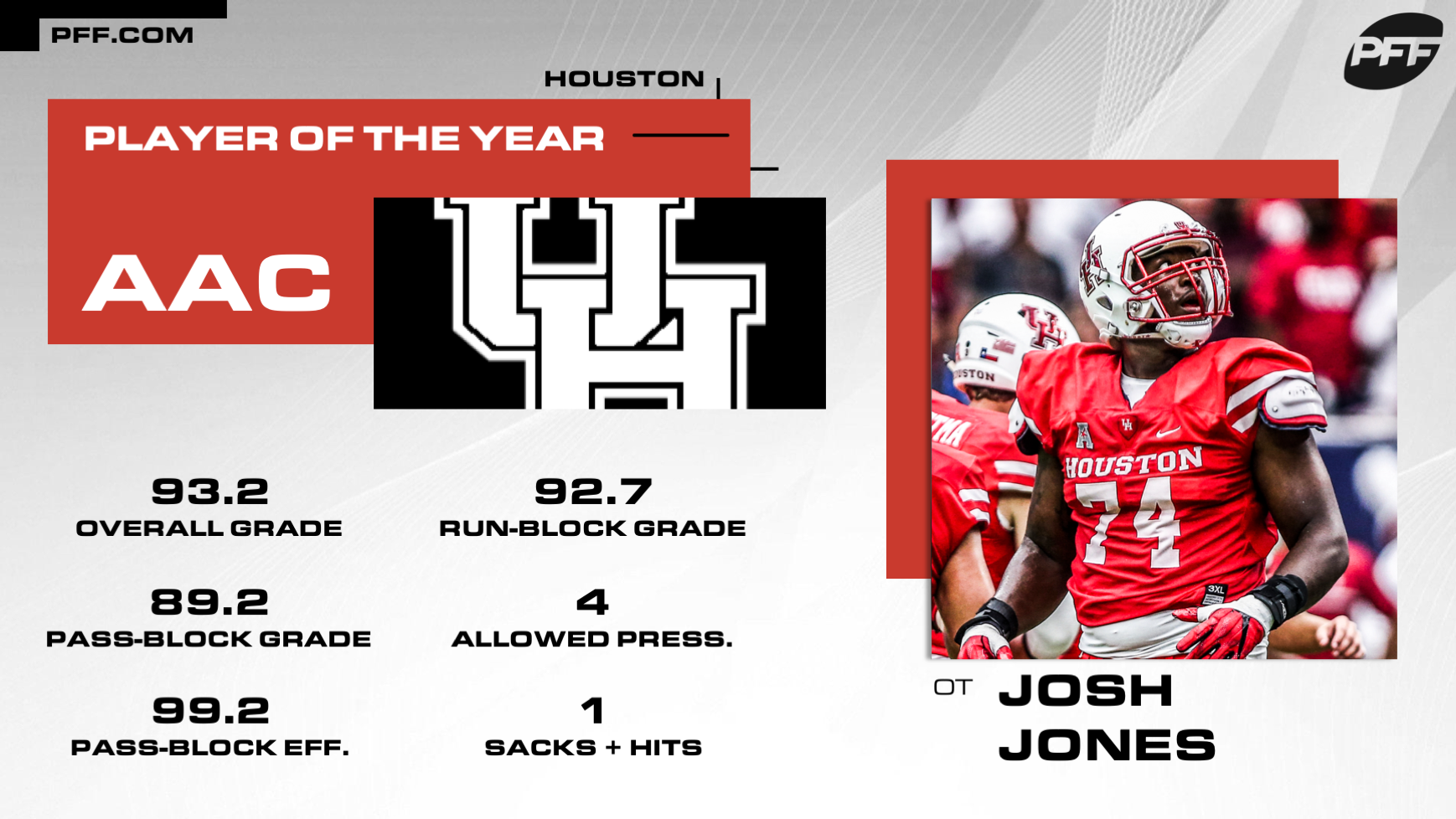 He moves much faster than he looks while possessing an equally impressive sense of balance. He more than doubled the amount of positively graded plays compared to his negatively graded plays while finishing with the highest percentage of positively graded plays as any other left tackle in the country not named Penei Sewell. When rushing to his side, Houston running backs averaged a full 1.5 yards before they were contacted by a defender, as he utilized both his size and speed in the run game at the first step as good as any other tackle in the country.
Few can do what he was able to accomplish in 2019, and he's opened eyes of not only college football fans but NFL draft scouts, as well.
Conference USA
Harrison Bryant, TE, Florida Atlantic
The most complete tight end in the country may be one of the most complete players in the country given the number of tasks Bryant was responsible for. After three years of terrific grades during his time at FAU, Bryant's final season with the Owls will go down as one to remember — and one that gets etched into the history books. As the Conference USA Player of the Year, Bryant led the entire nation's group of tight ends in overall and receiving grade.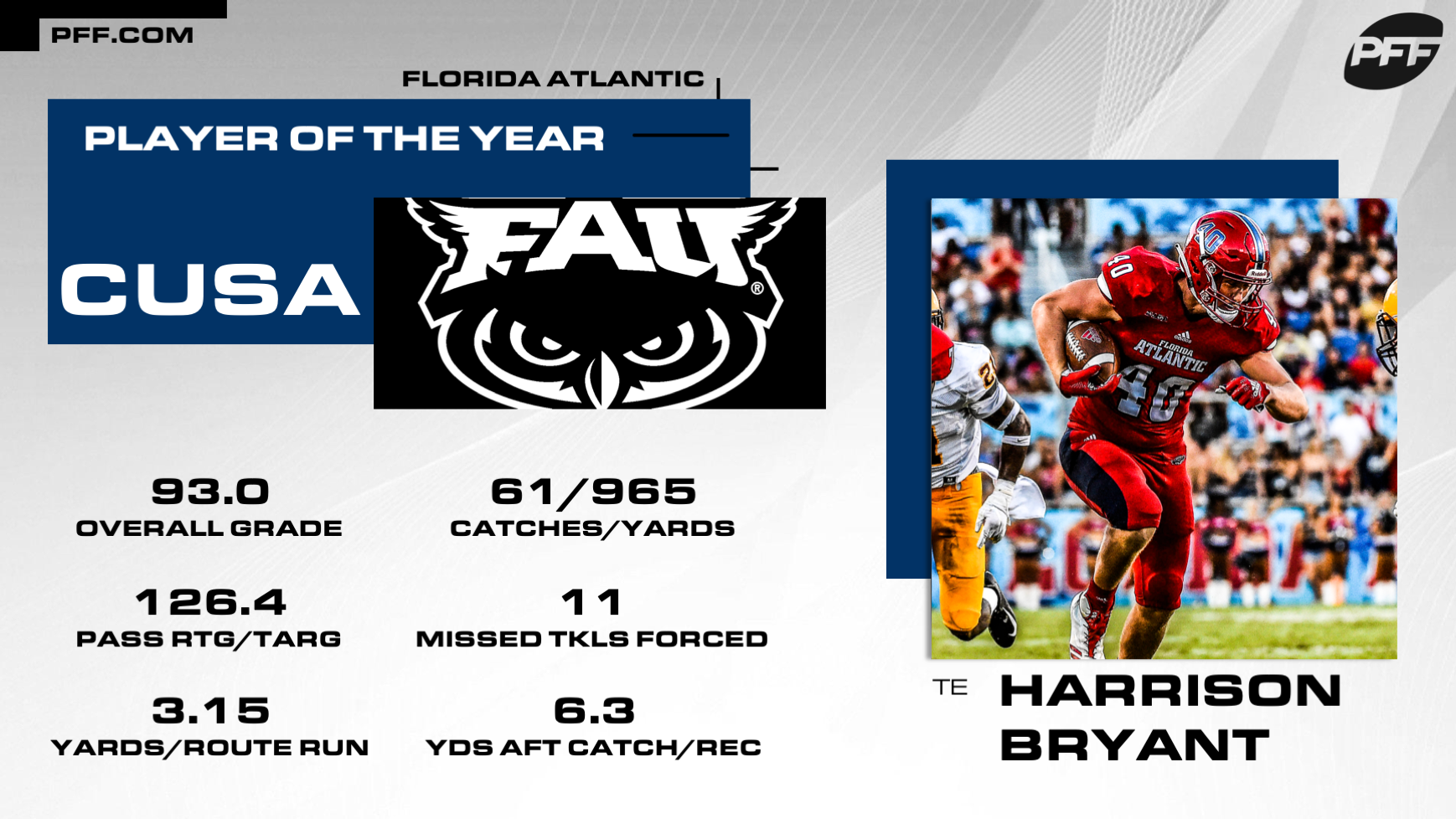 Bryant recorded 61 receptions on 86 targeted passes for 965 yards, six scores and a whopping 43 first-down receptions. His 49 total receiving conversions were 10 more than the next closest tight end — Charlie Kolar of Iowa State. Bryant also gained 387 yards after the catch and averaged 15.8 yards per reception on the year, breaking a national-high 11 tackles after hauling in a pass. Naturally, he saw a 126.4 passer rating when he was the primary target as he made the Owls' offense roll.
What separates Bryant from the rest of the nation's tight ends, however, is his prowess in the other facets of play. There were 171 tight ends who logged at least 30 snaps in pass protection this season, and Bryant ranked 11th in pass-blocking grade, not allowing a single quarterback pressure on his 34 snaps. In the run game, he was just as dominant, grading out as the eighth-best player among all tight ends in the country with at least 150 run-blocking snaps.
Mid-American Conference
LeVante Bellamy, RB, Western Michigan
Leading not only the MAC running backs but every running back in the country with his 23 total rushing touchdowns, Bellamy scored multiple touchdowns in seven games this season. He converted 70 of his 247 carries into a first down or a touchdown this season and totaled 32 carries of at least 10 yards on the ground. He had some great run-blocking in front of him, but he did more than enough damage on his own when the time called for it.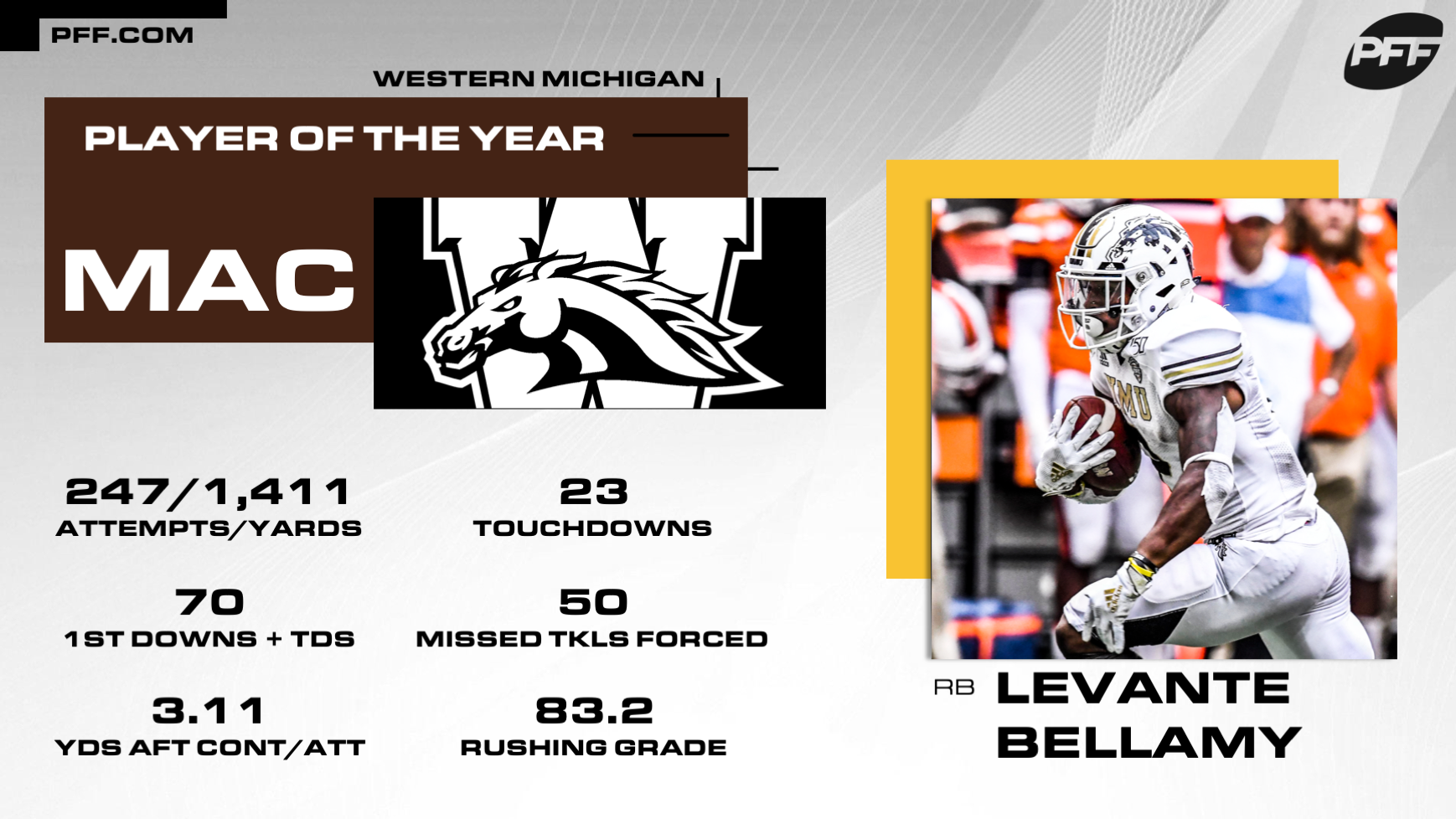 Bellamy broke 50 tackles on the ground this year and bounced off first contact to gain 769 of his 1,411 total rushing yards. Averaging 5.7 yards per carry and 3.1 of those yards after contact is a recipe for success — and that's just what Bellamy paved the way for in 2019. While he didn't have as much success through the air this season, Bellamy was far more effective on the ground than in any season past. He averaged at least 3.3 yards per carry no matter which hole in the offensive line he was attacking, and he averaged nearly 2.00 yards after contact in the process. He had multiple carries of over 35 yards this season and was essentially a home-run threat anytime he touched the ball, something the Broncos relied upon heavily, and with great success.
Mountain West Conference
Logan Wilson, LB, Wyoming
No linebacker across the nation was able to accomplish what Wilson accomplished in 2019, as he was the only defensive player in the country to field elite grades against the run, in coverage and when blitzing the passer. Wilson was an all-around force for the Cowboys and recorded a whopping 96 successful tackles while missing only 10 tackles on over 100 attempts in 2019. A safe, sure tackler with a nose for the football like he has is a true throwback to days of old, as Wilson stands 6-foot-2, 250 pounds and still flies around with reckless abandon.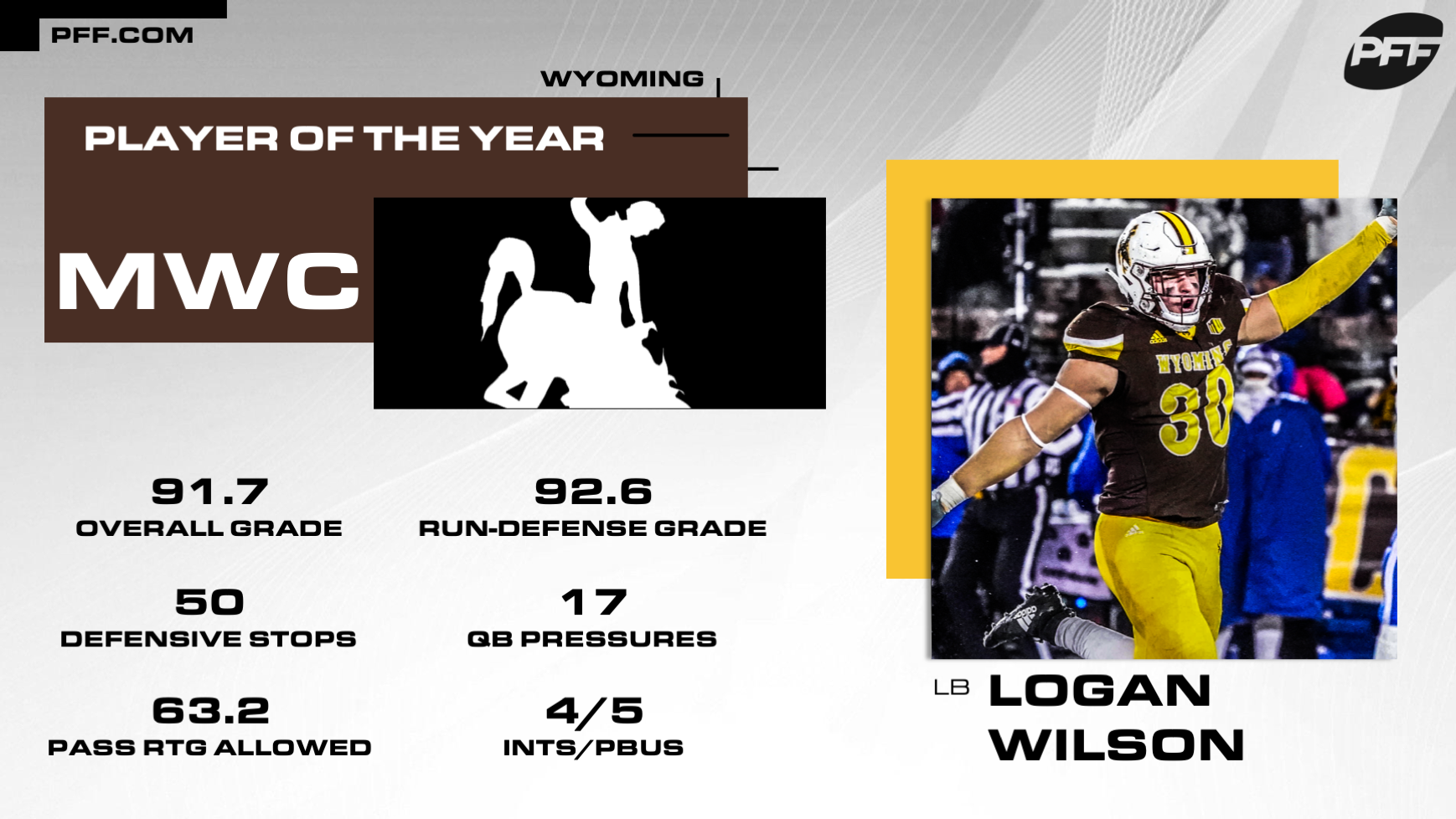 Wilson recorded multiple outings with no missed tackles and had at least five defensive stops in six games, proving himself as one of the nation's best against the run and the pass. He was targeted 51 times as the primary coverage defender and allowed no catch longer than 37 yards. With four interceptions and a handful of pass breakups to his credit, Wilson allowed just a 63.2 passer rating on throws into his coverage while chipping in with another 17 quarterback pressures on just 50 pass-rush attempts.
No linebacker had as well-rounded of a season as Wilson did in 2019, not just in the Mountain West but in the entire country.
Sun Belt Conference
Omar Bayless, WR, Arkansas State
The nation's leader in total receiving yards from the 2019 season, Bayless was unstoppable this year, recording at least three receptions in every game and totaling over 100 receiving yards in seven contests. He was targeted 125 times and hauled in 84 receptions for 1,474 yards, 16 touchdowns and another 11 broken tackles after the catch. Of all FBS receivers who were targeted at least 100 times in 2019, Bayless was as effective as any of them, gaining 17.5 yards per reception to rank second in that group. His 60 receiving conversions were the third-most in the nation, as well, as he also converted receptions for a first down on 44 of his catches to go with his 16 scores.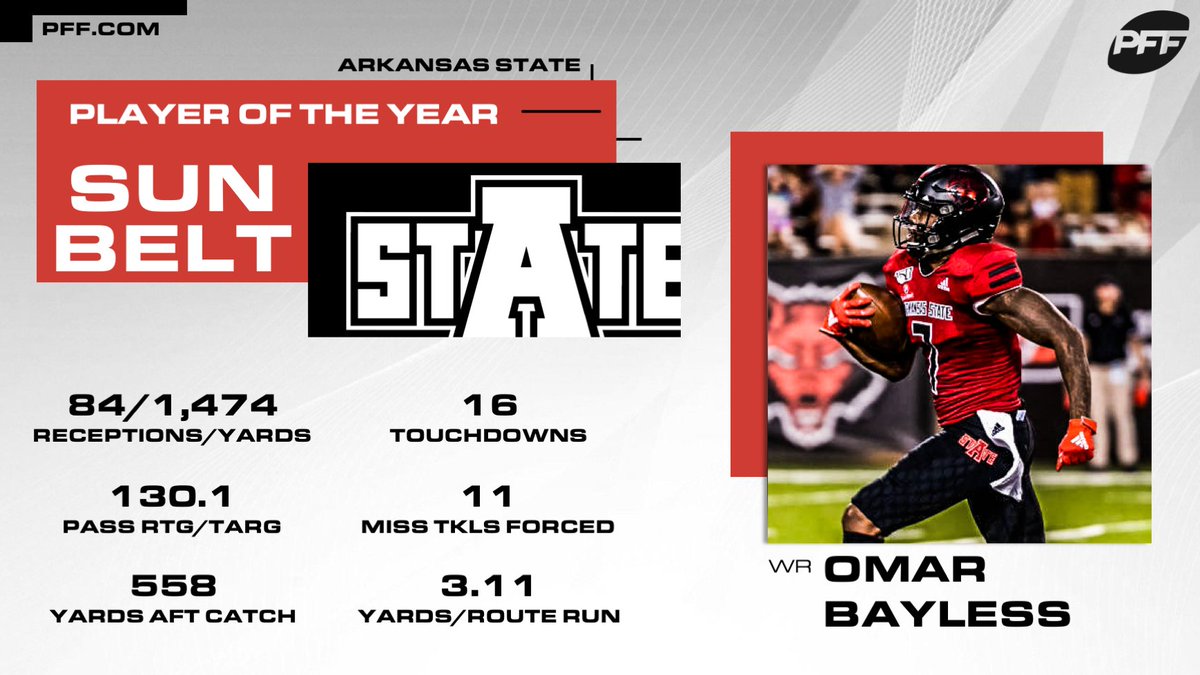 Bayless' skills at the catch point were apparent, as he brought down 12 contested catches, ranking inside the top 30 among all FBS receivers. He was a big-play threat no matter the situation and finished the season with 35 receptions of at least 15 yards or more, tying for third in the country behind LSU's Ja'Marr Chase and Minnesota's Rashod Bateman. Bayless' career year saw him gain more yards through the air than he had in his previous three seasons combined while nearly doubling his receiving touchdown totals in the process.