Jamie Newman was set to give the Georgia Bulldogs a real shot of winning the 2020 National Championship, but those aspirations for the program are now on hold after his decision to opt out. Former USC quarterback JT Daniels will now lead the offense for the Bulldogs, and as much as people want to point to him being a former five-star recruit, the drop off between Newman and Daniels is significant.
Prior to the year, we ranked Newman as the third-best quarterback in college football, behind only Trevor Lawrence and Justin Fields. Considering the situation he was in at Wake Forest last year, Newman played exceptionally well. His 85.7 passing grade on the year ranked 15th in the FBS (one spot behind Lawrence), and he accomplished that feat despite a receiving unit that struggled to create separation.
In fact, Newman threw to a tight window at the highest rate in college football by far. Yet, on those tight-window passes, he still managed to produce the second-best grade in the country, which trailed only 2020 first overall pick Joe Burrow, and the lowest rate of uncatchable throws.
Wake Forest relied far too much on Newman's athleticism and mobility last year. Don't get me wrong — that is a valuable trait, but his arm talent is far superior. Newman's touch downfield, in particular, was arguably the best in the country, and it showed routinely when he was able to throw deep downfield. He produced the third-best passing grade on throws over 20-plus yards in 2019 while once again leading the same group in rate of passes going to a receiver in tight coverage. On those deep shots, Newman produced a near-flawless big-time throw to turnover-worthy throw ratio of 22 to 1.
Newman can deliver a deep strike in a collapsing pocket with ease and was set for a big-time year in 2020 by getting out of that RPO, up-tempo offense at Wake Forest and moving into Todd Monken's pro-style scheme at Georgia.
With Daniels under center for the Bulldogs, they are no longer a top-five team in college football. The former five-star recruit started right away as a true freshman for USC in 2018 and produced a lowly 59.8 PFF grade that ranked 118th of 136 qualifying FBS quarterbacks. In 2019, he tore his ACL in Week 1 against Fresno State after a subpar performance (62.9 PFF grade, three turnover-worthy plays on 37 dropbacks). 
I'd be foolish to not acknowledge that Daniels has a high chance of improving in his next full year of starting. But to what degree?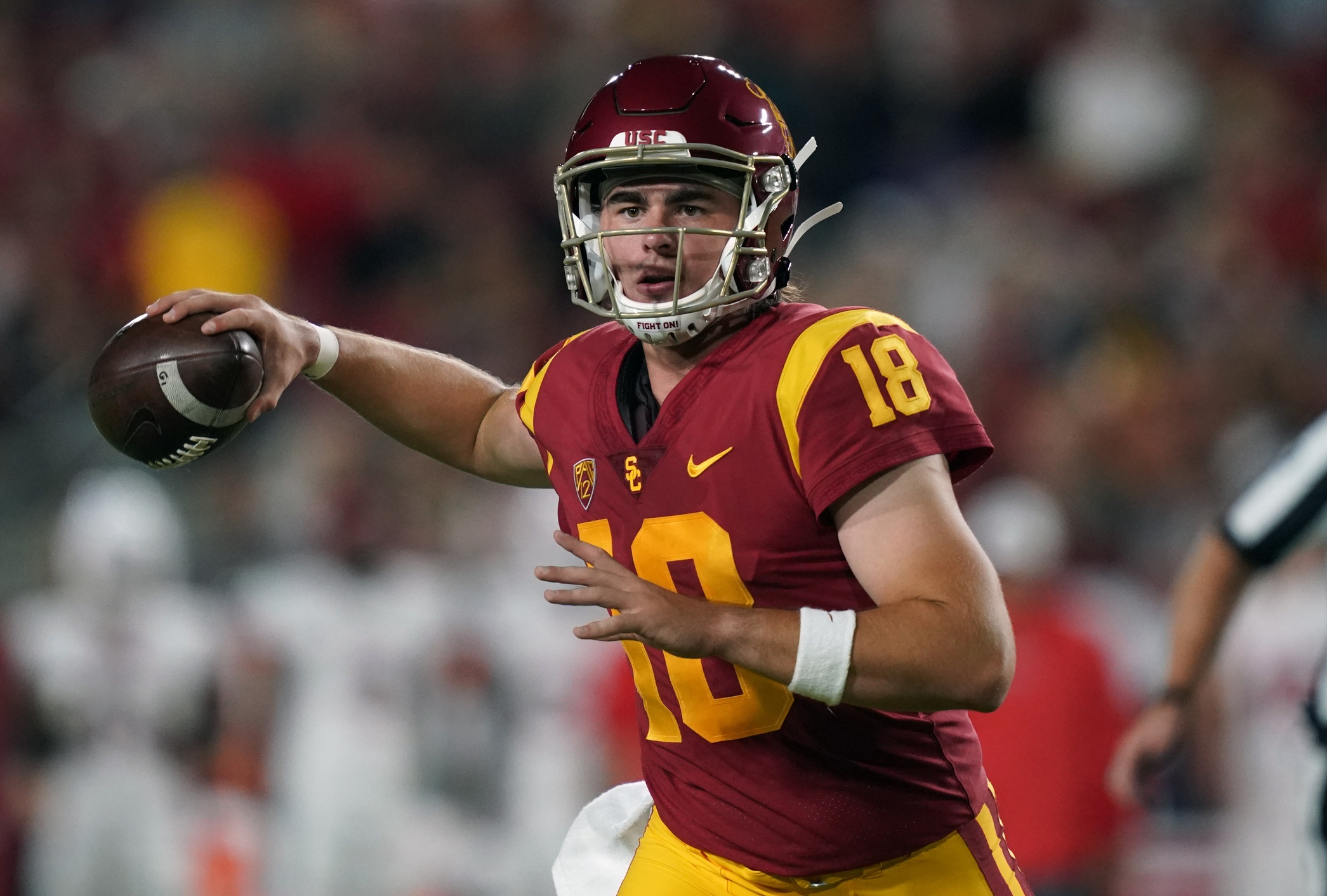 While there's a strong chance Daniels is at least marginally better, it's highly unlikely we see him go from the "poor" tier to the "great" tier that Newman has proven he belongs in. Looking strictly at passing performance, the difference between Daniels' passing grade in 2018 and Newman's in 2019 was 24.6 grading points. Of every Power Five quarterback since 2014, only three have improved their passing grade from one year to the next (minimum 165 dropbacks in each) by over 24.6 grading points.
In other words, it would be historic if Daniels went from one of the lowest-graded quarterbacks in college football to reaching Newman's level, and that's not even factoring in him being hurt all of last year.
The biggest reason why we are pessimistic about Daniels drastically turning around his play is his accuracy — or lack thereof. It's the most important quarterback trait, and Daniels showed in 2018 that he has glaring issues in that regard. And as I have said before, it's a trait that doesn't improve significantly year to year. A quarterback either has it or they don't.
On throws past the line of scrimmage in 2018, Daniels ranked 116th in the FBS in percentage of accurate passes. On throws of 10-plus yards downfield, Daniels tied for the 16th-most incompletions that were deemed the quarterback's fault (43).
After accuracy, decision-making and protecting the ball are the next most important traits at quarterback. And once again, Daniels underwhelms in those areas. It's expected for a Power Five true freshman to struggle in many facets, but when you're at the level Daniels was in 2018, it becomes a long-term concern. 
Seeing 10 interceptions in the box score might make you think, "That's not bad for a true freshman — that's middle of the pack," but this is a prime example of why you should never trust the box score. Daniels' 6.2% turnover-worthy play rate in 2018 ranked 127th in the FBS. He threw 12 passes that were deemed a turnover-worthy play but weren't intercepted, which was two more than any other quarterback in the FBS.
He struggled with pocket presence, too. Daniels converted pressure to a sack on 27.5% of his dropbacks in 2018, the 12th-worst rate in the FBS. Again, this is something true freshmen typically struggle with and is often improved upon as they get more reps. However, that rate is incredibly concerning. For perspective, Daniels' rate is 3 percentage points worse than any other FBS true freshman from this past season. 
Daniels had many panicky throws when under pressure, too. His passing grade under pressure was the fifth-worst in the FBS. He's not one to create outside the structure — instead, he'll force a throw to his first read to avoid a sack. In fact, he tied for the most turnover-worthy throws to his first read when under pressure.
There were also few throws with anticipation to speak of from his 2018 campaign. Daniels' anticipation is just poor — he needs to see an open receiver to hit them. When he did fire into a tight window, the results could not have been much worse. He had 20 turnover-worthy plays on tight-window throws in 2018 — six (!) more than any other FBS quarterback. That paved the way to a 29.9 passing grade. 
I don't want to come off as a bully with all the negative talk and data on Daniels, but I do want to make sure that people know that Newman's opt-out is a big deal. Georgia had a shot of being crowned the national champions this year with Newman leading the offense, but that is now on the back burner.