Luckily for us college football fans, we won't have another Saturday slate like the one we watched in Week 7. That's because next week marks the return of the Big Ten, meaning the day slate won't be as non-eventful as it was this past Saturday.
Florida and LSU didn't play. Oklahoma State, undefeated and maybe the best team in the Big 12, didn't play. Clemson didn't play, either (ah, OK. I'm being told they played Georgia Tech). Louisville and Notre Dame combined for 19 points in a game that the Irish really shouldn't even count as a W. However, this bland day slate led us to the prime time matchup between the third-ranked Georgia Bulldogs and the second-ranked Alabama Crimson Tide.
The game within the game was Alabama's explosive offense and Georgia's suffocating defense. And Alabama ended up scoring 41 points while Georgia still staked its claim to having the best defense in the country.
Editor's note:  PFF's CFB Premium Stats+ subscribers can view player grades, advanced statistics, positional snap counts and more. Subscribe today for access!
The Bulldogs showed that they have one of the best defenses in college football this year while allowing 41 points. That's how good Alabama's offense is. This is a defense that will probably continue to smash every other offense it plays this year, but Alabama's speed at receiver might be too much for any team.
Alabama was held to its lowest expected points added (EPA) per play output of the season, creating just 0.069 against the Bulldogs defense. In fact, it was their second-lowest of the Steve Sarkisian era, with their 2019 game against Tennessee being the only game lower since the beginning of last season.
The Bama rushing attack was completely shut down by Georgia, even with Najee Harris' 157 yards. It barely mattered what concept Bama called on the ground because Georgia's interior defenders clog up the middle and force the ball to bounce wide so their sideline-to-sideline backers and safeties could chase the runner down. This happened time and time again on Alabama's duo- and zone-run plays, but the way Georgia played Alabama's "counter" play was simple and devastating.
Coming into the game, Alabama had run "counter" 20 times in 2020 for 0.431 EPA per play. But Georgia snuffed it continuously — on the Tide's eight counter runs in Week 7, they gained -.332 EPA per play.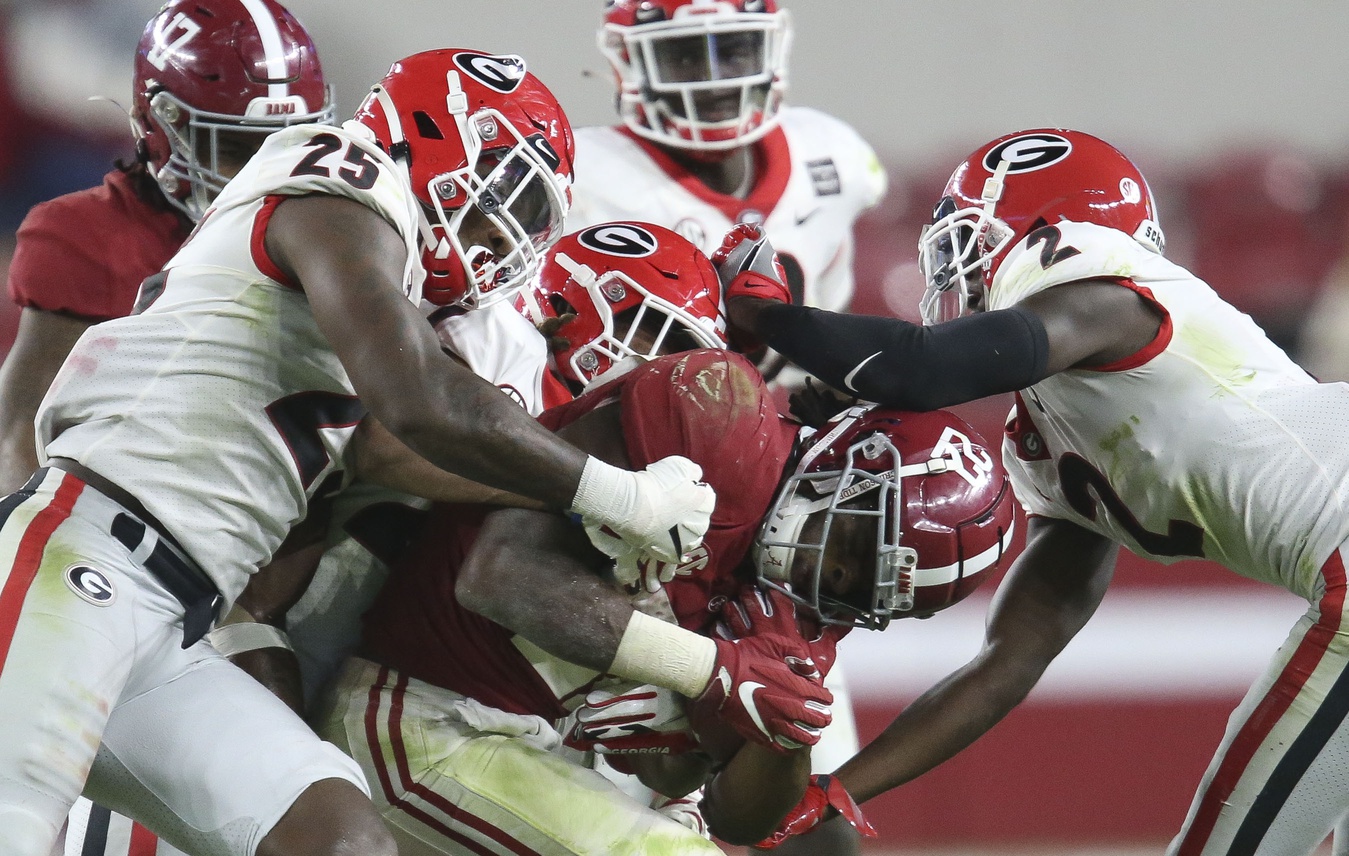 They went into the game looking to set the tone with this play, as they called it six times in the first half and gained positive EPA on only one of those plays. They only ran it twice after the break, choosing to try out their outside-zone game, which also had issues.
The first thing that Georgia does that only a couple of other teams in college football do is that they recruit really good players on defense. It's a strategy that I am imploring more teams to use. They have no-nonsense players on the defensive line and linebacker corps that do their job unselfishly and can then come off blocks and make plays.
Counter is a gap-scheme running play where a backside offensive lineman  — usually the guard — will pull and block the defensive end who was left unblocked. The backside tight end/running back/fullback will pull as well, but he will arc up inside the guard's block to lead for the running back.
Georgia's response to the first pull block was to "box" it. This means the unblocked defensive end takes on the block with his inside shoulder and tries to condense the space inside of him; he'll keep his outside arm free in case the runner wants to bounce the play outside.
Nolan Smith and Azeez Ojulari, the Georgia starters who were tasked with this important aspect of their defense, played selflessly and physically. Once that player sees his offensive tackle leave him, he knows the backside puller is coming, so he steps laterally down the line and pops the blocker hard with his shoulder. Georgia's defenders did this simple act time and time again on these runs, which created the first issue for Alabama. I can't overstate how physical this action was. Now, the second puller doesn't have a lane to arc through.
The first Georgia linebacker to where the play is going complements the play of the first level by then playing "outside-in" on the second puller. The runner is forced to stay in the condensed space of the run box from not one but two defensive players.
The second Georgia linebacker is tasked with escaping the double-team block that is coming off for him and being the free hitter on the ball carrier. For the Bulldogs, this player came fast from his backside positioning to the frontside of the play to potentially meet the runner in the hole.
This is where the cat and mouse game starts with the running back and this linebacker. Najee Harris is a smart runner who understands that the backside linebacker will speed to the frontside when he sees the pulls by the offensive linemen. Harris is thinking that if Georgia boxes the frontside of the play, he can cut the ball back and compromise the backside Georgia linebacker who has fit into the front side hole, rather than bouncing the ball outside.
This is where having really good players comes into play. Every time Harris tried to cut it back, a backside Georgia defensive lineman who was being blocked came off his block and stuffed the play. Every time he tried to bounce it, he was chased down. Stopping the run will always be a physical act, and Georgia does it better than anyone else.
I made a compilation of all the counter runs Alabama ran so we can have some visuals:
counter pic.twitter.com/pPiQrBJ0Cy

— Seth Galina's Burner (@burner_seth) October 18, 2020
Alabama had also been lethal through the air to start this season. They had put up an impossible 0.731 EPA per pass play in their three games to start the year. Going into their game against Georgia, that number was easily the best in the country.
The Tide had been killing teams with their deep over-routes. Going into the game, their eight targeted deep over-routes were tied with Georgia, coincidentally, for the fourth-most among all FBS teams, and the three teams ahead of them had all played an extra game. Bama wants its speed receivers to cross the field, run away from man coverage, or find a soft spot against zone defense over the linebackers. But Georgia was not going to let that happen. The Bulldogs constantly used one of their two safeties to look for those routes and clamp them from deep. This led to Bama QB Mac Jones only targeting one of these over routes. Success!
Watch the weakside safety jump on Jaylen Waddle's crossing route right away. Of course, this still led to a completion, but the idea is there.
— Seth Galina's Burner (@burner_seth) October 18, 2020
I write all of this to show all of the great plays and great game plan that Georgia put together, only to have Alabama score 41 points because…
Georgia dealing with the crossers meant Bama had chances to hit big plays on the outside, and they did. The game's four biggest plays were two John Metchie and two Jaylen Waddle deep targets, one a touchdown and one a defensive pass interference call. All of these were on outside shots one-on-one down the field with one or both safeties attracted to crossing routes.
corner blitz pic.twitter.com/uyMUOPkOh7

— Seth Galina's Burner (@burner_seth) October 18, 2020
This first Metchie catch came when Georgia sent a cornerback blitz that was ultimately picked up by Alabama, which gave Jones enough time to find the receiver-versus-safety matchup that was created as a result. You can see Devonta Smith running the crossing route on this play.
— Seth Galina's Burner (@burner_seth) October 18, 2020
The Waddle touchdown in the third quarter gave Alabama the lead. The Georgia defense doesn't do a good job on the switch routes, but we can also see the safety to that side look to the inside route. Now, it's one-on-one with Waddle, and he is that good.
The big play that put the fork in Georgia was another Metchie catch. Here they run a flea-flicker, and we can see that even with an underthrown ball, there is no safety available to make a play on it.
— Seth Galina's Burner (@burner_seth) October 18, 2020
The best example of this was the pass interference on Waddle that led to another Bama touchdown.
DPI pic.twitter.com/wct1XwmN5F

— Seth Galina's Burner (@burner_seth) October 18, 2020
When Smith, who is the innermost slot receiver, runs his route underneath linebacker depth, the half-field safety to that side should get his eyes immediately on Waddle and continue to get depth and stay over that slot-fade route. The safety ends up turning his shoulders inward, still concerned about Smith, and he allows Waddle to get a vertical one-on-one matchup.
All four were outside vertical routes after Georgia had spent a lot of resources hoping to take away Bama's biggest strength. They lived in a world where they took away anything inside and limited their chances outside, but it didn't work.
Who could blame them? They have great defensive backs and had been lights-out playing man coverage coming into the game. Georgia's first three opponents combined for a 22% success rate and -0.892 EPA per play when going up against the Bulldogs' man-to-man defense. Just dominant. But it was still not enough to slow down Alabama on their way to 41 points.
For Alabama, they're still the top offense in college football, generating  0.391 EPA per play through the season's first seven weeks. Georgia took away their running game, a huge chunk of their passing game, and it wasn't even close to enough.
Steve Sarkisian's offense has been a dream. He's called a play-action pass on 45% of Mac Jones' pass attempts, but maybe more importantly, 41 of the 60 play-action passes called have come on first down. When defenses are prone to sit back, play their base defense and try to stop the run, Alabama is throwing it over their heads.
With all that said, there's a scenario where, should these two teams meet again in the 2020 SEC Championship, Georgia does the same thing but gets lucky with some of those deep balls and keeps Bama in check a bit. They're the only team — save for Clemson and Ohio State — who can realistically match up with them, especially with how Florida and LSU have played on defense to start this season.