There's never a dull moment on college football Saturday as the playoff picture took a turn and records were destroyed in one Big 12 matchup. We're another step closer toward chaos ensuing in the playoff run as there's still a long way to go, and as Penn State's upset of Ohio State has proven, anything can happen to the top teams along the way.
Let's unpack a wild Week 8 in college football.
Penn State wipes Ohio State out of the playoff picture… for now
While the top teams appeared to have a clear road to the playoff, anything can happen along the way and Penn State threw a wrench in our plans to have an undefeated Ohio State-Michigan game at the end of the season. The Nittany Lions' offense was held in check for much of the day, but this game came down to two quick-hitting touchdown drives – one at the end of the half, another to start the fourth quarter – combined with an incredible blocked field goal for a touchdown.
The Penn State defense controlled the action as they pressured Ohio State QB J.T. Barrett on 28 of his 53 dropbacks and that number doesn't even do justice to the domination up front as there were often multiple players providing pressure on any given play. Barrett did all he could to survive, hitting on a number of clutch throws including a well-placed deep ball that could have been called pass interference late in the game, but his performance was overshadowed by a Penn State defensive front was the story of the night.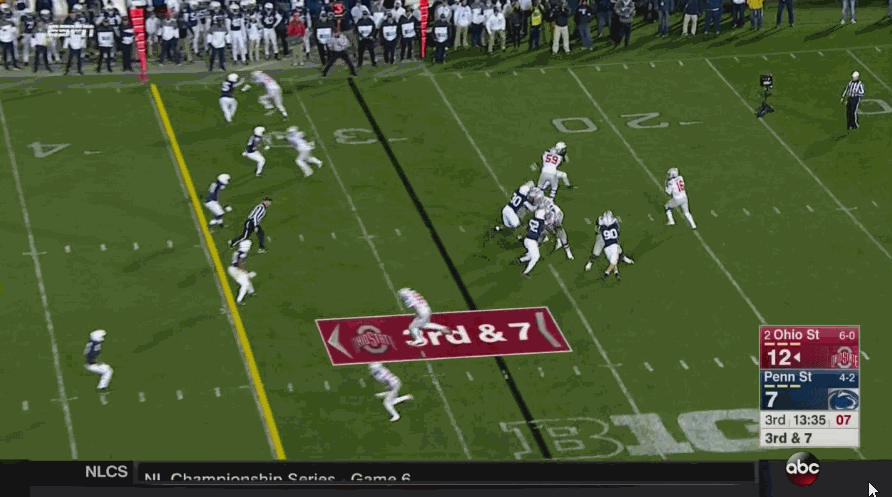 For Ohio State, a return to the top four is not out of the question as they can still win out – a scenario that would include a win over Michigan and the eventual Big Ten West champion – but they're suddenly playing with no margin of error the rest of the way.
Alabama flexes their muscle once again, but loses star safety for the season
In typical Alabama fashion, the Crimson Tide turned a close game into a blowout in a hurry as the defense continues to score points at an incredible rate. Jonathan Allen posted a fumble return for a touchdown while the Tide's offense was too much to handle with 298 yards on the ground. Alabama pressured Texas A&M QB Trevor Knight on 19 of his 39 dropbacks, a familiar sight for opposing quarterbacks this season and once again one of the differences in the game. True freshman quarterback Jalen Hurst missed on a number of throws or this game may have gotten out of hand even quicker, but speed doesn't slump like the arm can and Hurts made up for it with 18 carries for 102 yards and a score in the run game.
Not a clean pocket #TAMUvsBAMA pic.twitter.com/qAdconl8I4

— Steve Palazzolo (@PFF_Steve) October 22, 2016
There is some bad news for Alabama as All-American safety candidate Eddie Jackson was lost to the season due to a broken leg, a huge blow for the secondary and special teams. Jackson's additional work as a punt returner has added yet another explosive dimension to the all-around Alabama team, and he'll be difficult to replace going forward.
Alabama remains the top team in the land, and they continue to knock back every challenge in impressive fashion.
Lamar Jackson has not slowed down from his Heisman pace
Don't let a 17-carry, 76-yard NCAA boxscore fool you — Jackson really ran for 104 yards on 13 carries and a touchdown while another score was negated by a holding penalty. By his standards, he was held in check in the running game, though he made up for it with 355 passing yards as he showed great accuracy on a number of throws. Jackson will still miss open throws throughout the game, but his progression from the pocket is trending upward as he put the ball on the money on two post routes for touchdowns and many of his short throws hit his receivers in good position to turn and get upfield. His development as a passer is only one reason he's the nation's most dangerous player as it's still his work on the ground that give opposing defensive coordinator's sleepless nights. He's now rushed for 985 yards and 16 touchdowns on 117 carries on the season (8.4 yards/carry) while throwing for another 18 scores, and Jackson remains the leader of the pack for the Heisman.
Big 12: Oklahoma wins flag football game, West Virginia still undefeated, and Texas still in shambles
A 3-pack from the Big 12:
The numbers look fake. 854 yards of total offense for both Oklahoma and Texas Tech. 734 passing yards on 88 attempts for Texas Tech QB Patrick Mahomes. 545 passing yards on only 36 attempts for an incredible 15.1 yards/attempt. Oklahoma RB Joe Mixon rushed for 263 yards while adding 114 through the air on four catches.
Defense was not played in Lubbock as Oklahoma defeated Texas Tech 66-59, and Oklahoma remains undefeated in Big 12 play. They have Kansas and Iowa State on the schedule before a huge finish to the season against Baylor, West Virginia, and Oklahoma State. While early-season losses to Houston and Ohio State took Oklahoma out of playoff contention, they may be the favorites to run the table and take home the Big 12's round-robin championship.
As for West Virginia, they may get their membership revoked in the Big 12 for actually trying to play defense. Their 3-man rush continues to stifle even the best passing offenses in the conference as they're one week removed from holding Texas Tech to just 17 points and now holding TCU to only 10. It's time to give them more credit as scoring 66 as Oklahoma did is better for headlines, but it's West Virginia who is tied with Baylor for the best scoring differential in conference play at 56 points better than opponents. Their gauntlet continues with Oklahoma State next week.
We also have to touch on the situation at Texas where it seems Charlie Strong will have a difficult time keeping his job beyond this season. The Longhorns fell to 1-3 in the conference after a 24-21 loss to Kansas State as they have simply failed to show the necessary progression under Strong in Year 3.
Nebraska remains undefeated, biggest challenges still to come
We may regret this statement after Nebraska has to face Wisconsin next weekend, but here the Huskers sit at 7-0 after a 27-14 win over Purdue and no one is taking them seriously given the road they've taken to get here. Their most impressive win on paper was their 35-32 victory over Oregon but that loses its luster by the week and a 4-0 conference slate with wins over Northwestern, Illinois, Indiana, and Purdue is not exactly a series of resume-boosters.
They travel to Wisconsin next week in a game that could determine the Big Ten and they have Ohio State looming the following week. We'll learn a lot more about this Huskers team, though to this point, that defense deserves behind safety Nate Gerry (top coverage safety in nation at 93.9), CB Chris Jones (86.5 overall), and interior defensive lineman Kevin Maurice (81.1 overall).
Pac 12: Washington dominant, Colorado is bowl eligible, and Utah quietly 7-1
A 3-pack from the Pac-12, as well:
With Ohio State's loss, Washington will move into the top four though they've always been in control of their own destiny if they win out. They continue to win in decisive fashion, turning away Oregon State 41-17. It was their usual combination of efficiency from QB Jake Browning, playmaking from wide receivers Dante Pettis and John Ross (227 yards on eight catches and four touchdowns), and strong play by both the defensive front and the secondary.
Colorado is now bowl eligible as the program turnaround by head coach Mike MacIntyre gets more impressive by the week. They defeated Stanford by your typical score of 10-5 as the Buffaloes defense deserve credit for their work this season. They're on a collision course with Utah for the Pac-12 South title.
Speaking of Utah, they're now 7-1 though a tough Washington game looms next week. Even if they lose, they can still win the South if they win out and their trip to Colorado to end the season on November 26th looks like it could determine the South winner. Edge rusher Hunter Dimick had a monster game yesterday against UCLA as he graded at 87.6 and notched 12 pressures and a batted pass while rushing the passer a ridiculous 72 times.
Boise State, Western Michigan making a move for a New Year's Six Bowl
Boise State survived against BYU Friday night while Western Michigan's run through the MAC has been a one-sided affair as they've outscored conference opponents 180-71. Both teams remain undefeated and squarely in the mix for a New Year's Six bowl. Boise State's trio of offensive weapons rival anyone's in the country as RB Jeremy McNichols (86.4 overall), and wide receivers Thomas Sperbeck (80.4) and Cedrick Wilson (80.3) are difficult to slow down in any given week. Western Michigan has playmakers on their offense as well, led by our No. 6 prospect on the latest PFF Draft Board, WR Corey Davis. They also boast the nation's No. 9 offensive tackle in Taylor Moton (83.1) while the defense is led by edge rusher Keion Adams (83.3), so keep an eye on both Broncos teams as they make a push for inclusion in the New Year's Six.
Virginia Tech bounces back, perhaps Clemson's biggest potential stumbling block down the road
The Hokies handled Miami easily on Thursday night by a score of 37-16, taking back control of the ACC Coastal and bouncing back from a disappointing loss to Syracuse. Virginia Tech's defense is one of the stories of the season in the ACC as they've given up 17 or fewer points in all but two games and if they can survive the rest of the ACC schedule, they may end up in position to spoil the playoffs for Clemson. Virginia Tech is getting strong play up and down the defensive roster, namely from LB Andrew Motuapuaka (86.5 season grade), CBs Greg Stroman (83.2) and Mook Reynolds (81.2) and safety Chuck Clark (83.9) and they may give the Clemson offense their biggest challenge of the year if they meet in the ACC Championship.
Houston loses again, potentially hurts Louisville's resume down the road
As dominant as Louisville was yesterday, they took a hit once again by Houston losing to SMU. Louisville's playoff chances may be contingent upon showing a shiny resume at the end of the season and part of that plan was a win over Houston in their November 17th matchup. However, Houston was supposed to go into that game undefeated and they now sit with two losses, limiting the number of big wins Louisville can boast about at year's end.
As for Houston, a once-promising season has taking a left turn in recent weeks with losses to Navy and SMU and they're now in danger of not even making it to the AAC title game.
Performances that caught the eye
Despite the yardage difference, Oklahoma QB Baker Mayfield posted a 99.9 overall grade on his 545 yards, including an incredible 15.1 yards/attempt while Texas Tech QB Patrick Mahomes graded at 95.8 with his record-breaking 734 passing yards on 88 attempts.
Oklahoma WR Dede Westbrook caught nine of his 11 targets for 202 yards and two touchdowns to bring his four-week totals to 35 catches on 40 targets for 776 yards (22.2 yards/rec) and 10 touchdowns
UCLA edge rusher Takkarist McKinley had three sacks, a QB hit, and two hurries with two of those sacks coming of the strip-sack variety. He finished with a 92.8 pass rush grade
Alabama interior defensive lineman Jonathan Allen justified his spot at No. 2 on our draft board with a sack and seven hurries on his way to a 94.7 overall performance