In the end, the was no chase as the committee announced the teams for the College Football Playoff. While there was some debate over Penn State, ultimately the final four teams are hard to argue, and they set up a pair of exciting semi-final matchups.
Washington recovered from their loss against USC to steady the ship and go on to win the Pac-12, while Alabama rolled over pretty much every team they came up against this week, earning their No. 1 ranking throughout the year. Does Washington have what it takes to be the first team to beat Alabama this year?
Here's what to look for when both teams have the ball.
When Alabama has the ball
Quarterback Jalen Hurts has been impressive when the Alabama offensive line has kept him clean, looking nothing like a true freshman as he completes 74.6 percent of his passes and has thrown 20 touchdowns to four interceptions. When pressure has gotten there, it's been a different story. Hurts has completed just 30.6 percent of his passes and has thrown two touchdowns and five interceptions when the opposing defense have managed to pressure him. In NFL passer rating terms, his passer rating drops from 119.7 to 22.9 when pressure gets there.

Alabama has a varied rushing attack to enable them to avoid third-and-long and increase the chances of Hurts being under pressure, with Damien Harris, Bo Scarborough and Joshua Jacobs all grading well. The trio has combined to force 63 missed tackles this year, with all of them averaging over 6.0 yards per carry. The Alabama offensive line has been a strength, and center Bradley Bozeman is the second-highest-graded player at the position in the Power-5 this year.
They'll have a battle on their hands against an incredibly talented Washington defensive front though, with all three of Elijah Qualis, Greg Gaines and Vita Vea grading well this year. While they have all made an impact as pass-rushers — combining for 12 sacks, seven hits and 62 hurries — it has been against the run where they have made their biggest impact, with all three producing a run stop percentage of 8.5 percent or higher, ranking inside the top 50 among all defensive tackles.
When Washington has the ball
The blueprint to having a chance against Alabama is a fairly simple one, though it's easier said than done. You need to pressure Jalen Hurts, and offensively you have to be able make plays downfield. Washington quarterback Jake Browning is currently ninth in the nation with 1,116 yards, along with 15 touchdowns on throws travelling 20 yards or further downfield. His adjusted completion percentage on those throws was 50.0 percent, tied for 13th in the nation.
The top playmaker that Alabama will have to account for at all times is wide receiver John Ross. He has the type of speed that can burn any defense, and has picked up 475 yards and six touchdowns on throws on 20 yards or further downfield. The scary thing about Ross is that with his track-star like speed, he can create a big play either by beating coverage downfield or by taking a short pass and weaving his way through traffic.
While Alabama cornerback Marlon Humphrey has been impressive this season, he's also been inconsistent on deep passes over the past two years. He's allowed just 58 catches since the beginning of the 2015 season, but has allowed an average of 17.5 yards per catch in that span. As good as he's been at making plays on the ball, he has allowed a reception of 30 or more yards in six games this year, and that's something Washington will look to exploit.
Matchup to watch
Washington right tackle Kaleb McGary versus Alabama edge defender Tim Williams
Washington quarterback Jake Browning has performed well under pressure this year, throwing 10 touchdowns to two interceptions when the defense gets there with pressure. That doesn't mean that they don't need to worry about pressure though, and with a pass-rusher like Tim Williams coming off the edge, Washington will be well aware of just how much damage he can do.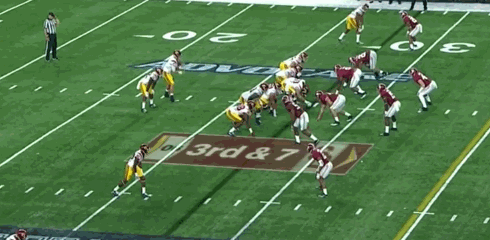 Williams has racked up eight sacks, eight hits and 34 hurries on 217 pass rushing attempts this year, good for a pass rushing productivity rating of 18.2, the highest mark among all 3-4 outside linebackers with at least 120 pass rushing snaps this year. McGary on the other hand, has allowed a hit and 24 hurries on 404 pass blocking snaps, giving him a pass blocking efficiency rating of 95.4, tied for 183rd among the 277 offensive tackles who have played at least 168 snaps in pass protection this year.
On paper Williams should be able to make a huge impact when lined up against McGary, and he has shown the ability to make game changing plays when he gets into the backfield, so this is one matchup that Washington will definitely be wary of heading into the game.
Prediction: Alabama 34, Washington 21