I know the Big Ten and Pac-12 haven't even kicked off and we've only seen a handful of games from the ACC, but it's never too early to start identifying talent.
The 10 players listed below all look like they've taken massive steps in their development from the last time we saw them on the college football field, and each is making their way up the PFF draft board.
Editor's note:  PFF's CFB Premium Stats+ subscribers can view player grades, advanced statistics, positional snap counts and more. Subscribe today for access!
QB Zach Wilson, BYU
Wilson was certainly on the NFL's radar after starting as a true freshman back in 2018 and toughing through an injury-plagued 2019, but those two seasons were nothing like the player we're seeing now.
While BYU isn't playing a single Power Five opponent all season, Wilson has dominated everyone that's come in his path. He has single-game passing grades of 90.2, 87.7, 94.1 and 86.8 on the year for an FBS-leading 93.9 passing grade on the season. His 86.0 adjusted completion percentage is only one-tenth behind Mac Jones for the highest in college football. His blend of mobility, arm strength and accuracy — especially on the move — is special.
Thread on #BYU QB Zach Wilson:

One trait that stands out about him is his ability to layer the ball outside, but he's savvy with widening windows on his own.

The subtle pump fake here on the low route, catches the eyes of the CB and allows him to throw it outside. pic.twitter.com/2tm6UtkIdY

— Jordan Reid (@JReidNFL) October 13, 2020
RB Khalil Herbert, Virginia Tech
Herbert was previously at Kansas for four year, setting career-highs with 120 carries and 663 yards back in 2017. Last year, Herbert was on pace to smash those numbers with 388 yards on 42 carries through four games, including 18 broken tackles, before leaving the program for unreported reasons. He transferred to Virginia Tech this fall and has picked up right where he left off.
Herbert already has 449 yards in three games on 43 carries with 16 broken tackles. He's averaging a ridiculous 6.2 yards after contact per attempt.
At 5-foot-9, 212 pounds, Herbert has a low center of gravity with some juice behind him, as well. With him at that size, you feel pretty good about his tackle-breaking ability translating to the NFL.
Khalil Herbert's vision is on a whole other level ???? ???? ???? pic.twitter.com/2URODOv11L

— Stadium (@Stadium) October 10, 2020
TE Kenny Yeboah, Ole Miss
Another grad transfer, Yeboah played at Temple for four years before moving on to Ole Miss. He never caught more than 19 passes in a season for the Owls and was used almost entirely as an underneath option. He had only nine catches targeted 10-plus yards downfield his entire Temple career with three years of starting experience. Through only three games with Ole Miss this season, Yeboah has surpassed that with 10 such receptions.
Kenny Yeboah went 68 yards for the TD to tie things up vs. Alabama ???? pic.twitter.com/sMnhGaqLe1

— ESPN College Football (@ESPNCFB) October 11, 2020
He's a long-strider with some legit build up speed for a tight end once he gets going. The problem is that at only 240 pounds he's well on the small end for the position. With the way the NFL covets inline blocking ability at the position, Yeboah won't be for everyone.
LT Christian Darrisaw, Virginia Tech
Darrisaw isn't in his first year as a starter. He didn't have an injury he's working back from. He didn't transfer. And he didn't have a role change. No, Darrisaw is a breakout prospect because he went from playing like a solid college left tackle in 2019 to arguably the best left tackle in college football this season.
Easy to see why @dpbrugler is hearing 1st Round buzz from VaTech OT Christian Darrisaw.

Massive, mauling OT with good quickness/balance – big but not sloppy

I think Chazz Surratt will be seeing him in his nightmares. Darrisaw did some good work on 2nd/3rd levels in loss vs UNC pic.twitter.com/qk7Sk94XLG

— Ben Fennell (@BenFennell_NFL) October 11, 2020
Darrisaw is in his third year as a starter and earned grades of 68.6 as a freshman and 80.3 as a sophomore. This year, that's jumped to an FBS-leading 93.9. He's incredibly smooth and comfortable playing in space with great natural athleticism. At 6-foot-5, 314 pounds, there's no reason he shouldn't be able to stay at left tackle in the NFL.
WR Elijah Moore, Ole Miss
After his infamous celebration last year may have ultimately gotten head coach Matt Luke fired, Moore has thrived from the slot in Lane Kiffin's offense this year. His 462 yards through three games are the third-most in the country, but everyone else in the top five has played at least four games. He's hauled in 31 catches on 34 targets, broken six tackles after the catch and hauled in all four contested opportunities.
At 5-foot-9, 185 pounds, Moore may never profile as an outside receiver in the NFL. He has, however, shown a fairly complete slot skill set with an impressive combination of speed, ball skills and after-the-catch ability.
He caught this and kept his balance ???? pic.twitter.com/mXIHjxDfzj

— ESPN (@espn) October 11, 2020
Edge Rashad Weaver, Pittsburgh
Weaver isn't quite the breakout prospect as some others are on this list. He was firmly on the NFL's radar after a redshirt sophomore 2018 season that saw him rack up 45 pressures. We were expecting big things in 2019 before an ACL injury ended his season before it began. He came back this year healthy and better than ever, though. He's already mustered 26 pressures through four games to lead all of college football.
Rashad Weaver said "GIMME" ????@R_Weaver17 | @Pitt_FB

????: https://t.co/70N7uzcKlY pic.twitter.com/QZQeAFNraZ

— ACC Football (@ACCFootball) October 10, 2020
He has an ideal 4-3 defensive end body at 6-foot-5, 270 pounds and looks like he can be a consistent pocket pusher at the NFL level. He sets a very hard edge in the run game and looks like he'll be a value add there, as well. While most of the best edge defenders in the country lie dormant in the Big Ten, Weaver is creeping up into the top mix.
Edge Brenton Cox Jr., Florida
The talent has always been there with Cox. It's why he was a five-star recruit back in 2018 and played 277 snaps as a true freshman for Georgia. He had a marijuana arrest that following spring, though, and was kicked off the team a week into fall camp for undisclosed reasons. Cox then transferred to Florida, where he had to sit out the 2019 season.
Now through three games in 2020, he's been easily their best defender,  racking up 16 pressures along with eight run stops. At 6-foot-3, 250 pounds, he's a tad on the small side, but he packs some juice in his frame. Cox routinely rocks tight ends and offensive tackles backward on contact. He's also flashed a number of pass-rushing moves and has one of the filthiest spin moves in the country.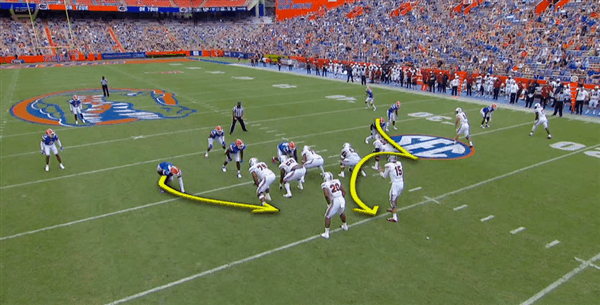 LB Zaven Collins, Tulsa
Collins is a different breed of linebacker at 6-foot-4, 260 pounds. His gigantic wingspan helps shut down passing lanes, stack linemen in the hole and shed running backs as a blitzer. He will undoubtedly be coveted by teams that love linebackers who can get home as blitzers the way Collins can. He has three sacks and six pressures on only 16 blitzes so far this season.
.@TulsaFootball LB @ZavenCollins was all over the field this weekend, finishing with a team-high 10 tackles, 3.5 tackles for loss, an interception, and two pass breakups. #AmericanPow6r pic.twitter.com/A9AsIwV1Qi

— American Football (@American_FB) October 5, 2020
At that size, however, he doesn't look out of place in coverage and has seen his coverage grade go from 71.0 as a redshirt freshman in 2018 to 80.2 in 2019 to 85.7 so far this season. He's not Isaiah Simmons or Patrick Queen athletically, but there's a role for him in today's NFL.
CB Noah Daniels, TCU
Daniels saw 145 snaps as a redshirt freshman back in 2018 before he missed all of 2019 with a shoulder injury. He's back as the starter this year and has allowed only four catches on 15 targets for 38 yards with five pass breakups through three games. Daniels possesses the type of ideal speed and burst you want at the cornerback position.
Not bad for a 193-pound CB to clean 400 lbs! Noah Daniels pic.twitter.com/z1aEYE9sHo

— Jeremy Clark (@JClarkHFB247) February 28, 2019
We've seen that explosiveness show up already a few times with him recovering on double moves down the field. At 6-foot, 194 pounds, he is a little slight still and can be outmatched physically. You'd like to see him get closer to the 200-pound range with his frame.
LB Mike Jones Jr., Clemson
You might be asking, "Who?" Well, Jones was stuck behind a safety trio last year that was drafted within the first four rounds in the 2020 NFL Draft. This season, he has his shot to play that overhang slot/linebacker role in Brent Venables' defense — and he's making the most of it.
While Jones' tackling is a problem, with six misses already, he has shown he can do pretty much anything asked of him. Whether that's blitzing, playing the run in the box or covering vertical routes from the slot, Jones has done it all. He's extremely agile for a 220-pounder and doesn't look out of place as a slot cornerback.
That type of versatility is being coveted more and more in the NFL, and Jones has it. Even in a role that's seen him line up along the defensive line for 36 snaps, in the box on 57, in the slot on 77 and deep on eight, Jones has still earned an 84.2 coverage grade.