After months of the college football conferences being divided on whether they should take to the field in the fall, the Big Ten has officially decided to change course and return to fall football, joining the SEC, ACC and Big 12.
This news now means that Trevor Lawrence and the Clemson Tigers are no longer the favorites to win the College Football Playoff — that honor now falls to Justin Fields and the Ohio State Buckeyes.
Editor's note: Die-hard college football fans, NFL draft enthusiasts and avid college football bettors can now subscribe today to CFB Grades+ or CFB Premium Stats+ to get access to PFF's player grades, advanced stats and NCAA betting dashboard. Use Code BIG10 here to get 20% off your subscription
Ohio State entered the year as the No. 1 team in college football, according to the PFF Elo system. The team simply had no glaring weakness — they ranked in the top 10 in every single facet outside of pass-rush, which was "just" 18th in the FBS.
As of now, two Ohio State players have opted out of the season and entered their name for the 2021 NFL Draft: guard Wyatt Davis and cornerback Shaun Wade. And both of those players are actually in the top 25 of our current 2021 Draft Big Board.
Davis is the clear-cut No. 1 interior offensive lineman in the class. He was one of five Power Five guards to play at least 300 pass-blocking snaps and not allow a single sack or hit in 2019. He also ranked third among that group in run-blocking grade.
As for Wade, he was supposed to occupy one of the outside starting spots for the Buckeyes after playing exclusively in the slot in 2019. He locked down the inside, making more plays on the ball (eight) than first downs allowed (seven), but it is a whole new ball game on the outside. And while he for sure had the physical tools to thrive there, actually doing it is a whole other story.
The loss of both Davis and Wade hurt some, but Ohio State's standing in the upper echelon of college football doesn't change much with those two out of the lineup.
Sevyn Banks and Cameron Brown are now set to occupy the two outside starting spots, and we here at PFF are high on these two budding stars. Banks, in particular, was our breakout candidate on this team in a non-COVID world.
Banks was one of the top recruits of the 2018 class; he is a remarkable athlete and was ready to make a play whenever he was called on in 2019. Banks saw only 96 coverage snaps and nine targets over the season, but he allowed only three to be caught while intercepting one pass and breaking up another three.
Jeff Okudah once called him the next great Ohio State corner, and I have to agree with that statement. Banks has all the fixings to be a top-performer on this defense.
Brown, a wide receiver turned cornerback, was the Buckeyes' top backup for Okudah and Arnette last season and logged 255 snaps on the year. He didn't have much ball production, but he also didn't allow any big plays, allowing only eight catches on 20 targets for 78 yards on his 137 coverage snaps. When on the field, it's clear Brown is one of the fastest players out there — his ball skills have to improve, but it's nothing to be overly concerned about.
The outside duo of Banks and Brown, in my opinion, are the marquee players on the defensive side of the ball for Ohio State, and I wouldn't be surprised if they finished as one of the top cornerback tandems in college football. There's a heck of a lot more talent on the defensive side of the ball for the Buckeyes, too, but the real reason why Ohio State is now the favorite is because of Justin Fields and the offense.
In his first full year as a starter in 2019, Fields produced the 10th-most valuable season we have ever recorded for a quarterback. The offense and the refined route-runners at his disposal certainly help, but Fields routinely finds the open receiver and makes the right decision while delivering an accurate ball. Just as PFF lead draft analyst Mike Renner said in the 2021 Preseason PFF Draft Guide, Fields has every tool you could want from a quarterback. He can make plays inside and outside of the structure — not to mention his ability as a runner.
Most valuable players of the 2019 season (PFF WAA)
| | |
| --- | --- |
| Player | WAA |
| QB Joe Burrow, LSU | 2.95 |
| QB Justin Fields, Ohio State | 1.66 |
| QB Dustin Crum, Kent State | 1.45 |
| QB Trevor Lawrence, Clemson | 1.44 |
| QB Jalen Hurts, Oklahoma | 1.42 |
| QB Sam Ehlinger, Texas | 1.32 |
| CB Derek Stingley Jr., LSU | 1.08 |
Ohio State produced positive expected points added on pass plays at the third-highest rate in college football last year, and a big reason why was Fields' ability to uncork and attack downfield. He led all Power Five quarterbacks in average depth of target and finished the season third in big-time throw rate. In short, Fields is pretty dang good. And when you give him arguably the best route-runner in the country in Chris Olave and a rising star in Garrett Wilson, you have a potent passing attack.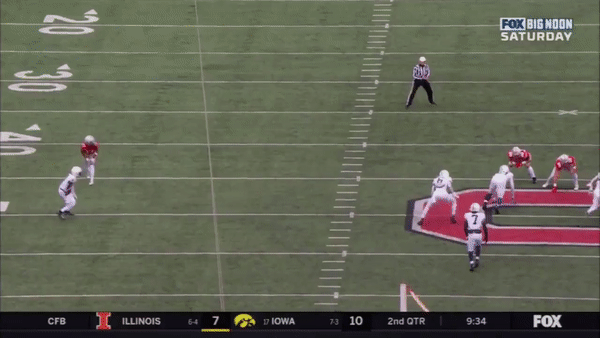 Against single coverage in 2019, Olave was open on 82% of his targets, which led all FBS wide receivers. That helped him earn an 86.6 receiving grade, trailing only the Minnesota duo of Tyler Johnson and Rashod Bateman for best in the Big Ten. 
Wilson came to the Buckeyes as the 17th-ranked recruit of the 2019 class and put together a strong true freshman campaign. He earned a 73.4 receiving grade, which ranked third among first-year receivers in the Power Five. Wilson also generated a 144.0 passer rating when targeted, tying for the 10th-best in the entire FBS. The fact that he was toasting some cornerbacks in single coverage at such a young age is unreal — he produced a raw PFF grade on such reps that ranked seventh-best in the FBS: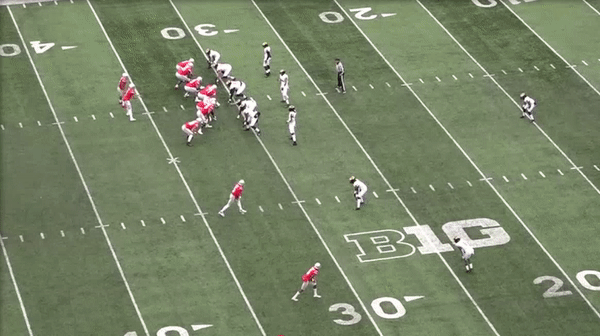 The favorites for this year's College Football Playoff are, without question, Ohio State and Clemson. Alabama and Oklahoma aren't far behind, but the Buckeyes and Tigers are in a tier of their own. The debate between Fields and Lawrence is a lot closer than most think. We view Lawrence as the better quarterback, but the margin is very slim. Comparing each team's set of receiving weapons and pieces in the secondary, I would give the Buckeyes a slight edge in each.
In the PFF College Magazine, we gave Ohio State the third-best receiving unit, whereas Clemson slotted in at sixth. In the secondary, we gave Ohio State ranked sixth while Clemson ranked ninth. Shaun Wade's departure shrinks the gap between the two, but again, I think the duo of Banks and Brown will thrive in 2020.
It's very close, but I would take Ohio State over Clemson to win the 2020 National Championship — barring any other opt-outs, draft declares or injuries.