With the National Championship over, and the dust settling on Clemson's historic win over Alabama, it's never too early to start looking ahead to next year. This year we saw the rise of Washington and Louisville into genuine contenders, so which five teams should we be looking to as potential participants in the College Football Playoff in 2017?
USC
Were it not for a horrible start to 2016, including an absolute mauling at the hands of Alabama in Dallas to open the year, USC would have been in the running to make the College Football Playoff this season, and with the way they ended the season, they just might have won it. The play of freshman quarterback Sam Darnold was key, and he was the nation's sixth-highest-graded quarterback over his final four games. On offense the biggest loss they face is JuJu Smith-Schuster at wide receiver, but the emergence of Deontay Burnett, who forced 13 missed tackles on 56 receptions this year, should help ease that departure.
Defensively, they are set to lose three of their highest-graded players, in run-stopping defensive tackle Steve Tu'ikolovatu and defensive backs Adoree Jackson and Leon McQuay III, so players will have to step up to fill their shoes on the defensive side of the ball. Behind the offense however, and in particular the arm of Darnold, USC should be looking at a Pac-12 Championship game appearance as their minimum expectation in 2017, and if their young signal-caller can progress, perhaps it's the Trojans who will be hoisting the trophy this time next year.
Oklahoma
Like USC, Oklahoma finished the season incredibly strongly, and had many people wondering if they should have had a spot in the College Football Playoff over either Washington or Ohio State after their one-sided losses to Alabama and Clemson. Ultimately though, they were left out thanks to early-season losses to Houston and the same Ohio State team that lost to Clemson in the semifinal. The Sooner offense has some key losses to overcome, with star wide receiver Dede Westbrook, who finished the year ranking third in the nation with an average of 4.06 yards per route run, headed to the NFL. He's joined by running backs Samaje Perine and Joe Mixon, with Perine the school's all-time leading rusher. So despite those three key losses, what makes the Sooners a team on the rise in 2017?
Baker Mayfield passing under pressure, 2016:

In short, because they have the nation's best quarterback in Baker Mayfield. Mayfield was comfortably the nation's highest-graded quarterback, with a PFF grade of 96.2, with Oklahoma State's Mason Rudolph the next highest at 92.3. He ranked second in the nation in adjusted completion percentage at 80.1, tied for third with 17 touchdown passes 20 yards or further downfield and led the nation with an adjusted completion percentage of 67.6 under pressure. With all that in mind, Mayfield should enter the year as one of the favorites for the Heisman trophy, and can lead the Sooners to the National Championship.
Oklahoma State
The Sooners' Big 12 rivals might also be their biggest threat to making the College Football Playoff in 2017, and Mason Rudolph is the best contender to Mayfield's "best quarterback in the nation" crown. While the Cowboys are losing their best defender in Vince Taylor, who led the team with eight sacks and 37 total pressures, and also lose safety Jordan Sterns, it won't come as a shock to anyone to learn that one of the top teams in the Big 12 will have to rely on their offense to power their hopes of reaching the College Football Playoff.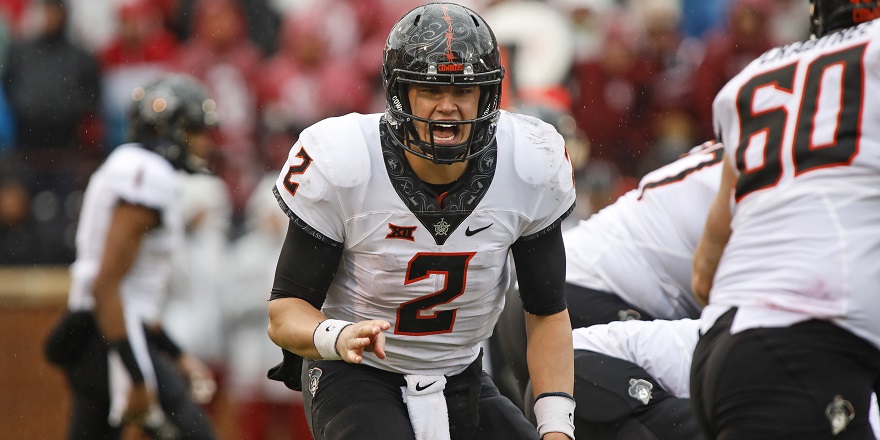 Thankfully, with the way Rudolph has played over the past two seasons, and the likelihood that he will progress even further in 2017, the Cowboys' offense should be among the best in the nation once again. On top of being the second-highest-graded quarterback in the nation, Rudolph ranked in the top 10 among all quarterbacks in terms of his PFF quarterback rating, deep passing yards and adjusted completion percentage under pressure. With the two top quarterbacks in the nation, don't be shocked to see Bedlam play a pivotal role in the College Football Playoff rankings late in 2017.
Auburn
Auburn played better than their four-loss record suggests in 2016, but the Tigers were ultimately doomed by not having a passing game to instil any fear in opponents, and what passing game they had fell to pieces when Sean White was out injured. That's why it's so key that they landed transfer Jarrett Stidham to lead the offense. Available to play in 2017, the addition of Stidham turns Auburn into a serious College Football Playoff contender if he can recapture the play we saw from him at the end of the 2015 season. In limited duty for Baylor that year, Stidham went 15-for-28 for 596 yards with seven touchdowns and one interception on throws travelling 20 yards or further downfield. In 2016, White, John Franklin III and Jeremy Johnson combined to throw for just 631 yards on those deep throws, so Stidham's arm adds a vertical aspect that Auburn have been missing.
Kamryn Pettway and Kenyon Johnson rushing, 2016: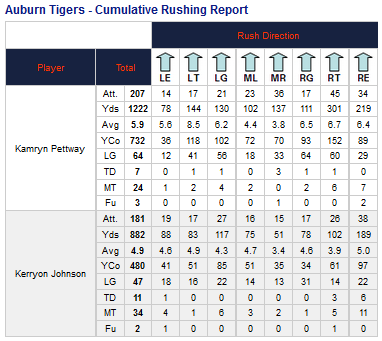 The offense is also boosted by the fact that running backs Kerryon Johnson and Kamryn Pettway return. Johnson forced 34 missed tackles on 181 carries in 2016, while Pettway averaged 3.5 yards after contact per carry, so they form a true thunder-and-lightning combination that can cause huge problems for opponents in the SEC and beyond in 2017.
Penn State
Despite the Rose Bowl loss to USC, Penn State will be very encouraged by how they ended the 2016 season, and how it positions them for a run at the College Football Playoff in 2017. In his first season as a starter, quarterback Trace McSorley was our 26th-highest-graded signal-caller in the nation, and you only need to look at how he performed against Wisconsin in the Big Ten championship game to realise just how good he has the potential to be. In that game alone McSorley threw for 184 yards and three touchdowns on passes traveling 20 yards or further. While he will lose his top target in Chris Godwin, who plans to enter the NFL draft, the Nittany Lions have a Heisman candidate in their backfield in Saquon Barkley.
Saquon Barkley 2015-2016 stats

Barkley finished with 72 missed tackles forced as a runner, the fourth-highest total of any running back in the nation, and averaged 3.3 yards after contact per carry. The type of runner who can take over a game and is so tough to bring down, the combination of him and McSorley, with another spring of development under their belts, makes this Penn State offense arguably the best in the Big Ten. That's key, because they are losing their top defender in Garrett Sickels, who led the team with nine sacks and 54 total pressure in 2016. That said, with the potential for their offense, the Nittany Lions will still feel good about their chances in 2017.